With Baccarat chandeliers, high-tech wine stations, and a fully stocked market with gourmet local goodies, Oakville Grocery is a destination in itself.
I still fondly recall early mornings loading into the family car, the open road beckoning at the outset of a new adventure. Along the way, we dsicovered shops to peruse odds and ends, ice-cold sodas and fresh sandwiches from country stores, and the discovery of hidden gems that faded into the distance—and eventually my memory—as we continued on our way.
For Jean-Charles Boisset, one of these fond memories persisted. A native of France, Boisset toured California with his grandparents and sister when he was just 11 years old. It was then that he discovered Oakville Grocery, a long-standing general store next to the St Helena Highway. "A lover of history even then, I marveled at the rustic feeling of the place, which spoke to me of the courageous American pioneers I had read about in my native France," he says
When an opportunity to acquire the store arose two years ago, he leaped at the chance to own the charming property he so adored. Born in Vougeot, Boisset's father was a vintner, and his family owned iconic vineyards and wineries all over France. Surrounded by such history, he grew up with great appreciation for the time-honored traditions behind viticulture. His approach to winemaking combines this respect for history with modern innovation—not unlike his stunning restoration of Oakville Grocery.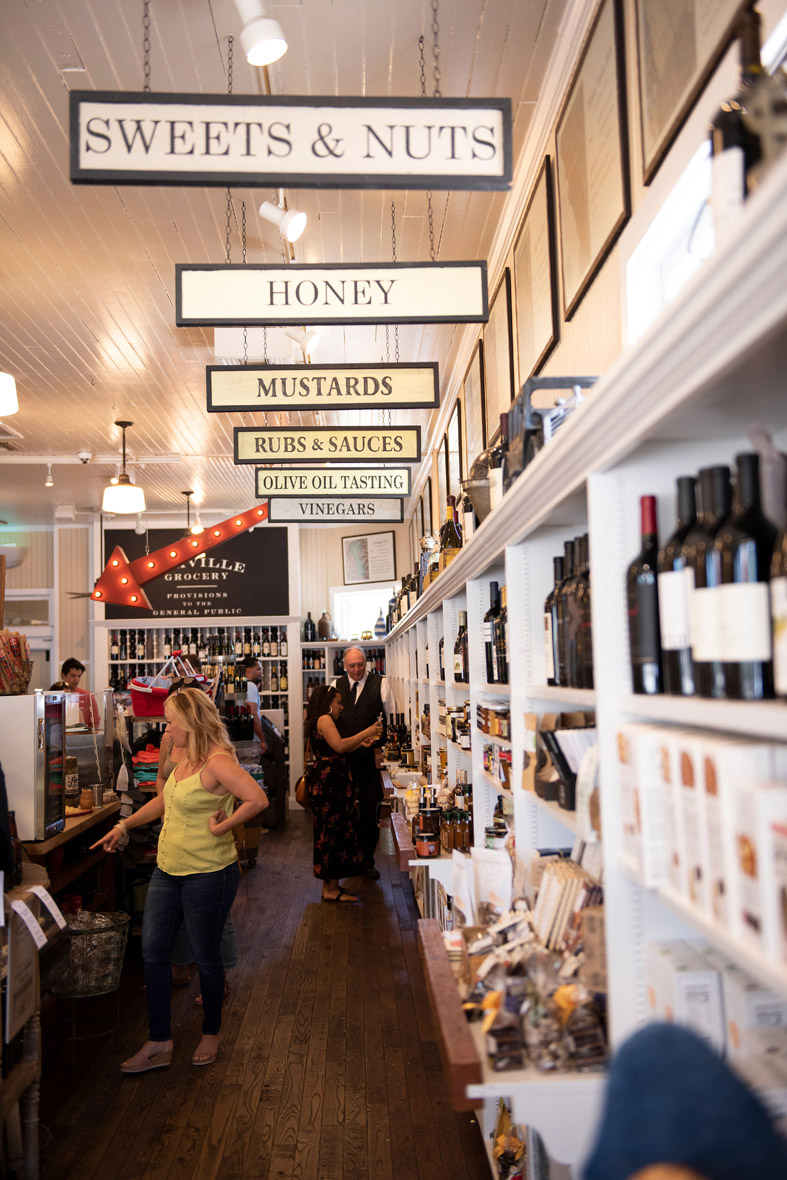 THE HISTORY
Nestled among grapevines and rolling hills just north of Yountville, Oakville Grocery neighbors some of the most renowned wineries and restaurants in the country. The renovated country store perfectly combines the nostalgia of the childlike wonder of stepping into a candy store with the upscale luxury and gourmet offerings for which Napa Valley has become world-renowned. Adjacent to the grocery store is a picturesque Victorian house, 1881 Napa, housing the Napa Wine History Museum and Oakville Wine Merchant.
The little roadside business—blink and you'll miss it!—has survived Prohibition, two world wars, declines, and recessions. First opened as P. B. O'Neil's "dry goods, groceries, and hardware store" in 1874, it was rebuilt after a fire in 1893, and has operated as the country's oldest, continually operating grocery store ever since. "It is a landmark and iconic destination at the crossroads of history in Napa. It has been the community gathering place, mercantile, farm stand, and grocery for neighbors and visitors alike for well over a century," says Boisset. Oakville Grocery Manager Michael Ingellis points to a small window at the front of the store, which he says used to serve as the mail pick-up window when Oakville Grocery once doubled as the site of the town's post office. Now, the small corner has become a luxe espresso bar offering an array of locally made pastries.
THE FOOD
Private label jams and jellies, artisanal gifts, and even locally sourced caviar: the carefully curated, gourmet goods at Oakville Grocery are not the convenience store staples of yore. Boisset applies his magic touch to the store's shelves, stocking a variety of sweet and savory delights. Tasting Room Manager Ali Madrid explains that the focus here is on local, whereas Atelier—Boisset's epicurean boutique in nearby Yountville—is the stop for gourmet imports. Nearly 700 wines from 250 producers, primarily from Napa Valley, line the back half of the store, in addition to a semi-private wine cave (where guests can chat in private with Madrid if they're seeking a specific label or type of wine)
We make our way across a sleek sheet of glass in the back corner that covers an original well from the 1880s, and enter the brightly lit wine vault which features highly sought-after selections from Bond, Shafer, Dominus, Dalla Valle, and others (which Madrid tells me can be shipped internationally for far-flung visitors).
Previously known for simply salads and sandwiches, the new Oakville Grocery's offerings, under Boisette, have been upgraded to include wood-fired pizzas, local cheeses (such as offerings from Point Reyes Station's Cowgirl Creamery), and salumi (including the hard-to-find 'nduja, courtesy of Sonoma's Journeyman Meat Co.).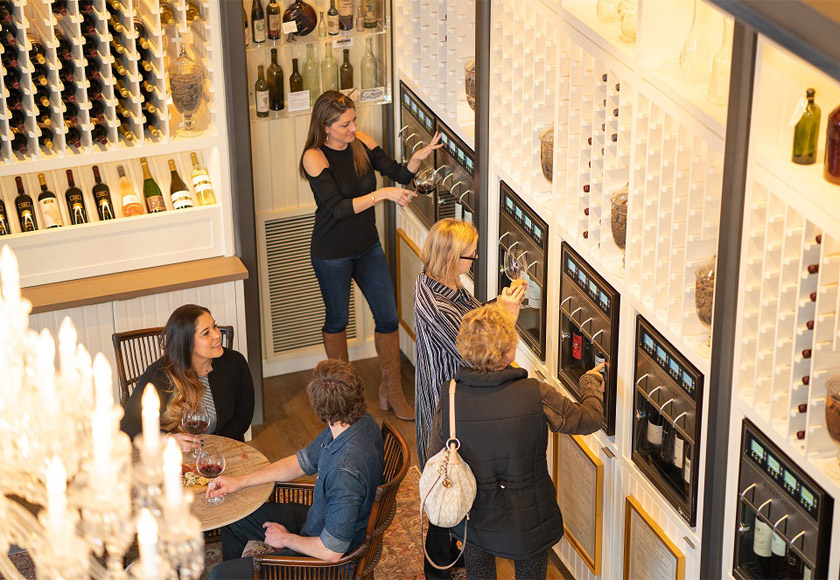 THE FUTURE
Much like its past, Oakville Grocery persists as a gathering place where people can eat, drink, share, learn, and celebrate together—a reminder of the simpler times of a bygone era. An invaluable piece of the valley's history, the store's current adaptation to the times showcases the wonderful advancements of California's food and wine culture. Its highly curated selection of local products from the best of wine country's farmers, artisans, and purveyors is delightful for locals and visitors, young and old, day trippers and faraway travelers alike to discover. Oakville Grocery is committed to learning from history and sharing its roots, while pushing the boundaries and pursuing its lifelong mission of creating community through food.
Oakville Grocery has been carried forward through history by owners who saw the beauty and value of this unifying hub. Continually building upon its foundation to adapt to changing times, the future of this charming property glows bright under the new ownership of Jean-Charles Boisset, his elegant taste, and his entrepreneurial spirit.