A woman of ingenuity who soared from the depths of adversity to grace center stage
Woven like webs of featherweight silk, yet vehemently steadfast in their bonds, are the ties of family, resiliency, and devotion. The respect for and fondness of her family and clients have carried through in her most exquisite work, while her capacity for growth fully formed the amazing woman she is today. We tell the tale of a girl who came from Iranian nobility and rose through the ranks to the fashion icon we know today. Wreathed within her work are apologues of love, loss, and tragedy, allowing her garments to showcase richness and personal affluence in nature. Lily Samii was born in Isfahan, Iran, a city known for its unique and breathtaking Persian-Islamic architecture. Decorating the city was the Hasht Behesht palace, Hašt-Behešt signifying "The Eight Heavens" in Persian. Its impressive architectural elements and shapes gave Lily the appreciation for color, contour, and design from a young age. Those beautiful surroundings heavily influenced her affection for pattern, composition of design, and luminosity of wonder.
Her mother was coined as a true visionary, while her father's adoration for her mother gave Lily a strong foundation fueled by compassion, respect, and love. Her grandfathers were honored noblemen: Prince Abdol-Ali Mirza Homayounpour, grandson of Crown Prince Fath Ali Shah of the Qajar Dynasty was her grandfather on her mother's side. Lady Farkhondeh, Lily's grandmother gave birth to 10 children; the fourth child was a special little girl named Ashraf-ol-Molook, who became Lily's mother. Dressed in beautifully tailored little outfits as child, Lily became accustomed to the art of tailoring and couture from a young age.
"When I was just a small child, my mother would take me with her to meet Madam Sophie, her dressmaker, at her atelier to be fitted for whatever beautiful outfit my mother was getting made. I was mesmerized by Madam Sophie and the way she carefully worked with a tape measure around her neck and pins in her mouth, carefully pinning my mother's dress."
Lily's mother wanted anything but for Lily to become a dressmaker. She made sure to occupy Lily's free time with hobbies such as ballet, "but I always went back to my scraps of fabric and pins."
At eight years of age, Lily was enamored with creating and the art of formation. From early on in her childhood, she observed textures, movement, and complexions among the life forms all around her. She echoed those that caught her eye and mirrored their detail in her materials. "I would arrange the fabrics in order of color, creating a rainbow of hues and textures. Then I would go into the garden and find something that captured my attention—from a flower in our garden to the fishes in the pond or butterflies fluttering through the air. I would pull from my fabrics to mimic whatever I was focused on, and voilà!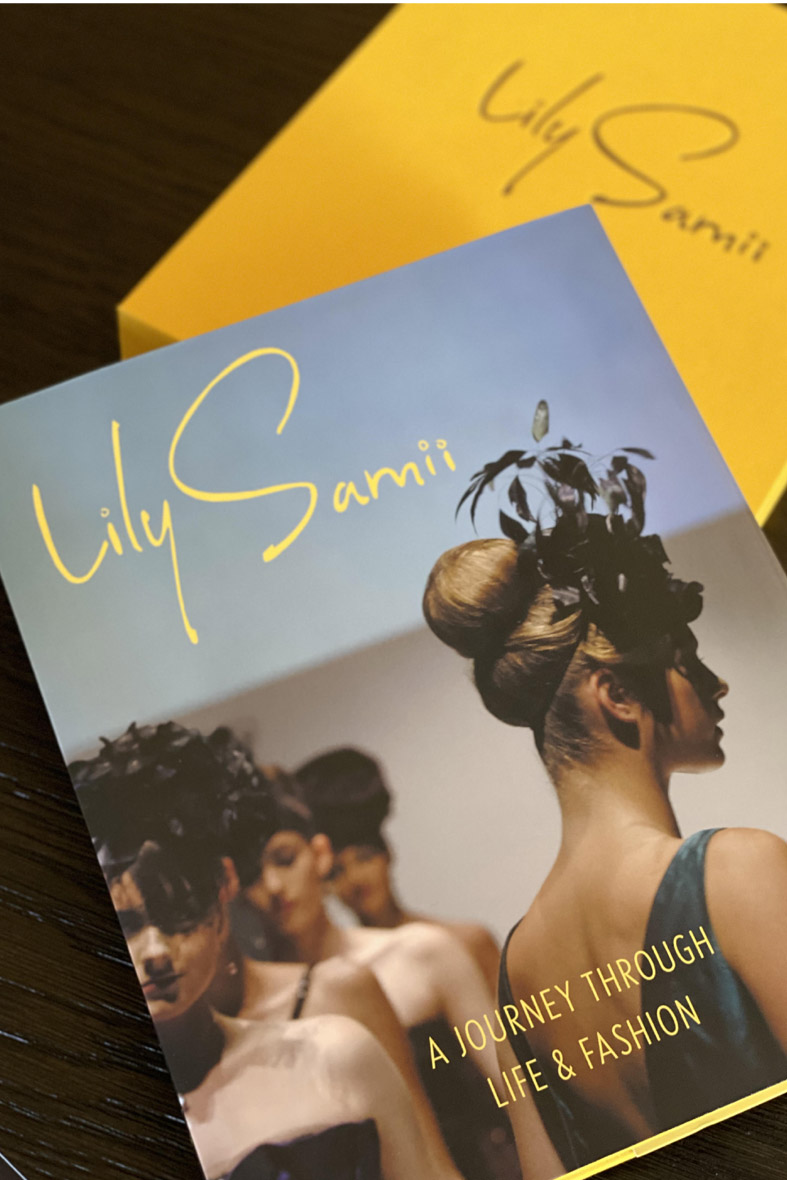 A particular backdrop at her childhood home resembled that of "The Eight Heavens" with defining architectural interest and allure, a blueprint that remains etched in her mind to this day. Lily pondered geometric lines. Color palettes and movement thoughtfully enabled her imagination and inquisitiveness to take shape. "When I was a child, my room opened onto a long terrace with French doors that led to our garden. My favorite thing was to get home from school and run into my room to set up my fabrics—my grandmother called it 'my shop.'"
Lily strongly considered becoming an architect, yet her obsession with fabrics, pigments, and people—connecting through the loving example she was exposed to as a child—cemented her love affair with fashion. As shown in her work, her garments all have beautiful structure and function with, of course, beauty and grace. Her signature style is in her talent to look at a women's body type and create flattering pieces that highlight the client's best attribute. Each of her pieces echoes the 14th century palace designs from her childhood. Her gowns evoke elegance paired with
sophistication and thoughtful precision, while the use of brightly colored palettes could have been said to be bold. With her father's guiding light, her mother's visionary perception, and her cultural influences, Lily blossomed in the world of the arts. She learned deep compassion, social graces, and with her detailed personality, Lily was able to deeply connect to her audience in ways that set her apart from other designers.
The tapestry and depth of her life unfolded in awe-inspiring ways. At the age of just 14, Lily was accepted into a French design school in Tehran, while simultaneously attending high school. At 16, she was in full creation mode. She hosted fashion shows at her home with family and friends, creating each piece thoughtfully curated with her French-influenced studies of design in mind.
After graduating high school, Lily received an airline ticket to fly around the world, a customary tradition of noble and respected families in Iranian culture. She traveled to far-away places: enchanted lands from India and Thailand to Hong Kong, Tokyo, and Honolulu. The expedition was filled with cultural delights, educational experiences, and awe-inspiring adventure. The wisdom and growth Lily experienced on this journey imparted her with immense strength and affirmed her love of the arts, of people, and of diversity of cultures. She was offered the opportunity to spend a couple of semesters at UCLA and decided California was where she would further her education.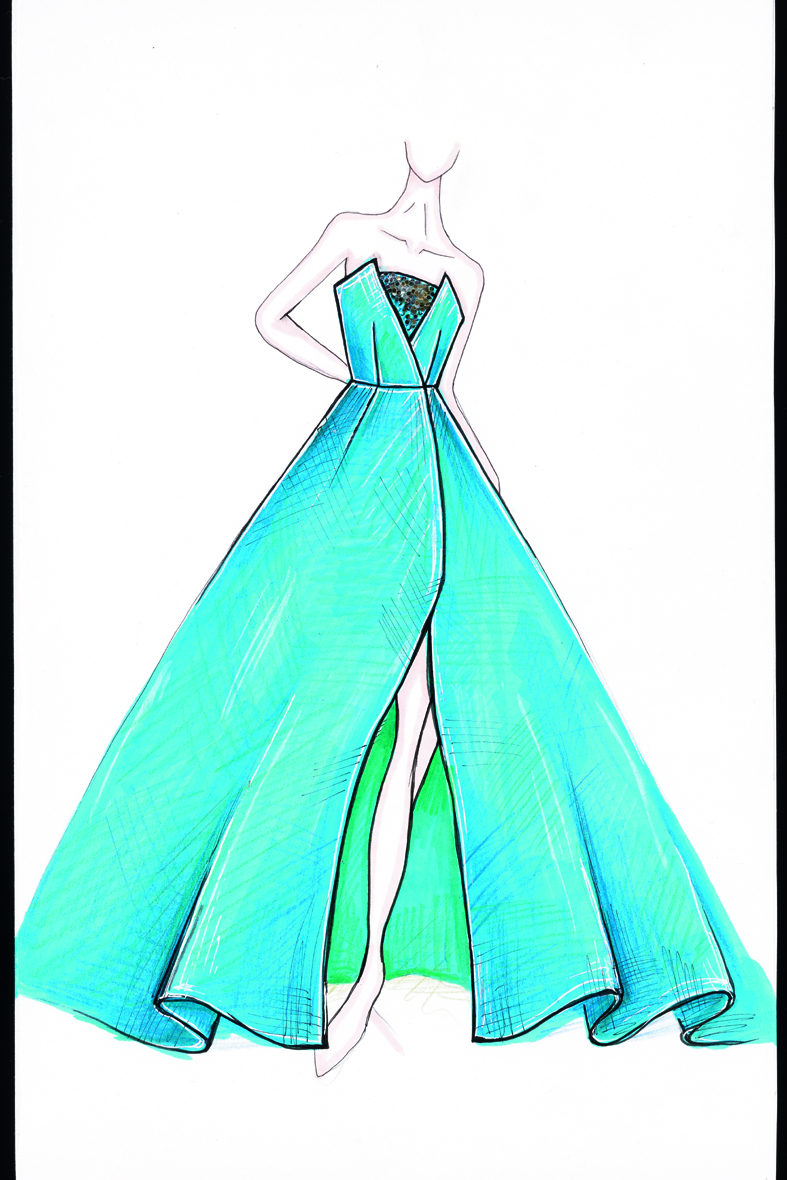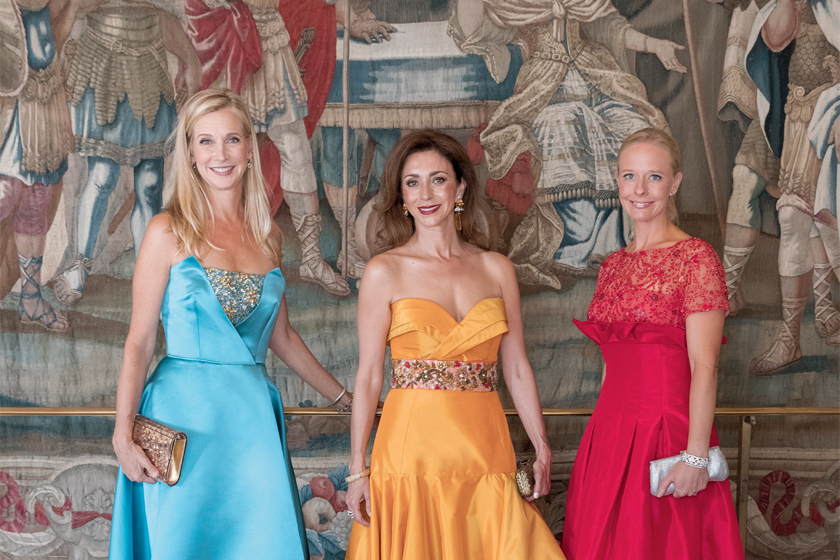 Lily's career truly took off shortly after spending time in Los Angeles. While studying at UCLA, she was offered a job at a lavish boutique that carried brands like Chanel, Balenciaga, Dior, and many others. Her fascination and appreciation for the extravagant pieces showcased at the boutique—and not to mention the clientele with whom Lily was working—fueled her passion for fashion. It was couture at its finest and Lily Samii had a front row seat!
Her couture fashion mentor, Edith Head, Hollywood designer to the stars, began working closely with Lily. In her love for costume design, their collaborations took Lily to prodigious heights, designing alongside Edith for Hollywood movies including The Cincinnati Kid, Marriage on the Rocks, and Ship of Fools. Lily Samii was building a name for herself in the competitive world of fashion. "I was also very lucky to have the opportunity to intern with James Galanos. From him, I learned the importance of fit, finishing, and making women feel comfortable. He was a master at draping, and that is where my strength lies to this day."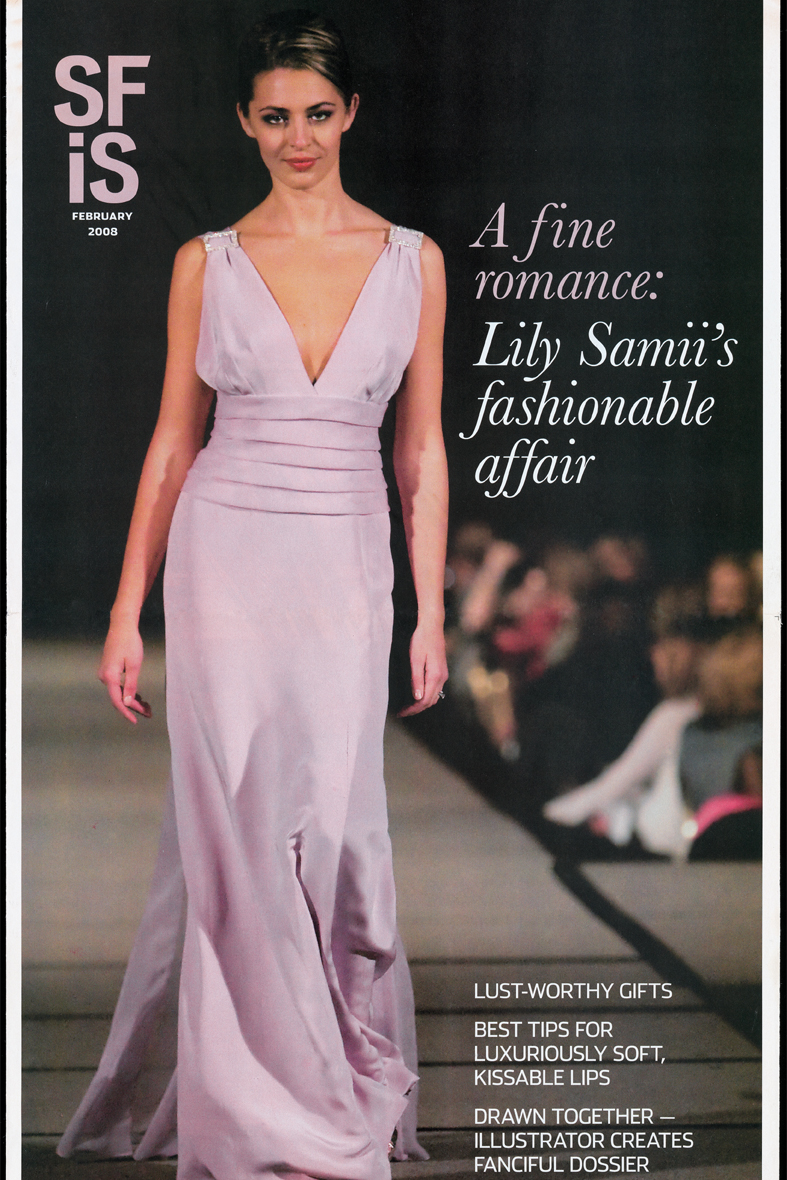 For Lily, her life inched on at a perfect pace. Her studies, as well as her job at the boutique, marched seamlessly on course. While focused on her career path and trajectory, she reconnected with her childhood sweetheart. They wed in Iran and came back to Los Angeles to build their life together. Lily's career and fashion design aspirations grew by the day. Her internships with the famed Edith Head and James Galanos drew the attention of many; they were not glossed over or unnoticed by her peers.
In the spring of 1967, Lily's world turned upside down. In a flash, an accident at work compromised her career and changed the landscape of her life forever. She had missed a step, tripped, and tumbled down two flights of stairs: "The next thing I remember, I was in an ambulance—little did I know that the course of my life changed at that moment."
Extensive neck and back injuries left Lily in the hands of doctors, hospitals, and physical therapists. After hospital stays and surgeries, it was unknown if she could ever return to her love of sewing and designing. She was unable to bend her neck and the uncertainty that she might never be able to sew again set in. "After months of rehab in Los Angeles, my husband and I moved to San Francisco to start a new life and be close to his parents. In the meantime, he was able to get a job in the language department at the College of Marin in Kentfield, a quiet suburb north of San Francisco. We rented a small apartment in the adjacent town of Larkspur."
Leaving Los Angeles and her esteemed career disoriented Lily. Her glamorous Hollywood life had come to an abrupt halt. After relocating to Marin, she took a position with College of Marin, teaching in their art department. This sleepy yet beautiful county had a solemn vibe compared to the vibrant, haute lifestyle Lily had grown accustomed to in Los Angeles. The landscape of her days shifted from dynamic and elegant to subdued and plain. While estranged from her previous life of glamor and curating, she yearned for the opportunity to work intimately with textiles again: touching the fabrics allured her most.
A woman by the name of Mrs. Alice Zimmerman took Lily in as her dearest friend and changed her life in immeasurable ways. The two later started their own business, and the famed L.Y.Z boutique was formed. This boutique carried all the couture brands and became a famed, ultra, made-to-order boutique known from coast to coast. Co-owning one of the most acclaimed and prominent boutiques in the country, Lily continued her buying trips to New York. Her yearning for learning and growing continued.
At this point her sister Laleh came to America from her European studies to assist Lily with her boutique. In the spring of 1980, Lily's young husband tragically passed away from a heart attack and her world once again shattered. That time, it was Laleh who helped Lily pick up the pieces and trudge along. Although the devastation of sudden bereavement brought on immense pain for Lily, her perseverance and strength, paired with her family's emotional support, enabled Lily to push forward. Incredibly resilient and steadfast in her determination, Lily's vitality and spirit exhibited most brightly when she did what made her heart sing. She then put all her energy into L.Y.Z. boutique. Tragedy turned to advantage as Lily's tenacious spirit propelled her forward to international recognition in the prestigious publications of Harper's Bazaar and Vogue, among others.
In 1984, she met Mark Hormoz Samii, a charming and elegant man of whom she felt quite fond. They later married. Her husband desired Lily to take a step back from work, perhaps traveling the world with him. He adored Lily and promised her a life of elegance, travel, and la bella vita! Lily's heart yearned for something else. She thirsted for the creation of what could be her very own fashion label. It was on this anniversary trip to Italy, dining under the stars at the esteemed Villa d'este, that Lily experienced another life-altering moment.
Her dream of becoming a couture fashion designer felt so right. Putting all her energy and savings into this new venture renewed Lily and reinvigorated her life once again. The Lily Samii label was born.Her partnership with Harpers Bazaar in the spring of 1989 put Lily on the main stage of her career. Her love of creating and her need to design and construct were now at the forefront of her agenda. After months of searching for the perfect space to unveil her incredible artistry, her very own showroom in Union Square was birthed and, boy, was it was exquisite!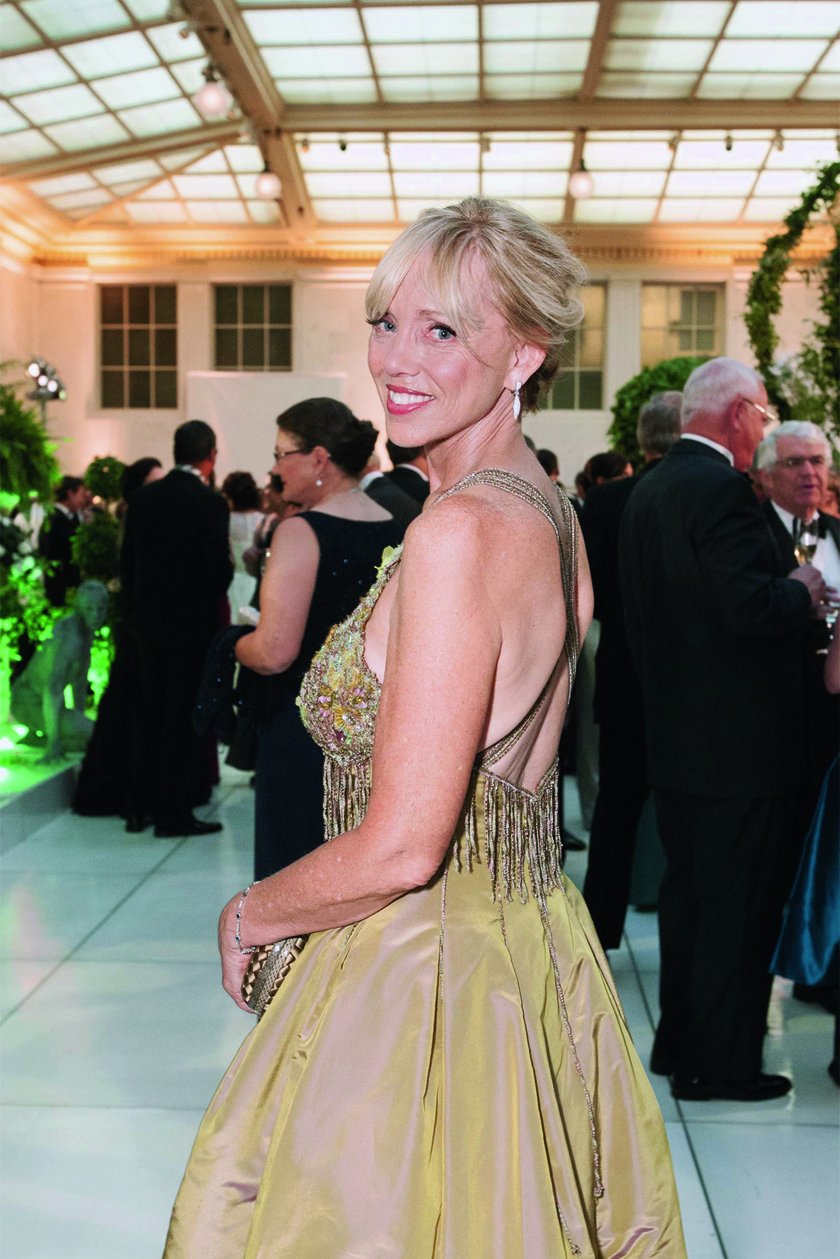 "I was reborn again! I had the excitement of a young person, even though I was nearly 50 years old at the time and had given up a very successful business for a whole new adventure! But it was exciting, and I was finally in my world of textiles and trims and everything that I had ever wanted." With an impressive resume and her dream team in place, Lily was shaping up to be one of our nation's most celebrated designers. Lily's story reminds me of a true American dream story: rich in risk, deep in emotion, and enveloped in reward. Gracing the covers of our most coveted fashion magazines, Lily's work was requested at frenzied speeds, unsustainable to boot! She dressed the likes of Senator Barbara Boxer, Jennifer Siebel Newsom, and royals and socialites alike, for any occasion and in any location. Lily Samii gowns graced the red carpet in droves. This new, beloved, and show-stopping brand drew much fascination, as it became the haute new commodity in the world of design. Lined in fine silks and made in San Francisco, the detail and richness of fabrics and texture from her coats and suits to her cocktail dresses and red carpet gowns gave her clientele beauty and sophistication, glamor, and gentility enveloped into one.
Her fashion spoke volumes and took the design world by storm. Lily Samii's personality debuted in each of her designs: authentic, graceful, dazzling, and elegant. Her silhouettes of vibrant colors and patterns were not only unique in nature, but also ready to wear for the modern woman. Romantic yet structured, intricate and meticulous in their detailing, Lily's creations were timeless and modern, always allowing her client to shine. Her creativity and edge for excellence propelled her to the top.
Her fashion spoke volumes and took the design world by storm. Lily Samii's personality debuted in each of her designs: authentic, graceful, dazzling, and elegant. Her silhouettes of vibrant colors and patterns were not only unique in nature, but also ready to wear for the modern woman. Romantic yet structured, intricate and meticulous in their detailing, Lily's creations were timeless and modern, always allowing her client to shine. Her creativity and edge for excellence propelled her to the top.
Hew name now appeared alongside her fellow designers. From runway spectacles to charitable fashion shows, Lily's pieces delighted the audience in their gorgeous blends of texture, fabric, and the beautiful intricacies of beading. To Lily, it was therapeutic, the process of selection and working with her hands to create a masterpiece in each piece. "My soul is so connected to the delicate artwork of hand embroidery. In moments when I would find myself stressed out, I'd find solace in carefully sewing beads, sequins, pearls, and stones on gowns with a steady eye and focus. Embroidery is my therapy and work like this calms me."
Making women feel beautiful was her style. Understanding the craftsmanship and the fabrics themselves were her gifts. Her clients became her friends and her family. For Lily, designing was not only an art form, but a creation of wonder, of mystery, a way of relating to others. Her communication style was in the form of fashion, but her true gift to society was the feeling she evoked in the eyes of her clients. My own mother wore one of Lily's gowns to my wedding. Being a couture seamstress herself, my mother knew quality when she saw it.
Lily's family upbringing in Iran and the gifts shared by her mother and father gave her the edge that perhaps others designers lacked. As of September 2019, Lily Samii has closed that chapter of her life.
She exits her stage, carrying with her the utmost grace, poise, and refinement, just as her noble relatives would have wanted for her.
Chronicled in her recent publication titled Lily Samii: A Journey through Life and Fashion, her biography highlights Lily's remarkable life. The garments showcased in her newest release are truly an exquisite compilation of her greatest work. Yet, aside from her outstanding craftsmanship, it is the grace and authenticity of Lily's character which stand out in each piece. This publication reads as a memoir with superb photographic imagery and an incredible synopsis into the life of one of our greatest to grace the fashion world. Undoubtedly, it would make the perfect holiday gift.
Now retired, Lily reflects upon her incredible odyssey with such resilience and dexterity for all the twists and turns life throws us. Her story shows us that through all our challenges, our internal passions and desires to showcase our gifts to the world are those which we are compelled to pursue. Dreams can come true! Her journey showcases one abounding in character, individual in spirit and of tenacious courage. We can all uncover our own individual truths, thanks to the inspiration of Lily Samii.
"Today, I'm sitting in my garden, reminiscing about my life and my career as a fashion designer. In the last decade or so, I knew I needed to document my life for, if nothing else, just my soul! This book is my story, the story of love, passion, and serendipity! The whole journey is truly like a dream; and I can say with all certainty that I have lived my dream! Due to the uncertainty that our universe has been dealing with these days, my retirement plans have changed; but, this is a small price to pay for all the other blessings that I have had in my life."