Rises to meet community hunger needs quickly during COVID-19 crisis
Can you imagine feeding your child breakfast, lunch, and a snack on only $2.80 per day? Currently, that's the average amount the Federal government (USDA) and the State of California reimburse schools per student for the food portion of the National School Lunch Program (plus an additional $4.21 for labor and food service). To provide nutritious food on this budget, something must fill the gap. Food inequality significantly impacts the health of less affluent and underserved populations, particularly the most vulnerable: our children.
It all started when Judi Shils, Executive Director of Turning Green, approached Chef Justin to participate in an event pairing Bay Area Chefs with teams of Marin middle school students in a food competition: Eco Top Chef Marin. Each chef was paired with a small team of students at a participating school and their challenge was to create and serve a meal following FLOSN (Fresh, Local, Organic, Seasonal, Non-GMO) guidelines for less than $1.35 per student (the California school lunch allocation at that time).
Conscious Kitchen (www.consciouskitchen.org) first came on my radar through Justin Everett, then Executive Chef at Cavallo Point. Since hearing his story, I've been a passionate supporter ever since.
Chef Justin was paired with Martin Luther King Jr. Academy (MLK) in Marin City, a school located in an unincorporated area in one of the most affluent U.S. counties where more than 95% of Marin City students qualified for free and reduced government-subsidized school meals. Eighty-eight percent of those students would be the first in their families to graduate from high school. Although Marin County is ground zero for organic farms and ethical food purveyors, Marin City is a food-insecure neighborhood in its midst. Fifty-eight percent of fifth graders here are overweight or at risk of obesity.
The only available solution was to leverage his purchasing power and tap into his relationships with local and regional food purveyors. They were happy to help. The result was a delicious meal starring his famous quinoa mac-and-cheese (for those of you who might have tasted it at Farley Bar in Sausalito). The kids were all-in. Judi approached Chef Justin shortly after with the idea of doing an ongoing school program; but given the budget challenges, he hesitated. Then, while escorting a second and third grade field trip at his son's Novato school, a young boy in his group (who, he had heard, had a challenging home life) pulled out his lunch of sliced processed lunch meat, a candy bar, and a soda. When the child shared that this was his lunch every day, Justin knew then that he had to accept Judi's offer, "It was an ah-ha moment. While many of these kids had 'food,' they were literally starving for adequate nutrition." In 2013, Judi and Justin partnered to start Conscious Kitchen, a program of Turning Green.
Judi Shils, Executive Director of Conscious Kitchen, is a tireless advocate. "It is my mission to shift the model for school food service, transitioning school meals from pre-packaged, processed, heat-and-serve to chef-prepared, scratch-cooked, local, organic food cooked in low-waste school kitchens." In partnership with Chef Justin and the Sausalito Marin City School District and with generous support from Cavallo Point and Good Earth Natural Foods, they began work to shift the paradigm around school food beginning with the MLK pilot.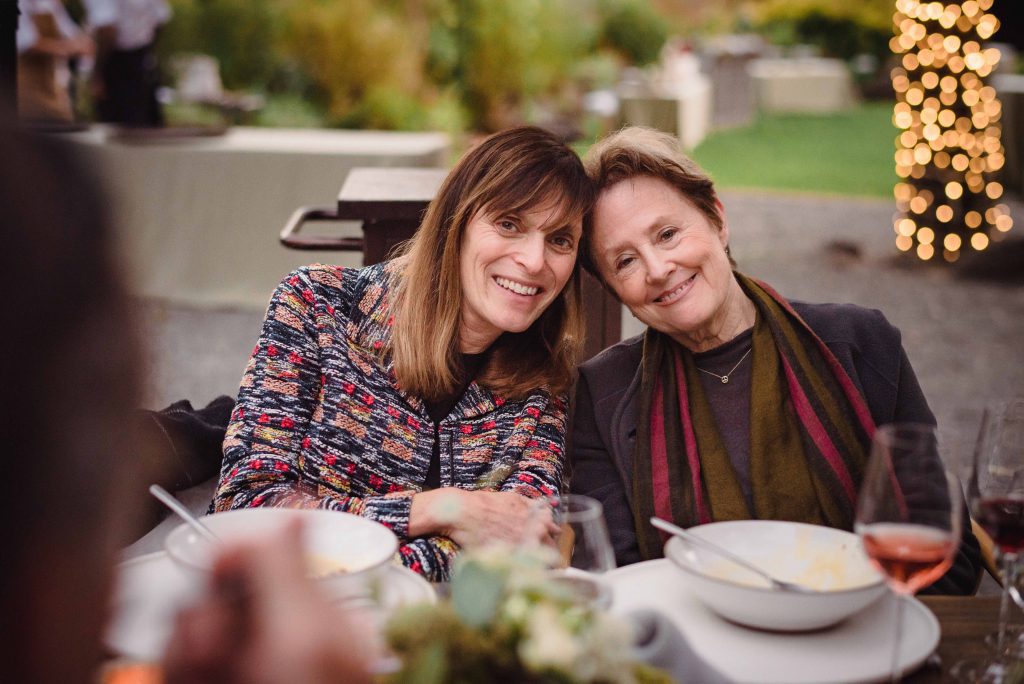 In 2015, Conscious Kitchen expanded to its second site, Willow Creek Academy in Sausalito, forming the nation's first 100-percent, organic, non-GMO school district. Between 2015 and 2017, it served 450-plus students more than 190,000 chef-prepared FLOSN meals in on-site, low waste kitchens. The program included breakfast, lunch, and snacks and is still going strong. It has a passionate and dedicated, full-time Executive Chef, Guillaume Pfahl who, besides being on-site at Willow Creek Academy, supports Conscious Kitchen's strategic planning and growth, including, menu, recipe, ordering, and supply chain development.
The program at each school includes an interdisciplinary garden and a nutrition and culinary curriculum that promotes food literacy and environmental education. Students plant, cultivate, harvest, and eat food as they follow it from seed-to-fork, all the while developing the knowledge, tools, and habits they need to live healthier, more productive lives.
Why FLOSN meals? Reliance on the industrial food supply and exposure to pesticides makes our children vulnerable to developing a myriad of chronic diseases. Since 1975, there has been a 10-fold increase in childhood obesity jumping from 1 million to 124 million in 2016 (WHO). Unfortunately, it's an escalating trend. One in three children in California is overweight or obese and at-risk for developing chronic health conditions such as diabetes, bone and joint problems, and high blood pressure. Too, some researchers have found as much as a 7-point drop in IQ as a result of pesticide exposure. Not only do all these factors threaten our future leaders, but it will overwhelm our healthcare system in years to come.
Healthy school food programs are critical to the well-being of our children. Fifty-eight percent of California students are dependent on free school meals for their nutrition 180 days a year. One in five California children are at serious risk for hunger. For some children, these school lunches are their only opportunity to have a healthy meal each day. Besides the obvious negative health outcomes, poor nutrition impacts academic performance and, as a result, jeopardizes upward mobility. Children from food insecure families perform worse in math and reading and achieve fewer educational gains than their peers over the course of the school year.
Evaluation and anecdotal data showed: 1) decrease in disciplinary cases, 2) improved attention in class, 3) empowered student leadership, 4) increased consumption of fruits/vegetables, 5) more equitable school food environment and reduced stigma associated with the NSLP (National School Lunch Program), 6) fewer stomach aches and headaches, 7) reduction in food and packaging waste (75%), and 8) increase in economic activity: for example, in the 2016-17 school year, two Conscious Kitchen schools spent $90K on local, organic food. According to USDA, that translates to $180,000 in local economic activity.
Board member Al Baylacq and partner at Good Earth Natural Foods has been there since the beginning. "As a local green grocer for nearly 50 years, it heartens us to see a program as committed to organic and ethical supply chains as Conscious Kitchen. We've been proud to support the program from day one and see the growth over eight years, proving what is possible when a mission-driven organization like Conscious Kitchen steps up to lead the community and forge powerful partnerships. Together with Conscious Kitchen, the rest of us should all be focused on food access, equity, and justice across the entire system and supply chain. It's time!"
So, that brings us to what happened when schools closed during COVID-19. As of June 5, 2020, Conscious Kitchen has served 45,000 meals (and counting). Healthy, delicious meals were available for daily pickup outside MLK Academy for all students and anyone under age 18. For individuals and families, hot, organic, nutritious meals were delivered daily to pick-up locations in Marin City and Mill Valley and drop-off locations in Mill Valley, Tiburon, and San Rafael. Individually packed, balanced lunches were also delivered daily to the homes of seniors in need, as well as to frontline local hospital responders and homeless community members sheltered in local hotels.
Advisory board member, chef, author, and owner of Chez Panisse and founder of the Edible Schoolyard Project, Alice Waters emphasizes, "This is the most important work for our future. School-supported agriculture is a practice I have long believed in and championed with the Edible Schoolyard Project. To see it in action with Conscious Kitchen, even at a time when campuses are closed, brings me great hope. Nourishing our children means buying our food directly from organic, regenerative farmers and ranchers who are taking care of the land. We are demonstrating that this system is possible in our communities and in all public schools across America. This Conscious Kitchen initiative that is happening in Marin City and Marin County in the mid of a pandemic is both supporting our precious farmers and feeding all children healthy, deeply nourishing food."
Adds Judi, "During the COVID-19 crisis, Conscious Kitchen shifted from feeding kids to feeding entire communities and even multi-generational families. Schools can serve as hubs for community resilience with the capacity to serve children, under-18 youth, families, and seniors as well as others in need."
How was Conscious Kitchen able to mobilize so quickly? The answer lies in Judi Shils, its existing program infrastructure, and deep networks within the local economy. Adaptive, creative, and solution-oriented leadership, three hub kitchens, trained kitchen staff, and an extensive existing local supply chain including local farms and ranches such as Tomatero Farm, Mindful Meats, Mary's Chicken, Earl's Organic, Marin Cheese Company, Good Earth Natural Foods (and distributor UNFI), to name just a few made it all possible. The organization quickly expanded its distribution capabilities of "food out the door," delivering fresh hot meals safely packed in bio-compostable and recyclable containers by harnessing its network of trained volunteers.
Instrumental in this quick response were the logistical skills of two key players, Jose Andrés and Judi's daughter, Erin Schrode. Erin returned home after running Jose Andrés' World Central Kitchen operation in Puerto Rico following Hurricane Maria, which served 3.7 million meals. Although long-time thought partners, the mother and daughter team had not previously worked together full-time. Even more amazing, they orchestrated all this while sheltering in place in Judi's home. The Conscious Kitchen's COVID-19 effort was supported with funds from World Central Kitchen, Marin Community Foundation, Milagro Foundation, Graystone Builders, Cavallo Point Lodge, and many other donors throughout the Bay Area and beyond.
Says Jose Andrés, founder of World Central Kitchen and lead funder of the organization's COVID relief effort, "We are proud to be standing alongside Conscious Kitchen to be feeding the people of Marin City and the region. This is a vital time to be engaging in communities all around America to provide healthy, nutritious meals for children and their families, while at the same time supporting local economies across the country."
In this new, post-COVID, social distancing world, it could be a while before the kids once again enjoy the pre-COVID communal dining and serving experience. However, the new, singularly packaged containers will still feature the nutritious FLOSN quality food, and there will be new opportunities to educate. Judi Shils is already thinking ahead and visioning how Conscious Kitchen might continue to meet needs: "Wouldn't it be wonderful if we could expand to new sites by utilizing shuttered restaurant kitchens and hire chefs and restaurant workers displaced from COVID-19? There are and will continue to be so many in the industry out of work for some time. We need to find creative solutions to feed those in need in our communities and who are still suffering from the recent economic setbacks."
Conscious Kitchen teaches us how a community can heal food insecurity at the grassroots level. It shows us a scalable, proven model to advance food equity and underscores the importance of having strong local dependable supply chains and how critical it is to have an extensive network of relationships in place to meet community needs quickly in times of crisis—be it a pandemic or a natural disaster. Its speed and capacity to feed communities is inspiring and provides an insurance policy for any region it serves. We are reminded we are only as strong as our weakest link, and while individuals absolutely do make a difference, when we work together we are always much stronger.
To donate, volunteer or inquire about starting a Conscious Kitchen in your area, check out www.Consciouskitchen.org.