Lamborghini introduces two new models – the world rejoices
HANDSOME, COLORFUL, EYE-CATCHING, MUSCULAR, POWERFUL, DYNAMIC, head-turning, dreamy . . . but enough about me. Let's talk about cars for a minute.
Imagine, for the moment, the Thanksgiving table at Villa Volkswagen, hosted by com- pany chairman, Dr. Herbert Diess. Given the incredibly illustrious members of that family — Audi, Bugatti, Bentley, Ducati, Lamborghini, Porsche, VW and more — it would be every car-lover's dream to attend such an event.
Let's also imagine that a dispute has broken out between three of the family members. Bob (Bentley), Aaron (Audi), and Larry (Lamborghini) each weighing in on why he should get the biggest piece of pumpkin pie. Unfortunately, Dr. Diess already has cut it, so the equality ship already sailed — there must be only one undisputed winner.
Bob reminds the group that the responsibility for the family claim of elegance rests upon him. Aaron weighs in that he wears the family's mantle of sportiness. But Larry
comes to the table with decades of unparalleled, edgy designs and prodigious power, so, by all rights, the largest piece (read most-powerful, torque-iest piece) should go to him. Doubtful that the imagined family engine wars would be decided thusly, but it's as good a story as any.
The foregoing may be interesting because there is a certain sharing that goes on, quite understandably, among the various brands under the VW umbrella. For example, the engine which powers the Audi R8 is similar to the one moving the Lamborghini Hura- can Evo. However, Audi's pumps out between just over 560 and about 610 horsepower (depending on which variant is chosen), while the Evo's clocks in at over 630 ponies. To my mind, having driven both extensively, the R8 has a "Germanic" feel of an extremely competent vehicle that does everything well (I liked it a lot), whereas the Evo (with much German engineering and "Germanic involvement") is all Italian with the excitement and
Having experienced such incredible performance with the Evo, I was surprised/not surprised by the Urus (cognoscenti tell me it's pronounced "ooo – roos"), Lamborghini's spectacular initial entry into the SSUV arena. (No shock that Lambo calls their ute a "Super Sports Utility Vehicle.") And what an entrance, so worthy of the international star that it has become. Urus sales to date far exceed any other Lamborghini model, and the rush to buy one does not ap- pear to be abating. My week with the Urus gave me ample reasons why the public had an immediate love affair with this car.
First (especially as I am from Los Angeles), let's start with the looks. Yes, it resembles other SUVs, of course, as form really does follow function if you want the motor in the front, a few rows of seats in the center, and a cargo area in the rear. But Lamborghini has been able to inject the inimitable Lamborghini DNA into this new stormer; so, whether it's coming toward you or you're behind it on the road (a common experience, given its performance), there's no doubt that it's another creation from the Saints of Sant'Agata Bolognese.
Let's start from the front. Especially on "my" yellow ("Giallo Auge") Urus with shiny black trim, this pairing was, to my eye, the perfect combination, as it highlighted all the special design bits. Nature apparently agreed — several times I had bees alight on the car when stopped or parked. (It would have been hard for the little critters to hang on up to the 190MPH top speed; and, with a 0 – 60 of about 3.5 seconds, that acceleration would challenge even the most determined insects.) With a twin-turbo V-8, it put out over 640 horsepower (no need to check back on the Evo, as it was getting by with "only" 630HP), but the magic happens due to the torque — over 625 pound-feet of twist (compared to the Evo's 443) which sounds like a machine ready to pull tree stumps from your yard. As high torque provides right-now performance, that big number ex- plains everything about the thrill factor that comes with this hauler.
Sitting up high like a proper SUV and shod in 23-inch (optional) wheels, it's hard to comprehend why this car can accelerate, stop, and — amazingly — corner with such con- fidence. It may not have made me want to be a better man, but I certainly wanted to be a better driver able to test the limits of the Urus on the track. Clearly, however, in the twisties so prevalent in Southern California, not many cars, no matter of what ilk, could keep up with the Urus on the corners, much less on the straightaways which reward this car's incredible power.
Did I mention that "mine" was bright yellow (a color so luminescent that it bears repeat- ing)? With a base price of $200,000, my menu was ticked so many times that the price hit about $243,000. The big tickets? Upgraded B&O sound system ($6,313), the aforemen- tioned 23-inch rims ($5,051), Alcantara seats ($3,157), the Ambient Light Package ($3,036), and the huge panoramic roof ($2,778). You know what? There wasn't an option I would have deleted. I like the Urus very much, so much that I started to come up with the vari- ous reasons why . . . forget want, I needed one.
To paraphrase Mark Twain, I've never met a Lamborghini that I didn't like. However, that's not to say that all Lambos are created equal, especially when looking back almost 60 years when Lamborghini opened its doors in 1963. Even their more recent supercars, like the Gallardo and Murcielago, really bear scant resemblance to the Aventadors, Hura- cáns, and Uruses (Uri?) of today. Gone are the days of having to settle for a lack of creature comforts or even reliability in order to have a high-performance Italian car. The Evo and the Urus stand as testaments to the premise that you can have it all, get there quickly, and have fun doing it.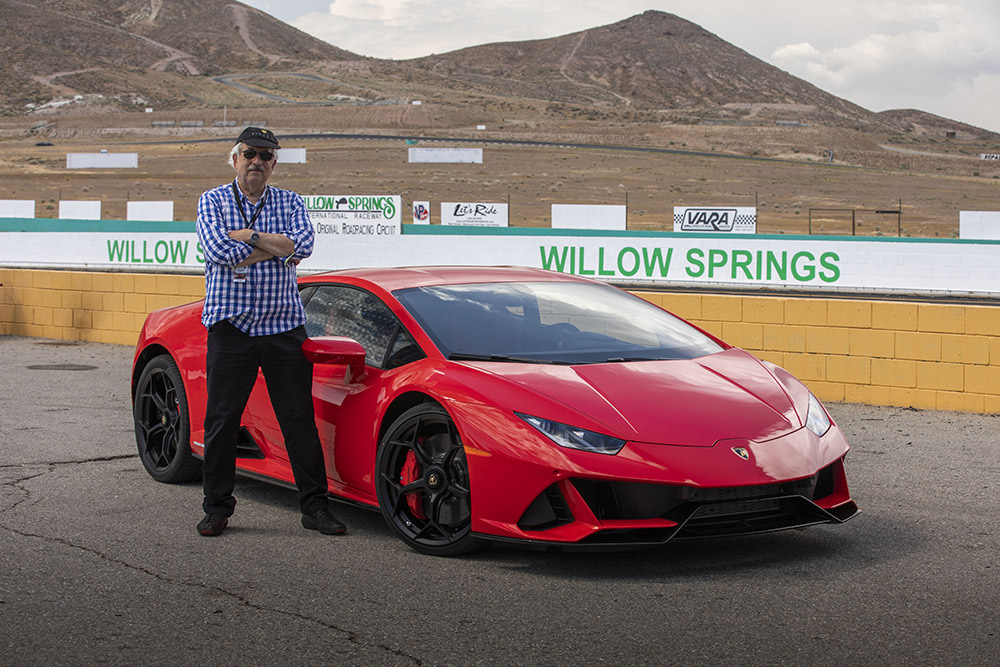 A lifelong petrol-holic, mechanic (cars, motorcycles, boats), and automotive journalist since penning a column for his high school newspaper, internationally rec- ognized attorney Tim Lappen is a partner at a major Los Angeles-based law firm, where he chairs the firm's Family Office Group and its Luxury Home Group and is, of course, a member of its Motor Vehicle Group. He can be reached at tlappen@gmail.com.