Get ready for some bold colors & bedazzle this season
THE WEATHER IN NEW YORK DURING FASHION WEEK this season might have been gray and drab, but the electric colors, exuberant patterns, and bedazzled embellishments on the runway made up for the city's winter chill. Some of the fashion leaders in the week's lineup included Johnson Hartig, Libertine's founder, vi- sionary, and designer; Wes Gordon, the style force at the helm of Carolina Herrera; and, Naeem Khan, the beloved Indian-American fashion designer known for his intricately detailed gowns.
"Being at fashion week, seeing the artistry of the runway shows, the celebrities, and the glitz are all fabulous. However, the collection themselves are the crown jewel of the whole affair. The colors, textures, beauty, and creativity caress the senses and the sensibilities. Still, some of the pieces are high art. The embroidery and bright stones on the folds of the luscious fabrics of Naeem Khan are nothing short of sensual. The colors and sophistication of Wes Gordon's debut pieces for CH are fabulous. And then there is Johnson Hartig and Libertine. He is the consummate creative artist and the most out-of-the-box designer of our time. His pieces are playful, delightful and pure joy. I keep thinking to myself how many art pieces can I actually own and display at any time?" says Nafiseh Lindberg, the San Francisco Opera Guild Co-chair of the SF Opera Ball 2020.
JOHNSON HARTIG'S LIBERTINE
"I'm out there doing my thing, volunteering and knocking on doors; but I'm also trying to design really beautiful things that bring a little bit of joy and happi- ness." —Johnson Hartig
If there was one designer whose collection could magically take up every inch of my walk-in closet, it would be Libertine's Johnson Hartig. Everything about his designs shouts, "Individual, artistic, clever, beautiful, and brave." We all want those traits, and Hartig has captured them in his latest collection. From bold plaids bedazzled with colorful crystals to sharp, black wool decorated with shimmering letters of the alphabet, you can't go wrong with Libertine.
While his pieces are timeless, they are also delightfully whimsical. Each is a work of art that can be worn and celebrated. Johnson Hartig's skill in graphics, beadwork, and crystal design has led him on this wonderful path of creation where he incorporates his love of history, fashion, art, design, travel, and culture in his pieces. The fall collection displays ample evidence of his genius. Some of my favorites include his bold vintage botanical prints and a luscious print featuring portraits of people who have inspired him, including Malcom X, Pat Buckley, and Boy George. Of course, he frames them in his iconic heart pattern. The text of Arthur Rimbaud's poem "Winter Dream" in an abstract print beautifully captures his love of poetry.
Few designers who so deep into their personal proclivities to put their heart's desires on exhibition as does Johnson Hartig. It is refreshing and absolutely won- derful to see.
Along with a substantial crew of devotees who came from San Francisco to at- tend his fashion show and trunk show hosted by Neiman Marcus, Johnson Hartig has an A-list of international celebrities who adore him, including Gwenyth Pal- trow, Mick Jagger, Taylor Swift, Cher, Katy Perry, Usher, and Gwen Stefani.
"Libertine continues to revolutionize the way one thinks of textile design, em- bellishment, and, in fact, clothing itself," Johnson Hartig says.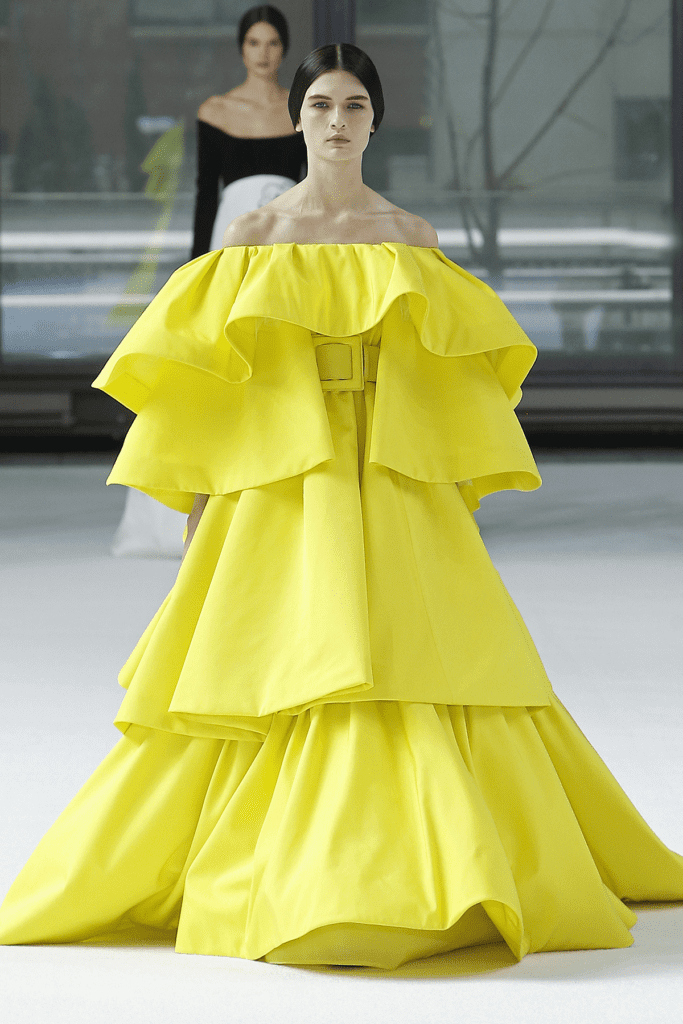 WES GORDON FOR CAROLINA HERRERA
Style icons and the fashion press were all smiles when Wes Gordon unveiled his deliciously colorful collection brimming with ruffles, bright floral patterns, and happy shades of mandarin orange, sunshine yellow, and intoxicating blue. This season, Gordon has some fun mixing deep fuchsia with a playful clementine that added some drama to the runway. Of course, it wouldn't be a Carolina Herrera show without her iconic red. The designer added layers, ruffles, and impeccable lines to the clas- sic color. The collection is filled to the brim with statement pieces that would brighten the day of any fashionista stepping out in a Carolina Herrera piece.
San Francisco is in for a treat on May 14, when Wes Gordon showcases his latest collection at Neiman Marcus for San Francisco Opera Guild's annual fashion show. Funds raised from the show support the numer- ous educational programs that the Opera Guild sponsors throughout the year. If you want tickets, go to: sfopera.com/Opera-Guild/social-events/ WesGordonFashionShow.
"Wes Gordon is the most creative talent on the fashion scene right now, and his designs respect the classics. But he has taken that look and made it youthful, fun, and extremely wearable for all ages. We are so ex- cited that he is coming to San Francisco to showcase his new line for us," said Mary Poland, President of San Francisco Opera Guild.
After the show we got a rare chance to chat with Wes about his collection:
What was your inspiration for this latest collection?
Modern drama and bold colors set the tone the Fall 2020 collection. I describe this col- lection as "One Grand Gesture." Within this gesture, I wanted to celebrate the house codes, including dynamic prints, hyper-pigmented hues, and a sense of optimism.
We are very excited that you will be coming to San Francisco in May. Can we get a sneak peek of what you will be showcasing?
It's not a surprise if I give away too much, but I will be bringing the best of the best from Fall 2020, especially pieces perfect for the San Francisco woman.
San Franciscans love Carolina Herrera. How do you keep the brand relevant in changing times?
We're a house known and loved for our distinctly feminine glamour, and I approach this through the lenses of color. Our goal is to make a woman feel her most beautiful, no matter where she lives. I love traveling the world and meeting our clients and hearing their feed- back. It's so important to connect with the client and understand their needs.
What is the one Carolina Herrera "it" piece every woman should have?
I'm not a believer of following trends. The Carolina Herrera woman is bold. They're not followers, they're not shy. They're confident women who, when they laugh, they laugh loud, and when they march, it's to their own beat. Every woman should find the piece that will make her smile, dance—and to everyone, that piece could be different.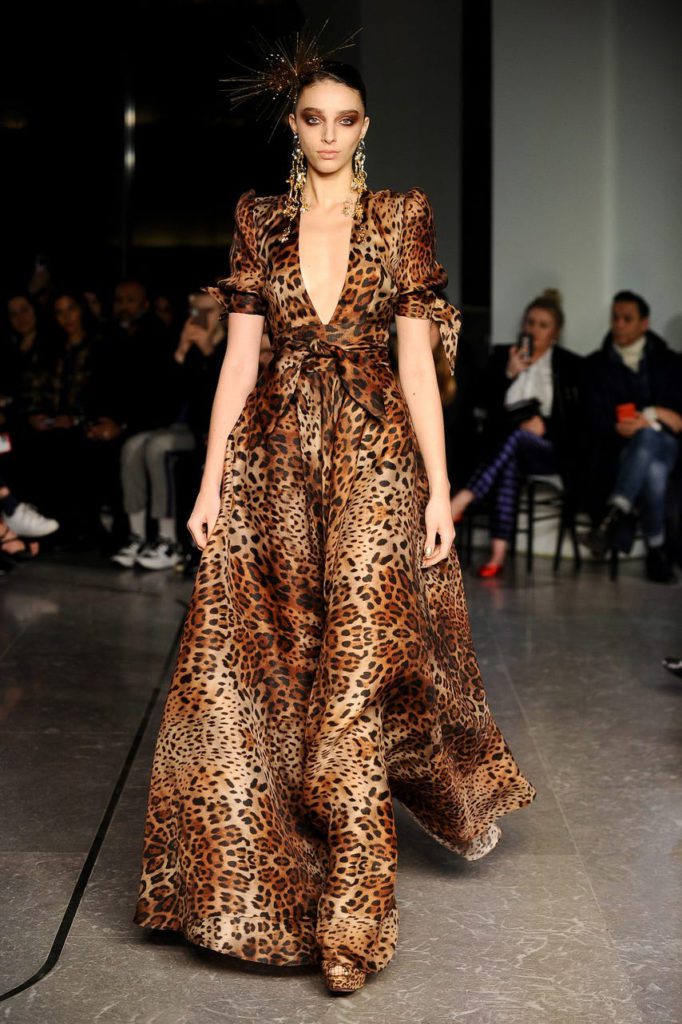 NAEEM KHAN
While Naeem Khan is a fashion icon known for his generous use of opulent embellishments to his gowns which have been worn by First Lady Michelle Obama, Queen Noor of Jordan, and Catherine, Duchess of Cambridge, this season he wanted to do something a bit more personal and less over-the-top.
"I wanted to do something more personal, salon style," Khan said.
Although Khan wanted less flash and more fashion, his show was indeed attended by stars like Ewan McGregor, who sat in the front row taking it all in. Along with international celebrities, this year's co-chairs for the Opera Ball, Kim Dempster and Nafiseh Lindberg, also attended his show.
Once again, Naeem Khan showcased a collection of irresistible pieces from glittery pantsuits to epic, embordered and bedazzled gowns that shim- mered in the subtle light off the runway.
"What an amazingly experiential way to search for our Opera Ball gowns. Made only possible by our friends and partners at Neiman Marcus. Each show was unique, and each a visual feast for the eyes. The Naeem Kahn show was the exclamation point of the week —a kaleidoscope of colors, textures and sparkle. And it was at the Naeem Kahn show where we BOTH found our gowns for Opera Ball 2020 which happens to have theme Kaleidoscope!" shares Kim Dempster, the San Francisco Opera Guild Co-chair of the SF Opera Ball 2020.