The newest branch of a beloved South Bay restaurant marries European tradition with Californian sensibilities.
Nestled amid the bustling streets of Palo Alto, a culinary gem transports diners to the vibrant streets of Vienna, Austria: Naschmarkt Restaurant. Following a decade of well-earned praise at its Campbell location, the family-owned establishment now brings its recipe for success to Silicon Valley. With its authentic cuisine, charming ambiance, and commitment to a warm and welcoming dining experience, Naschmarkt Restaurant in Palo Alto has earned a well-deserved reputation as one of the best new restaurants in the region since opening last year.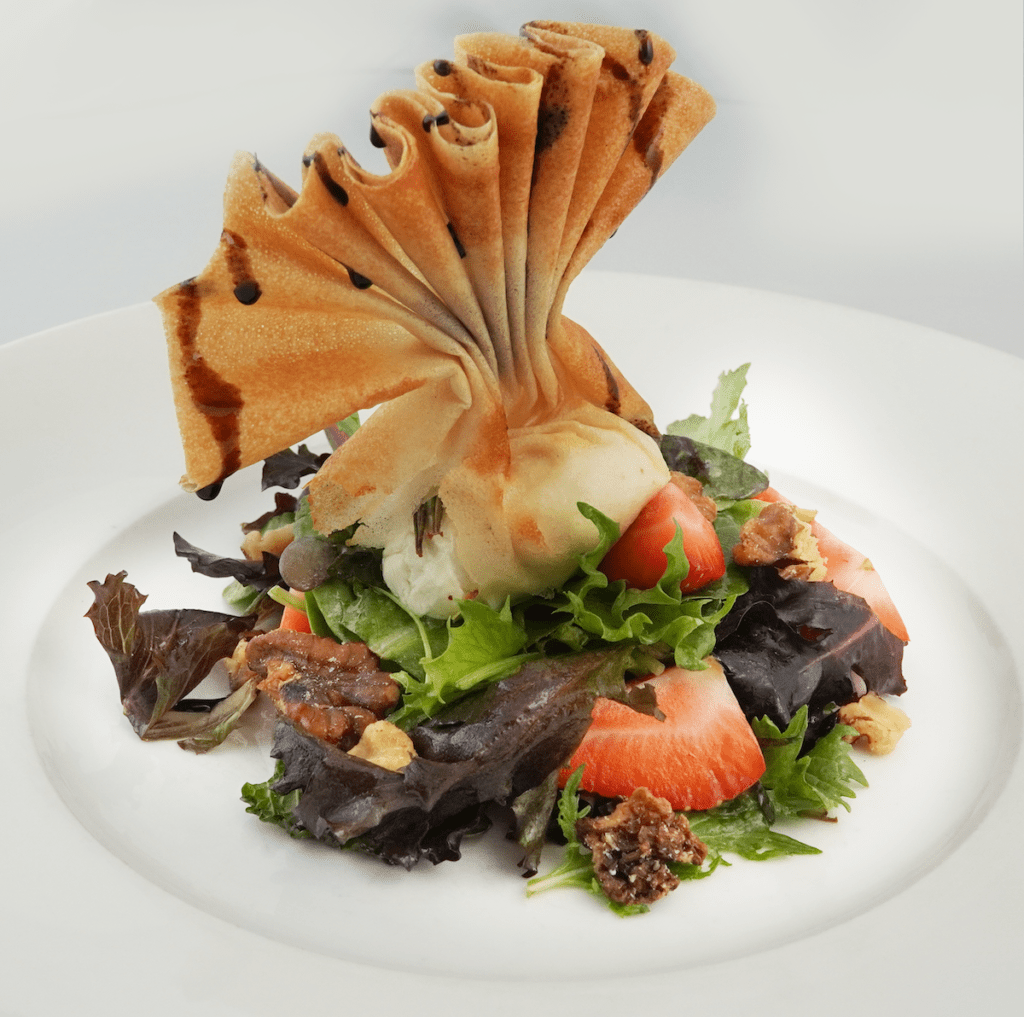 The moment you enter Naschmarkt, you will feel right at home with owner Dino Tekdemir and his team in the casual-yet-elegant space. The restaurant's decor reflects the traditional charm of Austria, creating a warm and inviting ambiance perfect for both romantic dinners and family gatherings.
Named after Vienna's renowned open-air produce market, Naschmarkt offers an array of regional specialties and homemade dishes. Vienna is renowned for its rich culinary tradition, characterized by a delightful blend of flavors, textures, and aromas. At Naschmarkt, Tekdemir successfully recreates this experience by offering a menu that showcases the best of Austrian cuisine with an emphasis on being seasonally driven. "I think Austrian appeals to everyone's tastes," says Tekdemir. "California and Austria share an overlap in some seasonality and having unique wines, and various beers. I wanted to offer Austrian dishes, but with Californian sensibilities."
The culinary team—led by chef de cuisine Sedat Balkan who trained and worked in Vienna—creates regional specialties, all designed to satisfy a hearty appetite. Though heavier meals may first come to mind in the context of Eastern European cooking, recipes are crafted to include even the most delicate of dishes by featuring Californian ingredients and incorporating a variety of influences from across Europe.
Begin your culinary adventure with an appetizer such as the homemade pretzel with double-smoked bacon and beer-cheese sauce, or the sweet corn soup, a velvety starter with hints of honey along with a delightful crunch of kettle corn, the bright tang of crème fraîche, and scallions. You'll also want to try the restaurant's sausages served with braised sauerkraut, caramelized onions, and Dijon mustard—whether it's the classic smoked pork bratwurst, a spicy paprikawurst with just the perfect amount of heat, or the specialty sausage of the day.
For the main course, you'd be remiss not to try beloved Austrian specialties on the menu, such as the classic wiener schnitzel, a crispy and tender breaded veal cutlet served with a salad of arugula and capers. We opted for the Hungarian beef goulash—a cozy dish perfect for the dropping temperatures—featuring beef shoulder braised in paprika, topped with Hungarian pepper and sour cream, and served with a hearty side of herbed spaetzle. There's a reason it's Tekdemir's personal favorite, and a dish that its regulars frequently return for.
Naschmarkt's menu also includes pasta and seafood dishes, sumptuous chicken and pork options, and vegetarian selections, ensuring there's something for every palate. Naschmarkt's signature dishes are Austrian, but other menu items change seasonally. For example, you might discover rabbit with seasonal vegetables on the menu in spring, or duck and butternut squash in the fall. Don't forget to pair your meal with a wine from a list of 30 hand-picked selections, as well as a diverse offering of refreshing German and Austrian beers.
The group behind the restaurant now operates three restaurants in addition to this newest venture: the Mediterranean-themed Anatolian Kitchen in Palo Alto, Naschmarkt in Campbell, and Barbayani Taverna, which opened in Los Altos in September. One of the standout qualities of its Naschmarkt concept is the unwavering commitment to using the finest ingredients and traditional Austrian recipes. The restaurant sources locally whenever possible, ensuring the freshest produce and ingredients are used to create each dish. This farm-to-table sensibility unites with its authentic recipes to create a new genre: Austrian food as seen through a Californian lens. This dedication to quality shines through in every bite, making Naschmarkt a destination for food enthusiasts who appreciate authentic cuisine.
Whether you're a connoisseur of Austrian cuisine or simply looking to explore new flavors, Naschmarkt promises an unforgettable dining experience. From the delectable dishes inspired by Vienna's culinary heritage to the inviting ambiance and attentive service, Naschmarkt captures the essence of Austrian dining, and is sure to provide an experience that will leave you craving the flavors of Austria long after your meal is over.