Get acquainted with the Sausalito hotel's latest guest culinary experience, a worthy splurge for an extra-special getaway.
Seeking a tranquil getaway with a touch of luxe? Look no further than the charming town of Sausalito. Despite its bohemian history and array of art galleries, houseboats, and the laidback atmosphere, there's a taste of haute to be found.
The Inn Above Tide in Sausalito is a luxurious and intimate waterfront boutique hotel that offers unparalleled views of San Francisco Bay, the city skyline, and the iconic Golden Gate Bridge. Nestled on the picturesque shoreline, the hotel provides guests with an extraordinary blend of tranquility and sophistication. Offering 33 rooms and suites perched on the edge of the San Francisco Bay, the Inn Above Tide's Bump Bar package goes the extra mile to make your getaway unforgettable.
Unveiled earlier this year, the exclusive package is designed for discerning travelers who appreciate the finer things. The third in a series of local culinary tastemaker itineraries, this new guest experience was developed in partnership with Deborah Keane, founder of the California Caviar Company and owner of Bump Bar. Launched in 2007, the California Caviar Company is the first caviar company to only sell sustainably farmed caviar. Meanwhile, the Bump Bar in downtown Sausalito offers a beautiful space for private events and chef pop-ups.
Your stay begins in one of the inn's beautifully appointed rooms or suites, where you'll find a serene atmosphere with plush furnishings and refined decor. The highlight of the package is, of course, the caviar. A custom caviar kit designed exclusively for guests of Inn Above Tide welcomes guests who have booked the package, which includes a generous serving of ACCA White Sturgeon Caviar, traditional accompaniments such as crème fraîche and crackers, and a bottle of Dom Perignon on ice. This luxury culinary experience showcases locally produced caviar, perfectly complementing the oceanfront splendor of the inn.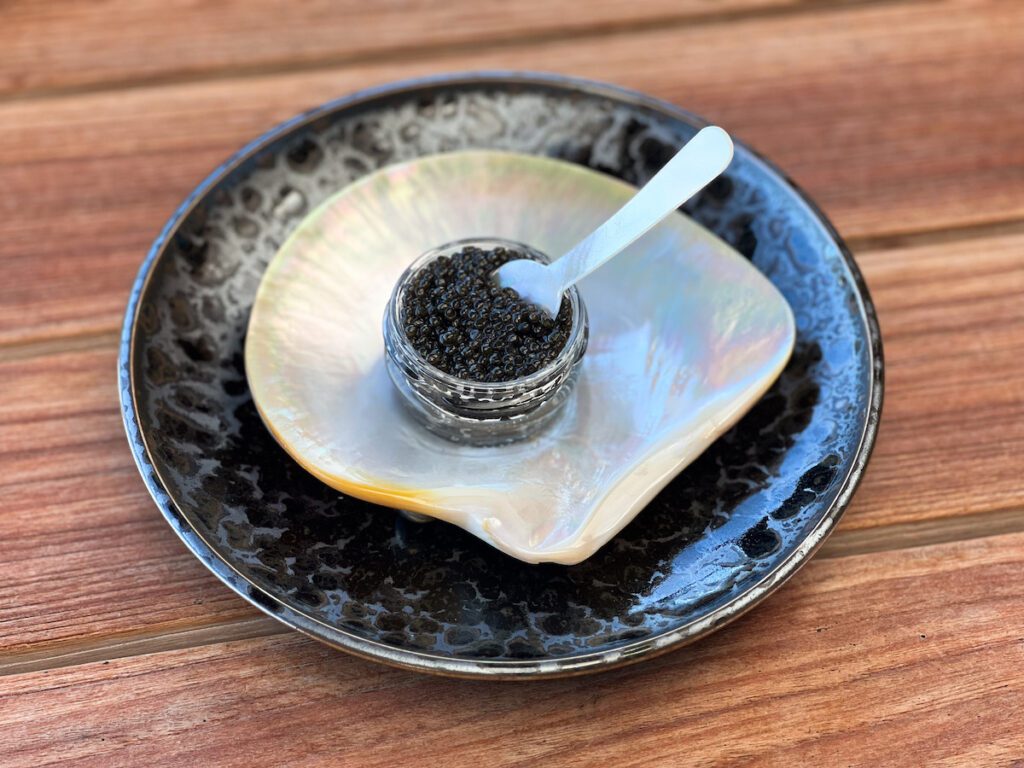 Savor your caviar and champagne in the privacy of your room or suite while taking in the stunning views of the bay. From your balcony or terrace, you can enjoy marine life, kayakers gliding by, and the ever-changing colors of the San Francisco skyline. Whether you're seeking a romantic getaway, celebrating a special occasion, or simply looking for an opportunity to pamper yourself (or a special someone), you'll be experiencing the best of Sausalito's hospitality and gastronomy in a stunning setting.
Your stay at the Inn Above Tide also includes a hearty continental breakfast and a nightly wine and cheese reception, both of which can be delivered to your room if you're taking the idea of a staycation quite seriously. Watching the fog roll in from the comfort of a plush bed, as a fireplace crackles in the background, is a truly restorative experience.
For more information or to book, visit www.innabovetide.com.