Right now is the time to snag reservations at one of the city's best new offerings, where less is dazzlingly more.
As someone who dines out for a living, I'm inevitably asked after every restaurant visit: Was it good? It's never an easy question to answer when there are numerous factors that go into whether a restaurant is "good." This is complicated by the fact that the experience is subjective: one diner might enjoy having their dish whisked away the moment they finish the last bite, while others prefer laidback service. Some might prefer dining to a classical score, and others a contemporary playlist. For me, Kiln manages to strike the perfect balance in all areas—food, service, and ambiance—while maintaining an impressively calm and collected aura.
Part of the credit may be due to the space itself. The 3,400-square-foot space in Hayes Valley, a former garage that was previously inhabited by the celebrated Cala, is airy yet intimate. Vaulted ceilings and exposed concrete walls lend an industrial-chic vibe, while clerestory windows and pendant lighting bring warmth into the space. The room is anchored by a service station custom-made by Santa Cruz-based furniture maker Oxford Design, It features a pale green olive tree from Sonoma sprouting out of the console's concrete-topped wood. Kiln also inherited the previous restaurant's state-of-the-art sound system—Meyer Sound Laboratories' Constellation Acoustic System, if you want to get technical—a highly customizable setup that makes acoustics sound natural and immersive, perfect for its eclectic playlist featuring the likes of Mac Miller and Lana Del Rey.
The concept from owners chef John Wesley and general manager Julianna Yang, who met while working at the Michelin-starred Sons & Daughters, is simple and focused. The restaurant holds just 34 diners at a time, including bar seating for 8. The ingredient-driven menu is informed by Japanese, French, and Scandinavian techniques Wesley picked up from Baumé in Palo Alto and Aska in Brooklyn.
Upon arrival, we were greeted with a welcome glass of sparkling rosé to begin the tasting menu ($225), consisting of 18-20 courses served over approximately three hours. (I must call attention to Kiln's impeccable pacing.) Pairings curated by beverage director Vincent Balao (Atelier Crenn, Benu, Spruce) are also on offer, in addition to a spirit-free option featuring kombucha, seasonal shrubs, and Proxies (non-alcoholic wines from Acid League, a personal pantry favorite of mine).
The presentation of each course reflects the space's minimalist aesthetic, but don't let the simplicity fool you. Behind each dish is extraordinary amounts of preparation—be it fermentation, curing, or pickling. For example, take the beef tendon. This second bite—after a triple-cream goat milk cheese sandwiched between potato crisps with a tangy hit of malt vinegar that also deserves a mention—is not the slow-cooked, gelatinous version I'm accustomed to in Cantonese cuisine. Not that I'm complaining—part of the delight of dining at Kiln is that you don't receive the menu until the very end, enticing you to wonder about just how each ingredient is incorporated into each dish as you savor it. The tendon arrives in the form of a crisp, crisscrossed sphere, served on a glittering glass vessel. Topped with dabs of roasted onion vinegar and chive blossoms, the fried beef tendon is the result of a multi-day process in which the tendon is boiled, fried, and crumbled before being reconstructed around house-made sweet potato noodles.
The next courses are a continued exercise in using exemplary ingredients and allowing the unique flavor profiles to shine alongside one another. Slivers of buttery shima aji layered with the juicy ripeness of white peach, the pleasant crunch of a smoked sturgeon croustade with tart white verjus and briny kombu, and the delicate sweetness of spot prawn with earthy kohlrabi and grilled cream. Also worth mentioning is the tableware in which each course is served, each as singular as the dishes themselves. These works of art range from porcelain sourced from Japan to hand-blown glass bowls from Denmark.
The next course, cornettes of grilled beet with bone marrow and huckleberry, arrives tableside in a made-to-order stand of circular wood from a London turnery. Once lifted from its careful perch, again the eyes deceive: the beef requires a lengthy process of roasting, marinating, smoking, and drying before being molded into a conical shape and filled with a paste of rendered bone marrow and egg yolk. That tiny spot of plum atop, you ask? It's a carefully concocted hint of huckleberry, a touch of acidity to complement the richness of the bone marrow. There's more than meets the eye with every single dish at Kiln.
We're only a third of the way through the menu, and the ingenuity never ceases. The next course is Dungeness crab and Osetra caviar, finished tableside with a verdant sauce that tastes of fresh-picked dill and just-grated horseradish. Sublime. Then, blue lobster from Portugal, blanketed in a luxurious sauce of Pilsner and roasted yeast. The umami flavor of tomato miso is a perfect match for its malty sweetness, making for a dish you'll find yourself scraping the dish for. The journey continues with a slow-poached Jidori egg yolk, a deep orange orb swimming in a full-flavored broth of smoked mushroom that wraps you in a warm embrace. It's served with a fermented potato bread fragrant with caraway, warm and ready to be brushed with a delicately whipped cultured butter made with beef drippings. The bridge in Mac Miller's "Congratulations" swells in the background as I bite into the roll, its extraordinary combination of flavors intensifying in concert with the soundtrack. It's a life-altering combination for anyone who has been on a no- or low-carb diet, and I can only think of my life as before and after this course from now on.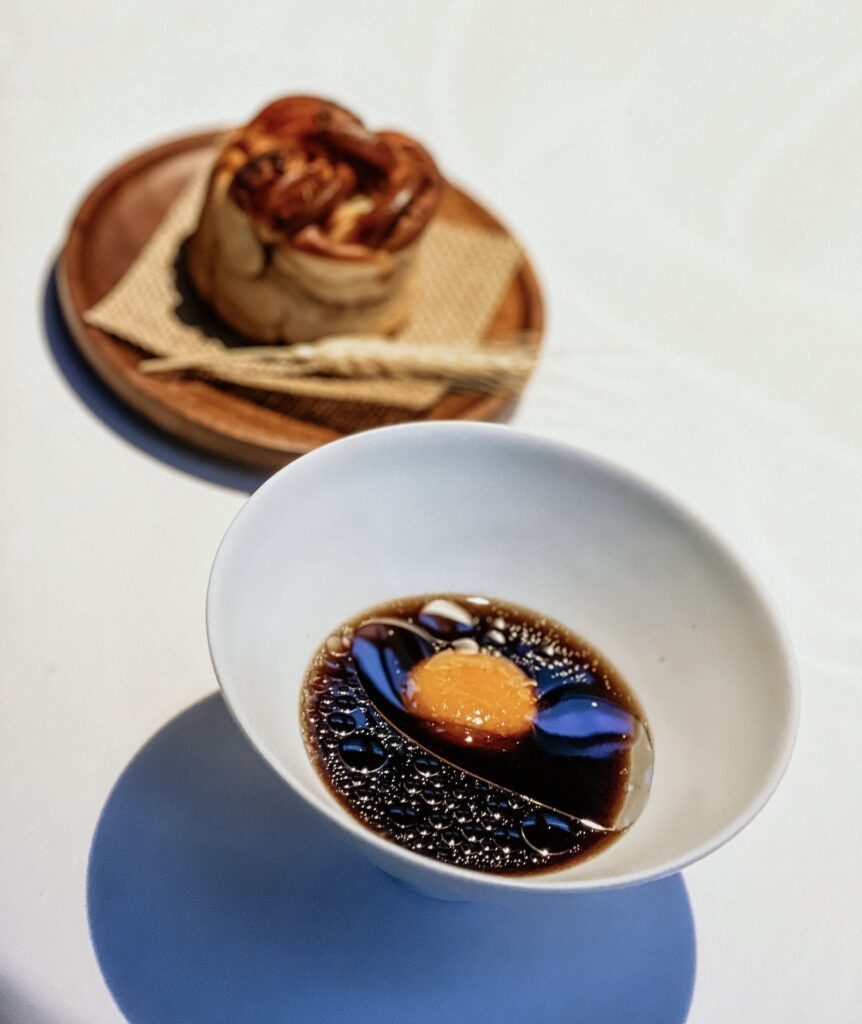 We're only halfway through the menu and there's much more to come, but part of the spirit of Kiln is savoring the moment, so I'd like to leave some of it for your own discovery. Though there has been comparatively little fanfare since its opening—perhaps fortunate for those looking to score reservations—Kiln is a hidden gem ready to be uncovered. A line from "Congratulations" comes to mind: "[You're] too divine to just be mine. You were everything I ever wanted." Bring a partner for this transformative journey and know that you will leave satiated in a way that transcends the physical.