Experience a luxurious overnight stay in this charming coastal town
As the warm sun rises over the glittering Pacific Ocean, the coastal town of Half Moon Bay in California beckons with its picturesque beauty and endless possibilities. A quick weekend away to this idyllic destination promises a much-needed escape from the fast-paced hustle of daily life and a chance to indulge in a decadent array of experiences.
Half Moon Bay has something for every discerning traveler, from dipping your toes in the crystal-clear waters while kayaking amongst playful sea otters to relishing in a delectable dinner at the famed Sam's Chowder House. Its rugged coastline, punctuated by sweeping cliffs and sandy beaches, provides the perfect backdrop to unwind and soak up the sun.
Delve into the rich local history by strolling along the Half Moon Bay's Coastal Trail, where stories of the region's fishermen and pioneers come to life through informative plaques and markers. Or take a leisurely drive down the Pacific Coast Highway for panoramic views of the coastline and breathtaking vistas of mirroring blue skies and surf.
As the sun sets, indulge in a culinary journey highlighting fresh, locally sourced ingredients from some of the country's most renowned chefs. Sam's Chowder House stands out, guaranteeing an unforgettable gastronomical experience with its quintessential seafood and impeccable service.
STAY
Reserve the Penthouse Ocean View Suite at the Beach House. Located on the 3rd floor overlooking Pillar Point Harbor, each Penthouse Ocean View junior suite offers 15-foot vaulted ceilings and 500 sq. ft. with a living room area with a beautiful fireplace and balcony. All have king-size beds with a queen sleeper sofa in the step-down living room area. Rooms feature two flat-screen televisions, complimentary wireless Internet access, down comforters and pillows, cozy robes, a refrigerator, microwave, and a working desk. Bathrooms include double sinks with granite countertops, a separate tub, and a shower.
Guests of the Beach House can enjoy their complimentary continental breakfast in their cozy lobby, outside on the Ocean Terrace Patio, or their private balcony. In addition, after a day of outdoor recreation, guests can take advantage of their heated swimming pool and hot tub overlooking the Pacific Ocean or relax with various massages provided by Intuitive Touch.
DINE
Nestled on a hillside overlooking the Pacific Ocean, Sam's Chowder House offers stunning sunsets, oceanfront outdoor dining, and an authentic seafood experience reminiscent of an East Coast-style seafood house. Sam's eco-friendly menus, prepared by award-winning Executive Chef/Partner Lewis Rossman, offer daily fresh fish, live Maine Lobster, Sam's famous Clam Chowder, house specialties such as Lobster Spaghetti and Chili Garlic Prawns, Lobster Rolls stuffed with big chunks of sweet, juicy lobster (an award-winner), farm fresh salads, a raw bar, and other local specialties. There are also options for meat lovers, such as Slow-Braised Short Ribs, Spaghetti and meatballs, and a grilled New York Steak.
Chef Rossman's mantra is sustainable, fresh, local when possible, and always seasonal, from the seafood and meats to the produce and artisanal cheeses. Produce in the fields of Half Moon Bay in the morning often finds its way onto the salad plate at Sam's by evening. This passion for fine, fresh ingredients is evident from the house-made dressings, sauces, pastas, and charcuterie to the house-made desserts.
Featured on NBC's The Today Show and voted "Best Outdoor Dining" by San Francisco Magazine, Sam's is family-friendly and open daily for indoor and outdoor dining and takeout. Gluten-free and vegetarian options and a kids menu for 12 and under are also available.
Begin your culinary journey with the exquisite Captain's Platter, leading you to the tantalizing Sam's Lobster Spaghetti for Two. Embark on the ultimate indulgence with the iconic New York Style Cheesecake, concluding your dining experience.
PLAY
Immerse yourself in the wonders of kayaking and paddle boarding in the captivating Half Moon Bay with HMB Kayak, or embark on a scenic bike ride along the breathtaking California Coastal Trail. Glide through the serene waters of Pillar Point Harbor and encounter seals, birds, and a myriad of marine life, or challenge yourself in the untamed waves of the Pacific. Alternatively, experience the renowned Half Moon Bay Coastal Trail as you pedal through towering cypress trees and expansive coastal bluffs.
HMB Kayak's impressive fleet comprises a selection of single and double kayaks, a diverse range of stand-up paddle boards, and an array of bikes tailored to your requirements. In addition, they provide classes, tours, corporate trips, and private events to ensure a truly memorable experience.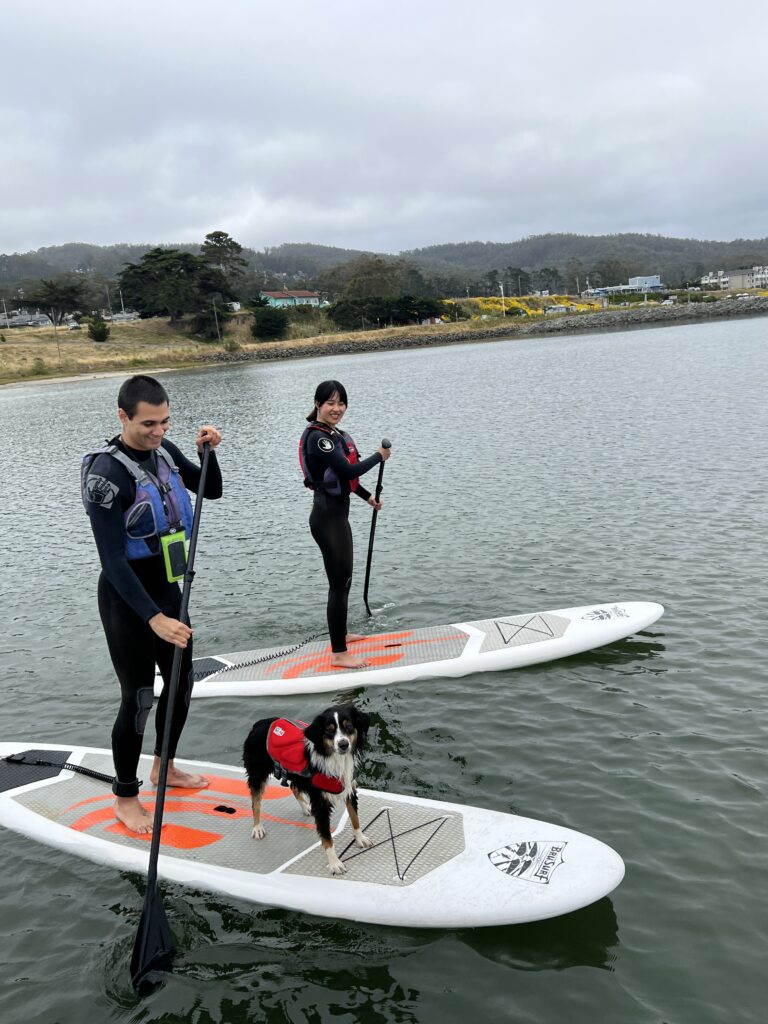 Half Moon Bay has something for everyone, whether you seek adventure or relaxation. With an abundance of activities to choose from, including hiking, horseback riding, and wine tasting, you'll be spoilt for choice. So why wait? Escape the mundane and bask in the beauty of Half Moon Bay – a true Californian treasure.