Melbourne Food & Wine 2023. 
The mosaic of cultures in Melbourne, Australia has over 100 ethnicities, nationalities, and heritages, starting with its original indigenous inhabitants. Victoria's capital city is a confluence of communities, which helps to explain why it has produced one of most vibrant and creative food scenes in the world. Enophiles might raise their wine hands to argue that the wine scene is just a robust as the food with regions such as the renowned Mornington Peninsula and Yarra Valley. Nonetheless, we should be fortunate that these two sides decided to pair up for a gastronomic party known as the Melbourne Food & Wine Festival (MFWF).
Founded in 1993 as a small gathering of chefs and winemakers, MFWF is now in its 31st year with nearly 200,000 people visiting from all over the world. This includes San Francisco Bay Area epicureans, thanks to direct flights on United from SFO to MEL. First-time visitors to Melbourne and the festival enjoyed the narrow laneways and intimate locations of Fed Square, where over 100 of the events were held. The 10-day festival ran from Friday March 24 to April 2 this year, welcoming chefs from San Francisco, Kyoto, New York, London, and a multitude of local Australian food and wine experts.
One of the many highlights of the Melbourne Food & Wine Festival program is the annual World's Longest Lunch followed the next day by the World's Longest Brunch. These signature events draw about 3,000 people, with local culinary stars in charge of the menu paired with wines from the region. This year it was held in Treasury Gardens, one of Victoria's oldest gardens dating back to the mid-19th century. Located near Victoria's Parliament House, its lush green landscape provides optimal space and ambiance for the 2,000-foot table needed for these events. 
World Longest Lunch
Alla Wolf-Tasker, culinary director of Lakehouse Daylesford, prepared a 3-course feast for an eager crowd. Wolf-Tasker, a legend in Australia, pioneered sustainable production more than 40 years ago when few considered the practice worthwhile. Her passion to move food forward and use local organic ingredients was on display during the MFWF kickoff event: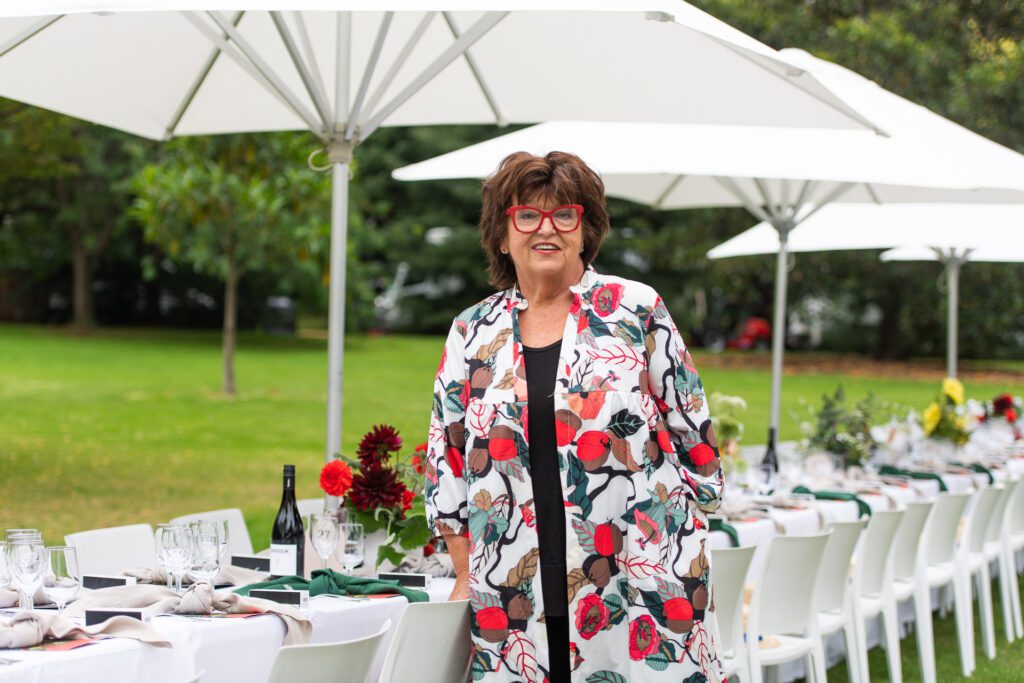 Entrée
Tartlet of late season hoophouse vegetables, herbs, flowers, parmesan, and mustard crust, goat's milk custard, pear purée.
Main Course
Duck brik, roast fig, eggplant, radicchio.
Dessert
Autumn apple (caramel apple and walnuts, buttermilk mousse, apple cider jelly).
Curious about the wine selections? Tahbilk, established in 1860, is Victoria's oldest family-owned winery and vineyard. Their 500 acres of land produces mostly Rhone varietals such as Grenache, Shiraz, Roussanne, Mourvèdre, and Marsanne. Curating wines to complement a multi-course meal could be difficult for one brand, but Tahbilk offered a diverse selection for every type of palate:
NV Coueslant Chardonnay Pinot
2022 Marsanne
2022 Grenache Mourvèdre Rose
2019 Grenache Shiraz Mourvèdre
2018 Cane Cut Marsanne
World Longest Brunch
Growing up in Sydney, Natalie Paull knew she wanted to cook from a young age. Fast forward to 2011 when she opened up Beatrix Bakes on Queensbury Street in North Melbourne. It wasn't long before her cake bites and pastries developed a cult following. Her small shop generated lines wrapping around the block on weekends for a decade until the combined realities of the pandemic and burnout closed her shop in the summer of 2022. While still selling whole cakes online, her fans in Australia and abroad were thrilled for her "sort of" return at the MFWF World's Longest Brunch. Paull prepared a 3-course brunch with her signature cheesecake for fervent guests:
First Course
Rye galette with late season tomato, buffalo ricotta, herbs, parmesan, and olive oil.
Second Course
A Cakewoman's Breakfast: coriander seed-cured kingfish, pickled beetroot and dill, Ossau-Iraty, a lil' hash brown, jammy boiled Honest Eggs, fresh radishes with whipped butter, soft herb salad, and a Baker Bleu sourdough roll.
Dessert
Cake for Breakfast: cheesecake with cinnamon granola streusel and caramelized
JAZZ™ apple compote.
What drink is synonymous with brunch? Mimosas, of course, which the Pizzini family was happy to provide. Pizzini Winery, located in Kings Valley wine region, stays true to their heritage with the production of Italian varietals such as Prosecco, Sangiovese, Nebbiolo, and many others. For the festival, the Pizzinis provided a few selections in addition to the heavily requested Pizzini Mimosa being poured by the waitstaff:
Sparkling
Pizzini Prosecco NV
II Soffio Prosecco Rosé
2022 Pinot Grigio
2022 Rosetta
2022 Nonna Gisella Sangiovese
About Melbourne Food and Wine (MWFW)
The Melbourne Food and Wine Festival has been a mainstay of Melbourne's major events calendar for three decades, contributing to Victoria's reputation as Australia's premier food and wine destination. Visit www.melbournefoodandwine.com.au to learn more about the 10-day event. Tickets will go on sale later this year for March 2024.