The Ultimate McLaren Supercar
Faithful readers may recall that I am a big fan of the McLaren brand. I've driven most of their automotive offerings and each one punches well above its weight, or at least they all give me the feeling that they are way faster than the very impressive specs indicate.
McLaren categorizes their cars as being in one of three groups: "GT," "Supercar," or "Ultimate," and the 765LT Spider is the top supercar offered. Others in that category include the new Artura hybrid, the 720S Coupe and Spider and 765 Coupe.
As one might expect, the numbers "765" have a meaning behind them: the engine produces 765 PferdeStarke (ps, about 755 hp) and 800 newton meters (Nm, 590 lb-ft) of torque. McLaren also planned to create only 765 examples of this limited production car. The "LT" stands for "long tail," because McLaren discovered that having a longer body, especially behind the rear wheels, adds to high-speed stability, so the LTs have a greater distance from their rear wheels to their bumpers. It's not a radical difference in most of their cars, but the current McLaren Speedtail (from their ultimate category and with a base price of about $2 million and a top speed of 250 mph) takes that extended dimension to a whole new level. The "Spider" moniker on "my" 765LT identifies it as a drop- top version, as opposed to the hardtop coupe (convertibles used to have an umbrella-like top with eight stays which some people thought looked like spiders).
Firing up the 765LT is a great experience in and of itself. The sound is an instant awakening (of the motor and of the neighbors), but that sound that is destined to disappear in the future as EV mandates take effect (to the dismay or joy of people, depending upon their persuasions). I love the sound. It cannot be matched by the electric hum or audio system-enhanced growl that e-cars create. The departure of the internal-combustion engine's exhaust is destined to be a part of history, much like the whinny of the neighbor's horse. But, at least for today, those of us needing that aural fix can get it, and then some, from the 765LT. The sounds at start-up and idle of the mid-engine twin-turbo V8 are well surpassed by the roar emanating from the high-mounted exhaust pipes on full acceleration. The car accelerates so quickly, I half expect the sound to reach observers long after the car has passed by: 0 to 100 kilometers per hour (km/h, or 62 mph) takes just 2.8 seconds and, more incredibly, 0 to 200 km/h (124 mph) flies by in only 7.2 seconds, not much longer than many muscle cars in the 1960s could rip off 0 to 60 mph.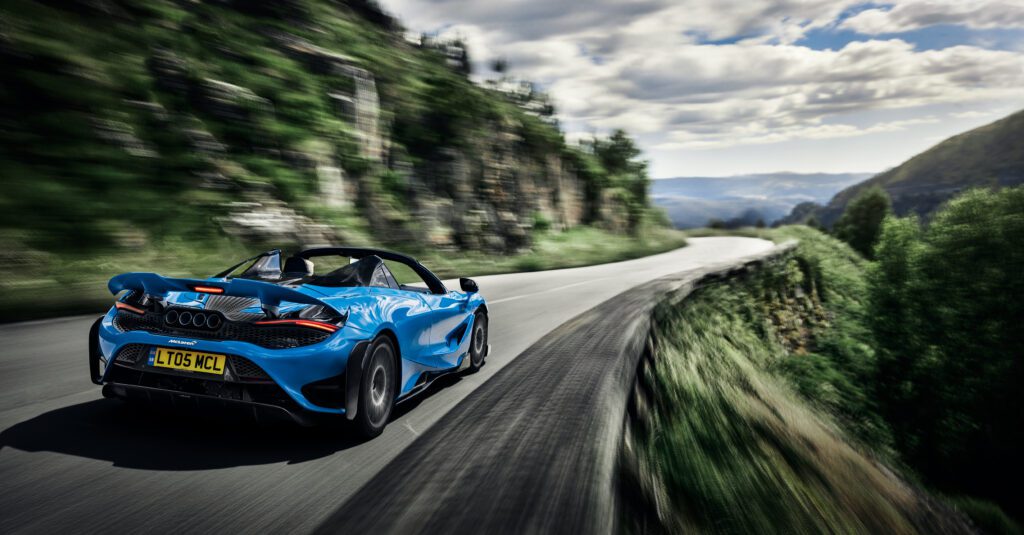 When I get into a McLaren, I generally feel a range of emotions: excitement for what's to come, pride for accomplishing the limbo- like movements that get me ensconced without head injury, and the realization that the tailor made the suit a little too small for my girth. (Note to self: am I the target market for this car?) Yet once in place with seat belt fastened and mirrors adjusted, I feel like the 765LT is made for me. No worries about sliding around in the seat while cornering; to the contrary, I feel like the McLaren and I are at one, almost like the "I think-it does" immediacy of a race car. I don't find the ride too rough for street use, but then I do like the "road feel" of a performance car.
McLaren has upgraded its center stack, so a touch screen takes the place of the knobs that one dialed to change the settings. Even the high-end Bowers & Wilkins sound system sounds great, though I prefer the melodies created by hydrocarbon explosions. They also have added items which have been de riguer on many street cars for years: parking sensors, 360-degree view cameras, and even a nose-lift system (something about asphalt rhinoplasty on a $9,410 carbon fiber diffuser, even if barely created, is terribly grating). And, especially on a drop-top, having a glass roof panel for which the opacity can be adjusted by dialing the darkness was a real treat. The 765's father may have been a full-on race car, but its mother bequeathed it with good breeding and fine manners.
The price of the 765LT Spider starts at $382,500, but "mine" (for about 72 hours) was a beautiful, purplish "Amethyst Black" ($9,400 option) and very well-equipped, as reflected in the sticker price of $507,420 which included an enthusiast's wish list of items, such as loads of carbon fiber add-ons inside and out (totaling about $62,000), electrochromic roof ($9,090), track brake upgrade ($18,030), and many other accoutrements which, in sum, made the car both an incredible performer and flat-out gorgeous. Try as I might to keep it, I had to give the 765LT back sooner than I would have liked; but I found that living with it, albeit for a short time, was very enjoyable. It was my daily driver and worked well for every run I made, whether to the market (storage space is limited) or to the always enjoyable canyons. The supercar moniker is well-deserved.
PHOTO CREDITS: COURTESY OF MCLAREN, USA