"A perfect martini should be made by filling a glass with gin and waving it in the general direction of Italy."

–Noel Coward
In the UK's pastoral Hampshire, I gad about at Bombay Sapphire Distillery, kitted out in the futuristic redo of Laverstoke Mill, first mentioned in the Doomsday Book in 1086. Today, sleek and contemporary, the distillery redefines the former industrial workspace with startling architectural elements such as Thomas Heatherwick's two glass houses, riveting greenhouse domes that glitter in the sunlight among the abundance of greenery. Within them, rather than tasting the gin just yet, I wander through an indoor garden that brims with plants, each a sample of the specific, rare botanicals that Bombay Sapphire uses to make its world class gin. Collected from all over the world, they include licorice root from China, coriander from Morocco, cassia bark from Vietnam, juniper from Tuscany, lemon peel and bitter almond from Spain, orris from France, and angelica from Germany.
A hands-on distillery that suggests guests activate all their senses while learning about gin (and before they indulge in the grand finale gin cocktail experience while seated in the distillery's lavish bar), Bombay Sapphire truly brings home the point for imbibers that gin might be the original plant-based libation. Once a medicinal dram for monks, later an anesthetic-like escape for the masses, liquid courage for soldiers, and one of the Jazz Era's preferred party drinks, gin's popularity hasn't faltered. In fact, gin, made from a neutral spirit (usually distilled from a grain, such as wheat or barley) relies on unique cornucopias of botanicals for flavor, though by law, juniper must dominate.
As gin soars in popularity, gin drinks go beyond martinis, and gin makers around the world strive to produce artful spirits that have sense of place, notable personalities, culinary cunning, and the ability to provoke an exclamation of awe when tasted. Because it's a gin jungle out there, we've compiled a compendium of some of the world's most enthralling gins for your bar cart.
Germany
From Germany's Black Forest, one-of-a-kind Monkey 47 reigns as the artisanal bartender's au courant, behind-the-bar darling. It boasts an astonishing 47 botanicals. In a bottle inspired by a flea market's vintage pharmaceutical flagon, the gin's backstory involves a monkey in a zoo and herbalists from tiny Swabian villages well versed in the hinterland's yield. Harmonious, this gin tastes like a romp in the woods with spruce shoots, blackberry leaves, rose hips, lavender, acacia blossoms, hawthorn, lingonberry, angelica, and more. It's aged in earthenware containers and has a molasses base.
Italy
Evoking the Amalfi Coast's allure and its lemon trees, clifftops, and crystalline waters, Malfy embodies coastal Italy's dolce far niente (the sweet art of doing nothing) lifestyle. It's what you'll want to drink to imagine yourself on a boat headed to Capri. Made by a distilling family with a century of experience, Malfy hails from a blend of handpicked Italian lemons, pink grapefruits, oranges, pure Italian water, and juniper. Try Malfy Gin Rosa, the brand's stylish pink version infused with Sicilian pink grapefruit.
Playful ENGINE Gin might seem like a gimmick at first, as it comes packaged in a real half-liter oil can. Made in Piedmont and an homage to the region's motorhead scene, the bright, refreshing, and whimsical gin uses Italian-sourced ingredients from across the peninsula, including licorice from Calabria, lemons from Sicily, sage from the Alta Langa, and pure water from the Alps.
Sweden
Made in Skåne, Sweden's southernmost region and its veritable, verdant breadbasket, Navy Strength Organic Gin is created in family-owned Purity Distillery's own castle near Malmo. From a canon of indigenous ingredients, including soft Swedish spring water, Swedish winter wheat, and malted barley, thyme, basil, angelica root, and lingonberry, this bold, Nordic creation uses the brand's award-winning, copper-stilled, uber-distilled vodka as its base, then ups the gin ante with its range of botanicals.
Scotland
We know you're thinking scotch whisky, but small batch, craft-made "London Dry Gin" Tulchan Gin manifests Speyside's peerless distilling legacy with a luxurious gin riff. Showing prodigious notes of sloe berries, blackberry leaves, elderflower, white asparagus, and classic gin botanicals (from juniper to angelica), the clever concoction captures the moors, rivers, and valleys of this subregion of the Highlands.

So evocative it could be summoned from the pages of a storybook, Secret Garden Distillery makes Herb Garden Gin just on the outskirts of Edinburgh. The estate grows and hand-harvests more than 600 varieties of plants. A sustainable distillery founded and run by a mother and two daughters, they proffer a line of luxury gin styles both classic and modern in mood. Try unexpected flavors such as lavender gin or elderberry. Some expressions change color when tonic water is added.
Ireland
Medieval copper pot stills, a slow distillation process, and gunpowder tea as a main ingredient contribute to the hearty body of Drumshanbo Irish Gunpowder Gin. Chock-full of botanicals, this exotic gin gets its bracing, fresh finale from a citrus fusion of makrut lime, grapefruit, and lemon. Note the American jackalope on the label for fancifulness.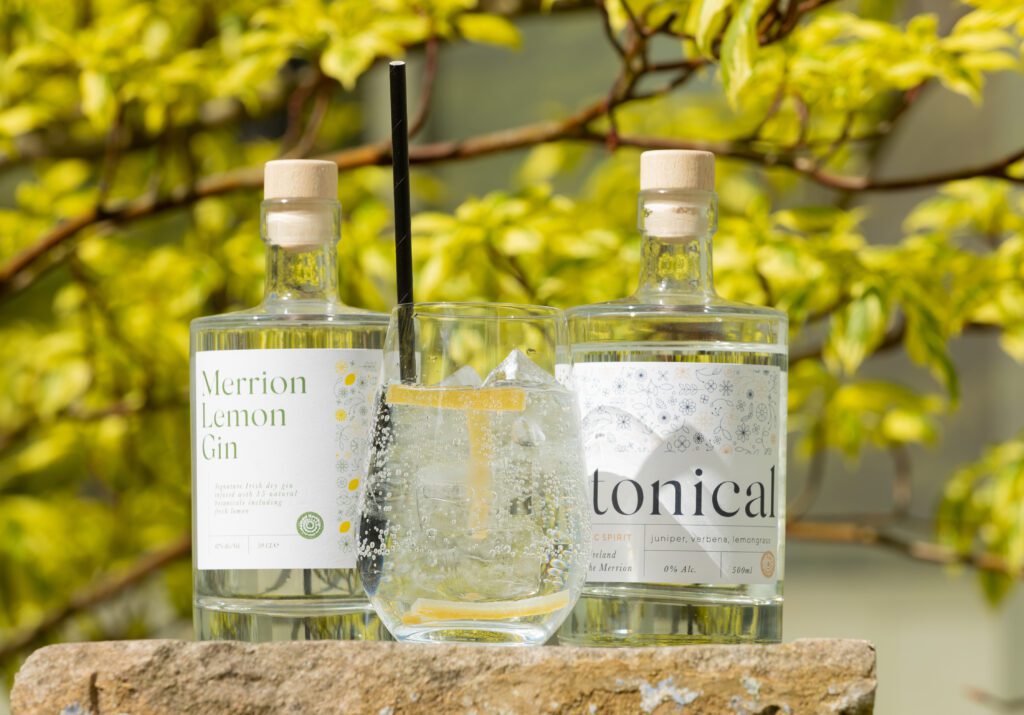 Also in Ireland, the legendary Merrion Hotel makes two signature, hand-crafted gins. The lemon-flavored Merrion lemon gin, charged with lemony freshness in a custom copper pot still, features no less than 15 botanicals such as sage, apple blossom, and sweet orange. Alternatively, the Dublin-sited, 5-star hotel's non-alcoholic Artonical gin vaunts a comingling of verbena, lemongrass, citrus, and juniper with no added sugar or sweetener—a mocktail lover's dream.
Australia
In Australia's less trammeled state, the even more unspoiled Kangaroo Island draws visitors for its spectacular nature and wildlife. Thirty minutes by air from Adelaide, it spans 98 miles in width. After hiking and marsupial spotting, belly up to Kangaroo Island Spirits' award winning gin distillery. Sip O Gin, a classic, dry style spirit with hints of juniper and citrus, has an unusual key ingredient, Olearia Axillaris, a daisy that grows by the sea and which imparts sense of place, adding sweet piney nuances.
Taste the largesse of the Northern Territory, home to the true outback, with a tipple of Darwin Signature Gin. A contemporary gin, rich with nature's gifts and blessed by the dramatic landscape it occupies, the spirit comprises Kakadu plum, water lilies, and native lemongrass among other plants and botanicals. Try it in a classic gimlet.
France
In May at the just reopened and lavishly renovated Carlton Cannes, a Regent Hotel, as part of the 76th annual Cannes Film Festival, Brad Pitt in collaboration with the Matthieu Perrin and distiller Tom Nichol released The Gardener Gin—fondly dubbed by fans "the French Riviera gin." Exuding flavors from Cap d'Antibes nearby, the spirit fuses both fresh and dry citruses: pink grapefruit, lemon, sweet and bitter orange. Made from wheat in a copper still and offered in a Mediterranean-hued bottle, Gardner Gin is a metaphor for the region.
England
Martini lovers will swoon over Holborn Dining Room's Limited Edition Gin by Tarquin's at Rosewood London. Reflecting the regal Cornwall Coast in its flavors, this gin draws a subtly salty herbaceous-ness from handpicked rock samphire, while coriander seeds add spice and fresh lemon and orange peel add a brisk brightness. Crafted under a direct flame where bread dough seals the top of the still, the spirit gains character in the process. Each bottle is individually filled, labeled, waxed, stamped, given batch tasting notes, and signed—all by hand.
New Zealand
On the southern tip of New Zealand's North Island, hotelier Bill Foley has a portfolio of three gins, overseen by distiller Rachel Hall. Created from a recipe she's perfected over the years, Lighthouse Gin is made near Foley's resort, Wharekauhau Country Estate. Pure, complex, and redolent with the organic freshness that typifies New Zealand's culinary terrain, the trio of spirits comprise nine botanicals (including fresh zest from New Zealand navel Oranges and Yen Ben lemons) and water from the Remutaka Range.
USA: Sonoma County, California
From Sonoma's first craft distillery, Prohibition Spirits, which has a tasting room on the historic Sonoma Plaza, indulge in something refreshing and unexpected: Melon & Mint Gin. Created by distiller Fred Groth for his wife, Amy, who prefers smooth spirits "with essence of flavor," this gin is her all-time favorite of the distillery's "Re-imagine Gin" series. A concoction of cantaloupe melon with hints of fresh mint, the 40 percent AVB, purposefully light on juniper, can be sipped over ice alone or mixed into any cocktail.
USA: Charleston, South Carolina
Crafted in Charleston by innovative Grain and Barrel Spirits, High Goal Gin is imbued with southern charm and flavors, including mint from Kentucky and Meyer lemons from Florida. Meant to be a bracingly refreshing gin with a modern twist, the exclusive small batch (3,000 bottles) gin was inspired by the opulence and lifestyle of polo as seen through the eyes of Nic Roldan, American polo player and High Goal co-founder. Look for its distinctive recycled glass bottle, made in Milan.