An un-beet-able experience like no other …
I had the utmost pleasure to dine at Berber, the multi-sensory restaurant in San Francisco and the brainchild of three incredible individuals who share a passion for good food, entertainment, and creating unforgettable experiences for their guests. What a pleasure it was for me to meet the co-founders and partners, Borhen Hammami and Tony Garnicki, and chef Hicham Senhaji. Each brings his unique talent and background to the table, creating a dynamic and vibrant atmosphere unlike anything else in the city. As a native San Franciscan having been spoiled eating in restaurants all my life and as one of the top 1 percent TripAdvisor VIP contributors and as an Elite Yelper … I can tell you this place is legit! I love everything about Berber!
Hammami is from in Tunisia where he spent his childhood surrounded by family and friends at bustling dining tables. The warm and welcoming atmosphere at Berber reflects his Tunisian upbringing. Growing up, he developed a deep appreciation for good food and the joy it brings to people's lives. After moving to San Francisco, Hammami opened Café Chanta, a popular North African café that featured live belly dancing and Tunisian tapas. His experience with spicy cooking and live entertainment set the blueprint for Berber, which he founded with Garnicki.
Born in Paris, Garnicki has always had an entrepreneurial spirit. He built a successful career in real estate and business before turning his attention to the restaurant industry. Inspired by his travels to Tunisia, Garnicki saw an opportunity to create
something truly unique in San Francisco. Together with Hammami, he founded Berber, a restaurant that seamlessly integrates dining and entertainment. Garnicki's passion for business, the arts, and culinary experiences has driven the restaurant's success.
"BE CREATIVE AND DON'T FEAR ANYTHING."
– CHEF HICHAM SENHAJI
Chef Hicham Senhaji, the amazing two-time Michelin- acclaimed chef at Berber, brings a wealth of experience and passion to the kitchen. Growing up in a large Moroccan family, he fell
in love with the traditional cooking of his homeland. At Berber, Senhaji creates authentic and innovative dishes using the best ingredients and spices to bring out the flavors of North Africa. Dining at Berber is an experience that reflects Senhaji's memories of family and community gatherings, encouraging guests to share meaningful moments over delicious food.
Together, Garnicki, Hammami, and Senhaji have created more than just a place to eat. Berber is a multi-sensory experience integrating dining and entertainment and transporting guests to a world of color, flavor, and excitement. From the live belly dancing to the bold and flavorful dishes, every element of the restaurant
has been carefully crafted to create an unforgettable experience for guests. Berber is truly one-of-a-kind, a testament to the passion, creativity, and talent of its owners and chef.
DUCK CONFIT BASTEEYA
SEASONINGS
¼ cup (22 grams) ground coriander
2 tablespoons (12.4 grams) ground ginger
1 tablespoon plus 1 teaspoon (10.7 grams) ground white pepper
1 tablespoon (8.1 grams) ground turmeric
One 3-inch (3.3 grams) cinnamon stick
2½ teaspoons (2.3 grams) saffron threads
1½ teaspoons (4.5 grams) kosher salt
2 tablespoons (9 grams) finely chopped flat leaf parsley
2 tablespoons (9 grams) finely chopped cilantro
DUCK AND RAISINS MIXTURE
1 cup (212 grams) duck fat
8 cups (1 kilogram) diced (¾-inch) onions (3 to 4 medium onions)
½ cup (96 grams) minced garlic
6 duck legs (5 ounces/141 grams each)
1¼ cups (293 grams) water
2 cups (424 grams) Soltana raisins
2 tablespoons (9 grams) finely chopped flat leaf parsley or to taste
Finely chopped cilantro to taste
1 tablespoon res el hanout.
Kosher salt
ALMOND  MIXTURE
2½ cups (385 grams) whole blanched almonds
⅓ cup (67 grams) granulated sugar
½ teaspoon (1.3 grams) ground cinnamon
⅛ teaspoon (0.2 gram) grated nutmeg
Pinch of ground cloves
4 to 6 tablespoons (48 to 72 grams) clarified butter
1½ teaspoons (8.3 grams) orange blossom water
About 1 cup (192 grams) clarified butter
9 phyllo sheets
½ lemon
2 to 3 tablespoons (14 to 21 grams) powdered sugar
FOR THE SEASONINGS
Combine all the ingredients in a small bowl. Set aside.
FOR THE DUCK CONFIT
Preheat the oven to 325 degrees Fahrenheit.
FOR THE DUCK
Heat the duck fat in a medium sauté pan over medium heat. Add the 1 tablespoon of ras el hanout.
Arrange the duck legs in a very large pan and pour the duck fat over the meat with parchment paper and cook for 90 minutes.
FOR THE SAUCE
Heat the fat from the cooked duck.
Add the onions. Once they have released some liquid, turn the heat to medium-low and cook for about 15 minutes, stirring occasionally, until the onions are soft and translucent.
Stir in the garlic and cook for another 10 minutes, stirring often.
Add the spice mixture and cook for 8 to 10 minutes, stirring and scraping the bottom of the pan often to toast the spices without burning them.
Add the raisins.
Spread the onions and raisins in a rondeau pan.
Arrange the duck legs, set over medium heat, and bring to a simmer for 1 hour or until the duck absorbs the sauce and is tender enough to pull easily from the bone.
Remove the duck legs from the pan. Leave the onions and raisins and simmer them over medium heat until the sauce thickens.
Working over a bowl, remove the skin from the duck and pull the meat off the bones in as large-as-possible pieces. Discard the skin. Stir in the reserved ½ cup (135 grams) braising liquid and the remaining 1 tablespoon (4.5 grams) parsley.
TO ASSEMBLE THE BISTEEYA
Preheat the oven to 375 degrees Fahrenheit. Melt the clarified butter. Let it cool a bit, then pour it into a spray bottle. Put a 9-inch French skillet or other frying or sauté pan with gently curved sides on the work surface.
PHYLLO
As you work, it is important to keep phyllo sheets covered with a damp towel to keep them from drying out. Place a dry towel on the counter, open the phyllo sheets, and lay on the towel. Cover them with the paper they were wrapped in, then a slightly damp towel.
Fold one piece of phyllo in half and place the fold in the center, or slightly off-center, of the pan to give you about 3 inches overhang. Repeat with another piece of phyllo, overlapping the first sheet by about half. Continue to work around the bottom of the pan. With the remaining 5 sheets, place the pieces of phyllo more toward the edges, so that the overhanging phyllo will reach the center of the bisteeya once it is filled and the phyllo is folded over.
Spray the layer with butter.
Put the duck meat in the center of the pan and spread it in an even layer.
Add the sauce mixture of onion and raisins on the top.
Add the almond mixture over the sauce.
Starting with the last sheet of phyllo you added, fold over the sheet toward the center, folding in the edges as needed so the sheets lie evenly over the top. Spray with butter. Continue in the same manner with all the sheets of phyllo until the bisteeya is completely encased in phyllo. Spray the top with butter.
Bake for 20 to 30 minutes or until the phyllo is golden brown and crisp. Remove from the oven and cool on a rack for 10 minutes.
Carefully invert the bisteeya onto a baking sheet to catch any excess butter, then using two spatulas, transfer it to a serving platter. Blot the surface with paper towels.
Lay a mesh cooling rack over the top of the bisteeya, spoon the powdered sugar into a fine-mesh strainer, and dust the bisteeya with an even layer of powdered sugar and ground cinnamon. Remove from the rack and cut the bisteeya into wedges. Serves 6-8.
BRAISED OXTAIL TANGIA
A tangia is a tall terra-cotta pot that looks like a cross between an ancient Greek amphora and a bean pot, with handles on either side that hold a loop of wire for carrying it. And, like a tagine, tangia is also the name of the stew you cook in it.
The tangia is uniquely associated with Marrakesh, and it's a "guy thing." Men fill their tangias with lamb, aged butter, and ras el hanout (making it a no-brainer from the point of view of seasoning), throw in some preserved lemons and a bit of water, seal the top with the butcher paper from the meat, tie it with twine, and take it with them to the hammam (the steam bath).
BRINE
2 quarts (1.86 kilograms) water
2¼ cups plus 1 tablespoon (463 grams) granulated sugar
2¾ cups plus 2 tablespoons (342 grams) kosher salt
1 tablespoon (9 grams) Tellicherry peppercorns
1 tablespoon (7.4 grams) cumin seeds
1 tablespoon (6.6 grams) cloves
4 pieces (4.3 grams) star anise
2 teaspoons (3.7 grams) coriander seeds
4 (2.4 grams) chiles de árbol
5 (0.8 gram) bay leaves
8 cups (980 grams) ice cubes
METHOD
Place all the ingredients in a large pot with oxtails. Put the pot in the refrigerator for 12 to 24 hours. Afterward, take out oxtail and let all excess liquid drain from meat.
BEEF OXTAIL
4½ pounds/2.04 kilograms) oxtails
12 (42 grams) flat leaf parsley sprigs
10 (35 grams) cilantro sprigs
Grapeseed or canola oil
2 tablespoons (1 ounce/28 grams) unsalted butter
One 3-inch piece (53 grams) fresh ginger, peeled and cut into ~
¼-inch pieces
10 garlic cloves
2½ teaspoons (6.4 grams) ground cumin
½ teaspoon (1 gram) ground ginger
2 quarters preserved lemon halved lengthwise, rinsed and seeds removed
8 cups (2.2 kilograms) beef stock or (1.88 kilograms) vegetable stock
1 teaspoon (0.9 gram) saffron threads
2 tablespoons (1 ounce/28 grams) aged butter or (1 ounce/28 grams) unsalted butter, at room temperature
METHOD
Heat oven to 300 degrees Fahrenheit. Put all ingredients into a big pot and mix to combine. Put the mixture into a tangia and place into the preheated oven for 2 to 3½ hours until meat is soft. Take out and place herb salad on top of the meat.
HERB SALAD
1¼ cups (15 grams) flat leaf parsley leaves
⅓ cup (5 grams) tarragon leaves
2 tablespoons (4 grams) chives, cut into 1-inch pieces
¼ cup (3 grams) chervil leaves
2 teaspoons (10 grams) fresh lemon juice
1 teaspoon (4 grams) extra virgin olive oil
Kosher salt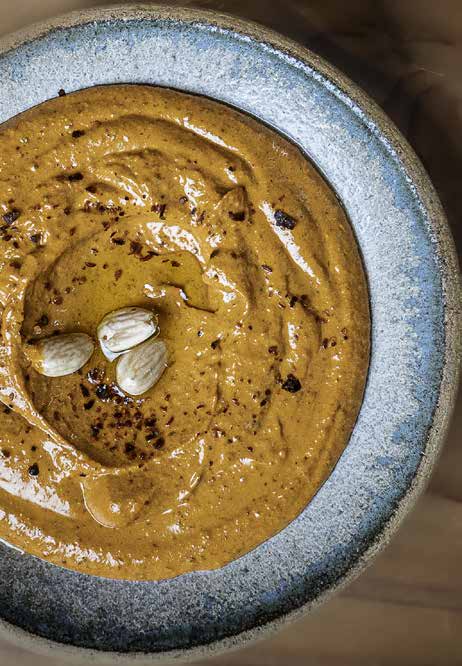 MUHAMMARA
"I like this best served with warm, grilled flatbread or pita chips."
¼ cup (43 grams) cooked white navy beans, liquid reserved
5 tablespoons (73 grams) champagne vinegar
½ cup (106 grams) drained piquillo peppers
1¼ cups (125 grams) almond meal/flour
½ cup (106 grams) extra virgin olive oil
¼ cup (87 grams) pomegranate molasses
⅓ cup (79 grams) sesame paste (tahini)
¼ cup (72 grams) garlic puree
2½ teaspoons (6.4 grams) ground cumin
2 teaspoons (5.3 grams) sweet paprika
1½ teaspoons (4.5 grams) kosher salt
1 teaspoon (2.7 grams) ground white pepper
¾ teaspoon (2 grams) smoked paprika
¼ teaspoon (1.8 grams) harissa powder
METHOD
Put the beans (not their liquid) and vinegar in a blender. Begin to puree the beans on low speed, adding enough of the reserved cooking liquid to keep things moving. Gradually increase the speed, stopping to scrape down the sides of the blender as necessary. Add the peppers and puree until the mixture is completely smooth. Transfer the mixture to a food processor, add all the remaining ingredients, and blend until the spread is smooth. The spread can be kept in the refrigerator for about a week. Bring to room temperature before serving.
Makes 2½ cups (645 grams)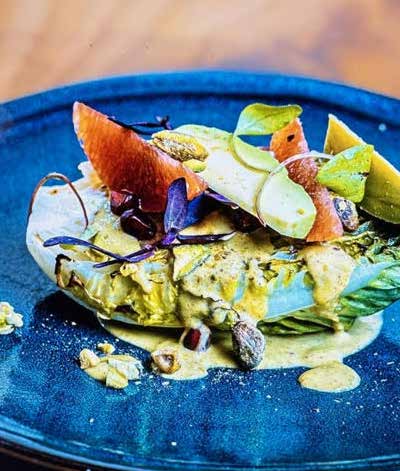 LITTLE GEM LETTUCE
PISTACHIO DRESSING
1 cup fennel oil
1 cup toasted pistachio
2 tablespoon lime juice
2 tablespoons honey
1 garlic clove
1/4 cup caramelized onion
1 tablespoon ground coriander
1 teaspoon ground black pepper
1 cup apple juice
1 tsp kosher salt
METHOD
In small batches, blend pistachios in a blender. Add some fennel oil until the paste is smooth. Emulsify all of the rest of ingredients with the blended pistachios until incorporated. Adjust for seasoning
SALAD
1 head little gem lettuce, cut in half
4 grapefruit segments
1/4 avocado, cut into pieces
2 pistachios, roughly chopped
METHOD
Put all the salad ingredients in a bowl and pour the dressing over it.
Serves 2