Restaurants old and new strive for excellence in Sonoma
On the evening of the 2022 Michelin star announcements, restaurants in Sonoma bustle with energy. The new kids on the block are on the edge of their seats to find out if their hard work is on the radar, while longtime awardees hope to maintain their aura of prestige. One of the newest restaurants also happens to be not-so-new. Following a near decade-long closure, former Healdsburg fine-dining establishment Cyrus reopened amid a pastoral setting in Geyserville. Floor-to-ceiling glass windows show off the surrounding vineyards, a sweeping view made even more spectacular thanks to a plinth raising the floor of the historic building., Jensen Architects adapted the concrete structure, a former prune-packing plant, into a modern marvel that pays homage to the area's agricultural history prior to its rise as a wine-growing region.
This link to the past is also reminiscent of the first Cyrus and its current iteration run by co-owners chef Douglas Keane and maître d'hôtel Nick Peyton. "The values are not different [from] the values we had at the first Cyrus," says Peyton. "We just get to institute exactly what our vision is here." That vision is a progressive 3.5-hour dining journey that rebels against traditional multicourse meals served in one sitting, adopting a less formal approach inspired by visiting a friend's home for a dinner party.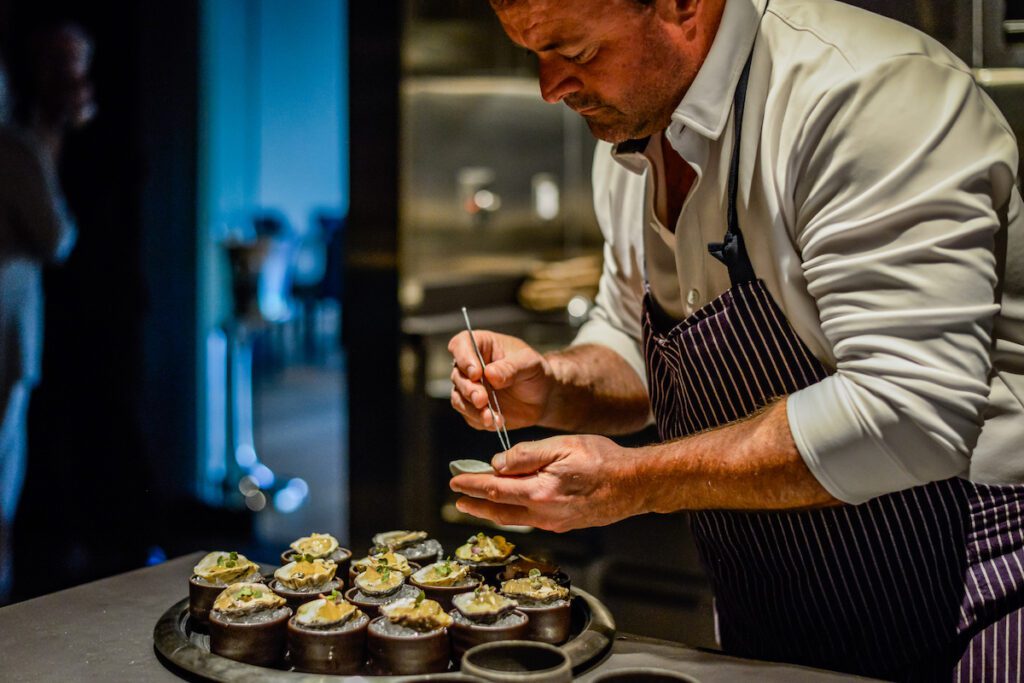 The idea is that movement from room to room keeps guests energized—allowing for guests to stretch their legs as well as their imaginations—which contributes to the feeling of the evening as an event. The journey begins in the Bubbles Lounge, where guests get their first taste of the evening with canapés that address each of our major taste receptors: sweet, sour, salty, bitter, and umami. It continues to the kitchen table, then the dining room, and ends in the Chocolate Room—the pièce de résistance that brings the journey full circle.
Peyton slides open a hidden wall near the restaurant's entrance where 500 pounds of molten chocolate driven by a three-horsepower motor cascades in a brilliant waterfall. Nearby, a floating disc revolves above a pedestal stacked with parting gifts of house-made chocolates inspired by the canapés from the start of the evening.
Although it seems Cyrus has found its groove, despite having only opened in September, there's still plenty of room to evolve. Peyton teases a future tableside cheese course inspired by a wintertime French tradition, involving a spectacular box with a warm stone floor and soft-ripened cheese wrapped in spruce cambium. The best thing about the "new" Cyrus for Peyton is that he can test out these ideas. "What Doug and I love is to do it. We built it, but we also want to do it," he says. "He's in the kitchen, he's cooking, and when you come to the kitchen table, he's presenting. I want to be in the dining room—I want to feel that energy swirl around me, to be able to touch the tables, to develop that cheese course, and invent more things like the floating wheel [in the Chocolate Room]. Those things are the delight and the joy of doing this."
Meanwhile at SingleThread, the acclaimed Michelin three-starred restaurant and inn run by chef/owner Kyle Connaughton and owner/head farmer Katina Connaughton, it's business as usual. The dining room is full on a Monday night, yet the open kitchen and service maintain a zen-like quality that heightens your senses. It's the ideal atmosphere for escaping into its exquisite tasting menu which changes according to 72 micro-seasons—the goal being that produce is served at its peak ripeness.
For this established destination, you might wonder what could be new. For one thing, the Connaughtons are continually fine-tuning. This pursuit of perfection is apparent in their attention to detail, not only in the kitchen but also on their 24-acre farm which brings stunning biodiversity to Dry Creek Valley. "It's rewarding to share with our guests everything and anything that Katina grows on the farm," says Kyle. "We have some of our favorite varieties, and it's always fun to see how they evolve, growing year after year to refine the flavor. The sweetness that Katina achieves with the turnips is off the charts—I have no idea how she does that."
The team behind SingleThread has also expanded with the opening of Little Saint, a fully plant-based restaurant—not to mention cocktail bar, coffee bar, wine lounge, and marketplace—just a few blocks away. "We have so much amazing produce up here all year round," says Kyle. "We wanted to really celebrate that and also show that good food … doesn't always need animal products." Little Saint also aims to support local food systems and share plant-based cuisine with a wider audience. "It's about creating something for everyone, and to have that conversation about sustainability and how we can all be the best stewards of the planet." (Note: Kyle and Katina Connaughton have since parted ways with Little Saint, and the restaurant is now managed by owners Laurie and Jeff Ubben.)
The work of these passionate restaurateurs paid off. Shortly after my dinner at Little Saint, the list of 2022 Michelin stars was released: Cyrus is awarded one star, and SingleThread successfully retained its trio.
If you go …
Stay at Farmhouse Inn, which brother and sister owners (and fifth generation Sonomans) Joe and Catherine Bartolomei describe as "a love letter to Sonoma." The luxury boutique hotel is in an exciting new phase, featuring freshly renovated cottages as well as a new tasting menu at its fine dining restaurant. Originally conceptualized by chef Jeremy Cabrera, who departed Farmhouse Restaurant at the end of 2022, chef Trevor Anderson's interpretation of the menu will continue to showcase the farmers, ranchers, artisans, and terroir of Sonoma County. Plus, you can't go wrong with recommendations from wine director and sommelier Jared Hooper, whose encyclopedic knowledge of grapes is delivered with delightful flair.
The inn's high-touch service is apparent throughout, with a concierge team that excels at crafting personalized itineraries for guests. Not only will you enjoy VIP experiences at the inn's world class winery and artisanal partners, but you'll also be welcomed warmly as friends of the Bartolomeis. Needless to say, you'll be in fine hands.
A trip to Sonoma also isn't complete without a little vino. One hidden gem is Fort Ross Vineyard & Winery, the only tasting room open to the public along the Sonoma Coast AVA. Its award-winning wines reflect the prized maritime climate and challenging topography of its vineyards, which owners Lester and Linda Schwartz were originally cautioned against planting due to the property's proximity to the ocean. Winemaker Jeff Pisoni calls it a tale of fortitude: "They had a dream and wanted to see it through."
You'll feel like you're a part of that dream as you wind your way through the fog to go sip Chardonnay, Pinot Noir, and even Pinotage—a tribute to the Schwartzes' South African heritage—while overlooking the Pacific Ocean.
Closer inland, Paul Hobbs Winery in Sebastopol is a must for collectors of extraordinary Cabernet. The Vineyard Designate Experience, a tasting of six single-vineyard wines with seasonally inspired culinary pairings, comes highly recommended. During my visit, a succulent duck breast served with maitake mushrooms, charred leeks, carrot puree, and toasted bay jus was revelatory. The wines are world-class, the product of a vintner whose dedication to farming the best grapes is second to none. "Paul was part of that early movement that identified how you grew the grape really influenced [the] quality of the wine that you're making," says Tyson Ducker, senior estate host.
Frankly, a visit to the winery is worthwhile just to hear Hobbs' incredible story, which Ducker is happy to recount to guests. "Wine is more important to us as people than just a beverage that gets scored and sold," he says. "It's a way to document human history—I think that's the way Paul feels about it."