We all travel differently—and that includes packing and the suitcases we carry. Sometimes we don't know how we travel (or pack) until we actually take a trip, slowly learning what works for us and what does not. Me? I always carry on—at least on the way to a place. I'm okay with them misplacing my luggage on the way home, but I hate to arrive without a thing to wear. Just because I carry on, doesn't mean I travel light. Ridiculously, I'm part of the school of packers who want a range of spectacular options, including a multitude of shoes. This means I rarely zip a suitcase easily—it's always an effort. Often, and I'm not exaggerating, I sit on the suitcase—or, at the very least, ask for volunteers to sit on it while I zip. Throughout our family's travels, we have seen our suitcases' seams explode in Hong Kong just as we were about to board a plane, lost wheels at inopportune times thanks to too many miles of Italian cobblestone tread and had water leak into one suitcase full of fancy clothing during a rainstorm. I've learned lessons from all the misadventures, as well as been able to determine what works for me. That said, I'm always game to try new suitcases and discover miraculous packing hacks. Perhaps it's not about one perfect suitcase—perhaps it's about many!
Here are five I have in my closet, not one a thing like the other.
Smart Birdy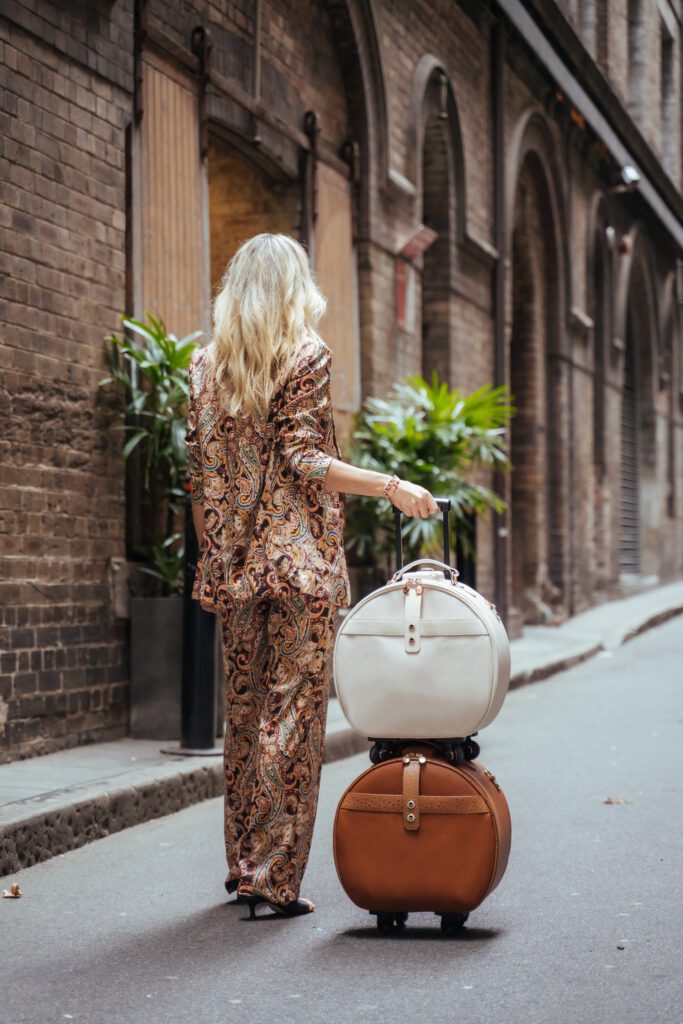 Who will love it? Fashionistas and Tech Aficionados
Inspired by a hat box, with vintage air travel tones, this gorgeous, sexy, sleek, round, roller suitcase holds way more than you could ever imagine. So perfectly designed that one can board with two of them stacked (that's a lot of outfits!), the super luxurious bag, literally carry-on couture, was designed by a woman for women. In two styles, and a range of colors, the Birdy is composed of premium vegan leather with a riveted genuine leather top handle and an exotic-embossed trim (from python to ostrich), with custom classic gold or rose gold hardware. It features hidden pockets for your laptop, portable TSA approved power bank, a USB cord and a bluetooth wireless speaker. The elevated version, the premium Deluxe Birdy Suitcase, can be ordered with a bundle that includes tons of thoughtful, elegant accessories including a silky laundry bag, a shoulder strap a mini clutch, the blue tooth speaker and more. The back-stacking trolley sleeve allows the traveler to stack a Deluxe Birdy on top of another Deluxe or the Essential (first generation) Birdy, As founder and designer Abby Listo says: Then you'll have 2 Birdys in one hand! Available at Bloomingdales or smartbirdy.com $595+
Briggs & Riley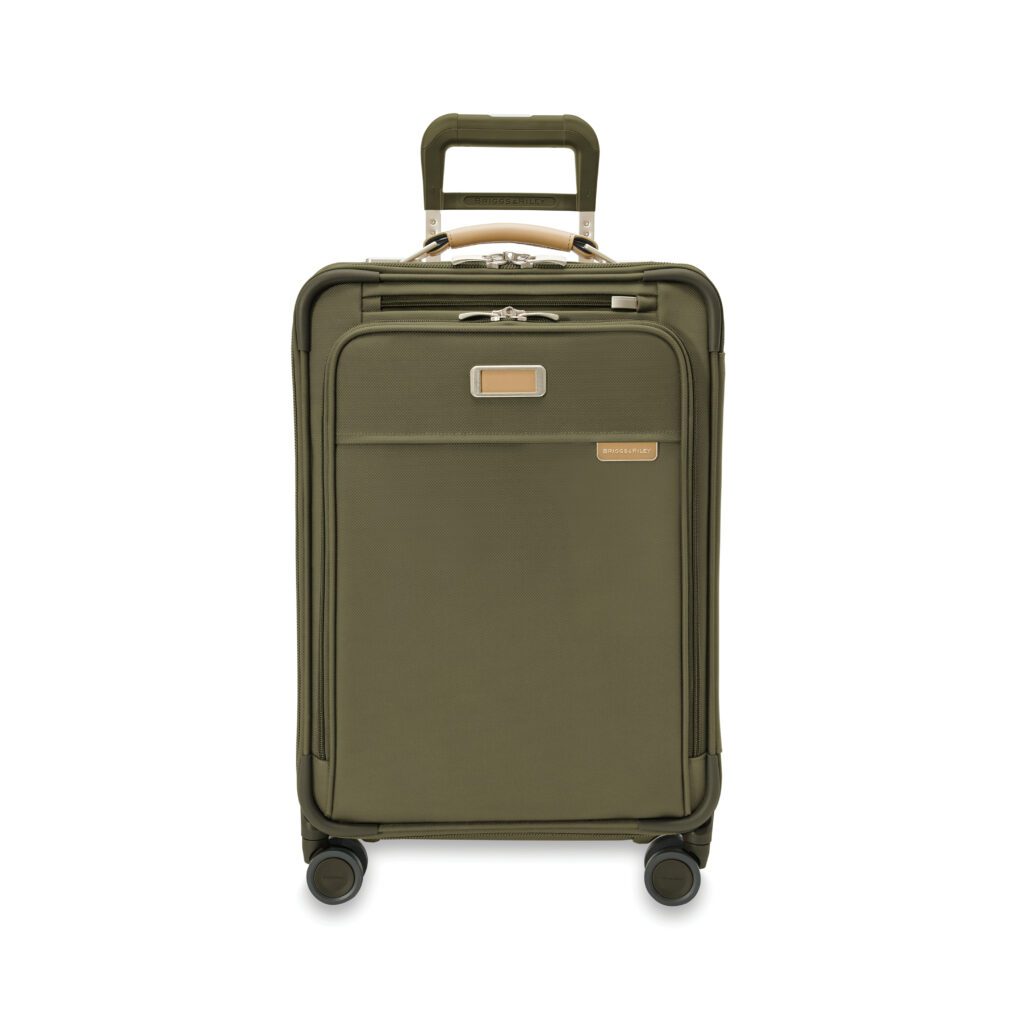 Who Will Love It?
The stylish sophisticate with a penchant for packing a lot in a small bag
Aerodynamic, easy to haul, a joy to be seen with, Briggs &Riley most astonishes and delights me for its ability to compress a huge amount of clothing and vacation accoutrements into a carry-on size bag. As a suitcase that I never have to sit on to close, Briggs & Riley features the world's only one-touch CX-technology that allows users to expand the bag with the push of a button for packing, and then compress it back down to it's regular size for travel. The popular Essential 22″ Carry-On also has shock absorbing wheels, easy access SpeedThru pocket for safe storage during security checks, a built-in, tri-fold garment holder, a PowerPocket for cell phones and power bricks and a "Simple As That" lifetime guarantee which includes repairs on all non-cosmetic components of the bag. Plum, a limited edition color in the Baseline flagship collection, hit the market in April—just in time for Mother's Day. briggs-riley.com $459+
Solo's Recycled Luggage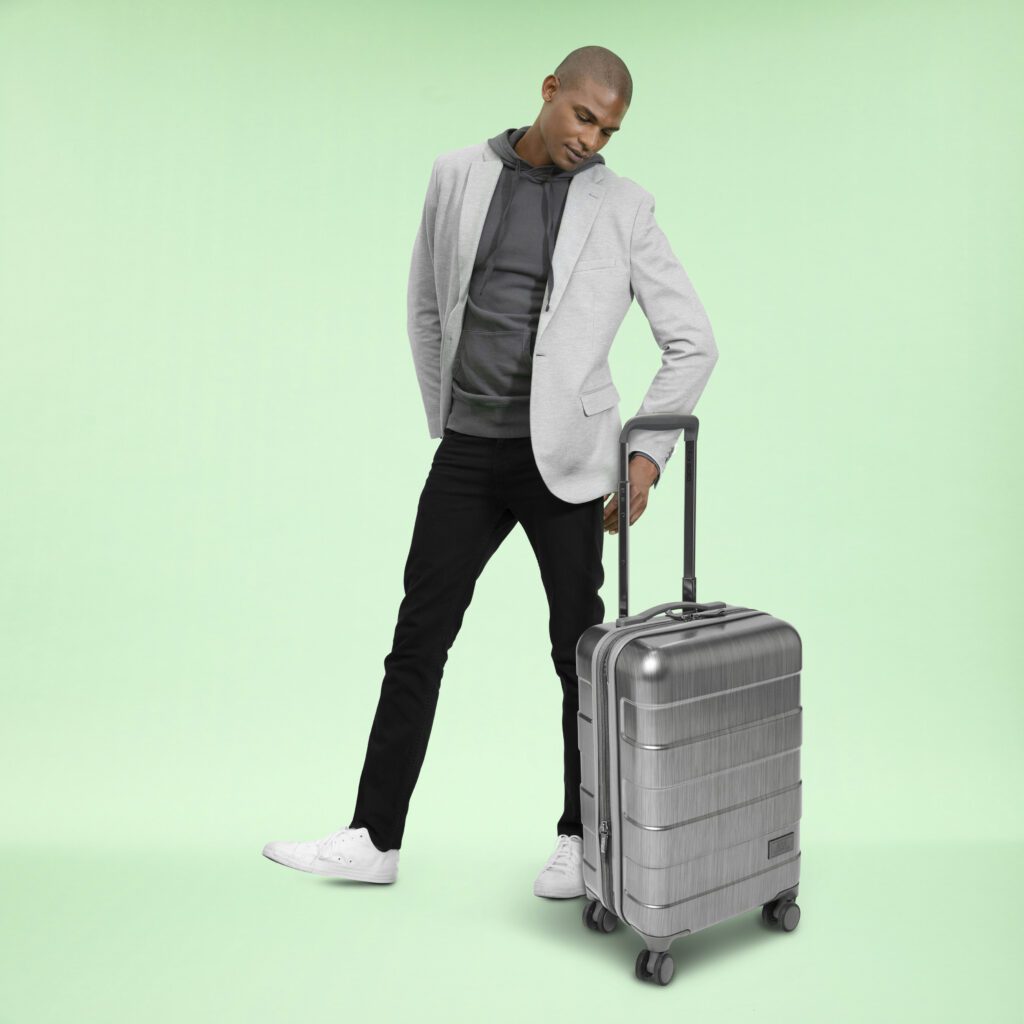 Who Will Love It? The Eco-Conscious Traveler
Solo, known for evoking the trendy essence of New York into its functional, stylish luggage designs has launched feel good luggage sure to please those with a fondness and passion for living sustainably. Their new Re:cycled Luggage pieces are made from repurposed PET water bottles or recycled ABS plastic from household appliances and automobile parts. With both soft or hard side versions, including expandable options and useful features such as a tablet pocket, they reign as one of the few brands on the market offering such a thoughtful, affordable environmentally friendly array of suitcases. solo-ny.com $169+
ROAM
Who Will Love It? The Artistic Traveler
Function, fashion and artistry unite in ROAM, one of my favorite suitcase brands. Founded by luggage industry veterans (former TUMI executives), ROAM defines craftsmanship and pays attention to essential design details that matter to frequent travelers: light- weightiness, water resistant shells, roomy but compact shapes and World-class Hinomoto ball-bearing wheel. But most fun, ROAM believes that just as we take one-of-a-kind trips, we inveterate globetrotters prefer unique luggage, something that stands out in a crowd. To whit, ROAM allows customers to design your own premium suitcases, providing customizable, mix-and-match options online from a clever palette of colors. For those who'd rather let someone else be the artist, ROAM's collaboration with multimedia tattoo artist Amanda Wachob seals the deal. In a limited edition offering, she has hand painted 100 signed suitcases, inspired by the luminescent shimmer of a beetle. Collectors still participate in the design of their Amanda Wachob suitcase by choosing the trim color of their choice to complement her work. roamluggage.com $975+
Rollink
Who Will Love It? Marie Kondo Storage Buffs and Stylish Travelers
Touted as the "world's slimmest luggage brand," Rollink debuted in the United States in 2022 after raging success in 25 countries around the world, from Israel to Taiwan. Partnering with Macy's, Rollink remains slim when filled, but astonishingly collapses to a mere two inches for seamless storage beneath a bed, hanging in a closet or atop a shelf. A sustainable trait, Rollink's slimness allows more empty suitcases to be packed together for shipping, creating less of a carbon footprint. I love the Flex Vega model, which comes with a quick-access side pocket for essentials, two silent coated wheels for smooth gliding, and a height-adjustable telescopic handle. Consumers can choose from three practical sizes, including cabin and cabin plus, both of which are a TSA standard-sized carry-on suitcase, as well as a medium checked option. rollink.com or macys.com $155+
For Carry One: Suncatcher Carryall by Sidney Byron
With three hat straps, a porn tassel for adornment, a drawstring closure and zippered pocket, Sidney Byron's stunning Suncatcher Carryall makes the perfect carry-on purse or bag for summer weekend getaways. Roomy enough for a day's worth of essentials, the stunning jute holdall features either a velvet or terrycloth interior. sidneybyron. com $140