Life in Fashion
For many (and I speak for myself, too), fashion is a means of expression. So much can be conveyed with what you wear and how one projects himself or herself. Since childhood, I have used fashion to both project my feelings and to hide my insecurities. Whatever the case may be, I have always subscribed to the belief that no matter what, you should put an effort in appearance.
Though my style is my own, through the years I've taken note and inspiration from those I consider my own personal icons in not just looks and appearance, but in the way I walk through life. These icons exhibit a style, grace, and attitude made them … well … iconic to me. As Haute Living, San Francisco celebrates its fashion issue, I'm overjoyed to share with you what motivates my style and camy affections for some of those who inspired some of my most talked-about looks.
David Bowie
As a kid, the little fashionisto within would daydream about the glam-rock imagery of the generation before me. David Bowie was a god, and I lived for the visual presentation as his alter ego, Ziggy Stardust. He gave permission to be who you are.
His androgynous look continued even when he hung up the lightning bolt for his preppy, new wave image in the mid to late eighties. He exuded class, glamour, and chivalry. To this day whenever I wear bold colors, I'm reminded of him. His death back in 2016 hit me hard. I recently found a lavender and brown Valentino outfit that somehow reminded me of both the Ziggy and Bowie personas merged into one. From time-to-time, I check in on his equally exquisite widow, supermodel Iman, through her social media posts just to see how she's doing, as if channeling him.
Visionary Pierpaolo Piccioli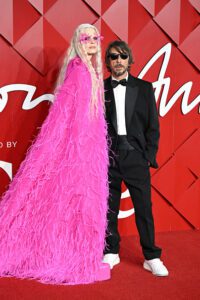 Creative director of Valentino, the 2018 and 2022 Fashion Awards Designer of the Year, and father of three, Pierpaolo Piccioli's casually confident aura is rich and chic without pretention. Often garbed in all black and smoking a cigarette in typical Italian form, Pierpaolo's the sort of man who walks into a room and you can't help but want to know more about him.
My relationship as a client with Maison Valentino goes back two decades before Pierpaolo joined Valentino back in 2008, when he and Maria Grazia Chiuri jointly took the reins as co-creative directors. (Chiuri left the fashion house in 2016 and is now the creative director for Christian Dior, which is a amusing coincidence, considering that if I'm not in Valentino, I could be found wearing Dior. I'm in Dior as I type this.) Piccioli's influence on Valentino could be argued as some of the house's most innovative years, bringing whimsy, a youthful edge, and much success to the brand.
Through Piccioli's visionary efforts, Valentino became the first luxury brand to partner with the Pantone Color Institute™ to brand its signature Pink PP hue with fall and winter 2022–2023 being the first collection all in the vivid pink. Naturally, I had to have a Pink PP coat! Pierpaolo's personal style of polished avant garde casual with sexy ruggedness resonates with me. I'm not one to copy someone's look, but when I saw him in the UFO overcoat from Valentino's Undercover collection (fall/winter 2019), the kind folks at Valentino San Francisco had moved heaven and earth to find the last one!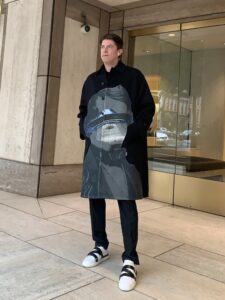 Wilkes Bashford
I could not possibly write about fashion icons (especially as a native San Franciscan) without mentioning my friend, the late, great, and debonaire Wilkes Bashford.
There have been moments throughout history when dynamic, charismatic, above-average, even divinely blessed individuals are born. They contain a golden aura and radiate love, elegance, and grace. These highly dynamic personalities move to the beats of their own drums, and others can't help but dance with them: that was Wilkes Bashford.
It wasn't necessarily Bashford's unabashedly elegant San Francisco style that inspired me. We all know he exuded elegance or, as he would say, "chic as shit" (you know me, suits, no matter how beautiful, have never quite been my thing … yet), but it was his humor, grace, and class par excellence that influenced me greatly.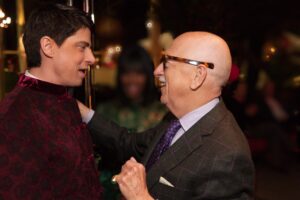 One standout memory from 2015 happened at my chinoiserie-themed birthday party at the now defunct Crystal Jade Jiang Nan restaurant (currently Harborview Restaurant) in San Francisco. He had just arrived, and together, we worked the room. We inadvertently crashed a group of ladies gossiping about another guest at the party. These garrulous women turned to me and Wilkes to include us in their chatter. Without skipping a beat, Wilkes looked them in the eyes and said, "You all look lovely this evening. It was a pleasure to meet you." He then gripped me gently by the arm and led me away. It was the classiest move I ever witnessed. I learned in that moment that the most fashionable accessory one can have is grace. Wilkes was so kind and met every day with an infectiously positive attitude. The inside of Bashford's trademark blue lensed eyeglasses was pink. So, he literally saw life through rose-colored glasses, a metaphor to his beautiful existence.
Though these fathers of fashion have influenced aspects of my style, how I carry myself, and the way in which I convey emotion, ultimately one's personal style should come from within and stand out from the masses, making you unique and true to you. To quote Pierpaolo Piccioli, "You are more special if you are different from the others." And that works for me.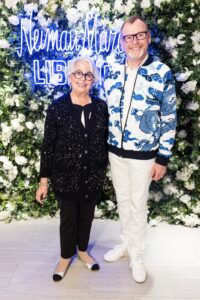 CORRECTION: In the last issue of Haute Living in the article "An Enchanting Dinner with Libertine," I inadvertently listed the wrong name in the photo caption of Karen Kubin and Mark Sullivan and misspelled her name. I'd like to take a moment to extend to Karen my sincere apologies with the correct caption.