Palo Alto's buzzy, intellectual energy is palpable, thanks to it being the birthplace of the tech and information revolution. That the town is home to Stanford University also supports the extra-charged vibe. Entrepreneurs, creatives, and doctoral candidates mix and mingle within University Avenue's eateries and coffee shops, generating a dynamism unmatched within the Bay Area. Adding to this vibrancy is the new Graduate Palo Alto, a hotel and hospitality venue that honors both hometown history and those who made their mark while attending the premier 'ivy of the west.'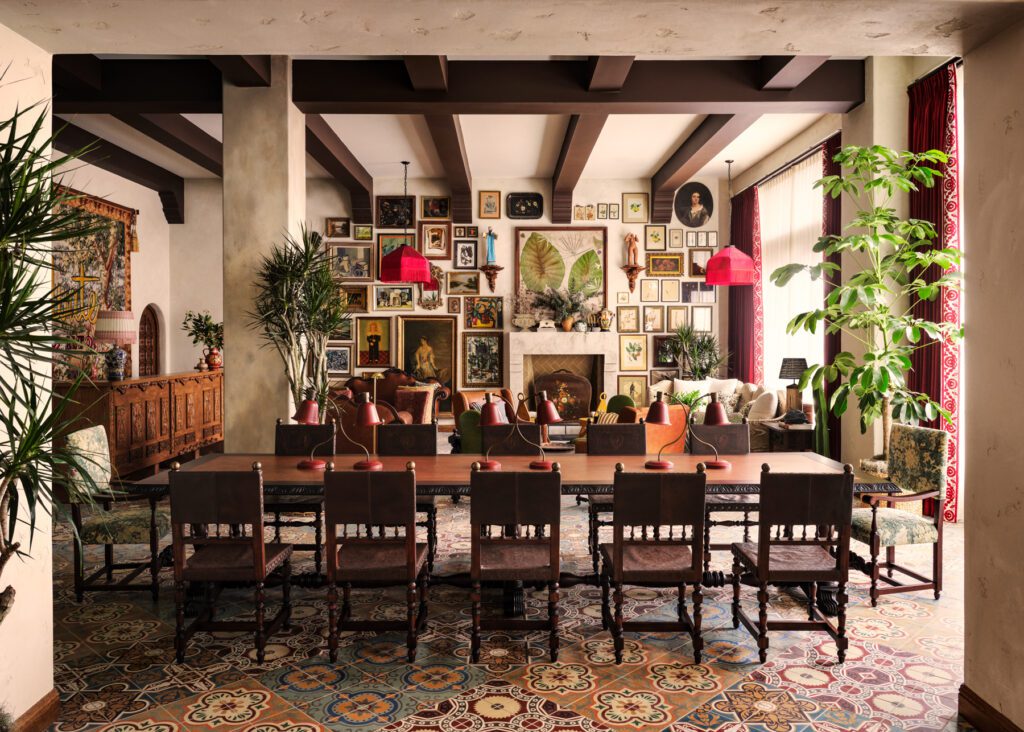 Graduate Palo Alto is the latest in the Graduate Hotels portfolio that comprises site specific, hyper local hospitality venues that pay homage to the spirited college towns each calls home. No two of the 30+ hotels nationwide is the same. Each is a reflection of its city and college history. Graduate Palo Alto and its restaurant(s) offer guests a retreat into the world of Stanford University. The storied property has been thoughtfully renovated and restored to honor the building's past and the cultural history of Palo Alto. One need not be Stanford-affiliated to appreciate and enjoy the varied nods to one of the nation's top institutions of higher learning. Tributes range from tongue-in-cheek (such as the room card keys that resemble student id's, with images of high profile grads such as Reese Witherspoon and Bill Walsh) to poignant, such as framed Of Mice and Men book covers. (Author John Steinbeck graduated from Stanford in 1925.) Photo collages in each room feature additional notable alumni John McEnroe and Sigourney Weaver.
The entire region is honored in each of the 100 residential-style rooms and their hand-painted Redwood wallpaper and inscribed headboards. Campus colors are echoed within the red and white tiled bathrooms. Bed bolsters are embroidered with the school's unofficial chants, "Whose House?" and "C-House," and custom hall carpets are punctuated with years denoting notable achievement throughout Stanford's history. '41' for instance celebrates the University's 50th anniversary and dedication of iconic Hoover Tower. The building's original design is reflected in the colorful Spanish-colonial tiles, Moorish light fixtures, and a restored original Otis elevator that glides effortlessly between the six floors, belying its age.
Take that elevator to the rooftop where the President's Terrace bar offers panoramic views of the Santa Cruz Mountains. There's not another public rooftop view like it in town. Sit at the small bar, or warm-up by the fireplace while enjoying creatively crafted cocktails curated specifically for the venue by famed Los Angeles bartender BAD BIRDY, and dine on small plates such as Bay Scallop Ceviche or Pacific Kampachi Crudo. The hotel teams with Manresa Bread, so don't miss the deceptively simple Bread and "Butter," Manresa sourdough with whipped bone marrow "butter." Downstairs at lobby-adjacent Lou & Herbert's (named for famed Stanford grad Herbert Hoover and his wife), Manresa provides the morning pastries. Here, guests can enjoy all day dining and imbibing in the high-ceilinged space centered by a roaring fire. The colorful lobby, with its wall full of art and assortment of seating options, is also a comfortable space in which to watch the world go by from its large picture windows that front University Ave.
While Stanford alumni, current students, and their family members will no doubt feel more than at home at Graduate Palo Alto, the venue is a fit for anyone who loves cozy comfort, great food, and delicious cocktails served with a bit of nostalgia; this University of California, Davis grad included. Hail Stanford, hail.
Photos courtesy of Graduate Palo Alto