Ernest, the elevated-casual restaurant from star chef Brandon Rice, is not exactly centrally located. It's not positioned along any sort of thoroughfare, and it doesn't attract foot traffic. Those who fill its two level industrial space, night after night, venture to the outer Mission address with purposeful intent: to enjoy creative and playful flavors never before experienced. Ernest's near instant popularity is due to what should always be a restaurant's success barometer: unbelievably delicious food.
It helps too that management intuitively keeps the energy level high with curated soundtracks that echo the night-to-night vibe. A 'come as you are' dress code reveals everything from hoodies to high heels. And the wall of waving miniature maneki neko kitty-cats serves as more than charming décor; below each is a brass plaque featuring the name of a crowdfunding donor whose contribution helped to ensure the restaurant's opening during one of the hospitality industry's most dicey time periods ever.
Opened in March 2021, Ernest is the first solo restaurant from the Michelin-recognized Rice, who named his venture after his food-loving grandfather. Rice realized early on that cooking was his calling; at age 13 he started working in professional kitchens in his hometown of Roanoke, Virginia. After receiving his associate's degree in culinary arts from the Culinary Institute of America, Hyde Park, he worked under the tutelage of Ken Oringer at Boston's Clio during which time he traveled to Europe where he staged in three Michelin-starred kitchens such as Quique Dacosta in Spain and Noma in Copenhagen. After his year abroad, Rice returned to his work with Oringer before moving to the Bay Area where he first worked at lauded Coi before spending more than five years as the Chef de Cuisine at Rich Table, helping to earn the contemporary California restaurant its Michelin star.
With Ernest, Rice has established his own voice and distinct culinary style, the root of which is simplicity. He utilizes the freshest seasonal ingredients to create within his open kitchen distinctive dishes with worldly influence, such as his signature beef tartare featuring rich beef from Olivier's Butchery on a bed of plump sushi rice topped with succulent ikura (main photo). His market-driven, ever-evolving menu features food that is fun and approachable, yet refined and elegant. He effortlessly layers familiar flavors in new, unexpected ways, such as the hi-low Kaluga Caviar and Tater Tots, or the Wagyu Sandwich with Alabama White Sauce. Dishes, like the succulent Pork Neck Char Siu with Barhi date and hot mustard, and the Dungeness Crab Fried Rice with ginger and scallion, are meant to be mixed, matched, and shared. (Choose the "Let the Kitchen Cook For You" menu option to explore the full extent of the menu. At $97 per person, it's a fantastic deal.)
Dessert alone is reason to book a table or belly-up to the entrance level backlit bar. A mound of mascarpone-slathered shaved ice (flavors vary) seems insurmountable, until the first bite of the light and airy confection melts convincingly in the mouth. The nearly foot tall vanilla soft serve, drizzled tableside with gourmet 'magic shell' chocolate sauce, is an Instagrammer's dream. And the creamy, caramelized-crusted Basque cheesecake rivals (and dare exceeds) the GOAT, originated by San Sebastián's La Viña restaurant.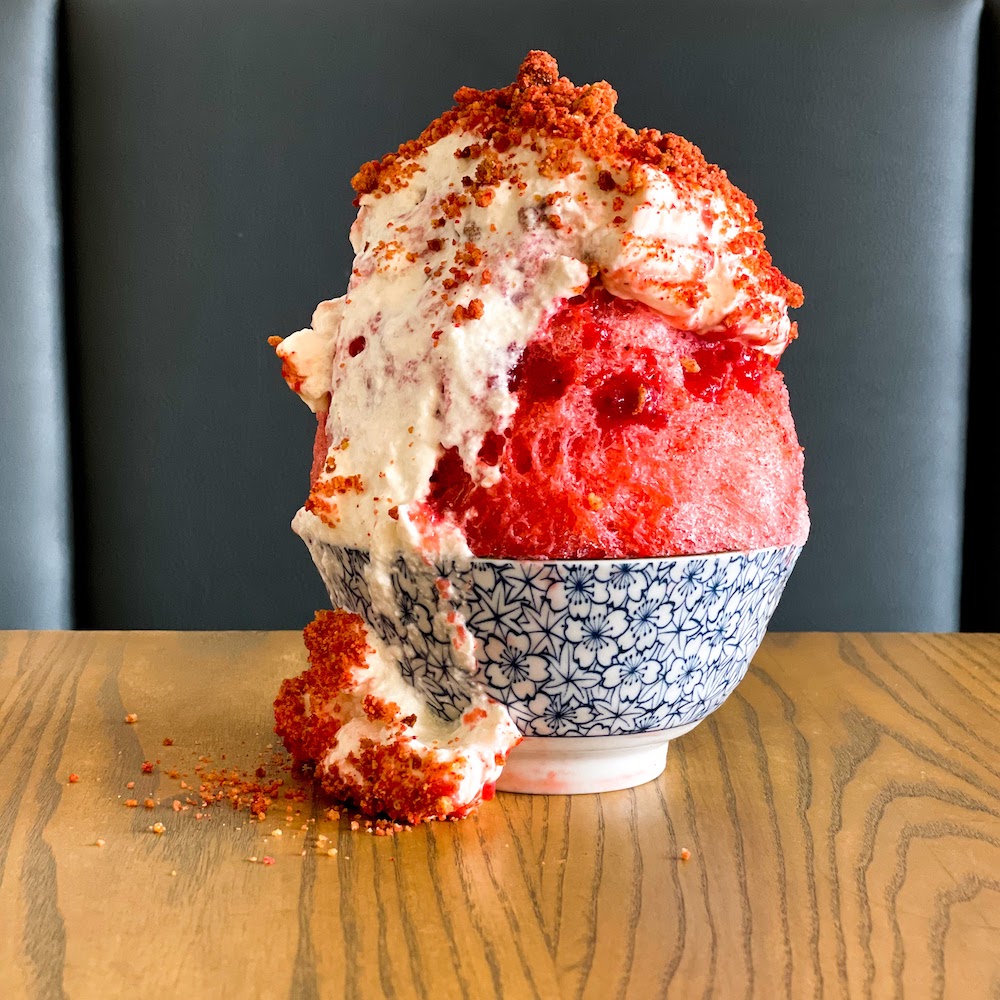 A fairly extensive, eclectic, and primarily European wine list features under-the-radar gems and a smaller by-the-glass list highlights menu item specific perfect matches. Bespoke cocktails include selections like the Daiquiri Bolognese with Amaro Montenegro, lime, and whipped pineapple, the seemingly simple yet complex Black Walnut Manhattan with bourbon, apple, nocino and several other unnamed ingredients, and an incredibly decadent looking espresso martini, topped with whipped gelato.
Ernest, 1890 Bryant St., Suite 100, San Francisco.
Plenty of street parking.
Reservations available on Resy. Bar walk-ins welcome.
Photos by Alana Hale, unless otherwise noted.