Hotel restaurants often receive a bad rap, with a reputation of existing merely to serve uninspired food and drink to tired travelers. Such is not the case for Menlo Tavern at The Stanford Park Hotel. This clubby and cozy dining and imbibing spot is the toast of its South Bay town, welcoming a bevy of in-the-know regulars who value its Stanford University spirit, its crafted cocktails, and menu of American classics served within its fireplace-warmed environs.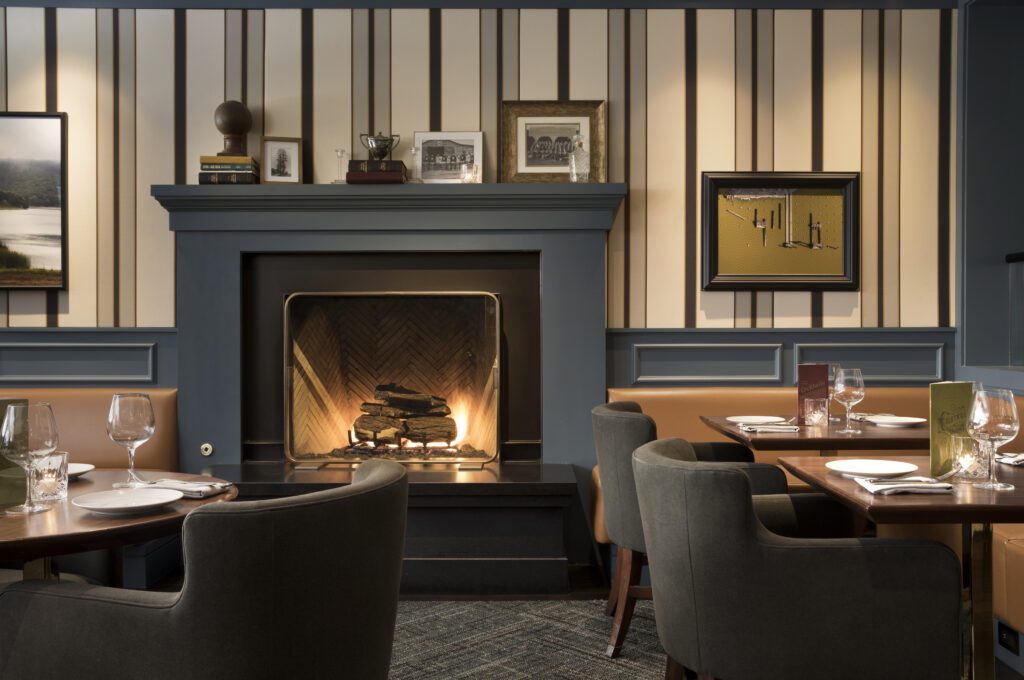 Sophisticated yet casually relaxed, Menlo Tavern is a teal and saddle leather oasis serving breakfast, lunch, and dinner within both its bar and banquette-lined dining room. One need not be a Stanford grad to appreciate the iconic University's historical elements that adorn the restaurant's bookshelves and walls. The names of former Stanford dining clubs line the dining room floor. Framed Stanford Chaparral covers line exterior walls. The bi-monthly humor magazine known as the Stanford Chappie has been published continuously since 1899. You'll find covers dating back that far.
In the bar, find Menlo Tavern's Mixology Guide, a literary tome featuring signature selections, classics, and nightcaps. The back page lists the "Cure for Writers Block," a list of famous authors and their favorite drinks. In the kitchen, Executive Chef Louis Salvatore offers one-of-a-kind creations that are as beautiful as they are delicious. A not-so-simple Butter Lettuce Salad is adorned with small flowers. Day Boat Seared Scallops are served with creamy risotto, atop a swirly swath of squid ink. Colorful Salt Roasted Beets and Burrata reveal Chef Sal's belief that cooking is a means of artistic expression. His multi-course dinners are often inspired by a single poem. He develops full menus based on rap song lyrics, and he'll launch new dishes that resemble the landscape he passes on hikes. Equally creative in his approach to wine selections, Food and Beverage Director Roque Medina oversees a list of California favorites and is an expert at helping guests find the perfect wine to their liking.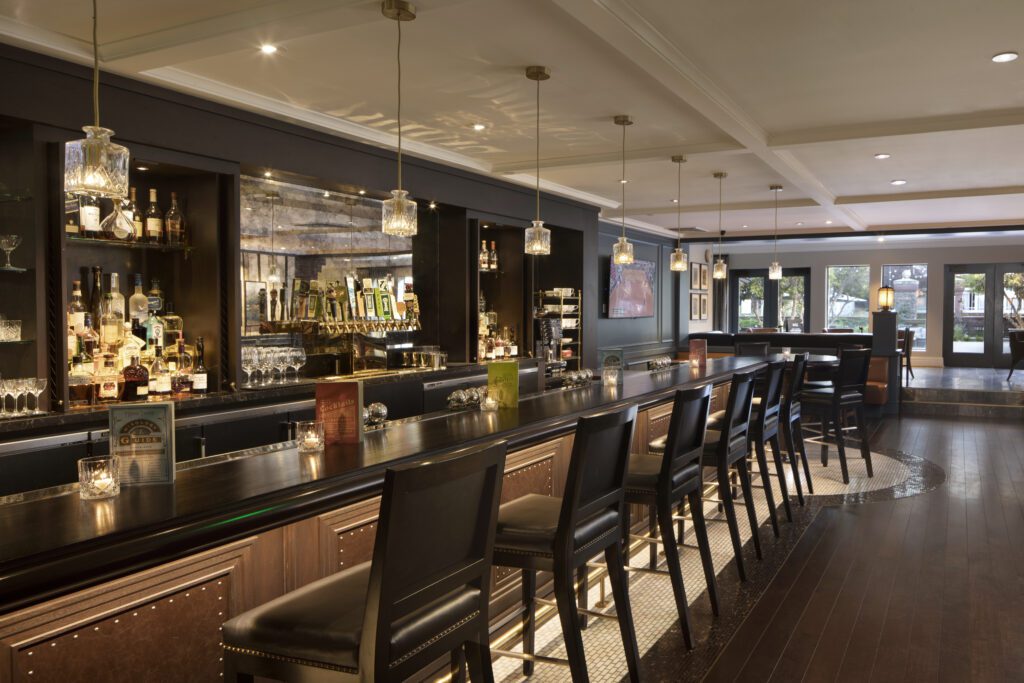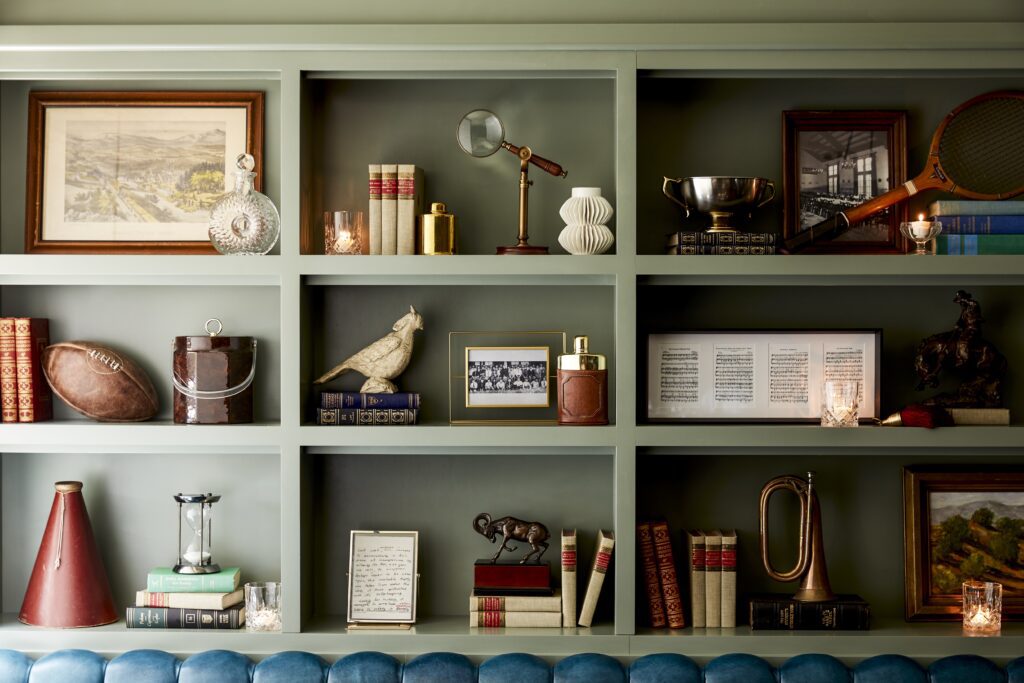 The Stanford Park Hotel is a fitting home for all of this deliciousness. Behind the traditionally elegant exterior you'll find quiet garden courtyards, fountains, and secluded private spaces. Two firepits welcome post-dinner marshmallow roasting. (On its dessert menu, Menlo Tavern offers the makings for s'mores.) The hotel's 50-foot swimming pool and hot tub are heated year round. Complimentary bikes allow for easy exploration of nearby Stanford Shopping Center, Town and Country Village, the Stanford Campus and its Cantor Art Museum and Rodin Sculpture Garden. A state-of-the-art fitness center is lined with historic pictures of various Stanford athletic teams: tennis, basketball, crew, and track. There's even a photo of the Stanford band, circa 1907. Guest room hallways are lined with large photos of esteemed Stanford grads, from acclaimed athletes to tech titans. Finally, don't miss the warm, freshly baked chocolate chip cookies served nightly in the lobby from 6 – 10pm.
During this holiday season and throughout the year, the hotel, in partnership with Stanford Shopping Center's American Girl store, offers The American Girl Package, a customized sleepover experience for children and their dolls. Includes an American Girl bed, bathrobe and slippers upon arrival, and a welcome note. At night, chocolate chip cookies and milk are brought to the room. In the morning, head to Stanford Shopping Center for a special experience at the American Girl store. Activities rotate and include Pet Pampering Day, Doll Hair & Manicure Day, Sweet & Savory Treats with Grandparents and more. 
Menlo Tavern and Stanford Park Hotel: 100 El Camino Real, Menlo Park
Plenty of free, self-parking spaces – or valet for those who desire it.
Photos courtesy of Menlo Tavern and The Stanford Park Hotel