That shiny thing pinned to the lapel of your favorite concierge? It's a golden key,  a symbol of their status as a master at problem solving. Standing at attention behind a desk in the lobby of the best hotels, Le Clefs d'Or—the golden keys— are people we can count on for most every query we have as guests. Our wish, indeed, is their command. Holding troves of knowledge, these keepers of facts are experts in subjects as far reaching as art and wine. They'll do unexpected tasks or errands to satisfy guests—sometimes even drawing from their own hobbies and talents—think: joining a guest for a run or as a partner on the tennis court. A  concierge can literally (and metaphorically) use their "keys" to open the door to any experience we seek as travelers. But when it comes to dining, there's no doubt that concierges know best. We've turned to some of the city's best to find out where the like to nosh.
Trained by legendary concierges in London and Paris, Wolfe began working at Fairmont San Francisco in 1972, when the concept of concierge did not exist in the United States. Under his tutelage, the Fairmont San Francisco became the first hotel in the United States to offer this longed for service. "I saw a great opportunity to take this revered European tradition, inject it with American spirit and implement the concept at The Fairmont San Francisco," he says.
For Breakfast:
My favorite breakfast place is the Buena Vista Café at the corner of Beach and Hyde Street. This is where Irish coffee was first introduced to the United States many years ago. They still make about 3000 a day, and they are delicious. You can also get a Ramos Fizz, or any other libation of choice. I usually opt for eggs Benedict, but they do have quite a variety of breakfast fare.
For Lunch: 
Go to Sam's Grill in the Financial District. This old school establishment still has booths for privacy, and in atmosphere that makes you feel like you just stepped out of a Bogey movie. Sam's has classic grilled room cuisine and also does very good crab.
For Dinner: 
There's  nothing finer than  Acquerello, which has two Michelin stars. They have a number of tasting menus which is what I usually will have. It's a classic restaurant that serves modern-day Italian in an atmosphere where you can still have a conversation and the tables are not packed together.
Extra Tip: You've got to go for Dim Sum. I consider myself an "old Asia hand" having spent a number of years out East. I've rarely come across Dim Sum to rival Yank Sing's. Dim Sum is kind of a brunch type of affair, and there is something quite charming about the "point and eat" way of ordering. 
A concierge for eight years, Noriega says she is "obsessed with fine dining." Proud of her hotel, she touts the fact that its guest rooms occupy the top eleven floors of the building, beginning on the 40th floor through the 48th floor, promising spectacular views. "Walk across our skybridge and you'll feel like you are flying,."
For Breakfast:
 I adore farm-to-table Plow for its custard French Toast. Don't leave without trying the crispy Plow Potatoes. You'll enjoy them at the restaurant's atmospheric oak barrel tables. 
For Lunch: 
Go to Tadich Grill for the iconic Prawn Cocktail. This is the oldest continually run restaurant in California.You'll find it in the Financial District.  
For Dinner: 
My favorite dinner place is Nari for Thai-Californian cuisine. My go-to dish is squid and pork jowl. Imagine: Monterey squid in chili-lime dressing with sweet, succulent pork jowl, topped with peanuts and cilantro. So delicious! 
Caroline Jewell, Concierge, St. Regis San Francisco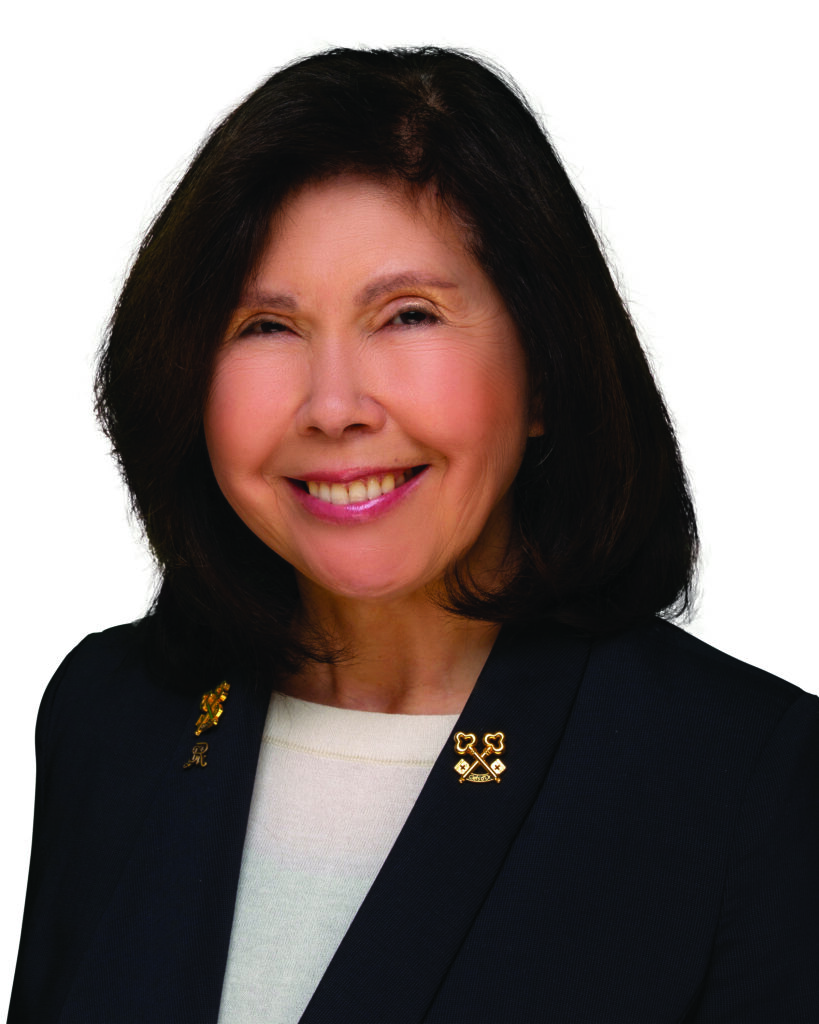 Jewell, who recently celebrated 25 years with Marriott Corporation and was part of the original concierge team opening the desk at the St. Regis, says a special aspect of her job is that "guests place their trust directly in me and I have the freedom to create individual and memorable experiences for them."  She has served as President of the Northern California Concierge Association for three terms and is currently an active member of the Board and recognized by the Hotel Council of San Francisco for outstanding service in the hospitality industry. 
For Breakfast: 
Astra Restaurant at the St. Regis provides the ideal setting for your power breakfast or, the basic serenity you may seek in starting your day.   Millionaire Bacon with maple glaze and Perigord truffles is not to be missed.
For Lunch: 
Mission Bay was indeed blessed when Gott's Roadside opened at Chase Center, home of the world champion Golden State Warriors.  Come with an appetite and order the California Burger with a Mint Chocolate Shake (and don't forget the fries). 
For Dinner: 
Established in 1908, historic John's Grill exudes nostalgia with its dark setting and wood paneling. The steaks are great, but my go to is Sam Spade's lamb chops.
Extra Tip:
Multiple culinary award winner Gary Danko continues to provide one of San Francisco's most elegant dining experiences.  Choose the phenomenal Horseradish Crusted Salmon Medallion with Dilled Cucumbers and Grain Mustard Sauce from the Fish and Seafood Course.  You can travel to the restaurant by cable car, only a ten minute walk from the closest stop.
"I have been a concierge here in our City by the Bay for 26 years," says  Sutton, who started his career at the Park Hyatt Hotel and joined the opening team at the InterContinental in 2008 Before that, he enjoyed a career traveling around the globe as an actor, "spreading the good cheer of the American theater."
For Breakfast: 
Go to Sears Fine Food for Swedish Silver Dollar Buttermilk Pancakes. Sometimes it's the classics that get me out of bed in the morning. These famous little pillows of heaven are crispy on the outside and fluffy on the inside. The portion size of 17 hardly seems enough. Although they are basically a delivery device for butter and syrup, I have been eating these since I was a wee lad. They will also sell you the batter mix so that you can recreate the love at home.
For Lunch:
Head to Hog Island Oyster Co. for Clam Chowder. People come to San Francisco and say they want Clam Chowder in a bread bowl, but do they really? Why not have a bowl of clam chowder made to order, and that's exactly what they do at Hog Island. You order a bowl- they make you a bowl. 24 clams go into a pan with some broth and then they had the cream and bacon. The bread is served on the side, so you're not stuck with a leftover round of soggy sourdough. Pair this with a Cowgirl Creamery grilled cheese sandwich, soak up the bay view and call it a day.
For Dinner: 
Get Cioppino at Anchor Oyster Bar. This cozy neighborhood gem does not have an extensive menu, but everything they offer is stellar; service, atmosphere, and especially the Cioppino. Light spicy broth, briny fresh shellfish, and the local sweet Dungeness Crab. Close your eyes and it tastes like San Francisco. Pro-Tip; don't decline when they offer you the ridiculous plastic bib- you'll need it!
Kelly Richie, Lead Concierge The Ritz-Carlton, San Francisco
"Not only am I fortuitous enough to work at one of the city's most illustrious hotels, but I also have the great fortune to work in a destination like San Francisco, where there is an abundance of great choices for everything from dining and entertainment to outdoor adventure and natural beauty," says Ritchie.  A concierge at  The Ritz-Carlton, San Francisco for over 22 years, originally from Boston, Ritchie has been enamoured with San Francisco since 1998. 
For Breakfast:
Indulge in the famous, deep fried French Toast, infused with Grand Marnier, at Sweet Maple on Sutter Street in Lower Pacific Heights 
For Lunch: 
You must try the Fried Chicken Sandwich at Wayfare Tavern on Sacramento Street. Serving food inspired by local cuisine from the turn of the 20th-century, this celebrity chef helmed hotspot feels like a characteristic American-style pub. 
For Dinner. 
Swoon over the Caviar Doughnuts and 10-ounce, prime, dry-aged, Black Angus Filet Mignon at Miller & Lux. 
Daniel Rey, Chef Chef Concierge, St Regis San Francisco
"I'm a (lacto-ovo) vegetarian, so be aware that my favorites tend to skew that direction," says Rey, who began his career in the Concierge profession at the Ritz-Carlton, San Francisco. Honing his skills, Rey started as a Club Concierge on the private Club Level, eventually moving to the St. Regis in 2017 as Chief Concierge. "One of my proudest moments was in 2019, when I was elected to the Board of Director's for the esteemed concierge organization, Les Clefs d'Or, USA," he sys. 
For Breakfast: 
Sweet Maple makes the best "Soufflegg" Skillets, These wholesome and deliciously soft, steamed egg scrambles are served in a skillet. 
For Lunch: 
I recommend Tartine Manufactory for its exemplar Grilled Cheese, which combines Cheddar, Cana de Cabra, pickled goat horn peppers and sour cherries. This fantastic bakery is powered by a wood fired oven. 
For Dinner:
Atmospheric Foreign Cinema gets my vote. Its 
Vegetable Tagine withTunisian slow-cooked tomatoes, julienne squash, snap peas, cauliflower, polenta cake, feta, and jalapeño never ceases to please. Plan ahead if you want a seat in the popular patio area.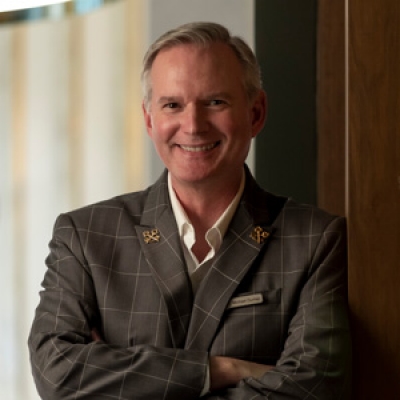 "We're always looking forward to the next guest and to the next new thing," says Dunlap. "We want to give guests something that will make their day." Studying restaurant openings even when away from his concierge desk, ever in search of new offerings, Dunlap knows the Bay Area intimately. With decades of experience, he likes nothing better than to send a guest off to a meal that he knows will wow them. 
For Breakfast: 
I'm a fan of Zazie, a charming, dog-friendly French Bistro in the Cole Valley. Eggs Benedicts and the Croque Monsieur / Madame here are not to be missed
For Lunch: 
Request a table on the patio at La Mar, a Peruvian Restaurant, to nosh next to the water. Order the salmon with coconut milk.
For Dinner: 
Graceful Gozu excels in all aspects of Japanese fare. Go for their Fireside Tasting Menu, a feast of wagyu, seafood and wild food.
Extra Tip: "Rosemary, my fellow concierge, and I love the new Porchetta at the hotel's Lounge & Bar! It is our house made, slow roasted pork belly in Nduja sausage."