By Sharon Seto Photos by Robert B Richards
Summer in San Francisco is actually during FALL when I partake in a multitude of fun activities that LEAF me smiling! September and October reap the best weather in the city for us locals and tourists alike! Giddy me when I see husband Dave fire up the grill and we sip rosé on the roof or eat al fresco dinners in Fog City. For those days that are a bit chilly, we head venues with indoor patios to make us feel like we are outside. Marlowe, a modern, rustic, chic New American bistro located in SOMA district, has both indoor and outdoor enclosed patios. A yummy place indeed stewarded by a talented chef, Jennifer Puccio, whom I enjoyed meeting. Marlowe serves up plates using the freshest local ingredients, and I relished tasting the dishes below and more while learning about chef.
From an early age, Jennifer Puccio's life has revolved around food. Growing up on a 5-acre farm in the New Hampshire countryside, seasons were marked by the produce available and what could be found in the surrounding area. Springtime meant shelling peas on the porch, fishing streams for trout, picking strawberries, and harvesting rhubarb. Summer meant bass fishing in the lakes, corn, zucchini, tomatoes, and picking bugs and caterpillars from the vines. Foraging for blackberries and raspberries resulted in amazing pies. Canning, pickling, and preserving kept the root cellar full. There was a compost bin at the back of the property to fertilize the fields. Friends raised chickens for eggs, goats for their milk, and rabbits for their meat.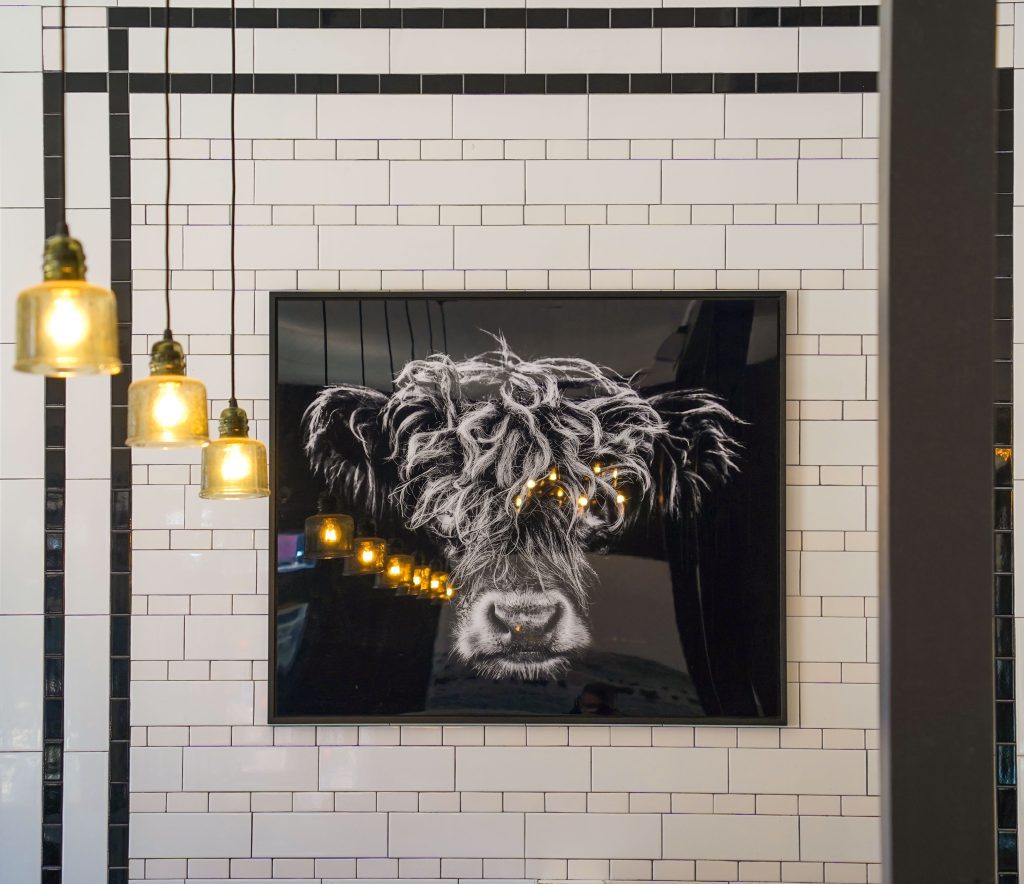 While Puccio was working in restaurants through college, the love of hospitality and feeding people through restaurant kitchens was born. Following her passion, Puccio attended the New England Culinary Institute in Vermont, then spent time in New Orleans and Boston working with renowned chefs. On a trip to San Francisco, she was inspired by the incredible produce and seasonality of the Bay Area. It was reminiscent of life on the farm growing up. Relocating to San Francisco, Jennifer Puccio received her first 3-star review from The San Francisco Chronicle in 2009 at Cortez Restaurant.
Partnering with Anna Weinberg and James Nicholas to create Big Night Restaurant Group, Puccio received 3-star reviews from the Chronicle five more times—when opening Marlowe in 2010 and again in 2014, Park Tavern in 2012, The Cavalier in 2013, and Leo's Oyster Bar in 2016—making Puccio the most-starred executive chef in the Bay Area. 
Under Puccio's direction, the James Beard Foundation nominated both Park Tavern (2012) and The Cavalier (2014) for "Best New Restaurant" in the country, and Puccio was named a semifinalist for the James Beard Award, "Best Chef West Coast."
Chef Puccio's food is inspired by her time on the East and West Coasts of the United States, as well as Europe and the Middle East. Approachable, crave-able, and ultimately, satisfying are her goals. 
Hot and Boozy Cocktail Sauce
2 cups ketchup
½ cup prepared horseradish
½ cup citron vodka
¼ cup Worcestershire sauce
½ cup salt
Zest of 1 lemon
Juice of 1 lemon
Black pepper to taste
This super-spicy and versatile cocktail sauce goes great with raw oysters, grilled prawns, and as the base for a bloody Mary. The salt seems excessive, but it's not.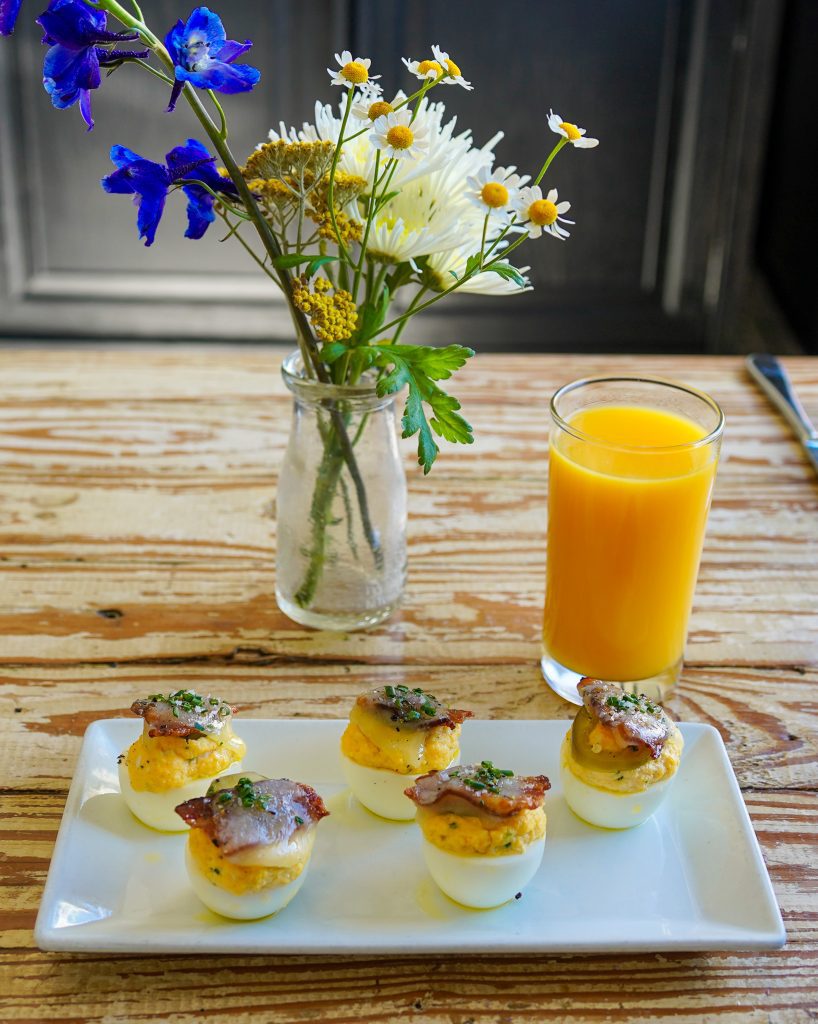 Deviled Eggs
Eggs
15 eggs, hard boiled, tip and tail removed, cut through the equator, and yolks removed
Filling
Yolks and tips and tails from the eggs, mashed with a whisk in a bowl
½ cup mayonnaise
2 tablespoons shallot, minced
¼ cup lemon juice
2 tablespoons parsley, finely chopped
2 tablespoons chives, minced
5 dashes Tabasco
½ teaspoon cayenne pepper
Salt to taste
Soak the shallot in the lemon juice until the shallots turn pink.
Fold the mayonnaise into the mashed yolks and whites a small amount at a time until you have a thick, creamy base.
Add the parsley, chives, Tabasco, and cayenne pepper, and fold to combine.
Add the pickled shallots (minus the lemon juice) and fold. Add lemon juice and salt to taste.  The mixture should hold its shape, but be creamy and silky.
Topping
6 slices aged provolone cheese, each cut into 6 triangles
30 1-inch pieces of crispy bacon
2 tablespoons parsley, chopped
2 tablespoons chives, minced
Sea salt
Cracked black pepper
Olive oil
Fill each egg cup as high as possible.
Place a piece of crispy bacon on each.
Top with the cheese.
Place the eggs on a baking sheet and broil or bake until the cheese is melted.
Top each with a sprinkle of chives, parsley, sea salt, and black pepper.
Drizzle with olive oil.
This great appetizer can also be adapted into a deviled egg sandwich or used to spruce up a simple mixed green and herb salad.
Cauliflower Mushroom "Carbonara"
Fondue
1 pound fontina cheese, grated
½ pound Brie, diced
¼ pound Époisse cheese (or any other washed rind, stinky cheese), diced
4 cups milk
3 tablespoons cornstarch
1 tablespoon Dijon mustard
Bring the milk to a simmer and sprinkle in the cornstarch, whisking constantly.
Reduce the heat and add the cheeses, whisking constantly.
Season with the mustard and salt to taste.
Pass the cheese mixture through a fine sieve.
Mushrooms 
½ pound cauliflower mushrooms, sliced to resemble egg noodles
2 tablespoons butter
Melt the butter over high heat in a large sauté pan.
Add the mushrooms and a sprinkle of salt.
Sauté the mushrooms until tender and wilted.
Remove the pan from the heat and toss in ¼ cup of the fondue.
Adjust seasoning with salt.
Garnish
1 cup baby pea tendrils
2 tablespoons Parmesan cheese, grated on a microplane.
2 quail egg yolks
Chive blossoms
Cracked black pepper
This recipe is vegetarian and gluten-free. You can substitute sautéed bacon lardons for the butter to make a more traditional carbonara. If you can't find cauliflower mushrooms, Alba clamshell mushrooms would be an adequate substitute. The fondue recipe will create leftovers; gently warmed, it is great with grilled bread, sautéed vegetables, or pretty much anything.
Steak Salad
Vinaigrette
½ cup Worcestershire sauce
1 cup smoked olive oil
2 tablespoons salt
Whisk to combine.

Salad
4 cups radicchio, dice into 1-inch pieces
4 cups watercress, picked, lightly packed
4 cups gem lettuce, cut into 1-inch slices
½ cup red onion, julienned
¼ cup scallion, sliced
Gently combine all the salad ingredients in a large bowl.
Season with salt and add dressing to taste, mixing and tasting as you go.

Garnish
2 pounds ribeye steak, cooked medium rare on the grill, rested, then sliced
Remaining vinaigrette
Parmesan, grated on a microplane
Sea salt
Cracked black pepper 
Fan slices of the grilled steak onto plates.
Place a generous handful of salad next to the steak on each plate. 
Drizzle a few tablespoons of the vinaigrette over the steak.
Sprinkle grated Parmesan over the dish.
Season the steak with sea salt and cracked black pepper.

The steak sauce vinaigrette is a great addition to any grilled meat or vegetables. Straight umami.

Mushroom Polenta
Polenta
1 pound Anson Mills polenta
7 cups water
1 cup cream
4 ounces butter
Bring the water to a boil in a large saucepan, then sprinkle in the polenta, whisking constantly.
Reduce the heat and cook at a gentle bubble, whisking often until tender (about 20 minutes).
Cool the polenta in a baking pan with a parchment cover in the refrigerator.
When ready to serve, reheat 2 cups of polenta with the cream and butter, whisking until hot and creamy.
Season with salt to taste.
Mushrooms
½ pound mixed mushrooms, torn or sliced into ½- inch pieces (king trumpet, Alba, hen of the woods, etc.)
2 tablespoons butter
1 tablespoons olive oil
1 tablespoon parsley, chopped
1 tablespoon chives, minced
Over medium-high heat, warm a large sauté pan.
Add the butter and oil.
Add the mushrooms and salt.
Sauté until wilted and starting to color.
Remove from the heat and add the herbs.
Truffle Salsa Verde
2 tablespoons shallots, minced
¼ cup lemon juice
2 tablespoons parsley, chopped
2 tablespoons chives, minced
¼ cup white truffle oil
Soak the shallot in the lemon juice until pink.
Combine all ingredients with salt to taste.
To Plate
4 eggs, poached
2 cups wild arugula
½ cup Parmesan cheese, shaved with a vegetable peeler
Sea salt
Cracked black pepper
In a wide bowl, place a 1-cup mound of the polenta.
Arrange the mushrooms around the outside of the polenta.
Nestle the poached egg in the center of the polenta.
Scatter the wild arugula over the mushrooms.
Scatter the Parmesan cheese.
Dress with the salsa verde.
Season with sea salt and cracked black pepper.
The recipe makes extra polenta. It will hold in the refrigerator for a week before the dairy is added. It's a great item to have on hand to make a quick dinner.