New England's top destination for beach, food, and adventure.
Martha's Vineyard, known colloquially as "the Vineyard" is a 100 square mile island located south of Cape Cod in Massachusetts. Unfortunately for wine lovers, the island's name is bit of a misnomer as there are no vineyards. However, this affluent destination makes up for it with picturesque beaches, great places to eat, and coastal charm. Despite the wealth and celebrity sightings, the island retains much of its small-town flair thanks to the 20,000 yearlong residents favoring boutique shops and restaurants over chains and huge retailers. Are you ready to explore Martha's Vineyard? Check out the guide below before booking your luxury island vacation in New England.
How to get to Martha's Vineyard
Located six miles off the coast of Cape Cod, the island is only accessible by plane or by boat. The Steamship Authority Ferry and Island Queen Ferry are the two largest providers for sea transportation departing from mainland Massachusetts. There are also a few other ferry charters leaving from New York and Rhode Island. The island has its own airport—Martha's Vineyard (MVY)—with JetBlue, Delta, and American offering seasonal flights that connect from the major surrounding airports. Cape Air offers options year-round from Boston Logan International Airport. 
Pro tip: Take the red-eye from the West Coast into JFK for your first leg. Fly Mint on JetBlue and have a glass of wine before lying flat on their adjustable firmness seats with massage features. Passengers will wake up refreshed before catching a connecting flight to the island. 
Where to Stay
Now that you are on the island, where will you call home? Airbnb and other home rental services are available, but if you are looking to relax and let someone else do the work during your vacation, the island is home to numerous luxury lodgings. The towns on Martha's Vineyard offer several choices: Chilmark, West Tisbury, Aquinnah, Vineyard Haven, and Oak Bluffs. However, if you're a fan of shopping, restaurants, coastal views, beautiful beaches, and the quintessential luxe vibe, then Edgartown is the place to go and the Harbor View Hotel is ready. 
Harbor View Hotel has been a beloved fixture on the Vineyard since 1891, offering plush guest rooms and suites in the heart of historic Edgartown. The iconic hotel recently underwent an extensive renovation which includes The Roxana, a 51-room building featuring new luxurious guest rooms, suites, and public spaces seamlessly melding a new, modern design with the elegance of this timeless landmark. While the historic building pays homage to classic Martha's Vineyard, The Roxana has a vibrant, youthful design appealing to both legacy guests as well as a whole new generation of travelers. In addition, Bettini, its popular restaurant led by director of culinary operations and executive chef Michael Gottlieb, offers a casual yet sophisticated ambiance for island-to-table dining, utilizing the Vineyard's freshest ingredients. This resort has it all with beautiful views of the coast which includes the Edgartown Lighthouse, an upscale restaurant with a fantastic wine program, a pool made for lounging all day thanks to plush cabanas and a poolside bar, and nearby excursions that guests can book directly with the Harbor View.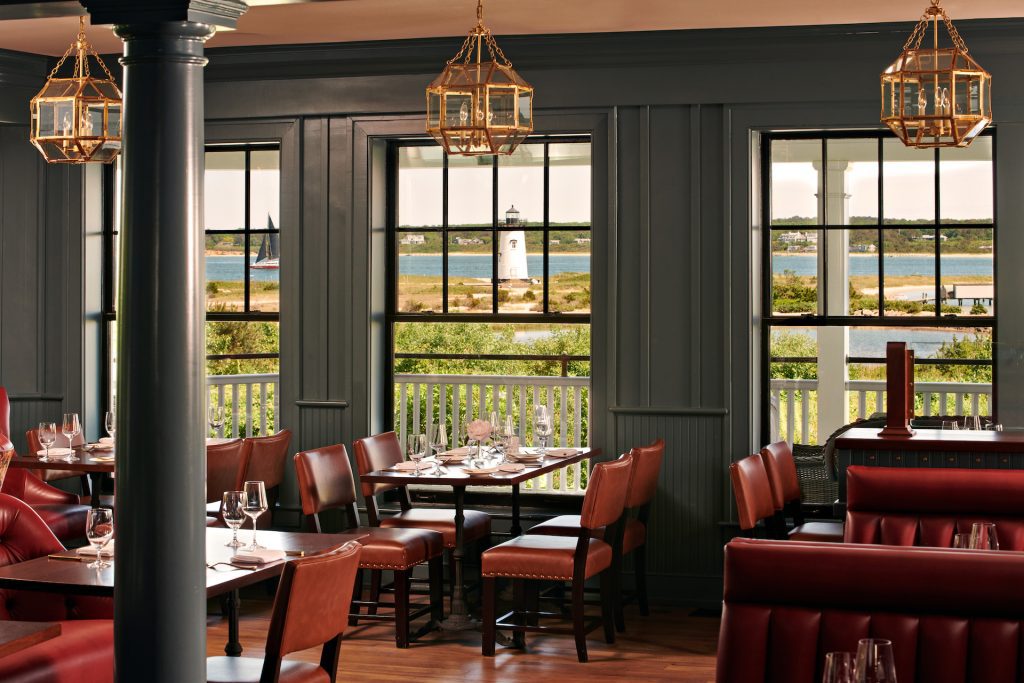 Pro tip: This fall they are throwing their annual Food and Wine Dinner Event. One hundred percent (100%) of the proceeds will be donated the Island MV Boys and Girls Club which supports the club's food insecurity program providing meals to members and their families.
Harbor View Hotel, 131 North Water Street Edgartown, MA 02539 https://harborviewhotel.com
What to do
There is nothing wrong with working on your tan or indulging in copious amounts of "lobstah," but if you want some education, exercise, and a little adventure while on the island, here are a few options. 
Chappaquiddick Island
Take a 3-minute or 550-foot ferry ride over to what the locals call "Chappy." As part of the Edgartown experience, visitors can take a car or bike to explore this small island within an island. Check out the Cape Poge Lighthouse, Mytoi Japanese Gardens, or just pack a picnic basket and find one of the scenic spots to stop for lunch.
African American Heritage Trail Tour
The African American Heritage Trail of Martha's Vineyard is a physical entity comprised of 30 sites dedicated to the formerly unrecognized contributions the island's history made by people of African descent. A descriptive plaque is placed at each of these landmarks, most of which can be found in Oak Bluffs and Edgartown. They offer 90-minute, 2.5-hour, and 4.5-hour fully narrated tours throughout the season.
Beaches
Joseph Sylvia State Beach (Edgartown) is a charming, 2-mile sandy beach in Martha's Vineyard, best known as one of the primary filming locations for the iconic 1975 feature film Jaws. Jumping off the bridge—or doing the "Jaws Bridge Jump" as it is known—is a summer tradition for many tourists visiting the island. Don't be shocked if you see someone doing a back flip off the wooden railing as they yell, "Wakanda Forever" or "For Narnia!"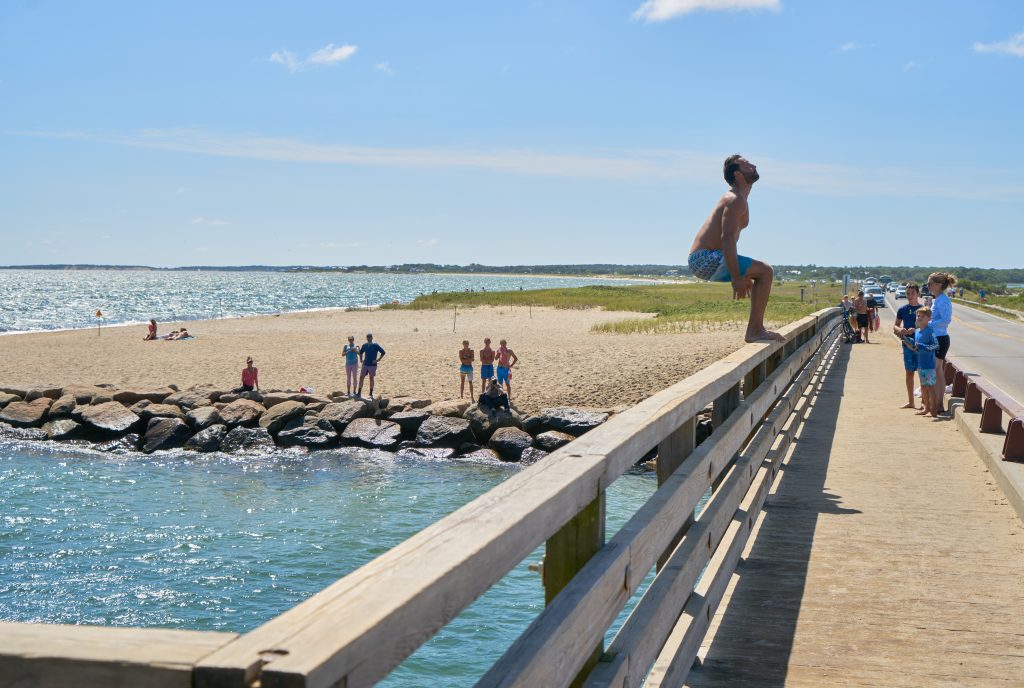 The Inkwell Beach, also known as Oak Bluffs Town Beach, is popular due to its calm waters and smooth sands, which are suitable for those with children or looking for a leisurely swim. It has significance as one of several historic African American summer resort communities since the 1890s.
Katama Beach (Edgartown) is a 3-mile barrier beach and one of Martha's Vineyard's best spots for surfing and big wave seekers. On the way up to the beach, stop by the Katama General Store for great sandwiches and drinks to take with you!
Oyster Tour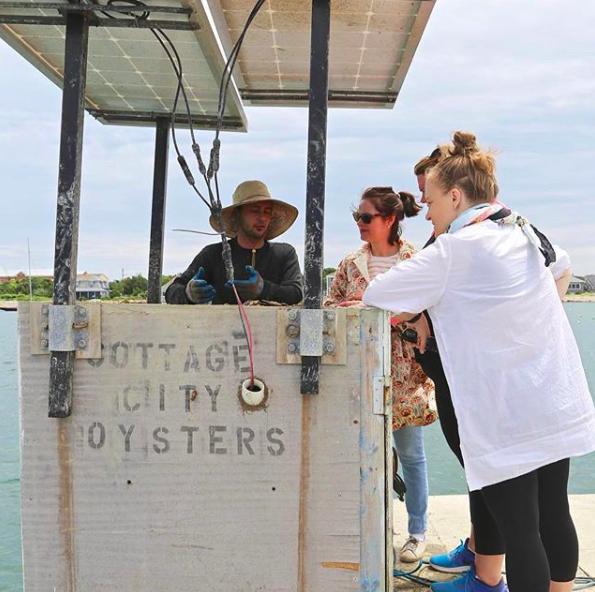 Cottage City Oyster Farm is offering a 1-hour tour to those wanting to learn history of the business and the process of growing oysters from seed to market. Once on the farm, the shuckin' begins. Sit back and enjoy as the farm's shuckers load the raw bar with as-fresh-as-it-gets oysters while you sip your favorite beverage. Lemons, cocktail sauce, and hot sauces will be available. Patrons often bring a cocktail or wine to pair with their oysters. 
Where to Eat
Get ready for a bounty of riches on your plate, thanks to the locally grown produce and seafood available in Martha's Vineyard. If you're looking for an abundance of fast food on the island, let's just say you're fishing in the wrong place. Take a look at these staples in the community.
Détente Restaurant and Wine Bar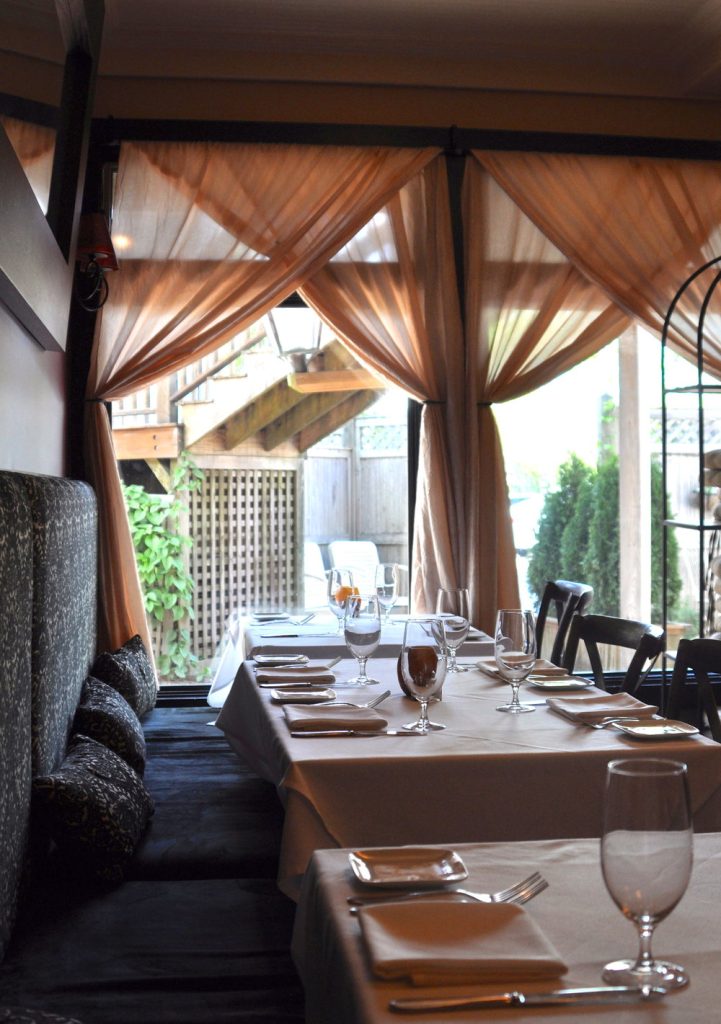 Located in downtown Edgartown, Détente features two floors and a garden patio for guests to dine. This charming restaurant and bar use ingredients sourced from local farmers and fishermen. Their menu rotates, but always features creative American fare with European influences, local seafood, hand-rolled pasta, and house-made desserts. In addition, this eatery also offers a robust wine list with classic favorites and regional surprises. 
Must Try:Seared scallops, crispy duck confit spring roll, and beef tenderloin.
15 Winter St, Edgartown, MA 02539. https://www.detentemv.com
Hours: Tuesday – Saturday, 5:30 p.m. – 10 p.m. 
Biscuits 
This Black-owned breakfast and lunch spot is in the heart of Oak Bluffs. For 20-plus years they have served Southern-style cuisine to guests that soon become family, as visitors keep returning this Vineyard institution. Be sure to arrive early for breakfast: Biscuits is so popular, the line can stretch back to Inkwell Beach. 
Must Try: Obviously Biscuits! Also try the shrimp and grits: blackened shrimp and garlic roasted red peppers served over cheese grits.
26 Lake Ave, Oak Bluffs, MA 02557 https://www.mvbiscuits.com
Hours: Monday – Sunday, 7 a.m. – 3 p.m.
19 Prime Cast Iron Steakhouse & 19 Oyster Bar
 Once two separate restaurants, they have merged to offer the best of land and sea on your plate. Located off Main Street in Edgartown, and offering 16 rotating types of freshly shucked oysters and over 15 unique cuts of steaks and chops, they have something to please all palates. If you are keen to sit outside or want to "highchair" it, they have two patios and two bars in addition to a private dining space.
Must try: Lobster caviar slider, 20-ounce bison chop, and local oysters served with Champagne mignonette, kimchi puree, and spicy cocktail sauce.
19 Church St, Edgartown, MA 02539
https://www.19primesteak.com https://www.19rawoysterbar.com
Hours: Monday –Thursday, 12 p.m. – 3 p.m. and 4 p.m. – 9 p.m.
Friday and Saturday, 12 p.m. – 3 p.m. and 4 p.m. – 10 p.m.
Sunday, 11 a.m. – 3 p.m. and 4 p.m. – 8 p.m.