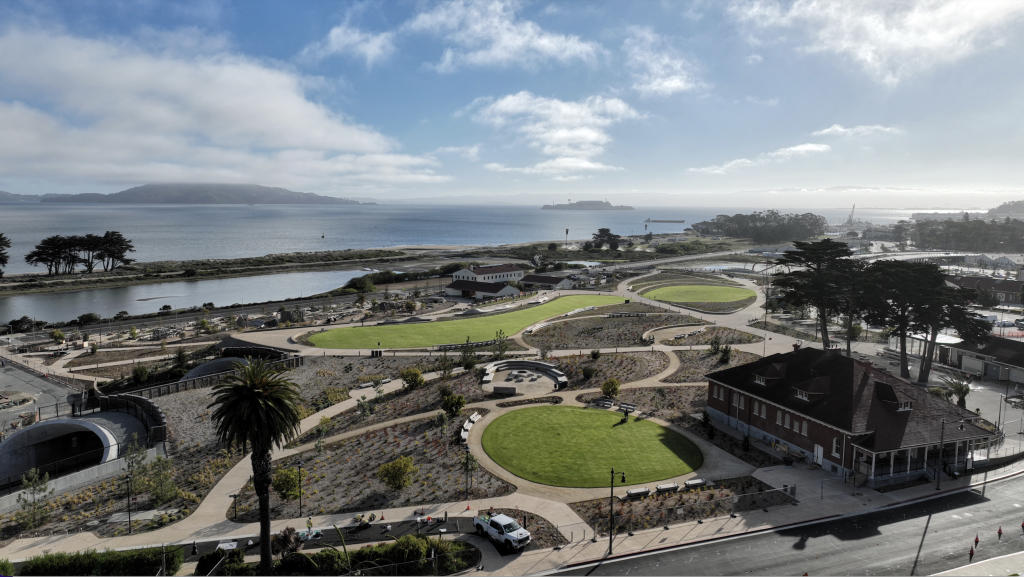 Brand new: Presidio Tunnel Tops
Q: How does a major American city add 14 acres to its footprint?
A: Through great partnerships and contagious enthusiasm (because it's not easy).
But those views! Presidio Tunnel Tops connects the Main Post to Crissy Field right over a sunken highway, creating a stunning and vibrant public space. The highly anticipated urban national park expansion was 20 years in the making supported by $98 million in private funding and $20 in public funding contributed by the Presidio Trust to transform this section of the old military post into a "local jewel, a national treasure."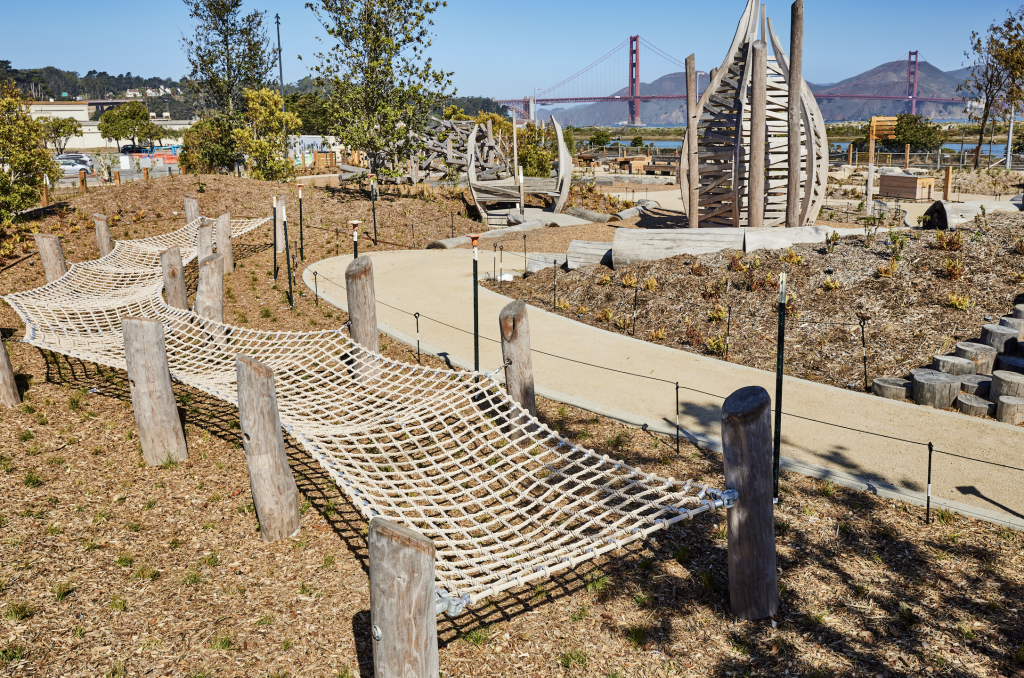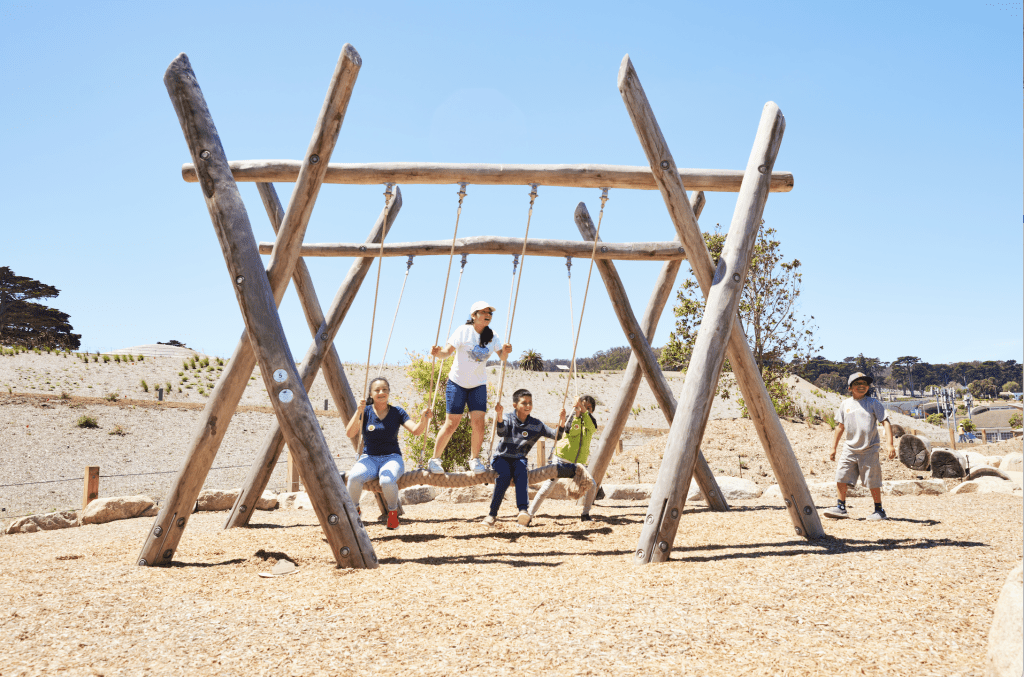 Bring the kids. If you don't have kids, bring dogs. If you don't have kids or dogs, bring a kite. It's free. Explore 1.8 miles of paths, overlooks, meadows, green spaces for reflection and relaxation, and nature play areas. There are discovery talks, learning labs, and adventure treks, picnic benches, grills, mobile food providers and pop up vendors. presidiotunneltops.org
Getting the lay of the land
First of all, stop in at the Presidio Visitor Center at 210 Lincoln Boulevard, open 10 a.m. to 5 p.m. daily. It's a handsome welcoming place where a 3-D model is the centerpiece of a spacious room, history is revealed, questions are invited, and tasteful souvenirs are sold. It's right near the Presidio Transit Center where free Presidio Go shuttle buses come and go from downtown and a permanent restaurant opens later this year. presidio.gov/places/presidio-visitor-center
Sculpted benches made from fallen Cypress trees add a sensuous touch to Cliff Walks + Overlooks. For those that know their city history, our multi-layered story is revealed via three vantage points for new views that encompass San Francisco Bay, Golden Gate Bridge, National Cemetery, Angel Island, Alcatraz Island, and beyond.
To learn more about the Presidio, don't miss the new Presidio Field Station (open Wednesday through Friday, 11 a.m. to 4 p.m.; Saturday and Sunday, 10 a.m. to 5 p.m.; closed Monday and Tuesday) where the natural and cultural world is on display, presented via activities (anyone want to paint a ceramic frog or sketch an owl?) focused on kids. This is staffed by youth Adventure Guides with seasonally changing content to encourage curious exploration and investigation of the real Presidio – and next door is the Crissy Field Center + Learning Labs. And because nobody's ever too old for toasted marshmallows on a stick, check out the cozy Campfire Circle, too.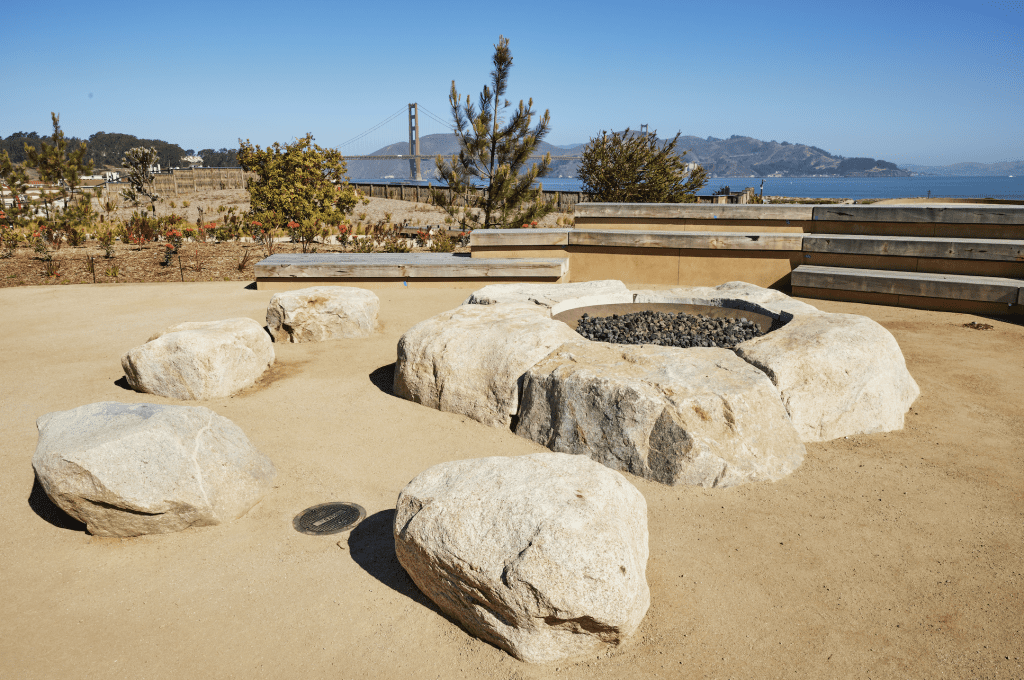 With fun in mind
Kids can see the Golden Gate Bridge upside down while turning cartwheels on one of the three grassy lawns. Grownups can plan a private special event by renting out the Eastern Meadow or West Lawn. Alternatively, rent 16- to 23-foot picnic tables plus barbeques under a grove of trees decorated with strings of lights for a festive evening.
Speaking of fun (and incredible views!), the Presidio Steps connect Cliff Walk to the play area below through a series of terraces built into the natural hillside, like an amphitheater. Skip down to the bottom, even closer to the bay, which opens up to a two-acre play area known as Outpost. Kids will face some tough decisions here—whether to climb, crawl, balance, slide, swing, or explore their way among natural elements such as wood, stone, and water.
Year-round family-friendly public programming features an array of music, dance, NPS park ranger storytelling, public art, monthly fun at First Sunday Afternoons, even a Korean harvest festival. Diverse global cuisines—from Latin-Hawaiian fusion dishes to Singaporean classic by Satay By the Bay SF to the popular Curry Up Now—are offered up from food trucks, carts, and tents that operate on a rotating schedule seven days a week from 9 a.m. to 6 p.m.
Tunnel Tops back story
In 1989, the U.S. Army announced their intention to leave the Presidio. When Loma Prieta hit, the earthquake emphasized an urgent need to rethink the aging Doyle Drive freeway that cut the Presidio in two as it led from downtown to the Golden Gate Bridge. City officials declared the six-lane stretch of road to be seismically unsafe.
By 1993, Bay Area leaders, urban planners, and citizens put forth a vision to direct the highway into tunnels and reconnect the park by creating new land above and the Presidio Tunnel Tops project was born. Starting in 2001, Crissy Field was reimagined from a former military airfield into a beloved national park site, creating 2.3 miles of waterfront promenade.
Consultation followed. More than 10,000 people all over the city and beyond shared their ideas about what a new public space in the Presidio might look like as well as the activities it could embrace. Imagination from the community and for the community informed the vision. And with this feedback, Presidio Tunnel Tops was designed and built, fueled by support from the Golden Gate National Parks Conservancy Campaign.
James Corner Field Operations, the design firm that created Manhattan's High Line out of a disused elevated railway, won an international design competition and became developer for the project. The park is part of the larger Golden Gate National Recreation Area, celebrating its 50th anniversary this fall. This nealy 84,000-acre UNESCO Biosphere Reserve is a collection of destinations including the Marin Highlands, Muir Woods, and Alcatraz Island and The Presidio, encompassing 1,500 acres on a former military post.
Did you know? Five quick facts
A 10-minute walk reveals another history plus nature vantage point. Follow the trail for a quarter-mile west from Tunnel Tops to visit Battery Bluff, which opened in April. It's a six-acre spot near the San Francisco National Cemetery where newly restored turn-of-the-last-century batteries were built by the U.S. Army to (potentially) defend San Francisco Bay. Tip: Take a picnic and a camera.
Plantings at Tunnel Tops have been carefully chosen, in consideration of colors, height, wind protection, and more. About half of these 200,000 plants representing 200 varieties were grown from seed in the Presidio Nursery. The landscaping is low-water use, best practice irrigation to maximize water conservation for drought-resistant plants that create a new habitat for insects, butterflies, and other pollinators.
Partnerships are key. Presidio Tunnel Tops is brought to life by the Partnership for the Presidio, an agency that brings national park experiences to urban communities. Two federal agencies manage the Presidio: the Presidio Trust and the National Park Service, supported by the nonprofit Golden Gate National Parks Conservancy, which is dedicated to "Parks For All Forever." The Presidio Tunnel Tops Campaign raised more than $98 million to build the site, one of the largest fundraising campaigns for public open space in San Francisco's history. An additional $20 million was contributed by the Presidio Trust.
San Francisco started here. The Presidio is rich with places where visitors can understand and appreciate history. The indigenous Yelamu Ohlone people gathered shellfish along the shore thousands of years ago; archaeologists have located a shell mound in the Crissy Field area that dates back to A.D. 740. Follow the "Post to Park" story through the Spanish empire's northernmost military outpost, Mexican frontier, U.S. Army outpost, to today.
While "hidden gem" and "under-appreciated" are trite terms, they apply. It's not widely known that the Presidio, covering 1,491 acres, is even larger than Golden Gate Park (true even before 14 acres were added to the Presidio landscape). This includes 300 acres of Presidio historic planted forest maintained as part of a cultural landscape.
Evergreen Presidio
From A to Z, places to visit and things to do in the Presidio is a long and growing list. In addition to being on the doorstep of the world-famous Golden Gate Bridge, there are landmarks such as Fort Point National Historic Site, San Francisco National Cemetery, and Mountain Lake. Commune with nature along dozens of trails, several beaches, forests, scenic overlooks, and a pet cemetery.
Talk about hidden gems! Frankly, this trite but true expression applies perfectly to the entire Presidio. More highlights:
Hotels: Loving it so much, you want to stay? Check in at one of the park's sister properties—Inn at the Presidio and Lodge at the Presidio, both restored former army barracks, now boutique hotels. Features like rocking chairs on the front porch and cozy fireplaces in the lobby are enhanced by the scent of eucalyptus groves and Golden Gate Bridge views. presidiolodging.com
Restaurants: Lots of choices, lots of menus, lots of views. See a full and growing list of places to eat at presidio.gov/food/restaurants
Colibri is a Mexican bistro with outdoor fire pits at the Officer's Club. colibrimexicanbistro.com
Presidio Social Club is near the park's Lombard Gate, a nostalgic restaurant for dining on American classics, with a patio in the rear. presidiosocialclub.com
Sessions at the Presidio is a gastropub with a patio and private dining room, a stone's throw from the Palace of Fine Arts. sessionssf.com
Round House Café is a 1938 circular art déco building beside the south entrance to the Golden Gate Bridge. Grab coffee and a bite before talking a walk across. parksconservancy.org/services/round-house-cafe
Oscar statuettes on display: Curated by his daughter, the life and legacy of a great American imagineer is a one-of-a-kind story told here. The Walt Disney Family Museum and Café has a permanent collection and special exhibitions. waltdisney.org/visit
Curtain up: Comfy seats, great line views to the stage, wine service, and plenty of charm. Presidio Theatre is a beautifully restored 600-seat venue originally built as a cinema for resident army members and their families. It's now used for live performances, films, dance, lectures, and more. Keep an eye on upcoming events. presidiotheatre.org
Presidio Golf Course: Dotted with eucalyptus and Monterey pine, it surprises some that such a gorgeous, historic course is indeed a municipal one. Golfers-in-chief include 12 U.S. presidents as well as celebrity golfers Babe Ruth, Bob Hope, Bing Crosby, Charles Schulz, and Joe DiMaggio. The café and patio overlooking the course is open to the public and there's free parking, too. presidiogolf.com
Stay out of the gutter: Presidio Café Presidio Bowl and Grill, is the place for strikes & spares and burgers & fries. Come on your own or bring 200 friends; buy-outs are popular at the 12-lane Presidio Bowl. presidiobowl.com
Public art: Sculptor and environmentalist Andy Goldsworthy has four site-specific works on permanent display in the Presidio. Admire Spire, Tree Fall, Earth Wall, and Wood Line. presidio.gov/places/presidio-visitor-center
The unexpected: Arion Press is an active specialist printmaker offering tours by appointment. arionpress.com
Getting to the Presidio
It's easy. Ride the Muni 43-Masonic straight to the Presidio Transit Center. Or, take the 30-Stockton bus that connects Union Square and Chinatown to a stop at Sports Basement adjacent to the Tunnel Tops Outpost. Hop a ride for free on Presidio Go operating in and out of the Transbay Terminal and BART at Embarcadero. There's a Bay Wheels bike share station and a new ride share drop-off point. Paid car parking is found at the Presidio's Main Post and East Beach parking lots, too.