The Outside Lands Music and Arts Festival, held annually in San Francisco's Golden Gate Park, has been a staple of the Bay Area's cultural calendar since its inception in 2008. With a lineup that includes superstars like Green Day, Post Malone, SZA, and Jack Harlow, it's no wonder Outside Lands has become an annual summer institution in our city and beyond.
What if you could experience the festival like never before? That's where the Golden Gate Club, in collaboration with Ken Fulk, comes in. Haute Living, San Francisco went behind the scenes at this beloved festival for a one-of-a-kind, VIP experience that included access to all areas of the event as well as some unique perks not found elsewhere.
The price for the ultra-VIP experience reflects its value. The 3-day Golden Gate Club access (or GGC as it is known) will set you back a cool $4,699 or $1,995 for a single-day ticket.
The perks are priceless: exclusive private viewing area for the main stage, an upscale lounge with gourmet food and drinks, beautiful seating areas to rest and recharge during the festival, personal concierge service, coat check, phone charging stations, and more. As if that weren't enough, you also get access to private elevated restrooms with virtually no line, air-conditioned tents for when you need a break from the sun, and plenty of space to dance (or sit back and enjoy the music).
With a dedicated entry lane at the VIP entrance, the GGC wristbands allowed us into the secluded, upper-level deck (with the more crowded, general VIP section below). The setting was perfect: clear skies, a beautiful breeze, and gorgeous seating to bask in the sun. The lounge had an abundance of unique seating options and areas from high tops, to love couches, padded benches, and multiple accent chairs. And as the night got a little chilly, we received blankets so our experience could be as comfortable as possible.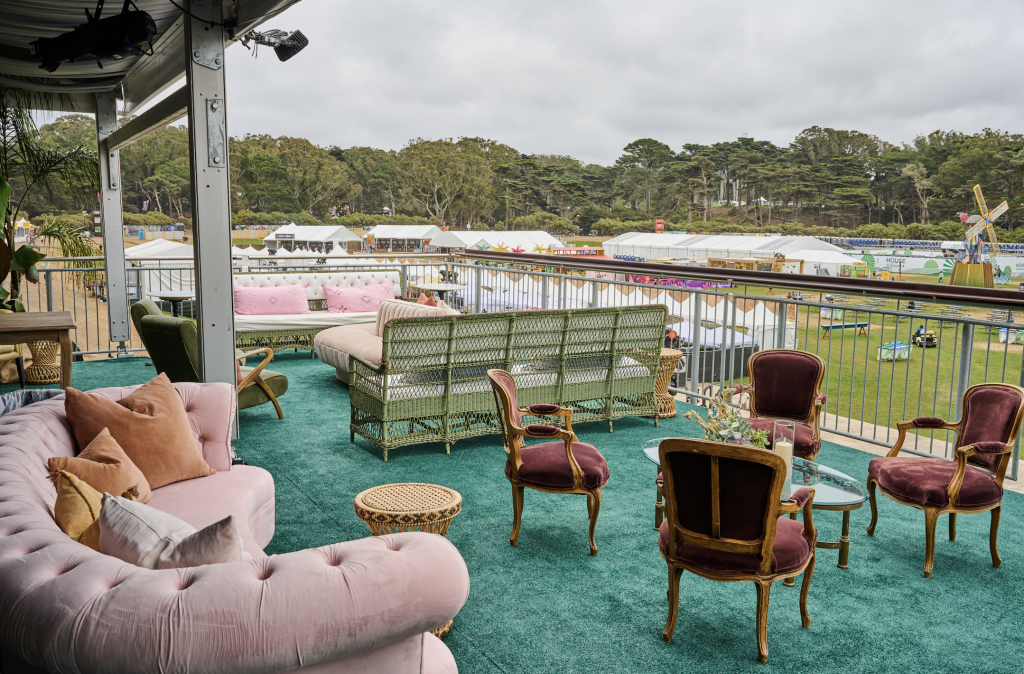 The impeccable design featured details ranging from beautiful chandeliers, and unique art, to a nostalgic photo booth: Ken Fulk's vision was clearly evident and executed well. The panoramic view of the Golden Gate Park and the main viewing stage was unforgettable. 
"This was our second time doing the Golden Gate Club so we wanted to make it feel different and, as always, better than before," says mastermind Fulk. "Our palette was brighter and sunnier this year with inspiration pulled from Palm Beach mixed with late '70s California vibes—complete with a vintage fashion bazaar and Ceybon's organic elixirs. Tropical flowers and rattan throne chairs set the retro beach scene while velvet drapes and seating in varying shades of green made the space feel almost like an extension of the treetops of Golden Gate Park."
The Outside Lands Music and Arts Festival is known for its food and drinks and the multiple offerings they provide each year. In the GGC, those offerings were even more elevated with the culinary and cocktail legends of San Francisco on full display. 
Boulevard Restaurant provided a taste of their ahi tuna chirashi bowl and perfectly grilled lamb chops. Ravi Kapur of Good Good Culture Club was also on hand, serving up favorites such as turmeric-coconut fried chicken, and vegan-friendly options like green papaya. Chef Tyler Florence of Miller & Lux had some tasty bites as well, such as their seared Pacific salmon and their lemon verbena peach pie dessert.
The full-service bar provided top-shelf alcohol, pouring unique drinks all day, like the Ken Fulking margarita, daiquiri di banane, and Euphelia paloma. Luckily for wine lovers, GGC had a daily wine tasting menu consisting of Krug champagne and wines from Saison cellars, Marine Layer & Long Meadow Ranch, and Earnest Vineyards to name a few. 
While the complimentary, upscale food and drinks were enjoyable, the best perk of the exclusive GGC tickets had to be the private viewing area located front of the stage. Guests were served canned wine and beer so they could get up-close views of their favorite artists, cold drinks in hand. 
Whether you want to feel like a rock star or just have a great time, the VIP package has it all. You can expect nothing less than the best when you arrive at this exclusive section. It's the perfect option and chance to enjoy all the best parts of Outside Lands, while avoiding the crowds and chaos that come with being in the field. With incredible food and drink options and its stellar musical lineup, the Golden Gate Club experience did not disappoint.