You go to the yoga studio, mat in hand, for your body—and soul. But have you ever thought about what yoga could do for your face? Not only has Jenny McAteer thought about it, she's mastered it. A trained esthetician and massage therapist with a specialty in holistic health, McAteer holds advanced certification in sculptural face lifting. She's one of only a handful of therapists in the United States with that capability. Her techniques, which she dubs Yoga for the Face, work instantly to tone, lift, and brighten. See the results for yourself when you try them during McAteer's twice monthly Zoom Face Yoga classes, hosted by San Francisco's own Rae Studios.
As the studio's exclusive face yoga instructor, Jenny has built a burgeoning community offace yogis. It's also possible to experience her astonishing beauty rituals at her Woodland Hills (Los Angeles) clinic, You Are Beautiful Skin Therapy,where she leads private sessions and performs result-driven facials. We followed McAteer's instructions and contorted our expressions to find out more about yoga for the face.
HL: You believe our skin mirrors our well-being and health. Please explain.
JM: The skin is a direct reflection of our overall health and wellness. When we take care of our internal health through good nutrition and use products that feed the skin in the most natural way, this results in healthy, glowing skin. The skin is a major organ of elimination, and when we consume foods and use products that are potentially toxic to the body, it can show in our skin. This is why I am drawn to a holistic approach that addresses the overall health of our bodies, minds, and spirits.
HL: Your techniques and exercises can help tone and lift the face. How does this work?
JM: At my studio, the sculptural face lifting treatment is my most requested facial. This face massage treatment lifts, strengthens, and tones facial contours by massaging both the internal and external muscles of the face. It releases tension in the deeper muscles of the neck and face, rehydrates facial fascia, and encourages better lymphatic drainage for an overall healthy glow and more lifted appearance. This treatment also provides relief for jaw tension and TMJ.
HL: You offer something called a qi beauty treatment—what is that?
JM: I am one of the first therapists to offer this facial here in Los Angeles. It's quite new to the United States. We use 24 karat gold, sphere-shaped magnets which are placed on the face to form a matrix that activates cellular activity. It brings fresh nutrients to the surface. The skin appears visually improved with long lasting results and no downtime. Qi beauty perfectly complements my massage-focused facial treatments, and my clients are loving the results. Combined with a consistent home care routine of whole plant skincare and face yoga, clients will receive optimal results.
HL: What's one face yoga asana or exercise we can all do in front of the mirror?
JM: Stretching out the neck daily is my number one tip for all clients, no matter their age. We live in a world where we are spending a lot of hours looking down at our phones. This causes neck tension and prohibits optimal circulation and lymphatic drainage for the face. To prevent a double chin, get a tighter jawline, and have skin that glows, take care of your neck!
HL: How long does it take to get results from doing face yoga regularly?
JM: Like any form of exercise, consistency is what brings results. Just as your body needs regular exercise to stay toned and firm, the 57 muscles in the face and neck also need to be exercised. As they become stronger through face yoga exercises, your face will feel and look more lifted. The skin attached to the facial muscles will be firmer, therefore reducing lines and wrinkles. I recommend integrating a 10-minute face yoga practice into your daily skincare routine.
HL: You are a fan of Natura's Chronos serum; how does it work well in conjunction with face yoga?
JM: Chronos Aqua Plumping Bio-Hydrating Serumallows for optimal hydration. One of the standout ingredients in the Chronos line is called Feviellea. This is an exclusive ingredient from Brazil, which contains a high content of fatty acids. It stimulates the skin's natural production of hyaluronic acid. Face yoga opens up circulation and releases facial tension. Combine this with Chronos Serum for hugely beautiful results.
HL: We're curious. How did you find this career path?
JM: After being in the beauty and wellness industry for more than 15 years, I felt it time to branch out with my career and develop the treatments that I had learned from experience were the most beneficial to our skin's health. I wanted to share and incorporate the treatments that truly worked for me, those that could bring long-term results, and that would support ageing vibrantly, but naturally. I love this career and take great joy in supporting my clients. I want them to feel and look their best in the healthiest way possible
Important websites:
youarebeautifulskintherapy.com
raestudios-sf.com/post/jenny-mcateer
naturabrasil.fr/en-us/brands/chronos/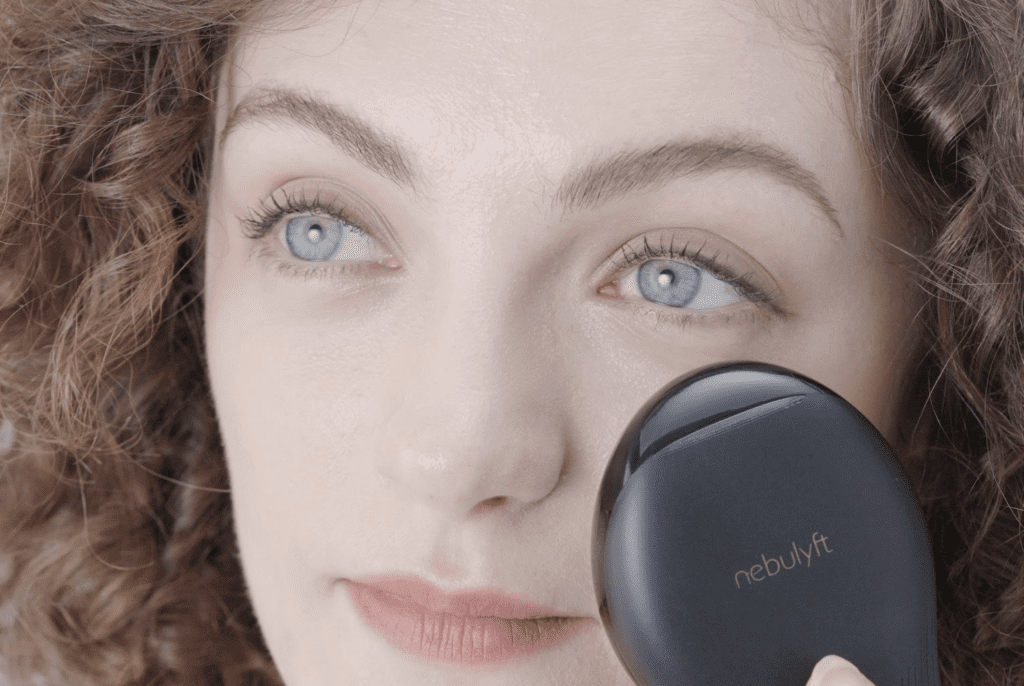 Must-Have Anti-Aging Devices for Your Face
Nebulyft NI Multipolar Micro-RF Anti-Aging Device
It has a big name, but this remarkable skin tightening machine is easy to use and takes just 10 minutes a day. Harnessing the power of titanium-gold electrodes, this science-backed device firms the skin and stimulates collagen production naturally. Erase lines, reduce pore size—even stretch marks—with regular use. $799 nebulyft.com/products/