Summertime means Rosé time. Just like everyone's favorite season, Rosé is fun; Rosé is playful. The pink-hued wine pairs perfectly with poolside gatherings, picnics in the park, and baseball game tailgates. Choose bold or light, sweet or dry, crisp or rich; there's a style to suit every palate. Innately fruity, Rosé pairs well with…anything. Here are some of our current favorites: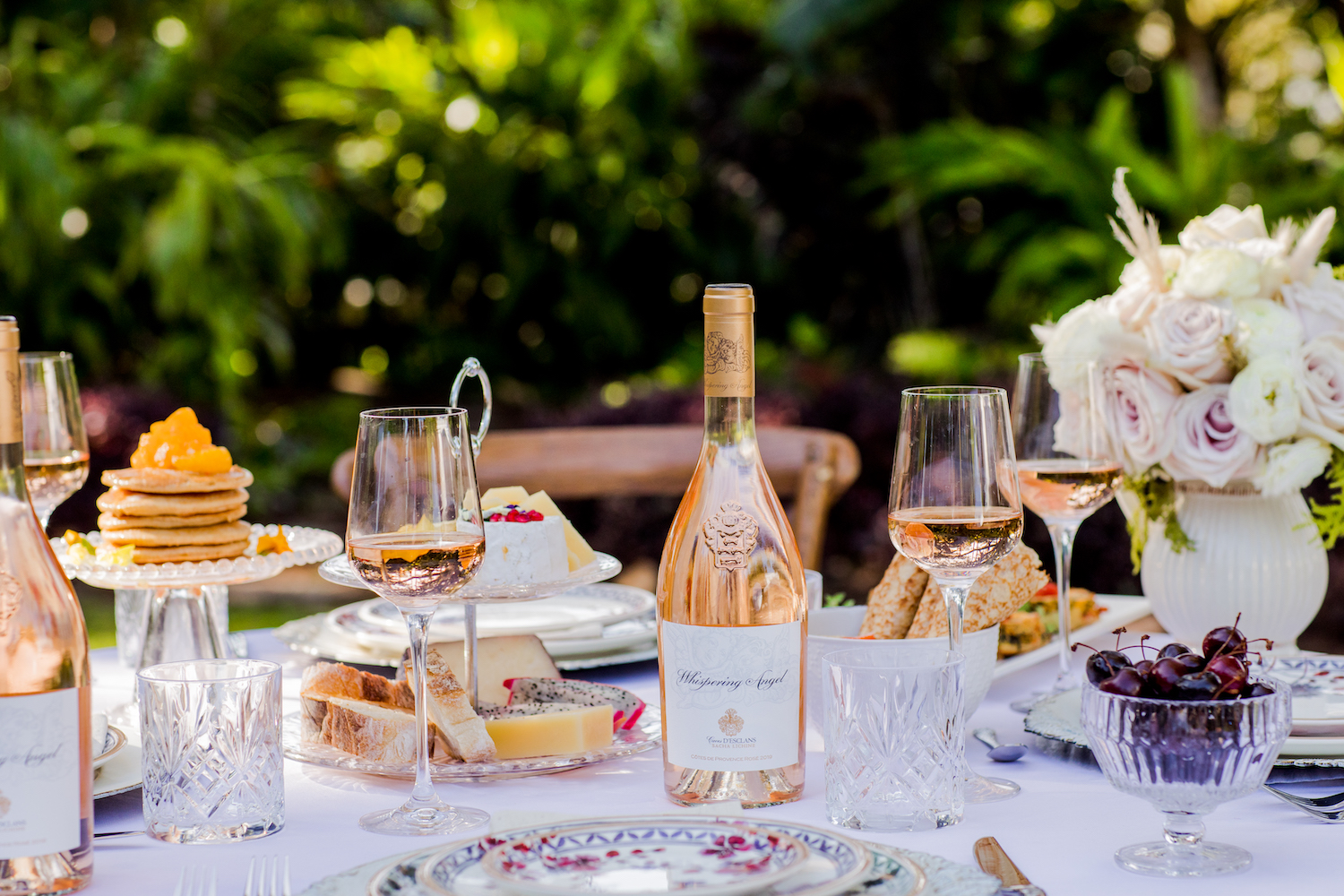 Whispering Angel 2021 ($25)
The best-selling Rosé in the US, Whispering Angel is sophisticated yet uncomplicated. The Provencal style wine is credited 15+ years ago with launching a "Rosé Renaissance." Pale in color, this one is pleasing to the eye. The fruit-forward, creamy palate is balanced with a crisp acidity and notes of red berries, florals, and a hint of spice. The taste is full and lush while being bone dry with a smooth finish. This is a highly approachable wine to be enjoyed with a wide range of cuisine.

2019 Fiddlehead Cellars "Pink Fiddle" Rosé of Pinot Noir, Sta. Rita Hills ($30)
Made since 2004 by industry pioneer Kathy Joseph, Pink Fiddle represents one of California's earliest examples of serious and intentionally made Rosé and reflects Joseph's commitment to precise farming as well as the development of the Sta. Rita Hills AVA. Grown from the Fiddlestix Vineyard that Joseph planted and farmed for decades, grapes for Pink Fiddle are specifically picked from one to three blocks at the precise moment when the grapes are starting to extract color and have higher acidity. The result is a wine that offers another expression of Pinot Noir and bringing out the characteristics she strives to achieve from early maturity: naturally high acidity, low sugars and integrated balance. 100% Pinot Noir and aged in stainless steel, this wine is a love letter to Joseph's commitment to ensuring that every Fiddlehead Cellars wine bottles the unique characteristics of the region.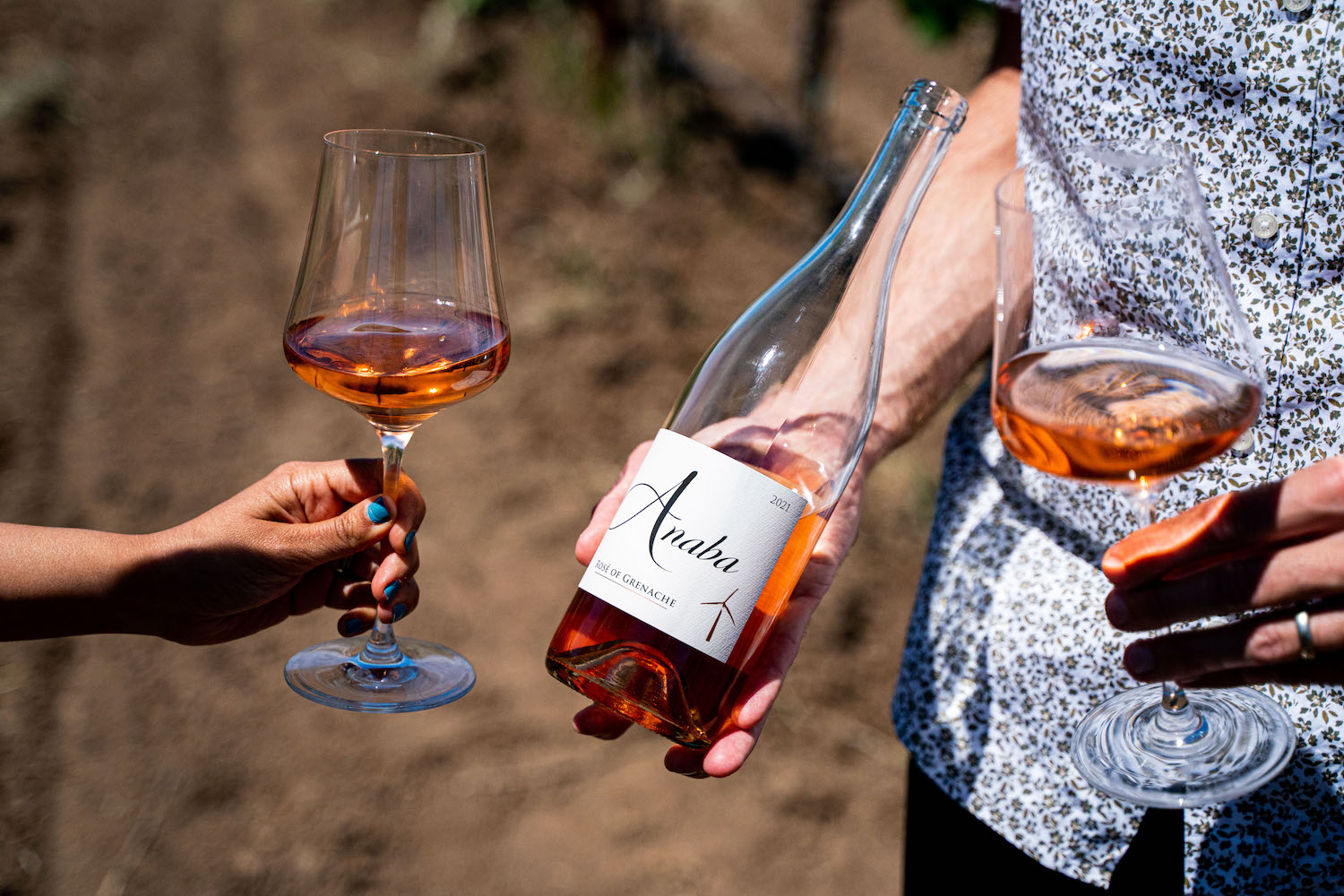 2021 Anaba Wines Turbine Rosé of Grenache, Sonoma Valley ($34)
With roots in the Carneros region of Sonoma County and partnerships with some of the most revered sites throughout the entire region, this bottling is a representation of Anaba's love of the purest expression of cool-climate Rhone varieties. A 100% Grenache Rosé, grapes are sourced from two vineyards in Sonoma County – Landa Vineyard in the low eastern foothills of the Mayacamas and Floria Marie on the eastern side of the Russian River Valley. An intentional Rosé, this wine is aged three months on lees with low intervention and low sulfur. For winemaker Katy Wilson, it remains one of her favorites to make as the combination of the two regions creates an essential balance of aromatics and texture.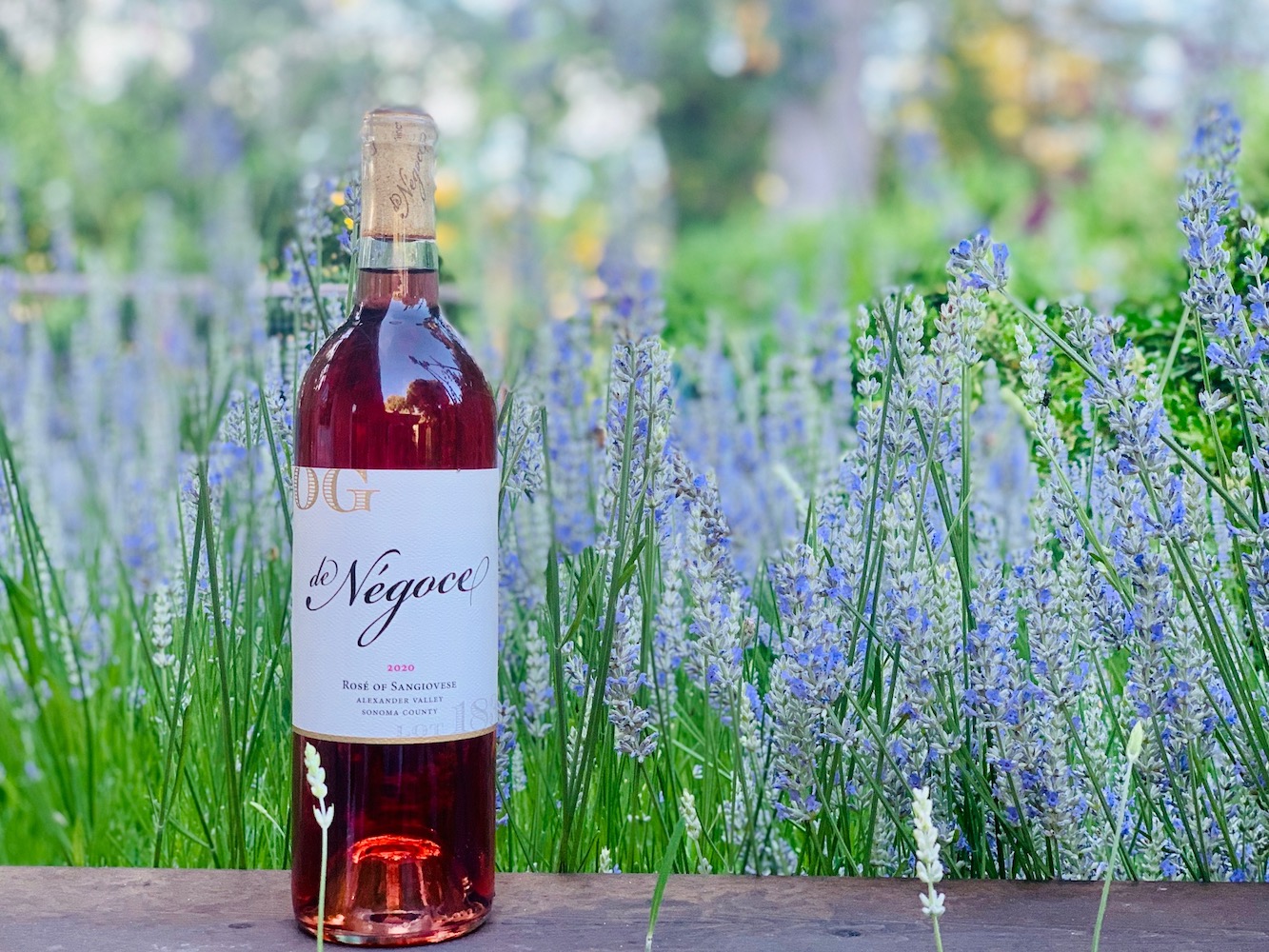 de Negoce Lot 183, 2020 Rosé of Sangiovese, Alexander Valley ($13)
This is the first Rosé of Sangiovese to be released from Cameron Hughes' de Negoce brand, the fastest growing DTC wine brand in the industry. Sourced from a well-respected producer in the region, this 100% Sangiovese Rosé was fermented and aged in stainless steel and displays a richer and more fruit-forward texture while still maintaining the characteristics of a dry Rosé. Due to the unique business model in which Hughes purchases grapes directly from some of the top vineyards and wineries both internationally and domestically and models the Bordeaux En Premier model, all de Negoce wines represent some of the greatest values in the market.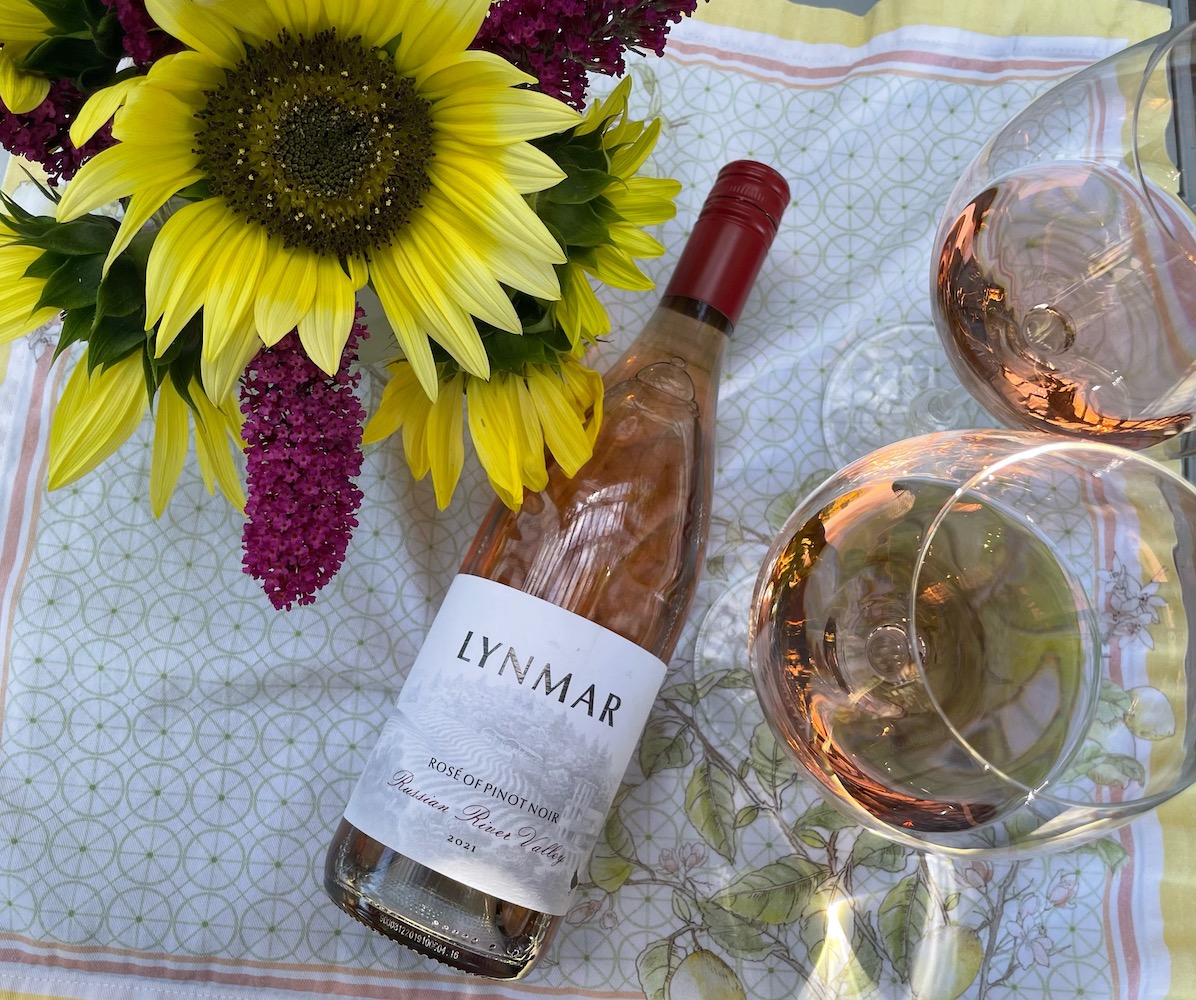 2021 Lynmar Estate Rosé of Pinot Noir, Russian River Valley ($33)
As one of the foremost and dedicated producers in the Russian River Valley, the 2021 Lynmar Rosé is produced via saignée method and is an expression of the best pockets of the Russian River Valley. Aged four months in stainless steel tanks, the wine embodies the diverse clones that make up the Lynmar property, as well as the winery's dedication to farming and the future through sustainable and regenerative agriculture. As a companion to many of the in-house Michelin-grade pairings offered at the estate, Lynmar Rosé truly belongs on every table in every season.
Avaline Rosé ($24.99) 
Avaline Rosé is a clean and vegan-friendly wine by Cameron Diaz and Katherine Power, offering a light and fresh mouthfeel with flavors of melon and zest that bring the wine's light pink hues to life. Made with organic grapes and free of unnecessary extras like sugars, colors, and concentrates, this fruit-forward French wine is ideal for any time, whether it is cozying up inside or spending an afternoon in the sun with your best friend.
Banfi 2019 Centine Rosé Toscana, Tuscany ($14.99)
Banfi was founded in 1919 and is today woman-owned and operated by third generation family proprietor Cristina Mariani-May. Banfi is the sole U.S. importer of the Mariani family's internationally renowned wine estates in Italy: Castello Banfi of Montalcino, Tuscany, and Banfi Piemonte of Strevi, Piedmont. For this wine, the grapes are vinified for 14 days with brief skin contact in stainless steel tanks. With an intense pink color, this wine is fresh and dry, flavored with fresh hints of woodland berries for a crisp and clean finish. Centine Rosé is ideal as an aperitif and pairs well with everything from seafood to salads to sandwiches, as well as meat dishes that offer a dash of spice.
Sonoma-Cutrer Rosé of Pinot Noir 2021 ($25)
Sonoma-Cutrer has been crafting wines since 1981 in the esteemed Russian River Valley growing region of Sonoma County. Today, their female-led winemaking team produces sustainable certified wines. The 2021 Rosé of Pinot Noir is a beautiful and delicate example of why Russian River Valley Pinot Noir makes a wonderful Rosé. The light salmon color of the wine catches the light in the glass and opens up with aromas of tangerine, pink grapefruit, strawberry, raspberry and a light hint of rose petal. A crisp, refreshing mouthfeel accentuates the fresh fruit flavors of citrus, red berry fruit with a tropical twist that leads to a long, juicy and tangy finish.
Benziger 2021 North Coast Rosé ($26)
Founded in 1980, Benziger winery has established a reputation of being the leader in green farming practices. Visitors can explore biodynamic, organic, and sustainable wines at the family's Sonoma Mountain estate property where cattle and sheep roam freely. The 2021 North Coast Rosé is a delightful blend of grapes sourced from North Coast AVA vineyards. Crisp and well-balanced, this wine bursts with fragrant citrus blossom aromas and delicate strawberry essences, reminiscent of warm summer days.
2021 MacRostie Pinot Noir Rosé Sonoma Coast ($30)
This wine is predominantly made from a select block of the winery's acclaimed Thale's Estate Vineyard in the Russian River Valley, a block that provides an ideal fruit profile for Rosé – highly acidic, bright and aromatic with red-berry flavors. The delicate pink hue of this wine is what first captivates. With alluring layers of fresh-picked strawberry and tropical notes of mango, this wine is perfect for lazy days and warm summer nights.
2021 Ram's Gate Rosé, Sonoma Coast ($38)
Ram's Gate winemaker Joe Nielsen introduced Rosé to the Ram's Gate portfolio in 2018 and each year he has experimented with the blend to find the proportions and varieties that best complement the vintage. The 2021 Rosé, Sonoma Coast is 75% Pinot Noir and 25% Grenache and captures the hallmark minerality for which Nielsen's wines have come to be known, with beautifully woven texture built from six months in neutral barrels. Nielsen describes this wine as a 'restrained fruit salad,' with melon, strawberry, and white peach driving this hallmark of summer.
2021 DAOU Rosé ($24)
From Paso Robles, this classic, clean, and refreshing Provençale style Rosé is made from Grenache grapes. With a beautiful pale, flamingo-apricot hue and aromas of freshly sliced peaches, hibiscus, and hyacinth, this wine reveals accents of nectarine and orange zest. Hints of honeysuckle, orange blossom, crushed rose petal and pineapple round out the enticing bouquet. A long, luxuriant finish lingers with juicy essences of peach, strawberry and cherry…summer in a glass.
Banfi Rosa Regale Sparkling Rosé ($20)
Another winner from Italian brand Banfi, this sweet sparkling wine is soft pink in color, with hints of grapefruit and orange blossom. Pairs perfectly with pastries and desserts, as well as semi-aged cheeses and charcuterie. The beautiful bottle makes this an effortlessly elegant gift.
Three Sticks 2021 'Casteñada' Rosé, Sonoma Coast ($45)
This unique bottling pays homage to both Three Sticks' 1842 Adobe home near Sonoma Plaza and to the Adobe's first owner Don Juan Casteñada. Fresh and bright on the palate, this wine features notes of fresh citrus, sun-ripened strawberries, and magnolia blossom, and is structured enough to pair well with a variety of dishes.
Photos courtesy of the wineries