A race car for the streets
Okay, I will admit my bias: any vehicle with a name that includes the word "Ferrari" already has my rapt attention. Add "Portofino" to the name and now we're on the coast, cruising south La Dolce Vita-style with my lady enjoying the soft breeze while her silk Hermès scarf drifts behind her, pirouetting in the daytime sun …
Oh, sorry, where was I? I got lost in the image for a minute.
While the Portofino may be Ferrari's "entry level" vehicle in terms of price, it's like saying a mansion is someone's starter castle: it's already in a world of its own, one of luxury, performance, quality, and more. Nevertheless, I have to add that, when compared to the fire breathers of Ferrari's V-12 stable, I was not expecting that much of the Portofino M. Boy, was I mistaken.
First off, the "M" designation. Like "AMG" for Mercedes, "RS" for Audi, and "M" for BMW, the Ferrari "M" moniker means that this version has more beans than the non-M variant. Technically, this "M" stands for a model that is "Modificata" (modified)—and that it is. Compared to the "standard" Portofino (meaning an already terrific car), the M has about 20 more horsepower, an improved transmission, and slightly faster acceleration, plus a few interior accoutrements that the former model lacked. (The "M" now is the only Portofino offered by Ferrari).

The Portofino M earned its stripes, especially under the hood. The turbo V8 is just under four liters (about 235 cubic inches for you Yanks), producing over 600 horsepower and about 560 pound-feet of torque. As the car weighs around 3,600 pounds, that kind of power can be intoxicating. The power-to-weight ratio is good enough for 0 to 60 miles per hour (mph) in 3.45 seconds and top speed of just under 200 mph.
Shall we discuss the looks next? There's probably no need, since, if it's from Ferrari— and frankly if it's a vehicle from Italy—it's likely to be svelt, sinewy, slippery, and [insert a clever "S" word here]. And besides, when it comes to looks, they're in the eye of the beholder anyway. Suffice to say, though, that I love this car, as its looks match its performance, meaning that you will have a thrilling ride down the straights and in the corners, as the appearance is beautiful yet muscular. With a simple control, it also becomes a top-down machine in mere seconds.
The pricing is as you would expect, especially if you know the fit, finish, quality, and performance of the marque. The base price is $222,0250, but when you tick the boxes for the options, as Ferrari did on "mine," you can plan on spending an additional $141,356 for those extras, raising the Price Is Right calculation to $363,406. Do you really need your Portofino M to be painted one of the best reds I've seen, "Rosso Portofino?" I mean, Ferrari must offer at least 20 reds, and, surely, you could find another that was almost as nice, right? However, mine had only a hint of orange in it (I'm not a big fan of tomato soup red), which literally glowed and sparkled in the sunlight. Now that I've piqued your interest, I need to note that the color option was $12,487. Some of the other must-haves which were on my ride were a carbon fiber rear diffuser ($11,812), 20-inch forged wheels ($8,606), a passenger display (information displayed on the dash in front of the passenger—$5,906), and lots and lots of carbon fiber options ("carbon fiber" may mean "looks like plastic but is more durable" and the cool factor adds five times what you expected). But seriously, I enjoyed all of the bits and pieces that Ferrari says fit to add to my machine, so there is nothing that I would have omitted.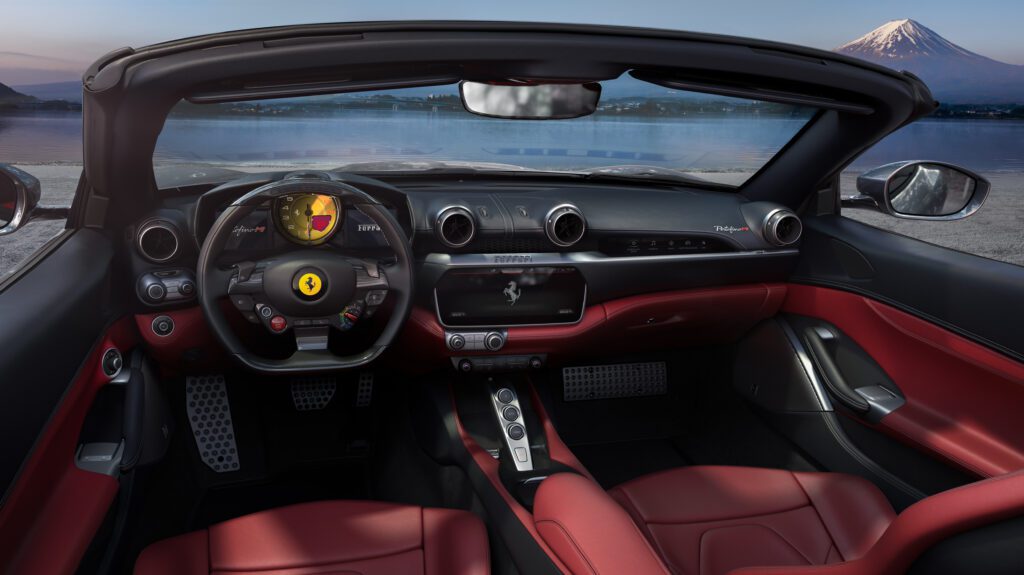 What's it like to drive? Be ready for lots of thumbs-ups on the road and interested passers-by when stopped. The prancing horse in the grill may be the first visual cue that there's a Ferrari in your presence, but the aural symphony that accompanies all of the Maranello machines really announces your arrival—and I mean that in a good way. It's not the rattle-your-tooth-fillings "ka-boom" sound that you've likely heard emanating from lesser machines. No, this is a refined brass section of classical performance. If ever a car manufacturer could eliminate offering a radio, it would be Ferrari, since the mechanical sounds trump anything that a musician might offer. (At least that's true for the Tifosi, the Ferrari fanatics of the world—and did you know that tifosi literally means people who are infected by typhus, one who is a rabid fan?)
Whether on the streets of LA, on the freeways during a time of little traffic (Sunday from 2:00 to 2:55 a.m., probably), on the Pacific Coast Highway or the Malibu hills, the Portofino M was a joy to drive. Quick, symphonic, gorgeous, fun, exhilarating … words alone cannot express the balanced joy of driving this car under all conditions, but I hope that this has given you an idea of what this car has to offer.
Photo credits: Courtesy of Ferrari North America Inc.
2021 Aston Martin DBX
A very stylish crossover with terrific performance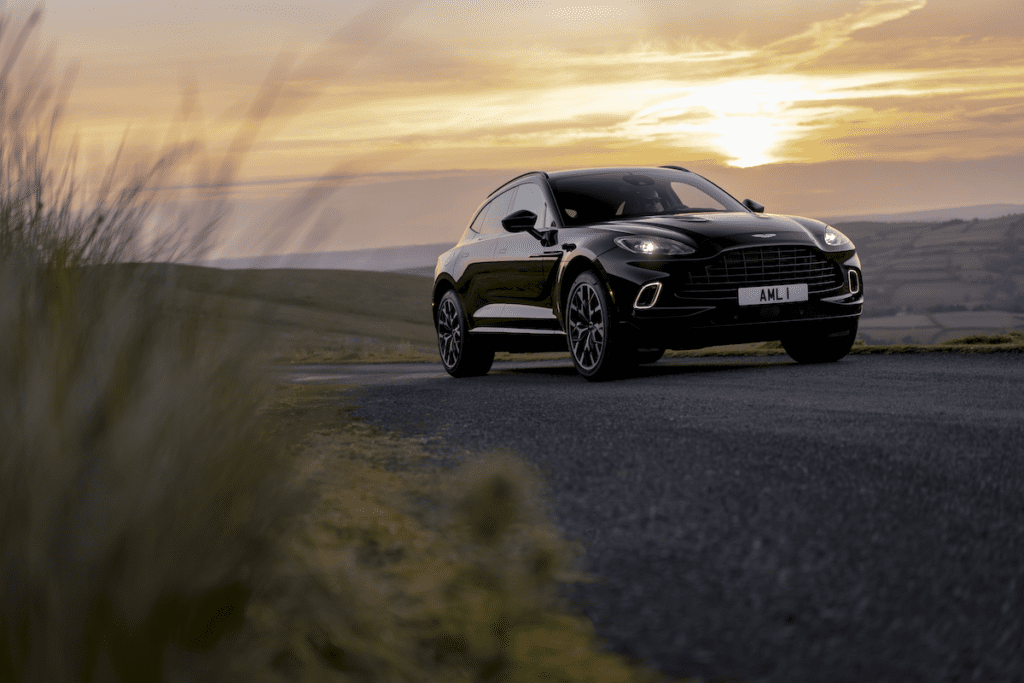 Porsche seemingly paved the way to the exotic/performance SUV arena with their 2003 Cayenne, accompanied by much hand wringing and prognostication among the brand's faithful that to have a Porsche nameplate an SUV—a family car!—was tantamount to blasphemy. However, early naysayers were terribly wrong, as Porsche has made a big success of its SUVs and virtually every other exotic/performance car company has joined the caravan. Aston Martin apparently didn't see the light until more recently, though they still beat Ferrari, whose Purosange SUV is due out in another year or so. But while Aston is somewhat late to the party for this automotive segment, they took the time to be sure that they got it right. Based on the opinions of many auto writers and even more customers, right it is.
First off, they were able to preserve and even highlight some important styling cues that identify the DBX as an Aston Martin, both when viewed from the front and from the rear. The grill has the long-term Aston look, which the company's chief creative officer once called "a box pushing out of an organic oval shape, with smoothed corners." Okay, then, so be it. The tail also has an Aston signature, though a more recent one: it's wavy, with the high part in the center, mirroring the tail of the Aston Vantage, but unlike the rear lights of the other SUVs now on the road.
The interior is as supple and lush as the finest English cars can be: beautiful woods, terrific leathers, the whole nine yards. To drive the DBX is to command a ship wrought from the finest materials brought together to offer the typical Aston finery. It wasn't that many years ago that words like "leather" and "utility vehicle" were not used on the same car, but Aston has brought them together in a terrific way: luxurious without being too frou-frou, especially when coupled to a twin-turbo V8 with an athletic exhaust note. Pumping out over 540 horsepower and an equally impressive torque twist of over 515 foot-pounds, you can pull a tree stump from your yard early in the day, spend some time at the track, then go out for a night on the town and have the perfect vehicle for each part of that day.
"My" DBX was liveried in "Lunar White" with an "Obsidian Black Leather" interior, so it was rather understated, especially when compared with some of the neon colors favored by other marques. I call it "quiet elegance" as, being an Aston, it immediately had a great presence, but didn't scream about it. When called on, it can rip off 0 to 60 mph in 4.3 seconds and continue up to a top speed of over 180 mph. When the selector is set to the performance mode, it can do that with a great soundtrack, to boot. With all-wheel drive, air-ride suspension at all four corners, and active roll control, you're guaranteed to go those places where no sedan would dare, all the while coddling the driver and occupants in a smooth and comfortable ride and cornering with alacrity.
The DBX is so well-appointed that the option list was fairly modest. The top-cost choices were the three collections which Aston calls "Packs"—the "Black Pack" at $6,100, the "DB Elegance Pack" at $4,600, and the "Indulgence Pack" at $3,100. Those three add special appearance items to the car, like more carbon fiber as well as other blacked-out trim and additional visual upgrades. The various options added to the $176,900 base price and brought the sticker to $206,286.
Like other Astons, the DBX seems destined to remain a special car not often seen on the road. Their limited production numbers help to create that rarity which some people appreciate, as they don't want to see "their" car drive by several times a day or (horrors!) in their neighbor's driveway.
I've driven many Astons and even owned a handful, so I am very familiar with the brand. I immediately felt comfortable with the DBX and was actually very much "at home" with the car. I did not think that any aspect of the DBX was passé or otherwise short of the Aston standard. Now appearing at dealers, check it out.
Note: At press time, Aston announced a new, high-performance variant of the DBX, the 707 edition. It differs in a few ways from the standard DBX. Its twin-turbo V-8 motor generates about 700 horsepower, making it the world's most powerful luxury SUV. Other stats: 665 pound-feet of torque, 0 to 60 mph in 3.3 seconds, and a top speed 193 mph. Pricing is expected to start at about $230,000. Please watch for a future article on this variant that Aston calls "The Seat of Power."
Photo credits: Courtesy of Aston Martin of the Americas