"Great wines in a beautiful space are expected in Napa," Jake Kloberdanz observes. On that promise, ONEHOPE certainly delivers. However, because this co-founder and CEO is a visionary, there's so much more to the story. Napa's newest winery is centered on creating a force for good by using wine as the catalyst for change and embracing a new way of thinking to nourish future generations to the tune of $8 million in donations so far.
"We're just getting started," says Kloberdanz.
ONEHOPE has planted a forest in Indonesia, built three schools in the developing world, funded 3 million meals for children in need, and provided clean drinking water for over 75,000 people. The brand has created a fast-growing community of nearly 10,000 cause entrepreneurs across the U.S. who organize local wine tasting events which earn 10 percent for a charity of the host's choice. It's no surprise that 99 percent of these hosts are women.
"In fact," Kloberdanz notes, "I grew up around strong and empowered women, so it seems natural to be growing a company that empowers women to support their own families, while also supporting worthy causes in their communities."
Founded on the simple idea that giving back is good business, the pillars of ONEHOPE are solid. They give to organizations that provide access to four meaningful causes that make the world a better place: clean water, nutritious food, health services, and education resources.
To begin turning that vision into a reality nearly 15 years ago, Kloberdanz got started with a $10,000 loan from his mother, a Bay Area entrepreneur. "That seed money bought 168 cases of wine, a U-Haul truck to drive it from wine country down to Southern California where I was living, and a storage unit for $89 a month," he recalls. "In the beginning we were selling wine from the backs of our cars."
In the second year, Kloberdanz raised an additional half-million dollars from investor number one, a remarkable accomplishment for someone with no capital to build a wine company, not to mention no history of building a brand or investment fundraising. It's no coincidence, Kloberdanz claims, that he shed his shyness (the humility remains) thanks to the confidence that came with being surrounded by so many talented and confident women, including his wife, Megan, three female co-founders, plus their down-to-earth superstar winemaker, Mari Wells Coyle.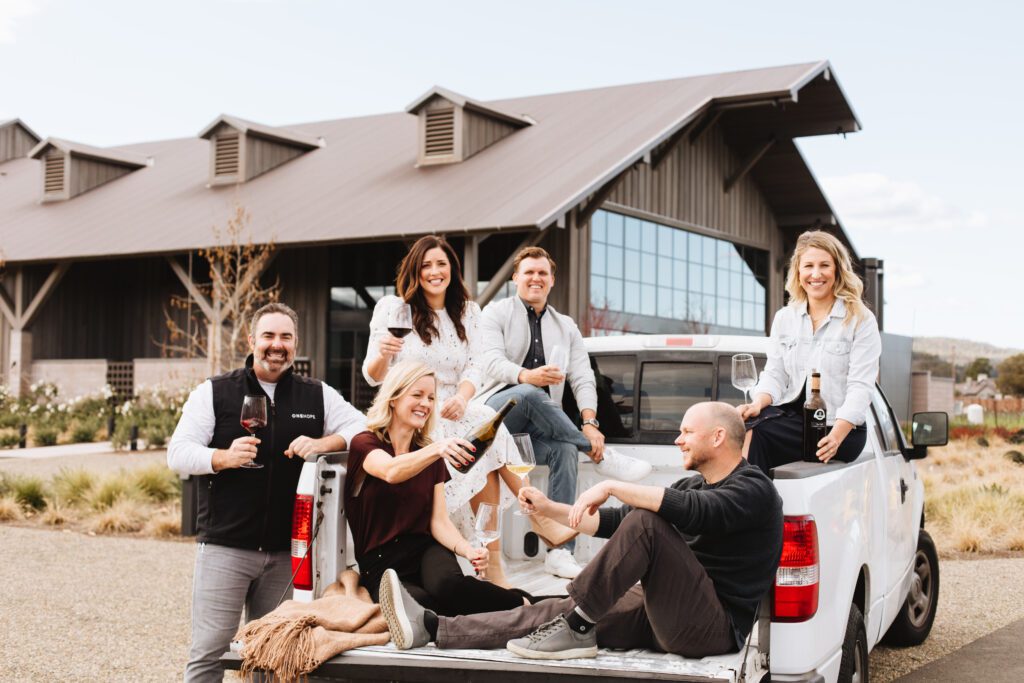 "My mother and grandmother were huge influences for me. Helping my mother get consumer surveys in places like malls, movie theatres and college campuses—that was her business— pushed me out of my comfort zone and made talking to strangers easier. My two sisters were key players in those years, too. When my childhood friend found out she had non-Hodgkins lymphoma, I vowed that I'd begin this cause-based entrepreneurial journey. We started with a Chardonnay toward the fight against breast cancer, a Cabernet that supported children with autism, and a Merlot that helped with HIV and AIDS treatment. Now our platform allows anyone to raise money for the people and causes they care about."
ONEHOPE recently opened a stunning winery and tasting room to welcome guests and members of their "20/20 Collective," as well as athletes, musicians, philanthropists, and great visionaries, many of whom are proud investors in the winery. The fully sustainable winery—chock-full of numerous, beautiful spaces for tasting—is thoughtfully designed in a picturesque, valley floor setting on the west side of Highway 29 in Rutherford.
When every bottle supports a charitable cause, the foundation of the brand rings true and clear. Come for a visit to enjoy exceptional, award-winning ONEHOPE estate wines deeply rooted in purpose. — by Laurie Jo Miller Farr
---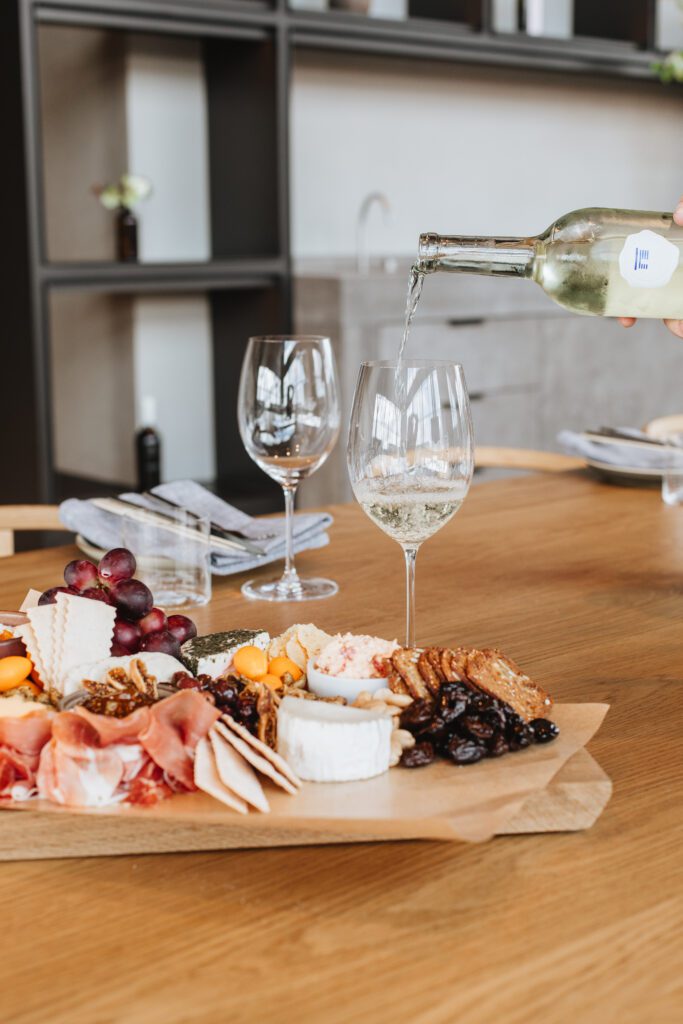 ONEHOPE and its good deeds are intrinsically linked to its vinous product. A striking, new, sustainably designed winemaking and wine tasting facility in Napa's Rutherford District by Backen-Gillam Architects casts a specific spotlight on the wines, each deserving of the plaudits afforded the brand's humanitarian efforts.
ONEHOPE wines are made from the finest grapes sourced from their own estate vineyard, preeminent local plots, and additional world-renowned winemaking regions. Along with making the majority of ONEHOPE's portfolio, winemaker Mari Wells Coyle collaborates with some of the most highly acclaimed families and winemakers in the industry, such as Robert Mondavi, Jr., and Oscar Renteria, in crafting the winery's award-winning varietals. ONEHOPE's wine portfolio has received numerous accolades from the most respected critics in the industry, including over 20 90-plus point ratings from the likes of Wine Spectator, Wine Enthusiast, and Robert Parker, as well as hundreds of medals from competitions around the world.
Five varied collections provide consumers with choices. Fan favorites include the Iconic Collection's Atlas Peak Cabernet Sauvignon and Estate 8 Fumé Blanc, and the Reserve Collection's Russian River Pinot Noir. These and others can be sampled in the To Kalon Vineyard-adjacent facility with stunning views of the Mayacamas Mountains. Featuring both formal and casual tasting areas, with seven tasting venues in all, the spectacular new winery is the perfect spot to enjoy small, seasonal bites paired with Coyle's Reserve and Iconic Collections. — by Fran Endicott Miller
ONEHOPE Winery
8301 Saint Helena Highway
Napa, CA 94558
winery@onehopewine.com