Let's Bake This Happen
Pastry chef Belinda Leong of b. patisserie shares her passion for baking as well as some delectable recipes for favorite desserts.
It's easy for me to tell when winter's on its way. It starts surreptitiously at home with subtle smells of spices, such as rosemary, sage and other flavorings left on the kitchen counter for "prep." By Christmas Eve, big smells come into play: turkey roast, bacon drippings, duck fat fried potatoes, and the sweet aroma of glazed carrots. Mmmm. As most people reach into their cookbooks or binders for savory holiday recipes, I gravitate towards the back of the book—for the sweet ones. There is always a whole lot of baking in my kitchen when celebrating winter festivities!
For this holiday issue in Haute Kitchen, I am pleased to feature a sweet friend, Ms. Belinda Leong! She needs no introduction as owner-pastry chef of the best patisserie in town, b. patisserie. Leong began and honed her skills as a pastry chef for over eight years at Gary Danko Restaurant in San Francisco. She moved to Europe, staging at Pierre Herme in Paris, Bubo in Barcelona, and the two-Michelin-starred Noma in Copenhagen. Returning to the Bay Area, she became pastry chef at Manresa in Los Gatos. While at Manresa, Belinda decided to introduce her pastries to the public through "pop-ups" and partnerships with select coffee shops.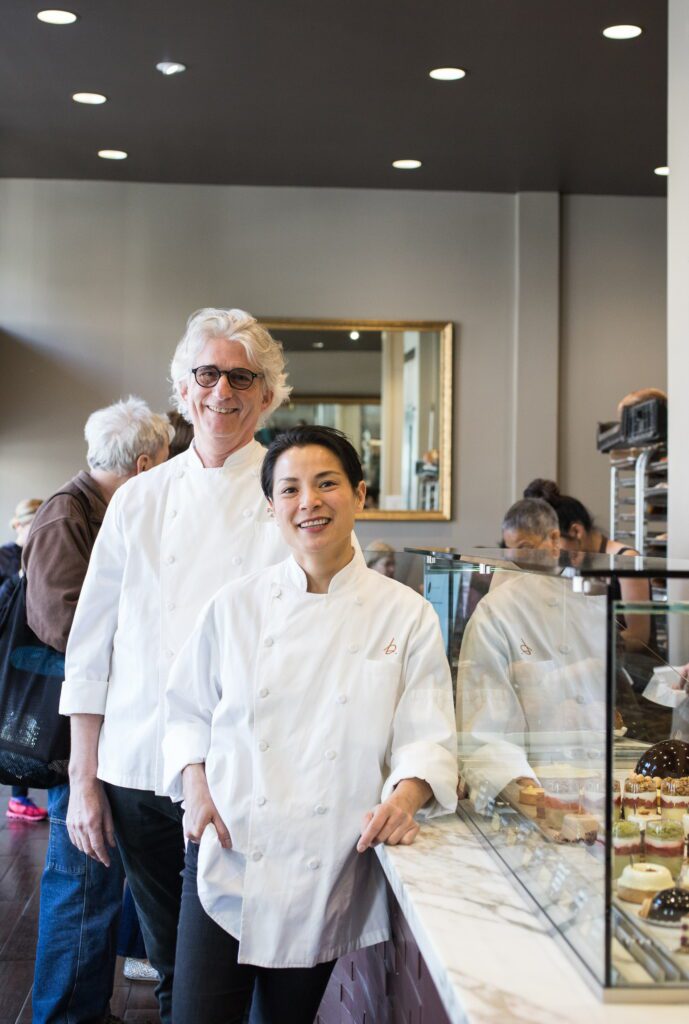 San Francisco Magazine named her 2012's Best Pastry Chef of the Year. The success of her "pop-ups" encouraged Leong to focus solely on b. patisserie, which opened to critical acclaim in February 2013. She became a business partner with Michel Suas, founder of the San Francisco Baking Institute. She received recognition of her work as a James Beard Best Pastry Chef 2014 finalist and Outstanding Baker finalist in 2015, 2016, 2017, and 2018. She won the James Beard Outstanding Baker Award in 2018. b. patisserie Hawaii opened in 2014 in Oahu and its first location in Seoul in 2018. They now have a fourth storefront, B. on the Go, which opened in April 2021. Leong and Suas opened Routier Restaurant in 2020, partnering with chef John Paul Carmona.
---
QUESTIONS and ANSWERS
HL: Where does your passion for baking come from and what drives that passion?
BL: I enjoyed baking for family and friends when I was younger. I started making pastries in a restaurant professionally over 20 years ago. Seeing people's appreciation when they ate my pastries gave me such a warm feeling inside. That appreciation and enjoyment my customers have continue to drive me every day. I believe that food feeds your soul, but pastries are an indulgence; therefore, there is something chemically in your brain that craves a bigger satisfaction.
HL: Your latest venture, Routier, sounds exciting, and I can't wait to eat there! You paired up with Chef J. P. Carmona (the former chef de cuisine at Manresa) and Michel Suas (your partner at the amazing b. patisserie) for this project. Tell us more about it.
BL: I became the pastry chef at Manresa, Los Gatos when J.P. was still the chef de cuisine. From day one, I always believed in his food. He's a great cook. We remained close friends after I left Manresa, but every time Michel and I opened a new business that involved savory cooking, I asked J.P. for help. He helped with the tartines at b. patisserie, sandwiches at B. on the Go and with the savory side for our location in Seoul, Korea. When the space on the corner became available, Michel and I asked if he would be interested in partnering with us to open his restaurant in SF. We felt that his style of cooking should be shared with the whole world! Michel and I are here to support J.P.'s vision in his restaurant. Sometimes you just need to know that there are people alongside you who have believed in you from the beginning and want to support you through the ups and downs when starting a business.
HL: What is the first meal you ever prepared for whom and at what age?
BL: I don't think I remember the first meal I prepared, but when I just started getting into cooking, my whole family had to be the guinea pigs. I would think of a theme for dinner and cook around that. Dishes that were not part of the theme were not allowed to be served that night. I would research a few dishes and make them to fill the table. I remember the hardest meals were Korean and Spanish tapas, because there were so many dishes! It's funny, because I never really made desserts at that time, just the savory dishes. Even these days, if I cook, I still stay within the theme for dinner. It drives me crazy sometimes to see it all mixed up.
HL: I am a proud member of the City College of SF Foundation Board of Directors. I understand you are an alum of our hospitality program. Tell me about your experience. What "takeaways" did you get from the CCSF program?
BL: I went to CCSF hospitality program because I heard it was a great program and economically feasible. I had a great experience, because I felt I received the reality of being in a kitchen without the promise of glamor, just focusing on the cooking.
The "takeaways" I've received from the program are the discipline of working in a hospitality industry (mis en place, clean and organized stations, being careful with waste, and using by-products). I thought it was awesome working with people of all backgrounds and personalities in a close environment.
HL: Are there any tweaked versions of something on any of your menus, such as one of your mom's creations growing up during childhood? If so, what is they and why were you inspired to include them in your menu?
BL: The Chinese New Year menu is probably that which is mostly inspired by my childhood. My favorites have always been Asian desserts, but French and Chinese pastries. We have a large Asian customer base, therefore I like to re-create desserts with which I and they are familiar, whether it be the flavor combinations or the actual pastry, but with my twist on them. Some of the desserts we do during Chinese New Year are mango pudding, almond gelatin, and desserts made with milk tea flavor and black sesame.
HL: Your career path is fascinating. I'm so surprised you started early on with Angela and Larry Tse's former House Restaurant. They're also good family friends of ours! Such a small world. What is your story? Start from the beginning …
BL: I started the traditional path of college, taking general education courses at College of San Mateo and wanting to major in art or design. Then I went to the Academy of Arts. I couldn't find my passion in my projects.
I realized I loved making food for people and enrolled in CCSF for the hospitality program, because I heard great things. Attending CCSF, I worked at The House in North Beach, my favorite restaurant which also has a second location in inner Sunset. I also worked at Aqua Restaurant with Michael Mina as a CCSF student and The House to explore what I would enjoy doing as a profession. I chose Aqua because it was one of the most popular fine dining restaurants and gave me perspective on a different caliber of dining. I loved the intensity and rush of service at The House and Aqua.
Although I worked the savory side in the beginning, my eyes always floated to the pastry station. That's when my pastry curiosity took over. After finishing CCSF program, I needed an externship and read all about Gary Danko. On the bus one day, I passed his new restaurant that would be opening in the coming months. Reading about Gary Danko, I wanted to work for him. As luck would have it, a school friend who worked there made the connection.
I started on the salad station, but the pastry station always needed help, so I would jump in to assist. Gary Danko was also doing the desserts at the time, so it was definitely tough times. Chef taught me all the basics and discipline I needed for that station. One day, chef told me I should think about getting into pastry … and there it was … I officially switched over to being a pastry cook, then eventually becoming the pastry chef.
I remember the day Danko asked me to be his pastry chef. I went home and thought to myself, "This is the top position. You will have to teach yourself and motivate yourself to learn everything though books, the internet, eating out." I accepted that challenge and ran with it. I stayed at Restaurant Gary Danko for eight and a half years. But during that time, I would stage at other places to help further my knowledge on pastry and desserts. A stage is similar to an unpaid internship.
After Gary Danko, I thought, " Where do you go from here?" I always wanted to shoot for the best—French pastries. So, I might as well go to Paris! All I could think of was working in Paris at Pierre Herme if I got the opportunity, although I never left home. Coincidentally, I met one of chef's friends before leaving, and she learned I wanted to go to Pierre Herme. The next day, I received an email from Herme himself, which is still in my inbox. After that, I made my list of some of the most prestigious restaurants, took my chances, and reached out to them. Noma in Denmark, Bubo in Barcelona, Martin Barasetegui in San Sebastian, and In de Wulf in Belgium, I staged at all these places during my time in Europe and was exposed to some of the world's great culinary talents. Coming back from Europe, a friend who worked with David Kinch recommended me for an open pastry position at Manresa. I interviewed with Chef Kinch and became the pastry chef.
Being at Manresa was great, because of its farm-to-table style. I worked under a chef who believed in exploring my creativity and letting young chefs take chances. After a year, I left Manresa to pursue my dream of opening a bakery. I believed I needed to start a customer following before I opened it, so I started doing pastry "pop-ups." I chose a popular restaurant called Flour & Water where the chef-owner was my friend. I chose menu items that were different enough for customers to try.
I'd worked on a pastry called the kouign amain for years, so I finally decided to introduce it to San Francisco. I've discovered kouign amann eight years earlier when I went to a little bakery in New York City and wanted to perfect this little pastry, because I thought it was so interesting and different. I researched everything about it and practiced and practiced!
During the "pop-ups," I went back to the baking institute to get some advice from Michel Suas. I wanted to open a bakery, but I felt I needed a business partner. I love to bake and make desserts, but I definitely didn't know all the numbers and everything else that was needed to open a business. I asked Michel if he knew anyone who would want to be my business partner, because he had so many people coming through that school. The moment I asked him, he said, "What about me?" Wow! I was so surprised, because this was Michel Suas, the man who knew everything about opening and running a bakery! So, I asked if he was serious, and he said he was. I said yes and b. patisserie was born!
HL: Describe your perfect mate?
BL: A good sense of humor. I love to laugh. Also, a person who shares the same values, cares about family and friends, is honest and ambitious, but not cut-throat ambitious, accepts that I'm a businesswoman, is a positive person and nurturing. That's all. I'm not asking too much.
HL: Which chef, if any, do you admire and hope to meet one day and why?
BL: I admire many chefs who have helped me in my career whom I wanted to meet and have met. I've been so very lucky to have the opportunity to meet them and work alongside some of them. Gary Danko, Pierre Herme, Michel Suas, Cecilia Chiang, and Thomas Keller.
HL: Since you are being featured on this holiday issue, tell me what your favorite traditional dishes are for your winter holiday table? What is your dream celebratory meal and who would cook it?
BL: I'm not sure if what we eat is traditional, but I love prime rib, sweet potatoes with brown sugar pecan crumble, and Chinese sticky rice. Those are the only things I put on my plate, always.
My dream celebratory meal would be having all the chefs that I mentioned earlier whom I admire at the dinner table, along with Queen Elizabeth II. I think that would be such a great night of conversation. It would be awesome if Queen Elizabeth were there, because I admire everything she had to go through as the queen of England. She was so young when she was crowned, but she took charge. Even though it was a position she didn't want, she held her head high and just went through all the challenges of being the queen!
This may be a funny answer, but if I had all those guests at my dinner table, I would want to cook for them. I love cooking for others and gathering people together to meet and become new friends. I like to share my friends with other friends.
HL: Why are you sharing these specific recipes? Any background or anything meaningful about them?
BL: I will be sharing the madeleine, almond cookie, chocolate fudge brownie, and the pumpkin cake. The madeleine represents French pastry in its simple form. I also ate a lot of them during my time in Paris. The almond cookie is a tweaked version of the Chinese almond cookie I grew up eating from Chinese bakeries. I chose the chocolate fudge brownie because it's an all American classic that you may actually just want to make at home, and the pumpkin cake because 'tis the season!
HL: Future endeavors or projects?
BL: We still have a concept for mochi donuts and shaved ice that I want to see happen, but we're just waiting for the right time and place. For b. patisserie, there will always only be one flagship store, but maybe we may consider having small kiosks with a very limited menu in other cities.
---
< Recipes >
MADELEINES
INGREDIENTS
330 grams hot melted butter
270 grams sugar
40 grams brown sugar
4.5 grams lemon zest
2 grams salt
54 grams honey
364 grams warm eggs
165 grams cake flour
165 grams all-purpose flour
10 grams baking powder
INSTRUCTIONS
Sift flours and baking powder.
Melt butter and honey in microwave.
Rub lemon zest into both sugars.
Add salt and eggs to sugars.
Whisk sugars and eggs until homogenous/thick and they start to ribbon a little.
Slowly add dry ingredients until just incorporated.
Stream in hot butter/honey slowly and finish by hand. (This should look kind of holey and have air bubbles.)
Pipe into flexi molds and chill at least 1 hour.
Bake at 400 degrees Fahrenheit for 10 to 12 minutes.
Dip the shell side into passion fruit syrup while still warm and put back into the oven for one minute.
NOTES:
2:1 water:sugar
2:1 syrup:passionfruit puree
The batter will break if the butter is not hot enough
You can make batter the day before and pipe the next day

FUDGE BROWNIE
INGREDIENTS
6 ounces Guanaja 70% dark chocolate
14 ounces Valrhona Caraïbe 66% dark chocolate
2 cups and 4 tablespoons butter
8 eggs
4 cups sugar
2½ cups all-purpose flour
¼ cup and 2 tablespoons cocoa powder
½ teaspoon salt
INSTRUCTIONS
Sift dry ingredients.
Beat eggs and sugar until pale and thick (mixture will be grainy).
Melt chocolates with butter.
In a large bowl, fold ribboned eggs into melted chocolate.
Fold dry ingredients into mixture, little by little.
Pour mixture in little muffin pans.
Bake at 375 degrees for about 10 minutes. You are looking for toothpick to have a few crumbs sticking on it.

PUMPKIN CAKE
INGREDIENTS
4 eggs
2 cups sugar
1 cup oil
15 ounces pumpkin puree
2 cups all-purpose flour
2 teaspoons baking soda
½ teaspoon salt
2 teaspoons cinnamon
½ teaspoons ground ginger
¼ teaspoons ground nutmeg
INSTRUCTIONS
Beat eggs, sugar, oil, and pumpkin puree until homogenous.
Sift dry ingredients.
Add dry ingredients and beat until smooth. (This is difficult to really overmix.)
Spray loaf pan with oil, weigh batter, and swirl cream cheese filling on top.
Pour into loaf pan.
Bake at 375 degrees Fahrenheit for 45 to 60 minutes.
NOTE: You can scoop the batter into muffin pans and bake 375 degrees Fahrenheit for 22-24 minutes.
ALMOND COOKIES
INGREDIENTS
1808 grams butter
1696 grams sugar
2 tablespoons and 2 teaspoons almond extract
2040 grams all-purpose flour
2 teaspoons baking powder
2 teaspoons salt
1 tablespoon and 1teaspoon baking soda
680 grams chopped almonds
INSTRUCTIONS
Beat butter until pliable, then add sugar and almond extract.
Combine dry ingredients and add about three-quarters to the mixture, then add the almonds.
Continue mixing until homogenous.
Use an ice cream scoop for consistency and place scoops of batter onto cookie sheets.
Bake at 350 to 375 degrees Fahrenheit for 12 to 15 minutes until cookie centers are fully cooked the edges are golden brown.
Photos: Marissa Lee Seto