A recent al fresco lunch enjoyed at Satellite restaurant along Santa Barbara's State Street Promenade well-illustrated the region's culinary unity and joie de vivre. As Kyle and Ashley Hollister shared the origins of their T.W. Hollister & Co. vermouths, made with botanicals from their family's historic Hollister Ranch, Satellite proprietor Drew Cuddy served bespoke cocktails created with the product. Backyard gardener Sarah Bourke poured selections from her line of Sideyard Shrubs made with locally gathered fruit as Jane Chapman of Jane Restaurant happened by and joined the lively conversation, revealing the Covid origins of her Communal Table dinner party venture, and sharing details of her family's friendship with longtime Montecito resident Julia Child. Meanwhile, Bettina Greenspan, founder of Michelin Bib Gourmand-recommended Bettina Pizzeria waved a friendly hello as she wandered by. The palpable camaraderie of this group of gastronomic entrepreneurs revealed a cohesive community of artisans and dreamers who are shaping Santa Barbara's food and beverage scene and its farm-to-table, Coastal California ethos. And their efforts are spectacular.
While Santa Barbara's F&B options have always included gems both well-known and under-the-radar, the coastal retreat now overflows with epicurean surprises, fueled by passion and creativity inspired by the region's abundant bounty. Following is a list of some of our current favorites, the offerings of which are deliciously stellar. But beyond the palate, each combines to create a culinary community that serves a greater good – one that nourishes both body and soul.
Satellite: This farm-to-table/farm-to-glass restaurant and natural wine shop founded by Drew Cuddy focuses on ethical, beneficial agriculture, and the freshest locally grown ingredients. Satellite also offers wine and spirits classes sponsored by WSET (the Wine & Spirit Education Trust.) The ever-evolving vegetarian menu, overseen by Executive Chef Emma West (owner of Santa Barbara's late, famed Julienne restaurant) is a place to discover uncommon flavors. Don't miss the Yoga Pants Salad, fully vegan and loaded with a seasonal mix of the best farmers market produce with ingredients subject to seasonal change. Under West's deft hand, even a humble dish of slow cooked Confit Tomatoes transports. Take the Satellite vibe with you anywhere with the Cuddy-curated Satellite Spotify Playlist of 2,934 songs. 1117 State St.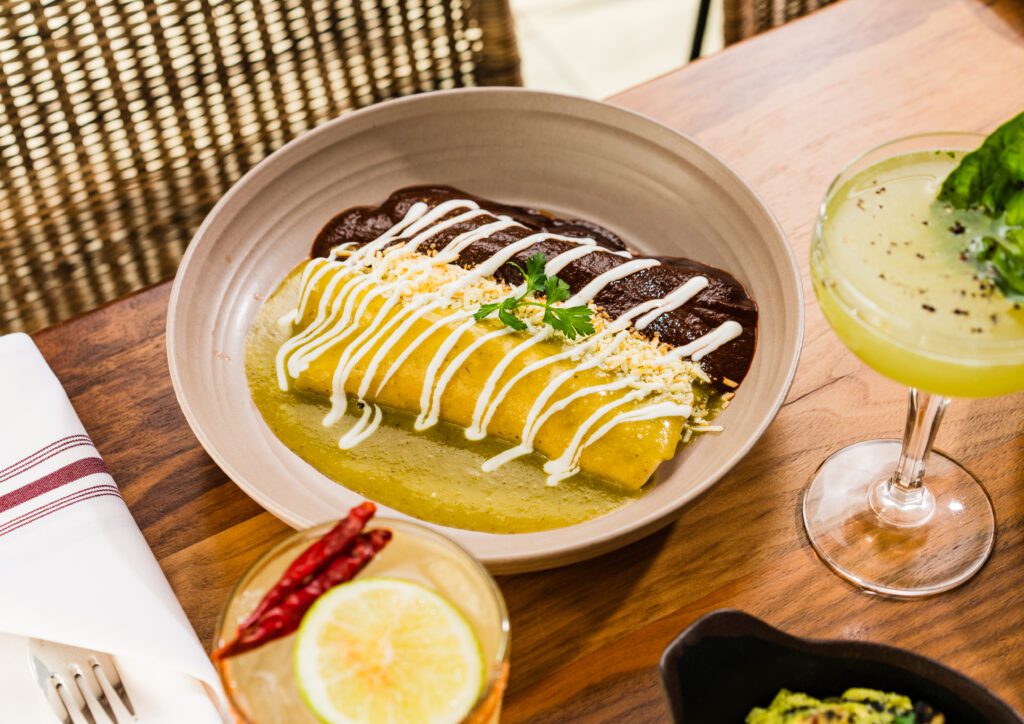 Flor de Maiz: Restaurateur Carlos Luna owns many popular Mexican eateries around Santa Barbara, including Santo Mezcal and the Michelin Guide-recommended Los Agaves trio of restaurants. Flor de Maiz, his newest, is a celebration of Oaxacan cuisine. Everything on this bountiful menu is breathtakingly delicious. Favorites include any of the colorful ceviches, the Tacos de Langosta, and the mole slathered enchiladas. The East Beach adjacent space features an open kitchen where guests can watch the preparation of fresh tortillas. The lively bar serves decadent cocktails such as the Oaxaca, featuring El Silencio mezcal, house-made mole mix, lime and orange juices, and orange bitters. 29 E. Cabrillo Blvd.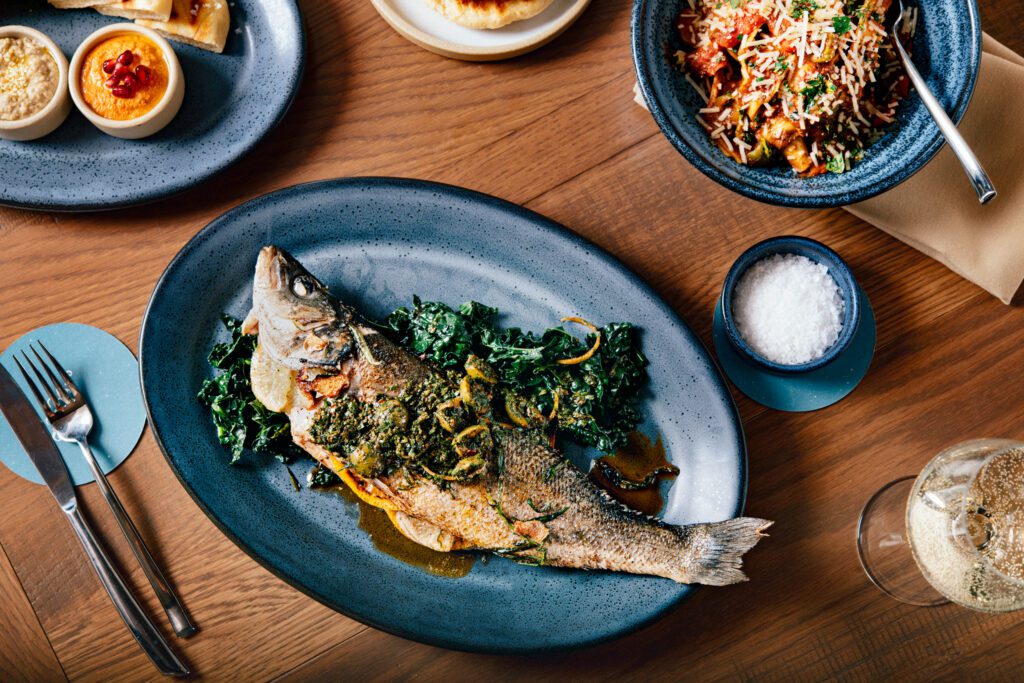 costa Kitchen & Bar: Executive Chef Nathan Lingle oversees this newcomer located in the lovely Mar Monte Hotel. Lingle expertly melds influences from coastal Italy and the eastern Mediterranean, with emphasis on purveyors from the Central to Southern California region. costa's seafood-driven menu features sharable plates including whole fish and half chickens, and signature dishes include whole roasted branzino with brown butter kale, Santa Barbara halibut crudo, and Santa Barbara uni served with homemade angel hair pasta, Calabrian chile and high desert lemon. Classically rooted craft cocktails juxtapose lighter, refreshing drinks with more spirited, richer libations. Central Coast winemakers play a starring role; their wares are housed in an 800-bottle glass wine display. 1111 E. Cabrillo Blvd.
Sushi|Bar Montecito: Having just recently received its first Michelin star, this tiny, ten seat spot located at the historic Montecito Inn is a hot ticket. Imagined by Scratch|Restaurant founders Phillip Frankland Lee and his wife, pastry chef Margarita Kallas-Lee, Sushi|Bar Montecito is helmed by the talented Lennon Silvers-Lee who adds original and unexpected touches to his 17 omakase courses that feature Hamachi, salmon, king crab, Santa Barbara uni, and seared unagi with bone marrow drippings. Enhance the experience with the bartender's choice drink pairing which includes a panoply of Japanese whiskies, sake, crafted micro-cocktails, local beer, and wine. 1295 Coast Village Rd.
Caruso's at Rosewood Miramar Beach: Caruso's four-course prix fix menu features so many delicious options, you'll need a second and third visit in order to satiate your curiosity. This waterfront, Michelin Guide-recommended jewel, designed to resemble the stern of a yacht, is helmed by the charming Massimo Falsini. Raised in Rome, Chef Falsini indulges his passion for Southern Italian Cuisine with items such as a deceptively simple Cacio e Pepe and Cappellaci Alla Mantovana with Kuri, Delicata, Chanterelle, butter sage, and Parmigiano Reggiano. In addition to pasta dishes, selections from land and sea are complemented by an extensive selection of hyperlocal and international wines. And the sunset view simply can't be beat. 1759 South Jameson Lane
Twenty-Four Blackbirds Chocolates: Santa Barbara's artisanal Twenty-Four Blackbirds Chocolates was founded by Mike Orlando, a former analytical chemist who utilizes his scientific training to create bean-to-bar, single origin chocolates that are ethically sourced. Orlando builds his own equipment from scratch, and he shares his scientific ingenuity with other high-end chocolatiers. His small-batch confections include chocolate bars, truffles, salted caramels, drinking chocolate kits, and more. Guests at Rosewood Miramar Beach can find Twenty-Four Blackbirds chocolate in their mini bars. 428 East Haley St.
Sideyard Shrubs: Sarah Bourke seeks out the finest organic fruit for her unconventional fruit vinegar beverage. She has made a commitment to cultivating a community and network of small-scale farmers that she has come to know as friends, and that feel more like family. Her Sideyard Shrubs can be enjoyed on their own, blended with seltzer, used as a mixer for crafted cocktails, or drizzled on salads. Packed with all the goodness of raw, organic apple cider vinegar, each is a burst of fresh fruit flavor. drinksideyard.com
T.W. Hollister & Co.: Kyle and Ashley Hollister utilize sustainable practices in crafting their Oso de Oro Red Vermouth and Oso de Oro Dry Vermouth – each of which reveals the unique character of the region Kyle's family has called home for generations. These lower alcohol fortified wines are infused with local botanicals foraged from the family's historic Hollister Ranch and can be enjoyed on the rocks, or as mixers in your favorite cocktails. twhollister.co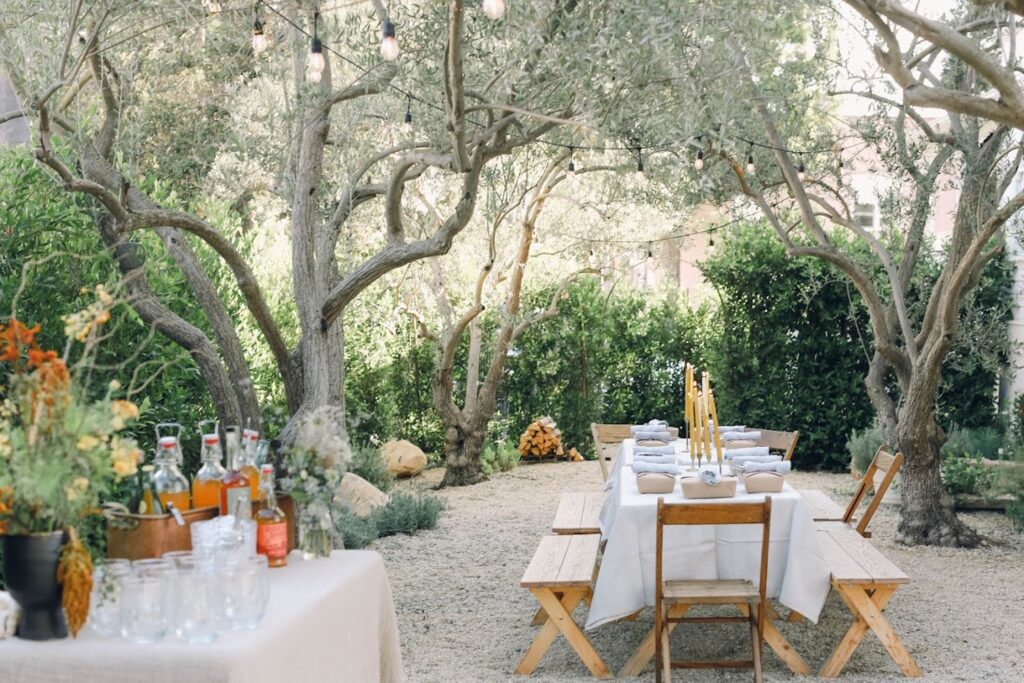 Jane Chapman's Communal Table: Jane Chapman's family has been feeding the Santa Barbara community for years at popular Jane Restaurant. As things quieted during Covid, Chapman took her hospitality know-how and created Communal Table, a small, monthly dinner and conversation gathering for women, held at secret, bucolic spots throughout the area. Communal Table is a place to share stories, explore different areas of thought, process new ideas, and expand worldviews, all while enjoying an incredible meal –  the epitome of body and soul nourishment. communaltablesb.com
Note: The 2021 Michelin Guide California also added these Santa Barbara favorites: Spanish restaurant Loquita and Indian eatery/natural wine bar Bibi Ji. New Michelin Bib Gourmands (restaurants offering meals that can be ordered for $40 or less) include Bettina, Corazón Cocina, and Loquita.