Creativity takes courage. Behind easy grace and sunny candor, the founder of haute couture darling Tokyo Gamine has it in spades.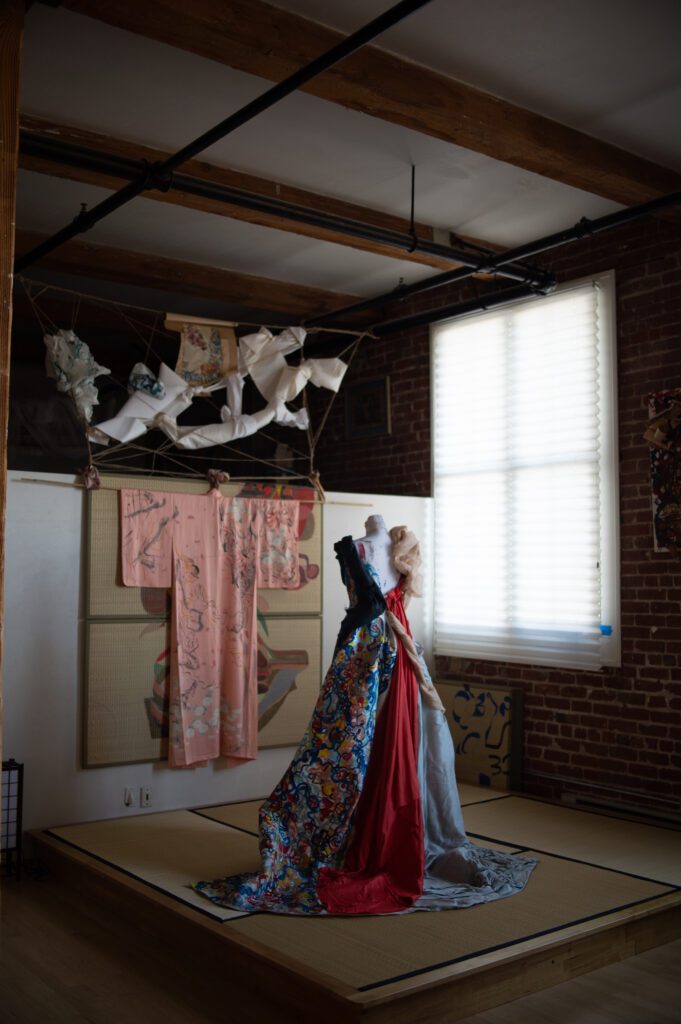 The tranquility of Sea Ranch. Mochi from Benkyodo in Japantown. By the time we reach the front door of Yuka Uehara's live/work space in SoMa, where an energetic Cavapoo named Frou Frou rushes us as soon as the door opens, we've already touched on a whirlwind of delightfully offbeat topics. There's even more to unpack as we enter her industrial loft, complete with exposed brick walls and paint-speckled timber beams. A hand-painted, pale pink kimono hangs on the wall in a corner of the loft above an elevated platform covered with a tatami mat. In the center, a cast iron teapot sits atop a cylindrical tea caddy. I immediately get the sense that there is no object in this space that does not belong. Everything has its place; every item, a purpose.
The founder and creative director behind the label Tokyo Gamine, Uehara embodies artist-meets-model-off-duty style on this languid afternoon. Outfitted in a crisp, oversized dress shirt—hand-painted of her own volition—she slips off a stylish pair of black, buttery leather flats with a single drop of white paint on them. Her hair floats just below her shoulders, grown out from the cheekbone-grazing bob she donned at the San Francisco Opera Ball in 2019, where I first spied her in a flash of color, turning heads in one of her own creations.
Founded in 2015, Tokyo Gamine has been spotted on the red carpets of San Francisco's premier galas and openings and even the Academy Awards. The process of creating these one-of-a-kind couture gowns, she tells me, incorporates many psychological elements. "I feel there's something about the deep truth of art—of what art is able to do. It's about feeling connected on a psychological level between the person and the artwork." As a designer, she feels that she can be that bridge to understand her client and facilitate the process of helping them understand themselves better as well.
In fact, her process is even informed by Jungian analysis. "It's a psychological unraveling. I have interview questions, which I usually write after I meet [the client]. I take some hints from Carl Jung's work," she says. It's not a difficult concept to reconcile if you've seen Uehara's intricate creations: swaths of fabric cascading in layers of careful pleats and hand-sewn ruffles. Full skirts and long trains transformed into canvases for beautiful abstract paintings—some understated, reminiscent of a serene sunrise in the style of Japanese ink wash and others striking and Kandinsky-esque. The one thing all of her creations have in common is that they transcend the boundaries between fashion and fine art, clothing and canvas.
Much like her gowns tell of each client's personal history, Uehara's home brims with creativity, sprinkled with lovely artifacts hinting at her multifaceted character: a 1906 Mason & Hamlin piano painted with swirls of azure, crimson, and emerald; David Corbett's The Art of Character on a recessed coffee table; an electric guitar resting next to a sewing machine. Though we begin the afternoon seated on the sofa, we soon traverse the apartment, exploring each corner a bit like a museum.
In the kitchen, she shows me some unfired pottery meant for Tokyo Gamine Gallery, which she created last year in hopes of showcasing Japanese craftsmen after being introduced to them through tea ceremonies. Uehara sets aside the first 30-45 minutes of her day for the practice. It's not unlike meditation, except with the added perk of indulging in Japanese sweets. "That's where mochi from Benkyodo comes in," she laughs.
She visited the craftsmen in towns such as Bizen, one of the Six Ancient Kilns of Japan. "I was just completely overwhelmed by the beauty that they create." Uehara even participated in cooking classes to better understand Japanese cooking philosophy, which she likens to Taoism. The collaboration, which seeks to reinvent kaiseki, is an examination of our relationships with the objects we consume—a topic that also comes up as we discuss Tokyo Gamine.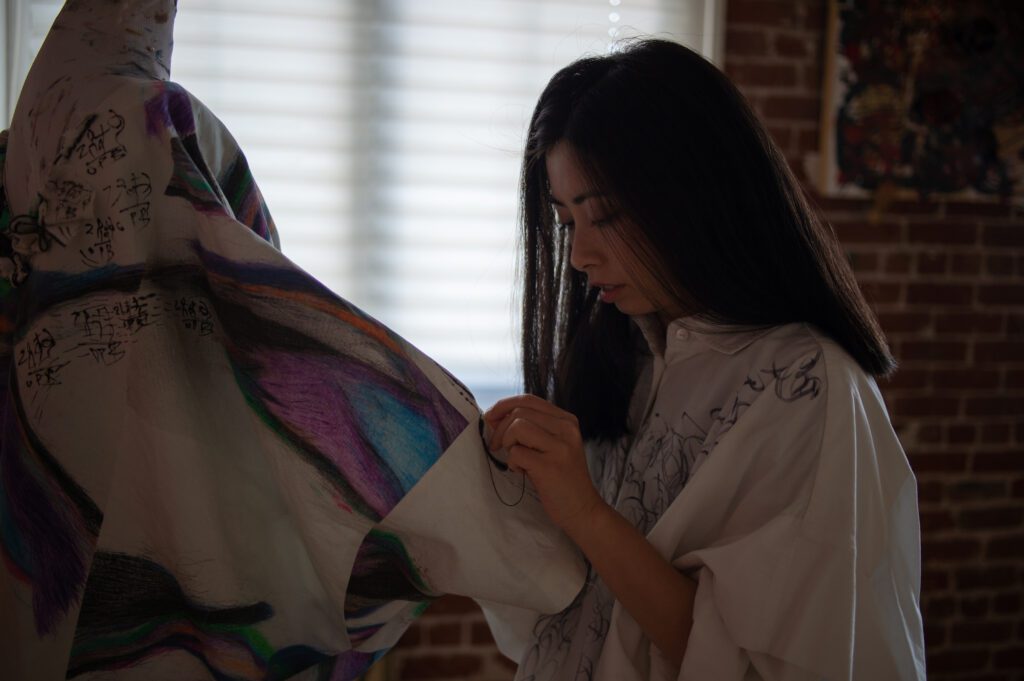 "The foundation [of Tokyo Gamine] has always been redefining what luxury means and how to do things in a mindful way, in terms of consumption," Uehara says. "Having more people interested in this philosophy, I think that's what ultimately Tokyo Gamine is interested in—just to make people think differently about the things that we consume every day." However, Uehara feels there's a bigger picture as well. "As human beings, I feel, more and more, that we are losing something really important. Why are we buying things? Is it to make ourselves look good, so other people can give a thumbs up? Or are you buying something that [truly] makes your soul feel good?" She doesn't necessarily want to use the word "soul," but in lieu of a better word, it will suffice. "And, what does that really feel like? Do we remember?"
These thoughtful questions hang in the air for a moment, until Frou Frou gets a hold of her squeaky toy and Uehara leans forward to scoop her up gently. Not one to sit still, Frou Frou scrambles around on the leather lounge, peeking around Uehara intermittently before finally settling into her embrace. I turn to my own interview questions—though less Jungian, and more Proustian, in nature. What, then, might be Uehara's greatest extravagance? Pensive a moment, she eventually settles on spending time with Frou Frou as her answer. "That's what makes me the most happy," she says, as she buries her face in the squiggling ball of soft black and white fur in her arms.
When asked about her most treasured possession, she leads me to a wardrobe that reaches almost from the floor to the ceiling, throwing open the doors to reveal a collection of stunning gowns carefully preserved in garment bags. However, these early pieces are more than just material possessions—they are a visual diary of sorts, capturing different phases of creative expression throughout the years, and Uehara's evolution as an artist and designer. She shows off an exquisite gown made with antique silk kimono obi, hand-sewn to give the gown its unique structure. Worn to the San Francisco Opera Ball in 2015, it was the gown that launched her career.
She lays out the gowns on the tatami, providing a striking visual—a time capsule of colors, textiles, and patterns that speak to Uehara's personal motto: "In order to create something new, you have to destroy—and be brave enough to destroy what you have done already."
Each distinctive piece is a symbol of Tokyo Gamine's constant reinvention; redefining fashion, art, and what it means to both Uehara and the fortunate wearers of the gowns. She hopes to continue challenging expectations with her upcoming collaboration with Creativity Explored, a local organization supporting artists with developmental disabilities. Debuting this September at the Museum of Craft and Design, Mode Brut is a collection of gender-neutral, one-size-fits-all pieces inspired by each of the 11 artists' personal narratives and artistic styles. The collaboration will encourage viewers to "consider the role fashion can play in responding to questions about accessibility, gender roles, and identity."
Through projects such as Tokyo Gamine Gallery and collaborations such as Mode Brut, Uehara strives to make an indelible mark not only on fashion, but on the lens through which we view ourselves and the world. "I think, in order to create anything, we are looking for some form of truth. What Tokyo Gamine seeks to do is to find answers that all of us are eager to know," she says.
As I step back out onto the streets of San Francisco, I can't help but feel as though spending the past few hours in Uehara's whimsical world has reawakened a dormant curiosity about life, and all of the ways in which it imitates art.