GET READY TO MARCH FORWARD. It's time to turn our backs on cold gray winter for a warmer season filled with brighter days. Sunny days makes me spring into action! Like what? Guuurl, there's a Bay Area lockdown! Well … I'm digging out and filling a couple of picnic baskets with wine and crackers for that spur-of-the-moment park outing. To enjoy nice weather with lemon drops, my deck will be transformed into a "pretend" resort destination for moi. And, ugh, I will be doing a ton of purging. Spring, for me, symbolizes new beginnings and hope. Listen, the new baby birds are singing! Stop and smell those flowers blooming. Enjoy your loved ones! Spring has sprung, and we have two egg-ceptionally gifted chefs waiting for you: David Barzelay and Claudia Ross, so … Let's hop to it!
DAVID BARZELAY: LAZY BEAR
It all started during law school at Georgetown University when a bright young man, David Barzelay, hit both the law books and the cookbooks with passion. Chef David Barzelay channeled his self-taught, passion-driven culinary skills into a thriving underground dinner party that ultimately culminated in the opening of his two-Michelin-starred, San Francisco restaurant Lazy Bear.
While pursuing his education in law, Barzelay embraced his comfort in the kitchen and passion for food by hosting dinner parties for his friends, dining at restaurants, poring over advanced cookbooks, investigating molecular gastronomy, researching new techniques, and running a hobby food blog. Living in San Francisco, the 2009 financial crisis left Barzelay with a long severance package and a driving passion to start anew.
Following a series of stages in the city's top restaurants, he launched what quickly spiraled into the highest-rated, least-known underground restaurant in the Bay Area. He was soon serving upwards of 40 people per night, several nights each week, even creating a ticketed lottery system to meet demand. Recognizing the success of the 5-year-old, underground operation, Barzelay opened a permanent space to offer guests an enhanced, fine dining experience while still maintaining the unorthodox aspects of Lazy Bear's original iteration.
Barzelay was named among Food & Wine's Best New Chefs. Lazy Bear has been listed as one of Bon Appétit's Best New Restaurants, San Francisco Chronicle's Top 100 Restaurants, and a James Beard Awards semifinalist for Best New Restaurant. In late 2017, Barzelay and Nicolas Torres opened True Laurel, a bar-centered project in San Francisco recognized as one of Esquire'sBest Bars in America and a Chronicle Top 100 Restaurant. This year, Barzelay will partner with Lazy Bear's former sous chef Matthew Kirk to open an all-day restaurant and bake shop called Automat, a brick-and-mortar home for Kirk's long-running pop-up of the same name.
Q&A
HAUTE LIVING X DAVID BARZELAY
HL: It's heartwarming to hear you have three little ones. What do you like doing with them when you aren't working?
DB: Our family loves to go hiking or bike riding, to play outside, and generally to explore San Francisco and the Bay Area. I love to cook at home for my family as well. Many chefs hate cooking at home, but I love it. I do a lot of woodworking in my garage shop as well and am an avid consumer of literature.
HL: Whenever anyone cooks for me, I am extremely appreciative. It was such a treat when my parents prepared a meal for me. They sprinkled heaping cups of love into their dishes. Tell me, who cooks the meal that makes your heart sing? What dishes would they be? Why?
DB: I grew up having incredible, humble, rustic cooking from my mother. She grew up on a farm in North Florida, and I grew up in Tampa. We had home-cooked breakfast and dinner every day, even though my parents worked full-time. My dad is also a great cook, but he didn't do it as frequently. I was constantly in the kitchen with my mother growing up and cooking and eating were always big parts of family life. I love getting together with them and revisiting the family classics that my little brother and I loved when we were growing up: all kinds of fried gulf seafood or fried chicken, buttermilk biscuits, roast chicken and gravy, pork roast with gravy. There was a fair bit of fried stuff and a fair bit of gravy.
HL: Any personal dreams for Lazy Bear?
DB: I hope that Lazy Bear has helped shake up the orthodoxy of fine dining, show the importance of a social experience, connect diners with the people making and growing the food they eat, and highlight the role of storytelling in cuisine.
HL: And you sure achieved that dream and continue to do so! Do you have any secret tips or advice for home chefs?
DB: There are a few very underutilized tools in the kitchen: instant-read thermometers, digital scales, even rubber spatulas. People think, for instance, that weighing out ingredients to be baked takes more time than using measuring cups and such. But that's not the case. They are just more practiced at using measuring cups. Once you're using to weighing out ingredients, it's at least as fast as the less precise way.
HL: I'm so proud of your stewardship at Lazy Bear—from an attorney by trade to a Michelin-starred chef and restauranteur! What's next in the short term and long term—restaurants, books, TV shows, and such?
DB: I probably should get around to writing the Lazy Bear book. In the meantime, I'm partnering on a new restaurant called Automat with a former Lazy Bear sou, Matt Kirk. He's been running Automat for about five years as a pop-up, and we're under construction on a brick-and-mortar space for a permanent Automat restaurant and bakery. That should open late this spring or early this summer. I have lots more concepts and ideas for restaurants that I'd love to open eventually. I'm always on the lookout for a good opportunity for our restaurant group and for our employees to grow.
HL: Which celebrity chef have you not met yet but would like to some day? Why?
DB: I've had the opportunity to meet most of the modern chefs who inspired me when I started getting serious about cooking, like Sean Brock, Wylie Dufresne, Paul Liebrandt, Grant Achatz, and Daniel Patterson. For me, one of the most inspiring chefs has been Jean-Louis Palladin. He was a champion of incredible, local produce, had a reverence for wild products, and was a big driver of the farm-to-table movement. His style combined high technique and presentation with satisfying and even comforting flavors. And he was known for being an incredible host, with tons of energy and humor. It's easy for me to draw parallels between Jean-Louis and what we try to do at Lazy Bear.
HL: What is the grossest thing you ever ate?
DB: Poorly cleaned tripe is poopy; but if it's cleaned and prepared with expertise, effort, and detail, then it transforms into something that is … still poopy. I'm willing to try anything, and there's nothing that I just refuse to eat. So, I have tried tripe many times, and will inevitably try it many more times, but none of those times has been pleasant.
"I hope that Lazy Bear has helped shake up the orthodoxy of fine dining, show the importance of a social experience, connect diners with the people making and growing the food they eat, and highlight the role of storytelling in cuisine." – David Barzelay
Ingredients
• 300 grams all-purpose flour (King Arthur works well)
• 12 grams salt
• 50 grams sugar
• 15 grams baking powder
• 2.5 grams baking soda
• 80 grams butter, cold straight out of the refrigerator
• 285 grams buttermilk
INSTRUCTIONS
1. Whisk dry ingredients together. Grate butter into dry ingredients using the coarse holes of a box grater, tossing regularly to make sure individual bits of butter stay separate. Cut the butter into the dry ingredients, using the tines of a whisk or fork. Add buttermilk and stir until it comes together into one shaggy, but fully integrated piece, with no remaining dry flour bits. Ideally, refrigerate for 15 minutes before proceeding, but you can skip this in a pinch.
2. Dump dough onto a floured surface. Flatten the dough to 1½ inches thick, sprinkle the top liberally with flour, and flip the whole thing over. That flip will keep the dough from sticking to the table. Pat it down to 1 inch thick with floured hands, dusting the top with flour as well. Cut out biscuits, dipping the cutter into flour between each cut, and transfer to a baking sheet lined with parchment. Re-form dough from scraps and repeat until all dough is used, but don't re-form more than twice.
3. Just before baking, brush tops of biscuits liberally with melted butter. Add a second sheet pan underneath to keep the bottoms of the biscuits from browning too quickly. Bake at 450°F (232°C) until just golden brown on top and firm to the touch, about 12-15 minutes. As soon as they come out of the oven, brush them again with melted butter. Transfer to a plate or bowl and wrap with a clean, dry kitchen towel to keep them fresh and warm. Eat while still warm.
Honey and Fermented Chile Butter
Ingredients
• 450 grams butter fully tempered to room temperature
• 50 grans fermented Tobago peppers (spicy)
• 100 grams honey
• 40 grams dry sherry
• 20 grams champagne vinegar
• 4 grams smoked paprika
• 4 grams kochukaru
• 4 grams salt
• 2 grams finely ground MSG
INSTRUCTIONS
Blend everything together in a food processor. Serve at room temperature or store in the refrigerator. After a couple days, some syrupy liquid will start weeping out. You can bring it back together by tempering to room temperature and whisking.
Ingredients
• 1 picnic ham or pork shoulder, deboned
• 3,000 grams water
• 3,000 grams ice
• 340 grans salt
• 450 grams brown sugar
• 50 grans pink curing salt
• 18 grams star anise
• 10 grams clove
• 5 California bay leaves
INSTRUCTIONS
1. Bring half of the water up to a boil with all remaining ingredients, except ham and ice. Once it reaches a boil, remove from heat and let steep for 20 minutes. Strain and add remaining cold water, then add ice. Stir to melt ice. Once cold, add hams to brine and weight to keep submerged. Brine for 2 weeks, overhauling (moving around) every few days.
2. Once fully cured, remove hams from brine, pat dry, and leave in the refrigerator for a day or two to form a sticky pellicle before smoking. Hot-smoke for a couple of hours, then chill. Vacuum seal and cook sous vide 5 hours at 180°F (82°C). Chill and let rest for at least a couple days before slicing.
3. Serve the biscuits with ham and honey fermented butter on a plate.
CLAUDIA ROSS
This year, Claudia Ross celebrates 20 years as founder and CEO of Cross Marketing. She started her own marketing agency to integrate luxury brands and philanthropy. Having worked at Harper's BAZAAR and Marie Claire for 10 years, Ross knew that this was a natural transition. With several entrepreneurial endeavors sprinkled throughout, the goal of success continues to evolve and inspire change within her. Humbly speaking, she conveyed her delighted that Cross Marketing survived the pitfalls of an ongoing pandemic and even expanded into design, an avenue that has always been a passion of hers. She explained that her first and most important project has been designing Ross Ranch in Calistoga. A true farm-to-table ranch and family vineyard, Ross Ranch was designed for entertainment and offers the luxury of providing for guests. As an amateur chef, Ross takes inspiration from the land and her heritage to cook frequently for family, friends, and guests
Q&A
HAUTE LIVING X CLAUDIA ROSS
HL: You are a well-known, stylish, Bay Area publicist and your job requires patience, savvy, and creative skills to set a successful marketing program for your clients. What is one of your wackiest PR plans that worked?
CR: Probably when I worked with Macey Gray who we hired to DJ for a super-exclusive event. Contractually, she wasn't allowed to sing, or we would have to pay an exorbitant fine. After she took a long break to get high, she came back and started singing the rest of the set. I spent the rest of the evening trying to shush her. At the end, she was the one who ripped the contract. Another was trying to organize an event in Paris for Fashion Week. We hosted a multi-day event for international clients flying in. Needless to say, the demands were out of control from planning specific meals for jets, dogs, and individual seats on private charters to using my language converter to arrange all the plans in French. The seven years I took in French didn't quite cut it.
HL: As an entrepreneur myself, there are times when surprising things happen, and I've got quite a few crazy stories. Tell me yours.
CR: I've been a serial entrepreneur and, to this day, my most successful venture has been Cross Marketing, established in 2006. Since the early 2000s, I've started a skincare company with actor/singer Vanessa Williams, called ReVitalistic Skincare; Lady Bug Jeans on QVC; Rose Ross, Estate Jewelry; and Stacia Ross. My latest and greatest adventure is now applying my design skills to clients and friends looking to update their dwellings. From beach houses, ski homes, and main residences, I've added my experience in orchestrating events to designing interiors.
HL: I love that you are a philanthropist. What inspired you to get involved with Rafael House?
CR: At 25 in 1995, I was introduced to Raphael House by my mother-in-law. Since that time, I have volunteered, chaired galas and fashion shows, and served on and chaired the Board for 25-plus years. I was also instrumental in rebranding the marketing platform to make RH more relevant to younger donors. Today, I don't recognize the donors when I attend events: they're young, vibrant, and passionate about Raphael House. We even have Aisha Curry, a favorite chef I admire.
HL: One of my dreams is to live in Europe so that I can explore and learn their traditions and cook food from the various cultures. You are incredibly lucky! Where did you reside? Why and what did you like about living there?
CR: I've lived in Mexico, Italy, Latin America, the American Southwest, and all over California. My cultural background is a bit of a mosh pit, but when it comes to traditions, I always come back to the comfort food that my mother and grandmother cooked for me. Now that we own a ranch, we do everything we can to offer a farm-to-table experience at Ross Ranch. From home grown vegetables to farm fresh eggs and cattle. (I don't eat meat, but we have steers.) The only thing missing really is beans, the black variety, as we grow a mix of green beans.
HL: Tell me, what is a favorite meal you like to serve to your family?
CR: It's about family style and an abundance of it! I love entertaining, and now that we have the barn to entertain, lunch or dinner can be up 50 for a sit-down or just the four of us. It's always casual: kids are always welcome. Collecting eggs is always the kids' task. As adults, we are tasked with drinking Ross Family Vineyards and celebrating life—before the pandemic that is.
HL: Where do your go-to recipes come from?
CR: My go-to recipes are all handed down to me from my mother and grandmother. It's about family and using everything that we can grow.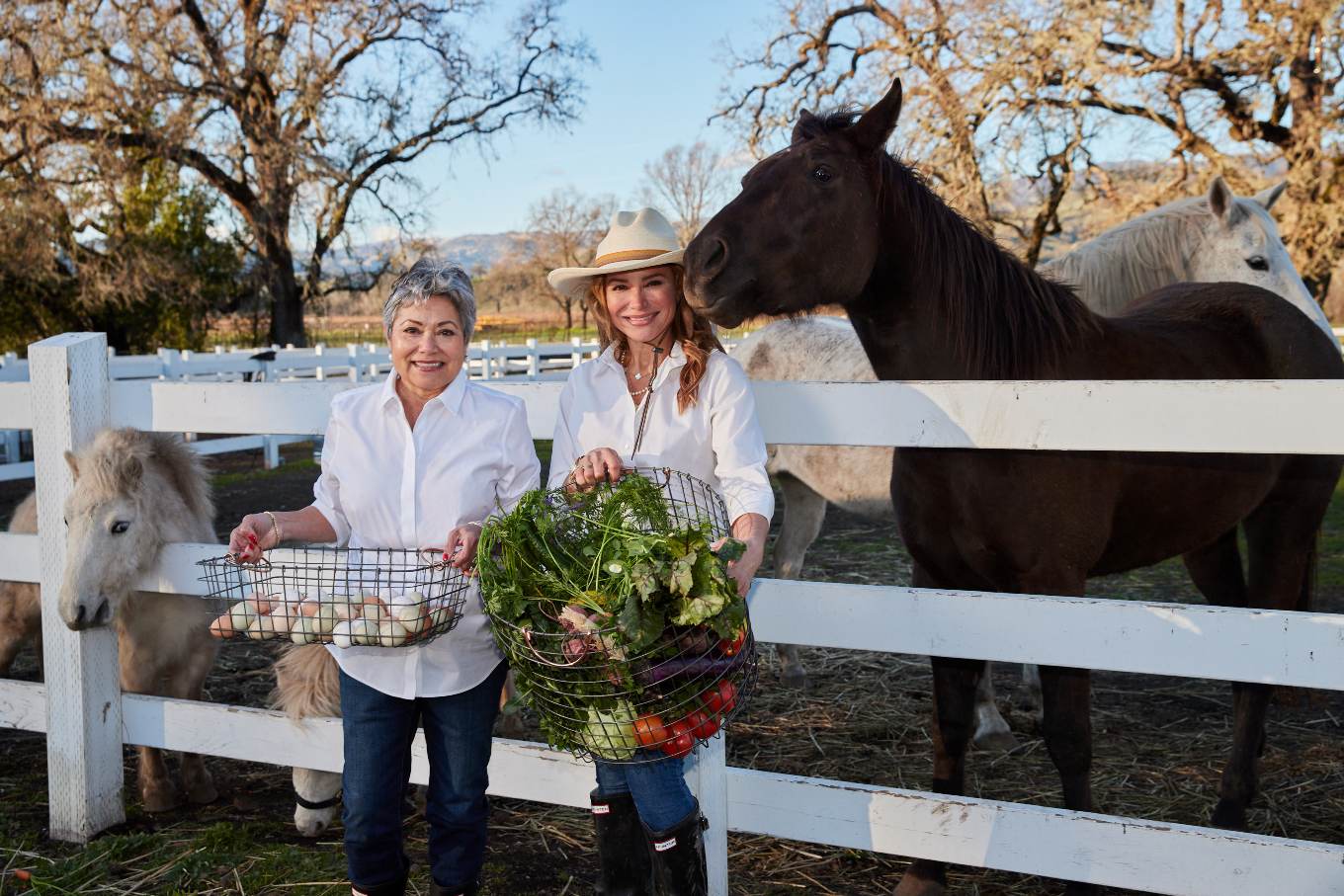 "Achieving success can have its bitter moments, but today life has never been sweeter." – Claudia Ross
Ingredients
• 12 large eggs
• 5 tablespoons mayonnaise
• 3 tablespoons Dijon mustard
• 2 teaspoons white vinegar
• ¼ teaspoon cayenne pepper
• 2 tablespoons dried tarragon,
• 1 whole beet (canned works, but dry beet thoroughly)
• 1 carrot
Instructions
In a medium saucepan, cover eggs with water. Bring to a boil for 15 minutes, then remove from heat and let stand for about 10 minutes. Drain eggs and run cold water over them until cool to touch. Peel and cut eggs in half lengthwise. Remove yolks and transfer to a bowl. Mash with a fork, add the mayonnaise, Dijon mustard, white vinegar, and cayenne pepper. Spoon mixture into a pastry bag fitted with a desired tip (or use a quart size freezer bag by snipping a small hole in the bottom corner). Squeeze the mixture into the center of the eggs. Cut carrot into small slivers. Cut the beet into small ¼-inch cubes. Sprinkle dried tarragon over the egg yolk mixture. As garnish, place a cube of the red beet in the center of each egg and a sliver of carrot across the top. Serve immediately or chill up to 2 hours before serving.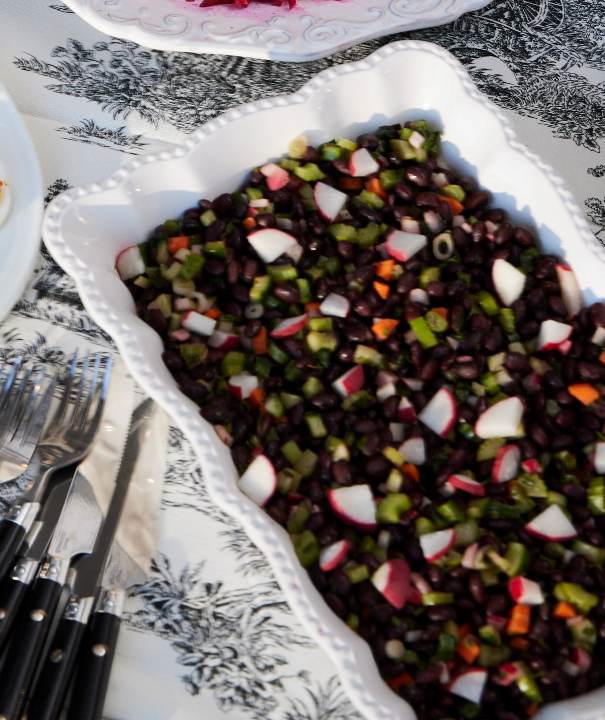 Serves 6 – 8
Ingredients
• 2 cups black beans
• 1 bunch radishes
• ½ of an English cucumber
• 1 bunch of green onions
• 2 carrots
• 2 lemons (or limes)
• 3 stalks celery
• 1 jalapeño pepper
• ½ bunch of cilantro
• 1 bell pepper (green, yellow, or red)
• 1 teaspoon salt (or more if needed)
• 1 teaspoon pepper
• 1 teaspoon oregano
• 1 teaspoon thyme
• 1 teaspoon cumin
• 5 tablespoons olive oil
Instructions
1. Wash and drain beans. (Make sure to remove small rocks and broken beans.) In a large pot, add the beans and about 12–14 cups of water. Boil for about 45 minutes at medium heat until beans are crunchy (not completely cooked, or the beans will be mushy). Remove from heat and place the beans in a strainer to discard water. Rinse beans in cold water so they will be clear and shiny. Place beans in a bowl and set aside.
2. Chop radishes, cucumbers, carrots, jalapeño, bell pepper, and celery into small ¼-inch pieces, chop cilantro, and add all to the bowl of beans. Add the juice of squeezed lemons (or limes), salt, pepper, oregano, thyme, cumin, and olive oil. Toss well so everything is mixed into the beans. (Add more salt, olive oil, and lemon or lime if needed.)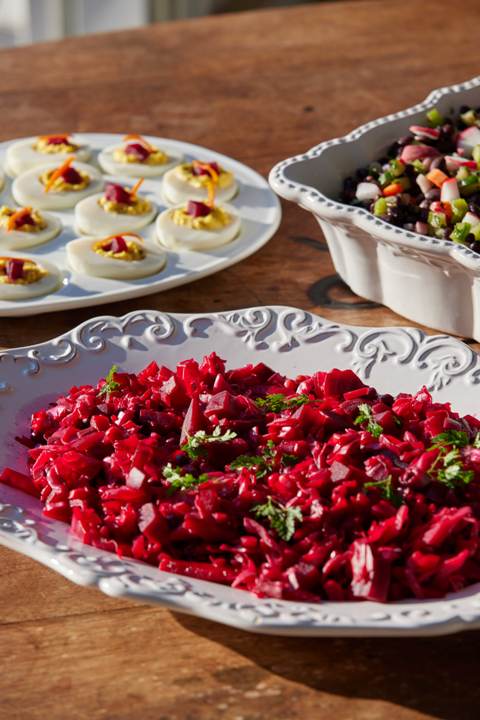 Serves 6 – 8
Ingredients
• 3 large red beets
• 1 pound bag of frozen petite mixed vegetables
• 1 medium-size white cabbage
• 1 teaspoon salt
• ¼ teaspoon pepper
• 3 bay leaves
• ¼ teaspoon oregano
• ¼ cup chopped fresh parsley
• ¼ teaspoon thyme
• ¼ teaspoon sugar
• 2 tablespoons vinegar
Instructions
1. Place beets in a pot with enough water to cover them and cook until done. (Save the liquid.) Let beets cool to touch, then peel and cut into small ¼-inch cubes. Set aside.
2. Place the liquid from the beets in a bowl and add salt, pepper, bay leaves, oregano, parsley, thyme, sugar, and vinegar. Set aside.
3. In water, boil the frozen vegetables for about 4 minutes. Drain and set aside.
4. Shred cabbage and place in a non-plastic bowl. Boil 6 cups of water and pour the water over the cabbage. Leave the water in the bowl for about 10 minutes (just long enough for the cabbage to cook a little). Drain the water. To the cabbage, add the beets, boiled vegetables, and the liquid from the beets and toss. Refrigerate until ready to serve.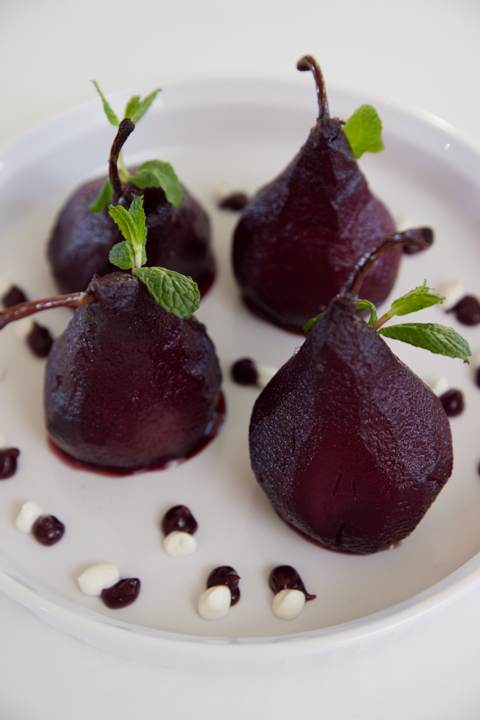 Poached Pears in Red Wine
Serves 4
Ingredients
• 4 firm, medium-size pears with stems (Anjou, Bartlett, or Bosc)
• 1 bottle of red wine (Merlot, Cabernet sauvignon, or any other blend of reds)
• ½ cup sugar
• 1 vanilla bean
• 1 cinnamon stick
• Peel of 1 orange
• Peel of 1 lemon
• 2 cloves
• 1 star anise
• 1 bay leaf
• Mint leaves with a bit of stem for garnish
Instructions
1. Peel the pears gently without removing the stems. (Cut a bit off the bottom so they stand upright while cooking.) Put them in a deep saucepan and add the entire bottle of red wine, sugar, vanilla bean, cinnamon stick, orange and lemon peels, cloves, star anise, bay leaf, and just enough water to cover the pears. Cook pears at medium-low heat for about 15 minutes or until a paring knife easily pierces the flesh. Remove saucepan from heat and let cool in red wine liquid. (If needed, rotate pears to make sure they are coated on all sides.)
2. Using a slotted spoon, transfer pears to a dish, and set aside.
3. Discard the vanilla bean, cinnamon stick, lemon and orange peels, cloves, star anise and bay leaf. Bring the liquid to a boil and reduce until large bubbles appear. Remove from heat.
4. When ready to serve, arrange pears stem side up on a platter or on individual plates and drizzle liquid over them. Insert stem of mint leaves next to the stem of the pear.
5. Serve at room temperature or cold. (If cold, place the pears and the liquid in the refrigerator until ready to serve.)