One Sonoma chef is taking "farm to table" to the next level with "plant to plate"—one Koginut squash at a time.
On a crisp fall evening, I pull through the gates of the beautifully appointed Bricoleur Vineyard in Windsor. The sun is starting to set over the winery's rose-covered trellises, and shadows from flickering flames of the property's heat lamps are just beginning to dance across the burgundy-dressed tables spread across the courtyard. My mission here tonight is culinary—the best kind—as I'm here to finally experience the gastronomic delights of Bricoleur via its Wine Dinner series. Although I had visited to taste its extensive wine portfolio, the opportunity to taste the winery's edible offerings had thus far escaped me—until now.
For tonight's fall harvest themed dinner, we're being served by Bricoleur's executive chef himself: Shane McAnelly. As he places the evening's first course on the table, the rolled-up sleeves of his chef's whites expose a fantastic tattoo of a flaming sauté pan and three kitchen knives on the underside of his forearm. It turns out the middle knife is an actual knife he owns: "It's a Japanese Damascus steel knife, so it has what looks like wood grain on the blade. I love the detail the [tattoo] artist put into it—they did a pretty good job of matching up the actual grain."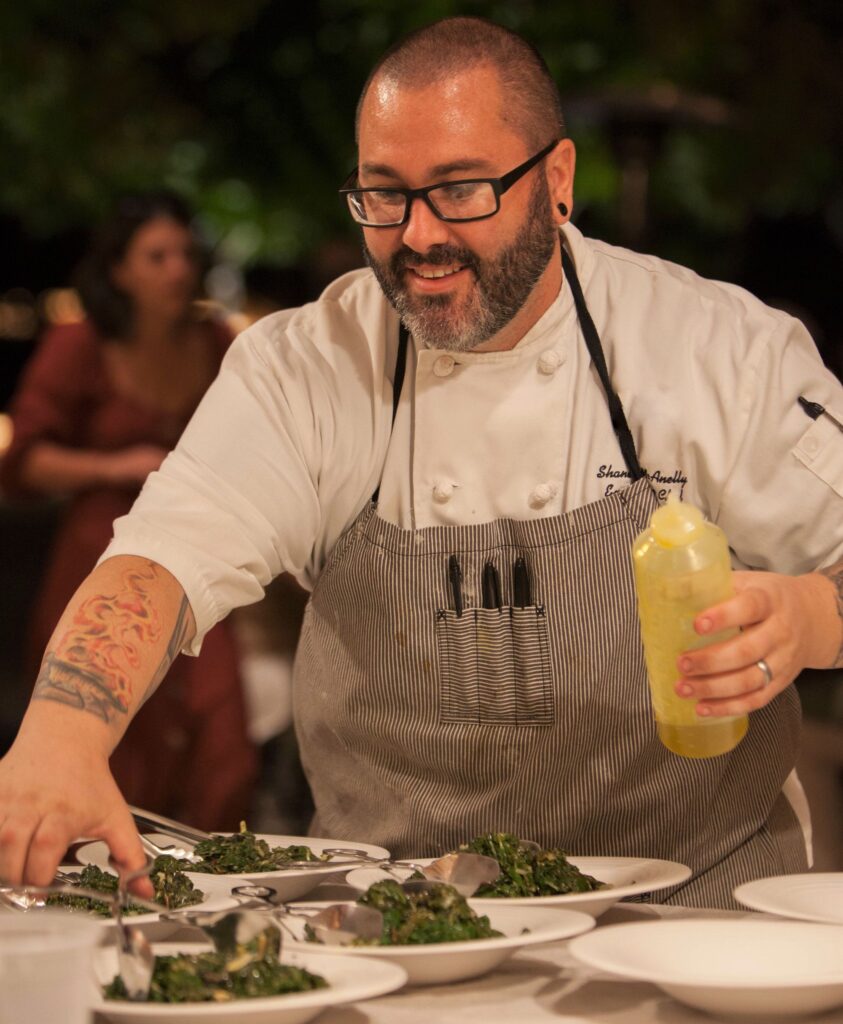 McAnelly grew up in the tightly knit community of Oakley, California and spent his childhood baking with his mother and grandmother. He took to the kitchen culture quickly while working at his first restaurant job during high school. He began working as the sous chef at Garibaldi's in Oakland in 2005, followed by a promotion to chef de cuisine three years later. It was at Garibaldi's that he learned to make agnolotti under Chef Scott Sasaki, marking the start of a lifelong fondness for pasta. He's also fond of gigli (campanelle), a shape he loves to use, "because it's Italian for Lily, and that's my daughter's name."
To this day, pasta remains one of his favorite dishes to serve. He explains that he has always been drawn to the limitless variety of shapes and ingredient combinations. When McAnelly applied at Zero Zero in San Francisco in 2010, he cooked a fava bean agnolotti with Meyer lemon for his tasting, which was a hit with the chef. He landed the position of executive sous chef with the opening team.
The second course of the Fall Harvest Wine Dinner features an agnolotti dal plin made in-house—perfect pouches encapsulating Mangalitsa pork and cabbage served in a rich pork broth. Selected for its superior taste and marbling—some call it the "Kobe beef of pork"—the Mangalitsa pig was sourced from Sonoma County's 4-H program, which aims to provide youth with a better understanding of agricultural techniques. "We have some friends in Healdsburg whose daughter raised the pig, and we love to support local," says McAnelly.
The winery also works with other local farms to help supplement its gardens, as supporting its community's purveyors is "very near and dear to what we do at Bricoleur," says McAnelly. "Cooking around the Bay Area and wine country with seasonal ingredients has always been an important part of my culinary makeup," he says. In fact, on McAnelly's left arm is a tribute to his love of gardening: a colorful half-sleeve that features intricate artwork of his favorite produce. "I've got all my favorite ingredients on that arm: beets, artichokes, heirloom tomatoes, peas, morel mushrooms, asparagus, and fava beans."
Coincidentally, the evening's main course incorporates beets, as well as carrots, from Bricoleur's extensive vegetable and herb gardens. A Zinfandel-braised lamb shoulder and the vegetables are embedded in a bed of buttery polenta. The brightness of a fresh herb salad that adorns the plate cuts the richness of the meat. It's the delectable result of the collaboration that thrives at Bricoleur.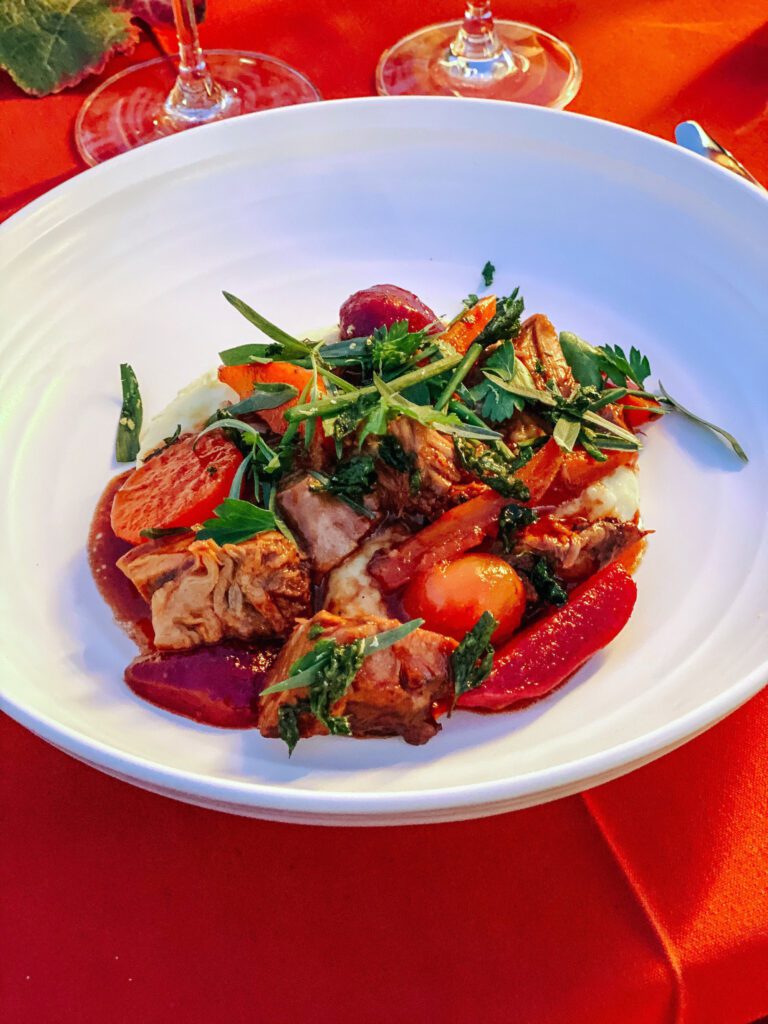 McAnelly works closely with Mikey De Paolo, Bricoleur's garden manager, to determine what will be grown each season. "Gardening is something I love to do at home, so having the estate gardens and a professional garden manager on the team is next-level," says McAnelly. "We talk daily about what is going in the ground and what is ready to harvest. Getting to walk the gardens daily and see where the ingredients are at really makes our 'plant to plate' approach that much better."
An unexpected highlight of the evening's dinner is the Koginut squash soup. Unlike any other squash soup I've tried before, this creation of McAnelly's ties in the sweet yet citrusy and nutty flavor of Koginut squash—a hybrid of butternut and kabocha squash often called Robin's Koginut—with the smokiness of house-cured guanciale and tartness of apples from the gardens.
Growing up in a household that often utilized the velvety texture of kabocha squash in savory meat stews, I later discovered the wonderful sweetness of butternut squash for comforting soups. Experiencing the Koginut in McAnelly's dish proves it is the perfect marriage of texture and flavor, offering the best of the two squash varieties. One of his favorite ingredients grown by De Paolo this year, McAnelly explains that you get "the buttery, creamy sweetness of butternut along with the more complex pumpkin flavor that you get from a kabocha." He likes to roast the squash and cook it with apple, fennel, and caramelized onions for a soup that's "perfect as the cool months creep in."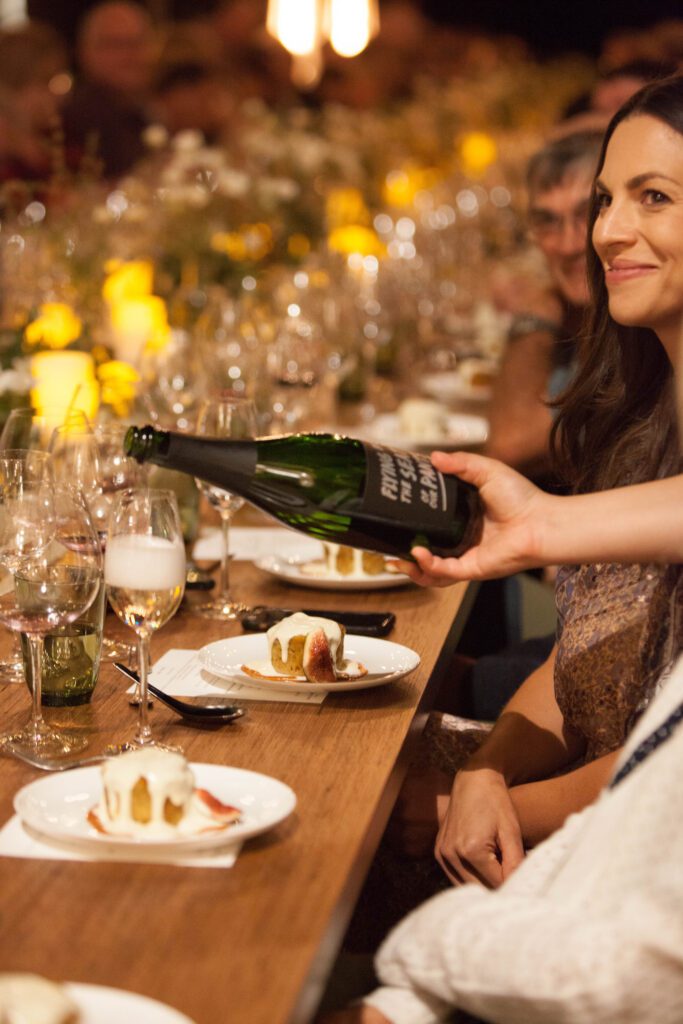 McAnelly took his first executive chef position at Va de Vi restaurant in Walnut Creek in 2011, later moving up north with his family to help open Healdburg's Chalkboard restaurant as the executive chef in 2013. Under his direction, Chalkboard received a 3-star review from then-San Francisco Chronicle food critic Michael Bauer as well as a Michelin Bib Gourmand award for the past six years. It also led to cooking at the renowned James Beard House in 2018, when one of the board members dined at Chalkboard. "He really enjoyed himself. A couple months later, I was contacted by the event planner for the James Beard Foundation asking if we would be interested in hosting a dinner." The theme for their dinner was "It's Always Sunny in California," and McAnelly and his team cooked their "farm to table" style food in one of the most prestigious kitchens in the world.
He anticipates having similarly amazing experiences with the team at Bricoleur. For Valentine's Day, McAnelly is curating a menu for different experiences, including a themed tasting experience with small bites and wines perfect for "Galentine's Day," as well as an intimate prix fixe food and wine experience focused on romantic cuisine for couples to share. Although 2020 presented many challenges with the winery needing to pivot its events and activities every few weeks, McAnelly feels fortunate to work with such a creative team at Bricoleur. "From virtual cooking shows and virtual wine tastings to outdoor, socially distanced dinners … the team that I am a part of has had some really innovative ideas, and I am grateful for that."
It's fitting that the winery loosely translates its name, the French word bricoleur, as "flying by the seat of their pants." Judging by the jovial spirits and other delighted diners here enjoying this world class cuisine—even requesting recipes which McAnelly is more than happy to share—it seems he and his inventive team are perfectly equipped to continue rolling with the punches well into 2021.