Connecting Sustainable Fashion with Luxury and Purpose
THINK OF SPRAWLING OPEN GRASSLANDS WHERE LIKEMINDED, friendly faces gather around one widespread table sharing purposeful conversation as generosity overflows. Think of a place where exchanges of inspiration from faraway travels bring home a sense of place and family. Think of Mediterranean lifestyle choices fueling the fire for farm-to-table charitable gatherings where the impetus for a life of curiosity and good intentions were inspired by women's movements, slow food, education, and the environment. These are what drove Elizabeth Welborn to create a brand that would move mountains or, should we say, Las Pampas.
Model: Amber HillWearing: Stick & Ball Alpaca Fringe Poncho in Grey, $995,Palermo Soho Bag in Natural Tan $1250, Frentera Cuff $375
Grounded in passion, Welborn's philanthropic nature manifested as a desire to help, heal, give, and prosper. Designer, mom, philanthropist, and equestrian, Elizabeth Welborn did what many only dream of and aspire to accomplish. She fused her myriad of interests into one cohesive lifestyle brand.
An active polo player herself, Welborn competed in Marin and Sonoma Counties, landscapes that mimicked the unforgettable scenery of Las Pampas in Argentina, various corners of South America, and beyond. A native of southern Louisiana, this southern belle put down roots in the San Francisco Bay Area and, in 2011, founded Stick & Ball. Born from her adoration for everything related to horses, fashion, and travel, Stick & Ball now serves an eco-conscious clientele who value and appreciate the beauty in well made, luxurious, hand crafted goods. Welborn envisioned a collaboration of her farm-to-table gatherings and her active polo playing days to create her lifestyle brand and share her gifts with the world.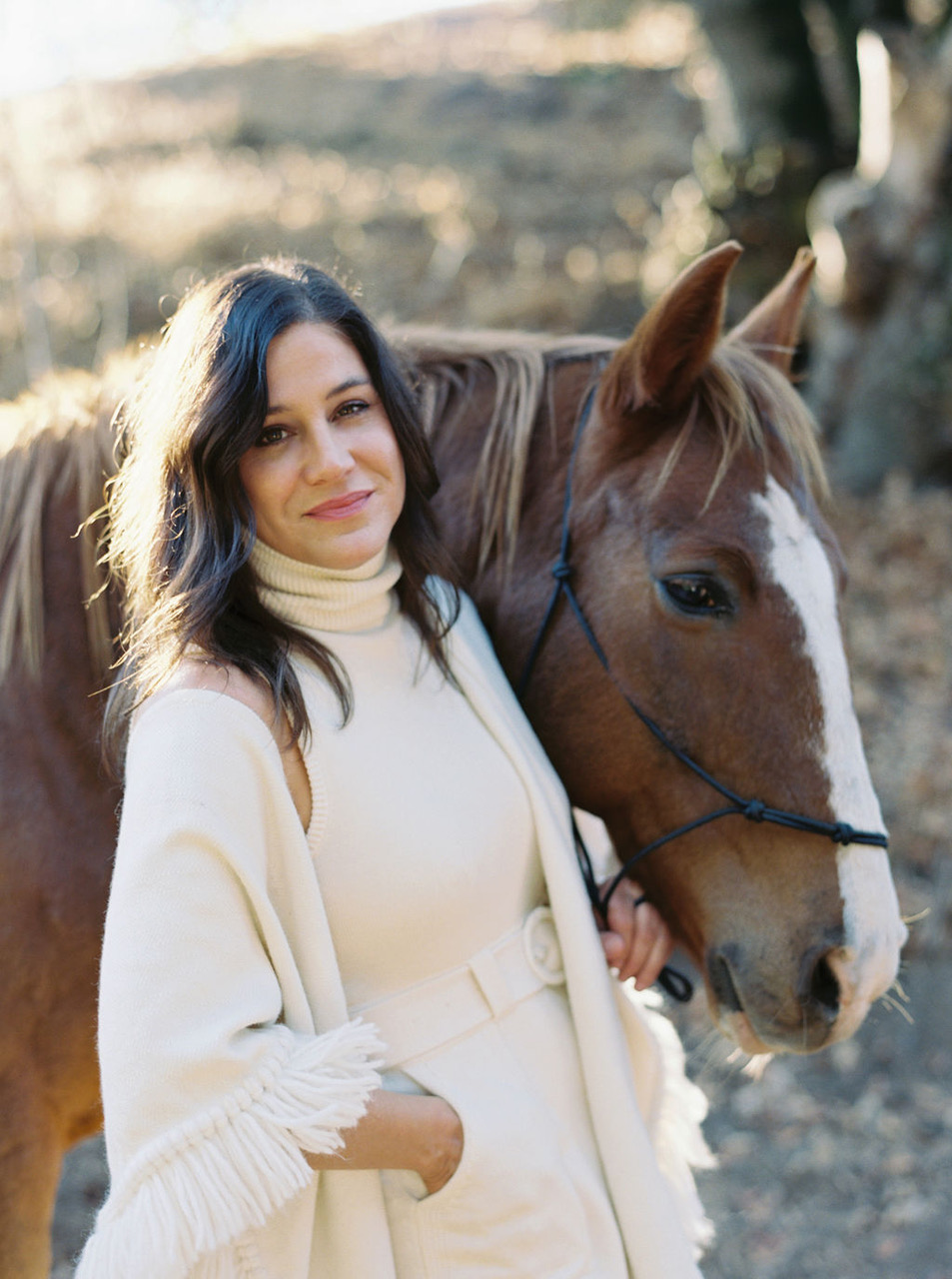 Elizabeth Goodwin Welborn, Horse- "Mono"Wearing: Stick & Ball Alpaca Fringe Ruana $995
Focused on the highest quality materials, Stick & Ball creates sustainable, one-of-a-kind, luxury clothing and accessories authentic to a lifestyle filled with inspiration, purpose, and continuous creativity. Among its delightful collections, The Stick & Ball handwoven poncho—their signature piece—allows versatility, going from daytime to stylish evening wear. The brand's repertoire of luxury goods extends to vegetable tanned, Italian leather accessories, linens, silks, and home décor, making Stick & Ball the perfect gift idea for any time of year!
Haute Living takes a deep dive with Elizabeth Welborn, founder and creative director of Stick & Ball, a fusion of compassionate creation integrating a love of all things equestrian.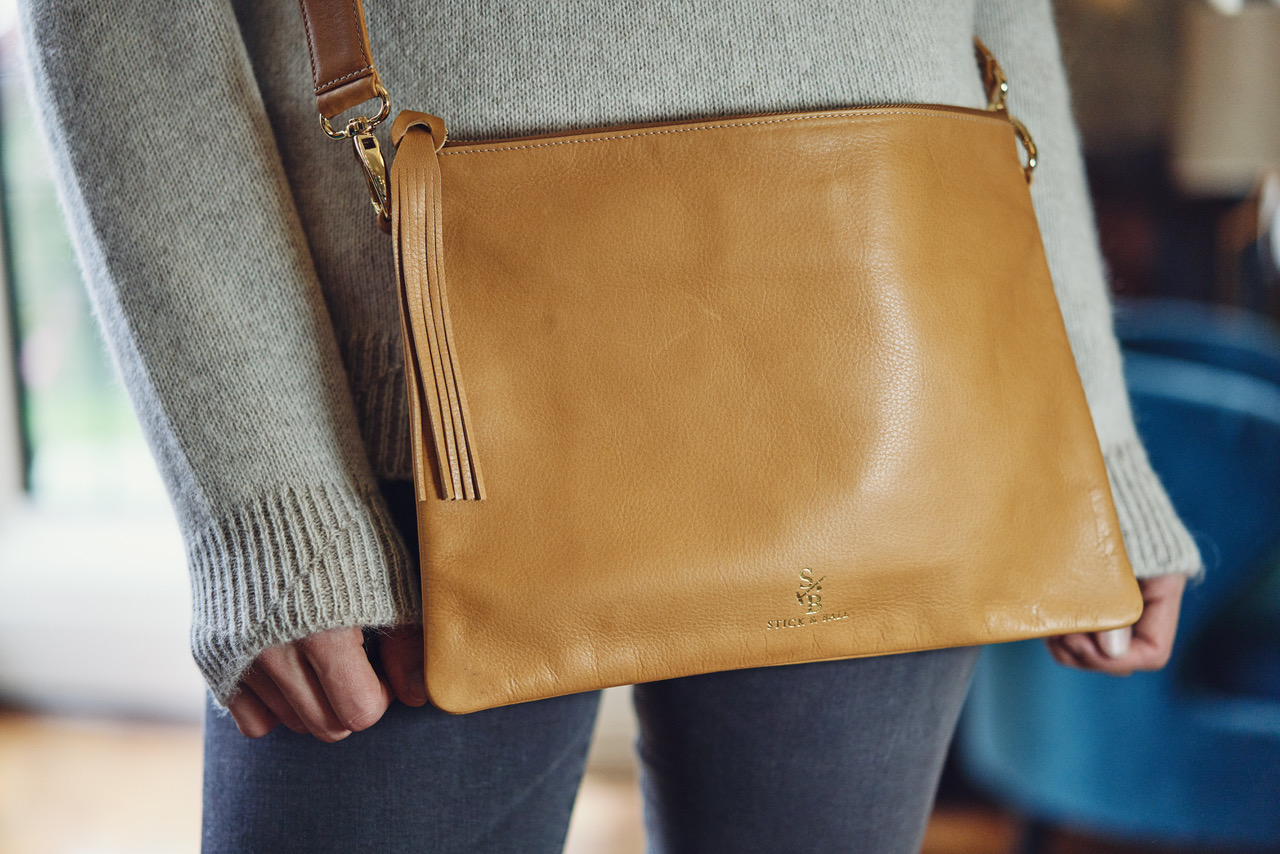 Model: Rebecca WaltersWearing: Stick & Ball Alpaca VNeck Sweater $235, Indio Cross Body $395
HL: Tell me about the origination of the farm-to-table charitable events? What charities do you support? Where are or were the gatherings held?
EW: My farm-to-table charity events were what sparked the beginning of my brand. My first activities in the polo club were not playing polo, they were helping to host events by cooking farm-to-table dinners after the games. These gatherings began in two small polo clubs in Marin and Sonoma Counties. One notable summer event in the Bay Area is the Oyster Cup, an annual charity event held in Petaluma at the Cerro Pampa Polo Club. As a brand, we have hosted many charity events and donate product to fundraisers throughout the U.S. A few of the charities involved in our events have been The Nature Conservancy, For the Bayou—a Louisiana's wetland restoration charity I founded—the Breast Cancer Emergency Fund, and riding programs like Giant Steps.
HL: Has 2020 and its slew of challenges required you to pivot from your marketing strategies?
WE: Yes, 100 percent. The majority of our sales at Stick & Ball were in-person at events or in our flagship store in Mill Valley, CA prior to COVID. We had to commit ourselves to an incredible amount of new work this year to optimize our digital e-commerce channel. The most challenging part of e-commerce for us is not the back-end work on the web, but to translate digitally what people once experienced by picking up one of our pieces: the look, feel, and smell of our sustainable leather or the softness of the sweater or throw or silk scarf.
HL: In an ever-so-changing world, how important is sustainable design and lifestyle?
EW: From the beginning, sustainable design has been at the forefront of our core values as a brand. As an outdoor enthusiast, I cherish open space, clean air, clean water, and a healthy ecosystem. Growing up in Louisiana's wetlands and watching them disappear at such a fast pace in our lifetime has made me even more hypersensitive to how important it is to guard our natural resources and to preserve the landscape around us. Mother Nature does not need us, but we need Mother Nature. I keep that thought at the forefront when it comes to our growth as a brand and let that guide what we source, how we source, and how we produce designs.
HL: Your eco-conscious brand is appealing on so many levels. How do you go about sourcing the materials you use? Is there much trial and error involved in your experimentation?
EW: When I first decided to begin designing and to launch the brand, sourcing both the best and most sustainable raw materials was of the utmost importance. In the beginning, it was like detective work. I went shopping and began feeling garments and reading labels. I would try on garments and take notes as to their fit, feel, contents, and country of origin. I can't say there was much experimentation, because I became pretty obsessed with making things the best they could be. From the very beginning, I realized the importance of partnering with our sources and artisans to improve upon the raw materials or the making of our designs. It is truly a partnership to produce a high quality piece.
HL: Where are most of your designs fabricated?
EW: I make my designs in many places, depending on many factors: the raw material, the design inspiration, and where the best artisans are located for that specific design. Peru for alpaca; Argentina for hand-stitched leather belts, as that is where those designs originated, Italy for our vegetable tanned leather, organic linens, and silks; Turkey for woven cottons; and the US for our leather production.
Model: Pamela Flannegan Wearing: Stick & Ball Wellington Weekender in Espresso $1195
HL: What came first, the polo playing, the designer dream, or the farm-to-table events? Is there a first love?
EW: What came first was a love of a lifestyle: a sporting lifestyle of riding horses and being around outdoor enthusiasts. This began in childhood. When I was young, I loved to create: I painted, made pottery, and even built my own doll furniture. I later developed a passion for handmade textiles while studying Spanish in Guatemala when I was 19. Fast forward a career that took me around the world through Latin America and living in Asia. I was exposed to incredible design from so many regions. Once I began with polo, the farm-to-table events, and playing polo, there was an "aha" moment to combine all of my many passions together to share with this lifestyle and story with the creation of a new brand.
HL: Was your childhood infused with art, sports, and philanthropy?
EW: My childhood was humble in the deep south of Louisiana. My father is an electrical engineer and my mother is an English teacher. Both parents dedicate an enormous amount of time to the community through the schools and the church. Giving back was ingrained in our family. Although my parents are both from Louisiana, they lived in Arizona during the Vietnam War, and my dad was in the Air Force. Through that experience, my dad came to love a more modern, southwestern-inspired architecture. We had the only 1-story stucco home with floor to ceiling windows, skylights, dimmer switches, etc. surrounding the entire house in the neighborhood. Although we had southern wallpaper and beadboard walls, my parents had Dali prints mixed with antiques throughout the house. Though neither of my parents is interested in fashion, their perspective sparked my curiosity about design. Neither of my parents was into riding, hunting, or fishing, but I grew up a tomboy and adored the outdoor lifestyle.
Model: Rebecca Walters Wearing: Stick & Ball Alpaca Leather Trimmed Poncho $595, Caballos Besando Necklace $695
HL: Where do you find the most meaning in your work?
EW: I love creating. Whether it's a new design, a new recipe, planting a new garden, or mapping a new adventure. I love the "aha" moments, the joy in the journey, and the happiness it brings others in receiving a design, tasting the food, or joining me on an exciting trip to a remote, foreign destination.
HL: What inspires you on a daily basis?
EW: Mother Nature for color and beautiful raw materials. I love handcrafted indigenous patterns from around the world.
HL: What would you consider your greatest professional strength?
EW: Creativity
HL: Throughout your world travels, is there a particular destination that really moves you?
EW: There are so many. I fall in love with almost every place I visit: Latin America for its people, countryside, culture, and handmade textiles; France, Spain, and Italy for their art and cuisine; and Mongolia for its vast, open spaces, history, and incredible people.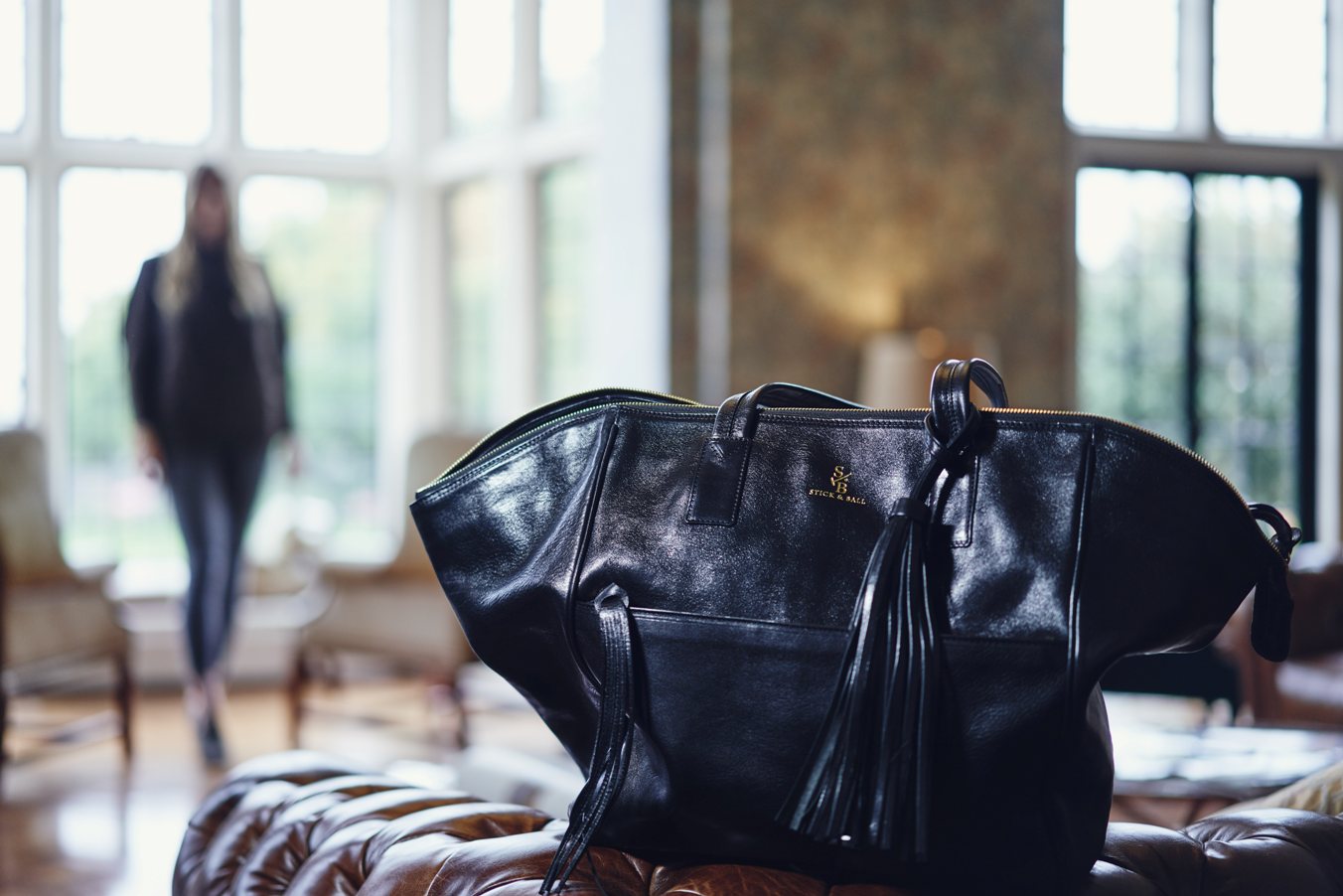 Stick & Ball Leather Palermo Soho Bag $1295
HL: What would your advice be to someone just starting out in the business world?
EW: 1) Do something you are passionate about. 2) Seek mentors who have both failed and succeeded in your space.
HL: What do you consider your greatest achievement?
EW: Being a mom. Hands down, this is my most difficult and greatest achievement.
HL: How do you want the Stick & Ball legacy to be remembered? Carried on?
EW: Many brands come and go for a variety of reasons: changing value systems, financial issues, style changes. Our brand is not just about design, it is a way of life. I hope, as a sustainable, slow fashion brand authentically rooted in a lifestyle loved by so many around the world, that I can somehow pass the torch to a person or group of individuals who hold these same values.
Model: Amber Hill Wearing: Stick & Ball Alpaca Pampa Poncho, $2595, Alpaca Home Decor $255 – $595
"Find your passion and design your life." – Elizabeth Welborn
Devoted to positive change within their community and beyond, Stick & Ball's small, robust team facilitates long lasting inspiration through their curated handmade items. Their creation of enduring, sustainable designs while sharing social leadership within their communities has blessed us all. More information on Elizabeth Welborn and Stick & Ball can be found at www.stickandball.com.
As Elizabeth Welborn would say, "Find your passion and design your life."