The key to a restaurant's success begins with adaptability
A BOTTLE OF BUBBLY. THE SMELL OF AN OLD BOOK.Handwritten letters. Family photographs. Your favorite song. A good conversation. Your favorite dish at a neighborhood restaurant. Unaffected by the passage of time and trends and able to adapt among everchanging restrictions in place during a pandemic, the following four restaurants have proven to be timeless.
Outdoor dining at John's Grill
JOHN'S GRILL
63 Ellis St. – (415) 986-0069
It's no mystery why John's Grill has remained a family business since 1908 (originally Gerard's), but there's a mystery within the legacy of this family-owned restaurant.
A family that works together through the thick of things is sure to thrive in success—even if it's in the tenuous business of owning a restaurant. Just ask third-generation co-owner John Konstin, Jr., who spent his youth in the family business before honing his hospitality chops at the Culinary Institute of America's Hyde Park, N.Y., location. Following five years spent reading, cooking, and immersed in hospitality training, he returned nearly two years ago as co-owner of the restaurant.
He works under the guidance of his father, John Konstin, Sr., who is now able to step away from his day-to-day involvement.
A combination of several factors is essential for success. Experience counts, but so does a disciplined education and training. It also doesn't hurt to be in a prime location, two blocks from San Francisco's Union Square in a space opened two years after the 1906 earthquake and where celebrities and politicians gather to enjoy a few evergreen menu items, such as the Jack LaLanne Salad, namesake of repeat customer and late fitness guru.
Konstin, Jr. shares a story about a time when his grandfather, Gus, ran the restaurant back in the day when LaLanne requested a modification of a salad to accommodate his body building nutritional needs. The seafood combination with crabmeat and sliced avocado fit his bill of health and has remained on the menu in honor of the California Hall of Fame inductee.
In a pivot to accommodate dining during a pandemic, the Konstins now offer a 700-square-foot outdoor parklet for the safety and social distancing of diners. Heat lamps, umbrellas, and white cloth-covered tables offer comfort. On occasion, there's live music outdoors for the pleasure of frequent patrons, such as former mayor "Hiz Honor" Willie Brown. Also noteworthy are the takeout and delivery options which also offer bottles of the restaurant's private label wine.
With a history of patronage from celebrities that span from Shirley Temple to Julia Child, Hollywood stars Marlon Brando to Robin Williams, and notables such as President Ronald Reagan and today's House Speaker Nancy Pelosi, nobody has made more of an indelible impression on Konstin, Jr. than Sting.
It's typical to spot celebrities regularly in the city, he says. "The one time I paused, I wouldn't say I was starstruck, but I was excited to look over and see Sting," who was on contract with one of the theaters downtown. "Every Saturday or Sunday before his show, he would come in for our lamb chops. It got to a point where he would walk in and say, 'John, how are you doing,' and I'd say, 'Sting, good evening and welcome!'"
Sting's favorite dish is one that has been served longer than the 30 years Chef Mauricio Sibrian has been at the restaurant. These signature lamb chops were actually a menu item namesake of Dashiell Hammett's famous 1929 detective novel, The Maltese Falcon, which he wrote at the bar. Talk about timeless. This dish remains the most popular today. Konstin, Jr. says he personally grew up on the menu item that showcases Colorado lamb chops. He says the lamb is not too gamey and works well with the chef's perfected seasoning and technique of grilling.
In today's ultra-competitive market, Konstin, Jr. remains grateful his family owns the building. "It is an absolute saving grace that helps tremendously every single day," he says. Added to the staying power of John's Grill, he says, "is its consistent food, large portions, reasonable pricing, and repeat customers. Our goal is to make them feel like royalty."
Mystery solved.
The outdoor dining space at Town Hall
TOWN HALL RESTAURANT
342 Howard St. – (415) 908-3900
The stylishly sophisticated space inside Town Hall made an indelible impression on the SOMA dining scene when it opened in 2003, a time when there wasn't a plethora of fine dining restaurants downtown.
Perhaps its success is knowing how to relate to its patronage. Co-owner Bjorn Kock understands what diners crave and is happy to work with Executive Chef Justin Minnich to accommodate. Town Hall's better-known menu items include its crispy, juicy, and flavorful buttermilk fried chicken and favorites such as barbeque Gulf shrimp, andouille sausage jambalaya, and butterscotch and chocolate pot de crème, to name a few.
When posed with the question on Town Hall's success, Kock replied, "I don't think there is one singular factor that would suffice as an answer."
Cornmeal johnnycake, sorghum syrup, market compote, house-made butter
He went on to explain how a conglomeration of elements is attributable to Town Hall's staying power. For 2020, the best laid plan has been to stay openminded within an everchanging landscape and business paradigm. According to Kock, Town Hall's remained success during the pandemic correlates to a group effort of supporters, including the restaurant's ownership and management.
"Trust and support from our landlord, encouragement and collaboration through numerous Zoom calls and podcasts with fellow players in the industry, advocacy and updates from local and national restaurant associations and community organizations," says Kock of the long list of reasons Town Hall was able to successfully reopen.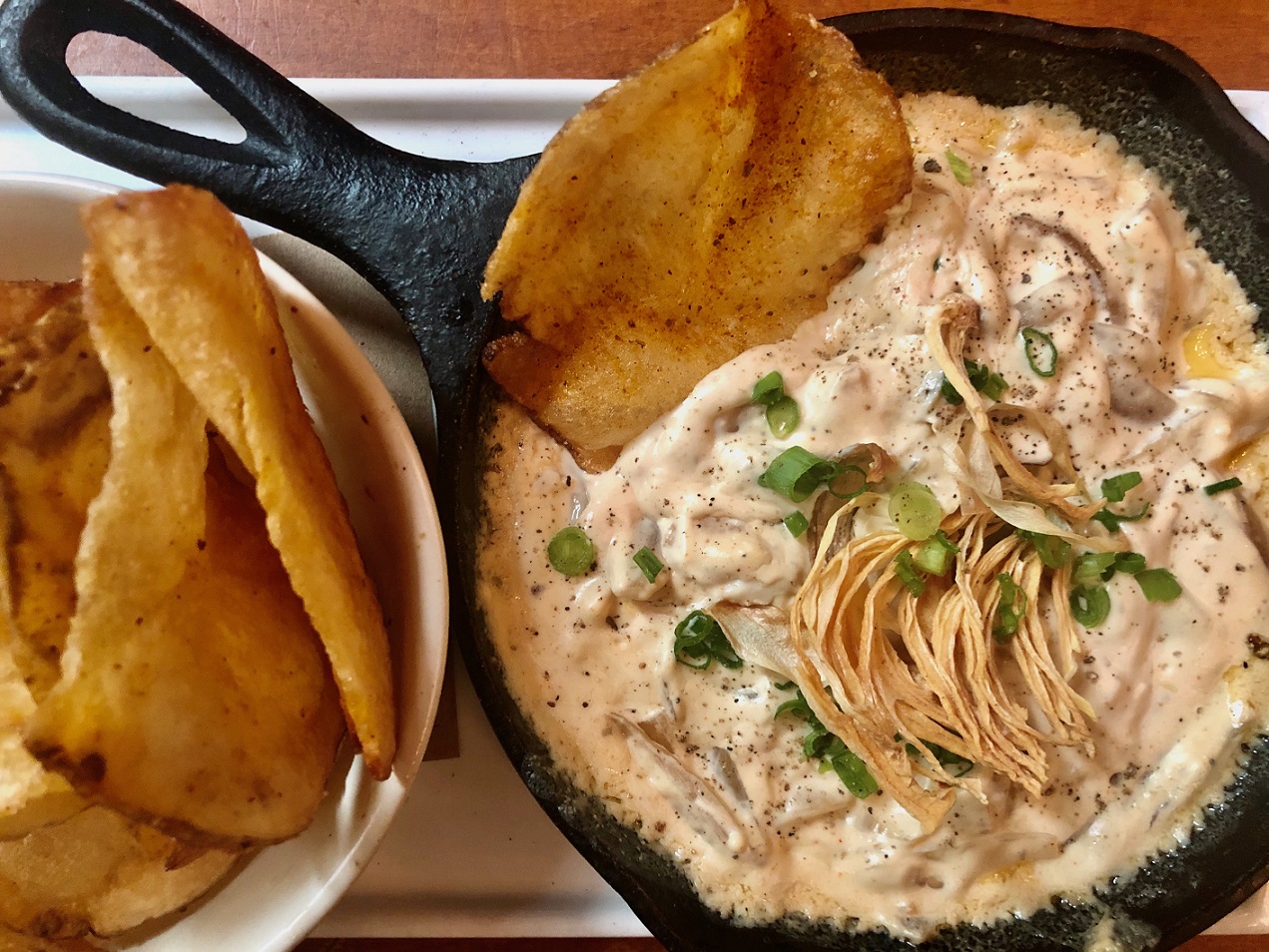 Smoked onion dip and old bay chips appetizer
"To stay open, we will rely on our amazing staff, our loyal guests, adequate local government guidance, and our own ability to adapt and respond to the needs of our guests in this 'new normal,'" he says.
For now, Town Hall has had to forego its signature restaurant buyout option, focusing on more easily controlled, seated buyout events.
Says Kock, "The idea of a large number of people walking and mingling without masks to enjoy food and drinks seems utopian at the current stage. We are looking forward to offering events again and eagerly await government guidance to do so safely and responsibly."
Blackened rib eye with brown butter garlic sauce
Competition has dwindled, which has shifted the mindsets of restaurateurs who now embrace a collaborative spirit.
"The challenge is more about the willingness to change and adapt," says Kock. "To be open to trying just about anything to see what works and makes sense in this new reality we operate in: from new operating hours, changes in menu selection, expansion of outdoor seating, embracing delivery and takeout as a new pillar of revenue—and not an afterthought—to new concepts of contactless payment and ordering."
In a time when hospitality matters most, gratitude from its patrons keeps staff spirits soaring, says Kock. "In the first week we opened, so many times have I heard 'Thank you for being open. We missed you.' While I believe some of it can be attributed to our great staff and our reputation, I also think guests simply yearn for this sense of being taken care of again and interacting with other people."
Let's not forget about the food, though. At Town Hall, the most requested dish is from the 2003 opening menu: the slow roasted duck with dirty rice, a recipe nod to Paul Prudhomme's K-Paul's. It's now back on the tribute menu as a highlight of the reopening
Scoma's fishermen unloading the catch of the day
SCOMA'S
Pier 47, Fisherman's Wharf – (415) 771-4383
Scoma's most famous dish may be the Lazy Man's Cioppino, but having a tail-to-table menu has catapulted its reputation for having the freshest and most sustainable seafood available. Founder Al Scoma was no stranger to the seafood community when he and his brother Joe opened a little coffee shop for fisherman in 1965, one that quickly evolved into a restaurant that served their daily catch. Al Scoma brought his prior restaurant operating experience to the table from his days as one of six partners in Castagnola's Restaurant on Fisherman's Wharf. Scoma's also owns a 46-foot fishing boat used and licensed for the annual salmon and crab seasons.
"Our restaurant is proud of our longstanding relationships with the local fishing community where we source most of our seafood," says Melissa Amato, director of marketing.
In fact, guests can watch the fishing boats pull up to the restaurant's fish receiving station to witness the day's catch before it's artfully served on their plates.
Open for over 50 years, Scoma's remains an iconic restaurant on San Francisco's waterfront. Beginning with its founder, the core of Scoma's mission is loyalty to its guests, the team, and the community.
"We have seen multiple generations grow up over the years," says Amato of its guests and team, the latter deemed one of Scoma's greatest assets, with a union staff count surpassing 130 employees, some having worked at the restaurant for over 40 years.
Scoma's Lazy Maa's Cloppino, it's most popular dish
Keeping community relations intact, Al Scoma's involvement and philanthropic efforts with local organizations span from the local police and fire departments to the Boys & Girls Clubs of America. Deemed a cultural asset to the city of San Francisco for its longstanding, community-serving ideals, Scoma's has been officially recognized as a Legacy Business.
Evaluating the year 2020, Scoma's has had to shift and pivot much like everyone else.
"During our 55 years of business, we have expanded to meet the evolving needs of our community," says Amato.
At the onset of the pandemic, Scoma's focused on to-go food options and has since expanded to open its waterfront outdoor dining on the pier. They've recently added brunch offerings, and—to the community's delight—a "Happiest Hours" menu.
"We are truly a legacy business that is progressive, never resting on our laurels, protecting the environment, adopting sustainable practices—and we give back whenever possible," says Amato.
Pier to plate can be witnessed on any given morning, when one can easily spot local fishermen as they pull up to the pier to supply the freshest fish to Scoma's. The restaurant's most popular dish, the Lazy Man's Cioppino, is named for its ease to the diner—served out of shell. It's rich, tomato-based, house-made broth is filled with a mix of seafood stew, including the area's indigenous Dungeness crab. This is a dish that could muss up a diner's shirt, so a bib is served with every order.
"Cioppino is a special dish that originated right here at Fisherman's Wharf from the Italian immigrants working as fishermen in San Francisco," says Amato. "It is the dish that keeps generations of locals and tourists coming back year after year for more."
Inside Scoma's, the most requested and popular dining room is the Sports Room, where a wall adorned with autographed photos of local sports legends from the Giants and 49ers is dedicated to Al Scoma's love of the city's sports teams.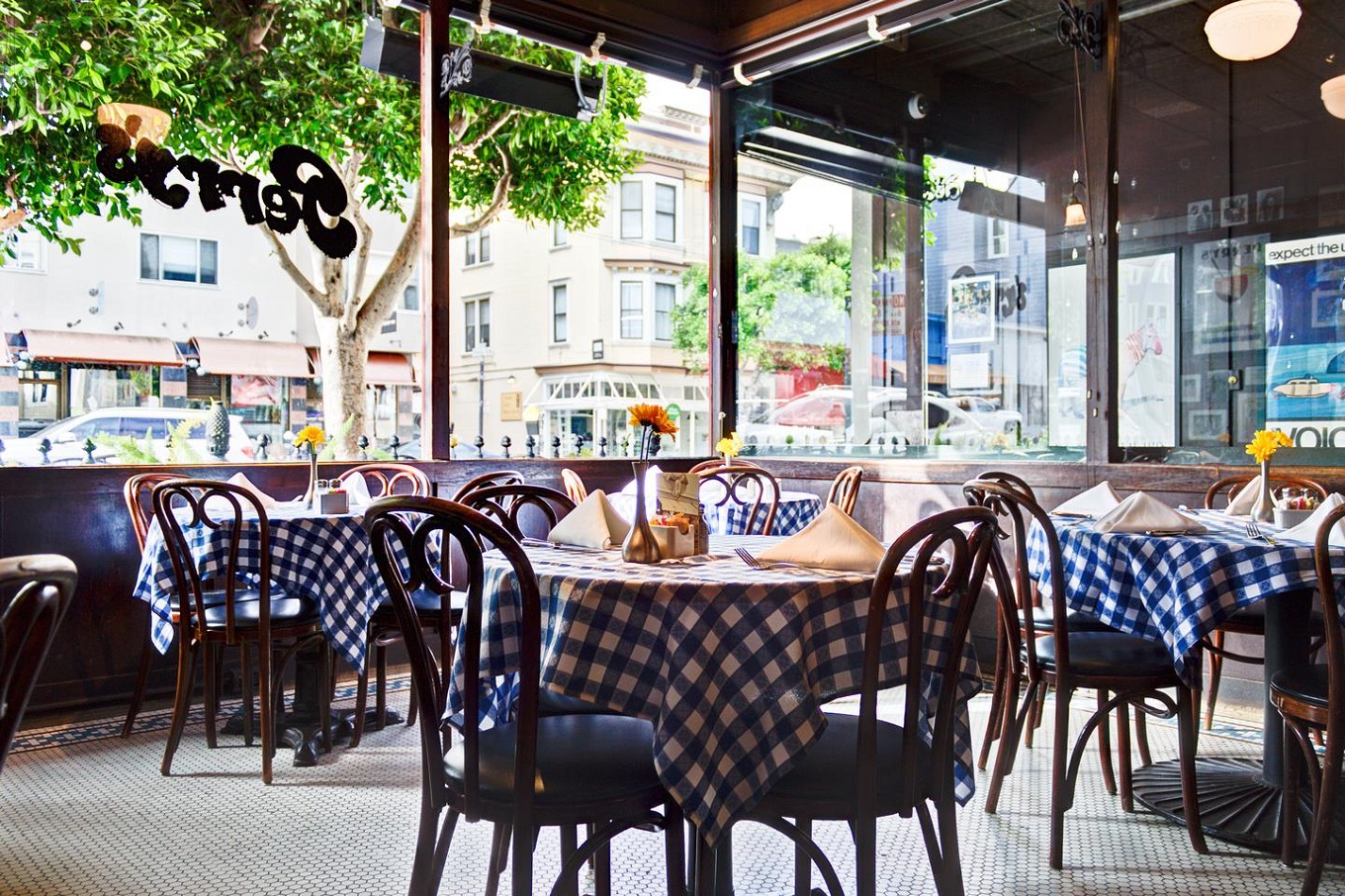 The front room inside Perry's on Union
PERRY'S ON UNION
1944 Union – (415) 922-9022
In business spanning five decades, Perry's is considered an institution on Union Street. Namesake owner Perry Butler remains at the helm of three locations (Union, Embarcadero, and Larkspur), but it's the Union Street location he refers to as "museum quality."
Butler hailed from New York City, where he formerly worked in the advertising business. He had no desire to stay on that career path, so he borrowed money from a relative and channeled his inspiration from the saloons of New York's Upper East Side. He knew what he wanted, and with certain touches—blue and white checked tablecloths, a hexagonal tiled floor, walls clad with wood-paneled memorabilia, and a menu offering of American classics—he created a cool and inviting atmosphere, not to mention a bustling bar that drew attention from customers within the San Francisco neighborhood.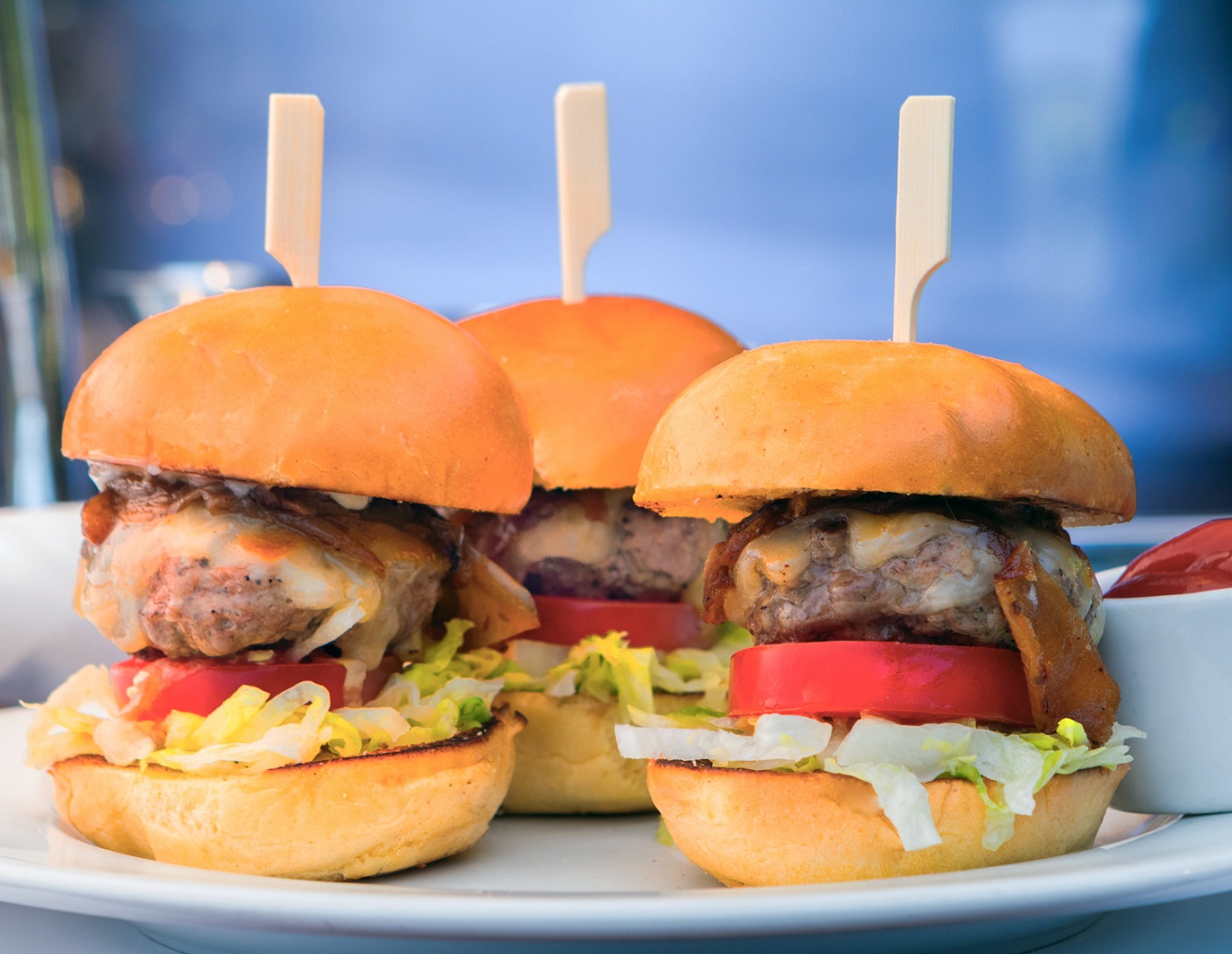 Perry's signature sliders
Butler suggests his staying power is a result of loyal patronage from the neighborhood, many who met at Perry's to become longtime friends. These friends regularly gather to enjoy a few signature dishes such as the cobb salad, French onion soup, Petrale sole, and, of course, the Perry's Hamburger.
Says Butler of the iconic, 9-ounce burger on brioche that has made Perry's famous, "My goal was to offer a thick burger with juice that runs down your chin on first bite, just like I remember during my New York days. At Perry's, it's all about the burger."
Butler's demand for consistency adds value to repeat customers who desire "good 'ole traditional food," he says. "It never goes out of style. It's nothing trendy."
The new parklet in front of Perry's on Union
Perry's strives to serve high quality food, drinks, and wine, never cutting corners, according to Butler. "That's what's made the difference," he says. "So few places pull that off."
Butler's goal has been realized with patrons who tell him they can't wait to come back—and they're never disappointed with repeat orders.
Today, the four sidewalk tables have been reduced to two to accommodate social distancing, and an added 40-foot parklet offers five more tables. Butler says he's thankful to have the parklet and keep his business going with lots of takeout. "There's no place like this here in San Francisco, so we went ahead with those New York principles, and I'm proud of our longevity. I'm determined we'll make it through this."