IT'S TIME TO REVEAL ONE OF SAN Francisco's best kept fashion secrets: The quickest, most comfortable way to a contoured waistline, an elegant silhouette, and a dramatic décolleté is not a diet, a personal trainer, or a surgical procedure. It's a corset made by Dark Garden Unique Corsetry in Hayes Valley. And wearing one is a literal cinch!
These corsets are made by talented women artisans who have been producing ravishing results for over 30 years. But these are not your great-grandmother's whalebone-laden undergarments. They are engineered using modern materials applied to traditional techniques for equal amounts of comfort and comeliness. They offer back support, proper posture, and the sexiest silhouette this side of Jessica Rabbit. Overbust corsets can serve as an undergarment, a very visible bodice, or the top of an evening or bridal ensemble. Underbust versions can become a visible belt or a discreet cincher. Worn mostly by those who dress as women, corsets are becoming increasingly popular with men wishing to present a waist-slimmed physique. Best of all, they can be worn with ease for hours at a time.
As we begin the Roaring Twenties of our own century, we were curious about those modern flappers who are putting their corsets back on. Autumn Adamme, the proprietress and chief designer of Dark Garden Unique Corsetry, has spent the last three decades lacing up her customers and herself.
Autumn Adamme outside of her charming Hayes valley store and ateller
"Corsets are for those who want to celebrate their bodies, accentuate their curves, and feel utterly glamorous." Adamme says knowingly. "They are worn by gala chairs and drag queens, Beau Brummels and beatific brides of all ages, backgrounds, body types, and gender expressions. That makes us a good fit for San Francisco—pun intended."
For years, corset-wearing was mostly the purview of Ren Faire folks and fetishists, with the occasional opera singer or female impersonator. But when the avant-garde adopt an item, fashion follows. Daring debutantes and not-so-blushing brides began commissioning their own ensembles, and soon Dark Garden became a destination for the gala-goers who wanted to make waves in a sea of designer duplicates.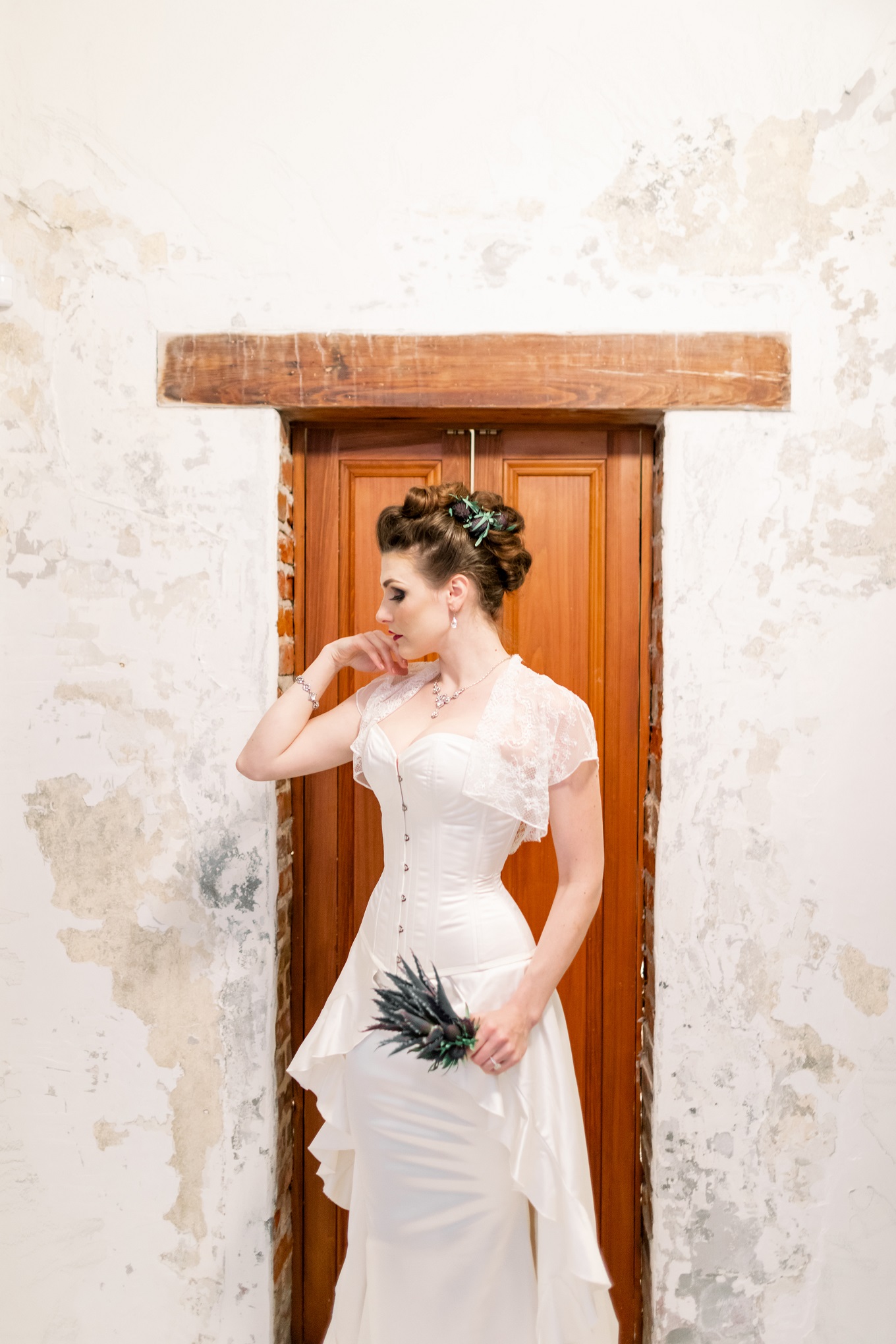 " Corsets are for those who want to celebrate their bodies, accentuate their curves, and feel utterly glamorous."
Often Adamme will dress a client for a specific party or event. "A woman requested an outfit for the SF Opera opening and the Bal de Versailles in France. We imagined a corset bodice with interchangeable skirts—a floor length for the opera and a version that shows a bit more leg for Versailles. We explored looks she loved—the color, the neckline, or the sleeves—and then put it together to accentuate her collarbone and legs, which she felt were her best features. We sketched, consulted, and took measurements to create a pattern. We made a toile, a mock-up in a lesser fabric, for a fitting, made adjustments, and did a second fitting. Then we sewed the final piece in silk tulle, with a final fitting to make sure it was perfect. She's set for next year!"
We asked Adamme about her range of projects. "I'm in the middle of a commission for a bride whose corset we made. She had a wonderful time at her reception and has worn it frequently—with a few marks to show for it. I am going to hand-apply a gorgeous French blue lace onto her sheer corset to give it new life."
Adamme has a hard time picking her favorites. "A longtime client brought in this devastating Japanese silk obi, which we are turning into a corset dress that laces all the way down the back. We've worked with family tartans. We dressed an Indian Jewish wedding using antique saris from the bride's family to make garments for the bride, her mother, and the attendants, both male and female. We've done many circus weddings and Halloween weddings, which are always a delight!"
"I guess the most powerful outfit was a wedding dress for the Matrix film director Lana Wichowsky," she recollected. "Lana had transitioned, but had grown up in a boy's body, so she had never been able to play dress-up. She was a super fun human to spend time with, and I felt completely honored to make the princess dress, to materialize a dream of what she had always wanted to wear."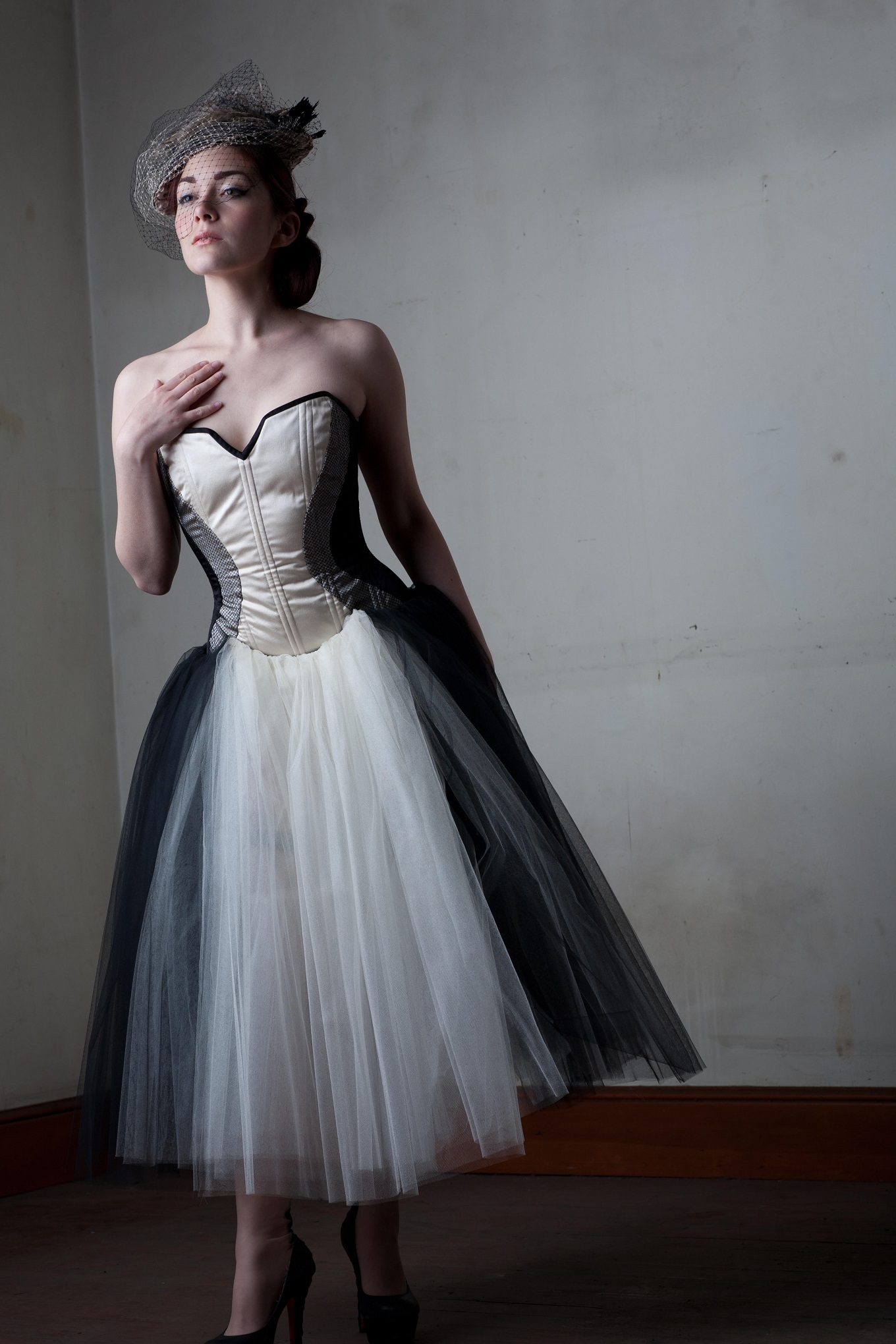 Other notable clients include Jennifer Lopez, Kelly Osbourne, and Gwen Stefani. Burlesque legend Dita von Teese appeared on the cover of Playboy magazine in a Dark Garden corset and has commissioned many more over the course of her career. Dark Garden's work has been lauded by legendary French designer Jean Paul Gaultier and exhibited at the Smithsonian Museum of Art.
Adamme is clear about her purpose. "In SF, we are a go-to for people who have felt marginalized elsewhere. We have worked really hard to create a safe place, to understand that people are trusting us with something that is very precious: their self-image."
Adamme made her first corset at age 12. "I knew I wanted to make pretty things for people. I was a latchkey kid who spent time at the local fabric store looking at pattern books and dreaming." Later, she worked at Lane Bryant store for larger sizes and "saw so many beautiful women absolutely frustrated and heartbroken, because the clothing wasn't well-fitting or beautiful." She came to San Francisco at 15 and studied fashion history and design at City College and College of Alameda, where she revelled in the millinery program. "Making hats is all about sculpting, too."
While she worked in a fabric store, customers would often asked for seamstress recommendations and she would volunteer. "I said yes, even when it was something complicated that I really hadn't done before. I just figured it out, and then the clients would come back." She founded Dark Garden in 1989. "We have weathered a lot of ups and downs as a woman-owned business with 14 full-time seamstresses."
She has been in Hayes Valley since 1996. "We survived the construction of Octavia Boulevard, but COVID-19 has been the hardest. This neighborhood has lost 20 businesses in six months," she sighs. "San Francisco has got to show up and support those businesses which are left, or there won't be any of us remaining."
COVID-19 spawned a new business line for Adamme, a highly engineered, extremely protective face mask. "I wanted to create a mask that was especially safe for people who didn't have access to N-95s. I applied my own awareness of facial structure, and did a lot of research to design one that would be truly comfortable but effective for long-wearing, running, and exercise. Mask-making helped to bring my sewing staff back into the workshop. We have made over 1,000 masks for men and women, including a member of Congress who frequently flies cross-country. We are now getting orders from other parts of the world."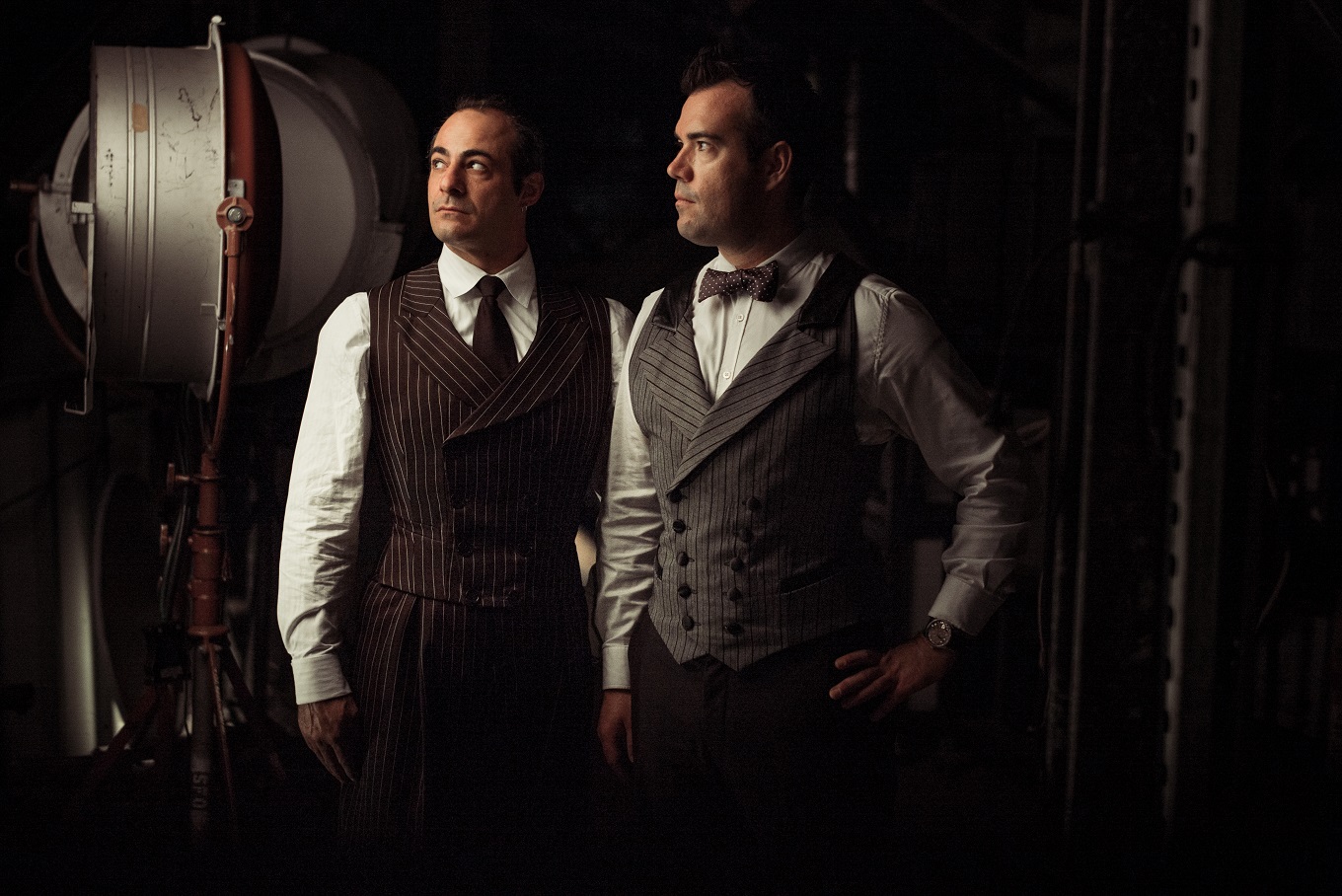 Given the chance, where would she fly off to? "We have a second boutique in New Orleans, alter ego to San Francisco. New Orleans is a really interesting place—many people have costume closets—and the exuberance is delightful. We've dressed the all-female Mardi Gras krewe called the Sirens of New Orleans and also the Merry Antoinettes whose motto is, 'Let them throw cake!' You can imagine how much fun that is!"