Thoughtful amenities and understated luxury set apart this cozy gem in the heart of wine country.
Nestled in a patch of verdure just off the St. Helena Highway, The Setting Inn's two-story farmhouse glimmers in the early afternoon sunlight. Pulling into the driveway, it feels as though we've arrived at the welcoming home of a long-time friend. The remodeled 1901 building, surrounded by lush walnut and fig trees, sits on a one-acre property located in the tranquil Oak Knoll district. The unincorporated Napa community—one of the most acclaimed American viticultural areas in California—is renowned for its moderate climate, thanks to marine influence from the San Pablo Bay and a coastal fog that rolls in from the west. Here, the vineyards are warm enough to perfectly ripen red varieties, while being cool enough for grapes such as Chardonnay and Pinot Noir.
Formerly known as the Napa Vineyard Inn, the reimagined boutique hotel debuted last June under new owners Jeff Cova and Noah McMahon, also the proprietors of The Setting Wines in Sonoma County, famously known for the world record-breaking sale of a bottle of its 2015 Alexander Valley Cabernet Sauvignon for $350,000 at a charity wine auction. Cova and McMahon preserved the property's historical landmark status, while incorporating contemporary flourishes, courtesy of Orange County's Cora J Designs, in its signature and deluxe guest rooms, as well as its premiere 2-bedroom suite located in a separate cottage.
Despite the obvious luxury—such as heated bathroom floors, a soaking tub, and fireplace—each of the oversized rooms also features delightfully homey touches, such as studio roller message boards and brightly-colored yoga mats propped up in hand-woven baskets. "The most incredible part of staying at The Setting is our ample community space and an invitation to enjoy a flight of our distinguished wines, crafted by Jesse Katz," says General Manager David Kerr. "The property is surrounded by vineyards in every direction and is an incredibly peaceful and serene location for guests to connect with dear friends and loved ones over an exceptional bottle of wine. We invite you to discover your perfect 'setting.'"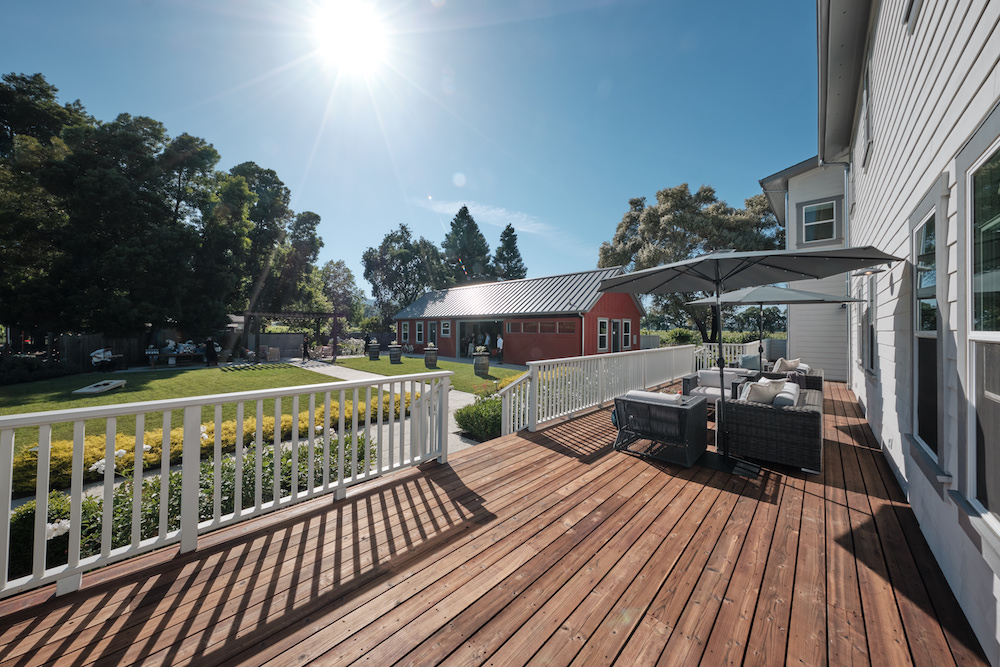 After dropping our bags off in the airy king suite, we venture out to the shared courtyard area for one of the inn's complimentary tasting for all guests upon arrival. A spacious patio wraps around the back of the house, and the suite's doors slide open with direct access to the courtyard and a semi-private nook tucked away in the corner—perfect to indulge in a little tête-à-tête. The beautifully restored barn, and centerpiece of the backyard opens to a lush green lawn fit for an afternoon game of ladder ball or early evening picnic. The indoor/outdoor entertaining space lends itself to group retreats and destination celebrations. It's easy to imagine hosting a family reunion or friends' getaway in the spacious yet cozy courtyard area.
Besides the barn's luxurious lounging area, replete with leather sofas and a communal guitar, guests also have access to a fitness center with a Peloton as well as electric cruisers complimentary for hotel guests. (Kerr is more than happy to offer pointers on nearby trails and restaurants.) The generous tasting, held al fresco under the inn's portico as the sun sets behind the Mayacamas Mountains, features a sampling of The Setting Wines' portfolio of Sauvignon Blanc and Cabernet Sauvignon.
In the morning, a daily continental breakfast featuring a tray of fresh pastries from Bouchon Bakery and orange juice is packaged neatly and dropped off at the door so as not to disturb guests. The sky is a cool gray as we raise the automatic blinds, and the morning air is crisp—scented by the surrounding stalks of towering Spanish lavender—as we step out to enjoy coffee and the picturesque vineyard views in our semi-private nook. Although the itinerary for the day ahead beckons with wine tasting at the historic Trefethen Vineyards, Castello di Amorosa, and Sterling Vineyards, among the many other gems in close vicinity, it's difficult to peel ourselves out of the inn's lavish robes and hit the road. More than just a place to stay, The Setting Inn is a warm and welcoming wine country escape to indulge in one of California's finest food and wine destinations. In just a little under a day, it has become our home away from home.
Across the lawn, beyond the sliding barn door, an Instagrammable, vertical garden boasts a pink neon sign that proclaims: "These are the days." Indeed, those words hold a bit more weight now than only a few months ago—but this stay has reminded us that there is always a moment to stop and be grateful for the ability to create our own "setting" with loved ones amid the chaos.