Wine Country's New Leading Lady of Gin
Tara Jasper, distiller and owner of award-winning Sipsong Spirits, belongs to a new wave of female distillers and craft spirits entrepreneurs in Sonoma County, joining the ranks of pioneers Ashby Marshall of Spirit Works Distillery in Sebastopol, Jenny Griffo of Griffo Distillery in Petaluma, and Caley Shoemaker of Hangar 1 Distillery just south in the East Bay.
A native of Sonoma County, Tara grew up foraging the hills and redwood forests surrounding the Russian River. Her curiosity for flavors and ingredients led her to travel the world and, ultimately, to a culinary degree, providing the foundation and inspiration for what would become her award-winning Indira Gin. Her path to distilling wasn't a straight one.
While pursuing a business degree, she continued to explore her passion for flavor and hone her savvy palate by developing new recipes and experimenting with new ingredient combinations, which she continued nurturing while raising three young children. A desire to capture the essence of her environment and the unique notes and tastes of her Northern California home led her to begin crafting liqueurs under the name Sipong Spirits. Looking for the best techniques and expert advice, she sought out local distillers. While tasting through a range of locally crafted products, she fell in love with well-made gin and there was no turning back.
Gin felt like the perfect outlet for her love of blending and infusing botanicals. Thus, her own concept was born, and she began formulating the recipe for her Indira Gin (named after two incredibly strong women, a dear friend and Indira Gandhi) in 2016. Drawn to warm spice profiles and wanting to create something utterly unique, Tara landed on 13 botanicals which generated a beautiful balance of depth and brightness, including toasted coriander, cumin, Moroccan sweet orange, lavender, hibiscus, angelica root, star anise, and pink peppercorn distilled in neutral grape spirit to add a touch of sweetness and liven the botanicals. After launching in 2018, Indira Gin was awarded a silver medal at the 2019 Singapore Worlds Spirits Competition and recently captured a double gold at the 2020 San Francisco World Spirits Competition—unexpected recognition at this early stage of her distilling career.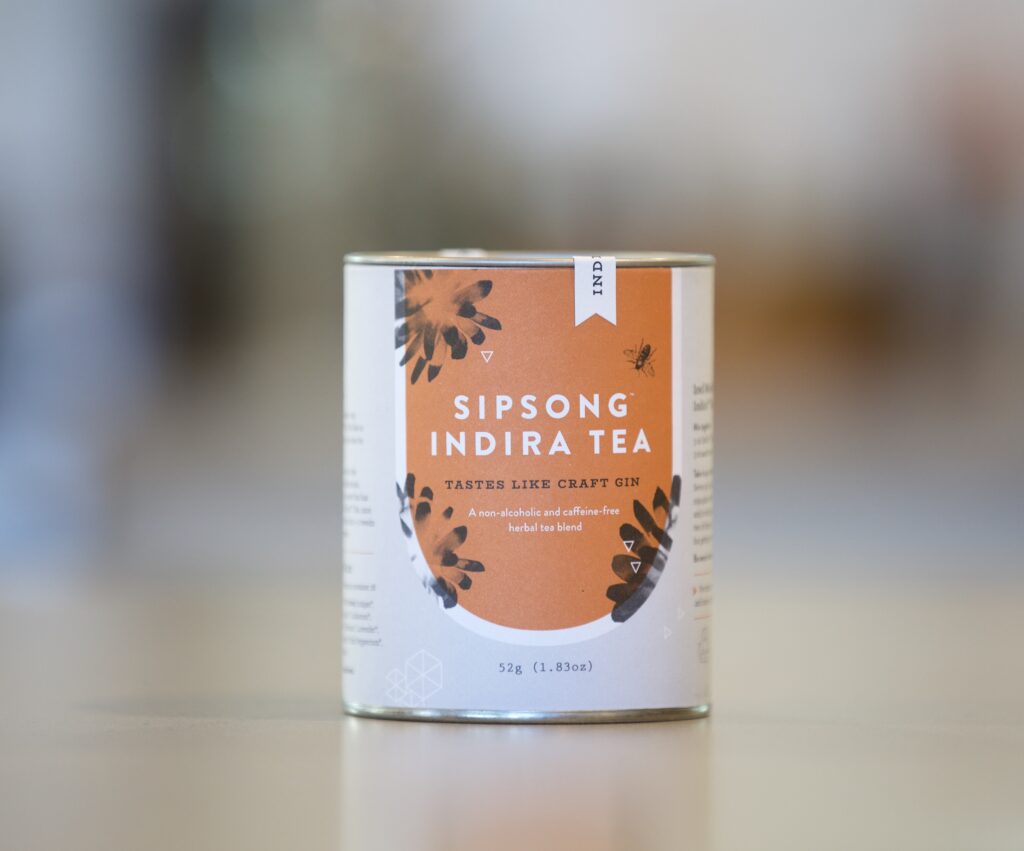 But Tara takes nothing for granted. Last year, just as she was gearing up to launch a new seasonal gin expression and a non-alcoholic botanical tea, she received news that rocked her world: she was diagnosed with breast cancer, the same disease that took her mother. As an active and health-conscious woman barely 40 years old, mother to three young children, and a philanthropist and entrepreneur who had just started to gain momentum with a brand she was passionate about, this was a difficult blow. She had dedicated years to promoting wellness and supporting healthcare access for marginalized communities as a board member and philanthropic force for a number of Sonoma County organizations—and now she was fighting for her own life.
Fast forward a year after chemotherapy and numerous surgeries, she is thankful to be cancer-free. But Tara is still fighting—fighting to ensure that women have access to information and education around breast cancer and their options, including valuable advance genetic testing that would enable women to screen for cancer genes and be able to make preemptive decisions. To support her efforts, she launched the "Fight Like a Girl" cocktail initiative to raise funds for the national breast and ovarian cancer charity, Bright Pink. Sponsored by Indira Gin, proceeds from any "Fight Like a Girl" cocktails sold at participating bars and restaurants will directly benefit the organization.
Tara doesn't want to stop there. She is looking for new ways to align with more opportunities to educate and empower women about their health and wellbeing—and, hopefully, a bright future free of cancer and filled with passion for something with purpose. For more information about Tara Jasper, her award-winning Indira Gin and Indira Botanical Tea, and her efforts to empower women and promote health, visit siposongspirits.com and follow her at @sipsongspirits.