Paint your way through the pandemic
Stephanie Block is a third generation family partner in RNDC and Young's Market Company. She holds a WSET 3 certification in wine and spirits and is a recent graduate of an Executive MBA program from both Brown University and IE Madrid. Previously, Stephanie ran St. Supéry Estate Vineyards & Winery's social media and worked Napa harvest 2016. Stephanie has championed gender equality as a national board member of the US National Committee for UN Women and once traveled the globe as an award winning travel writer. She has lived in 6 countries and visited over 80. Elle adore parler français.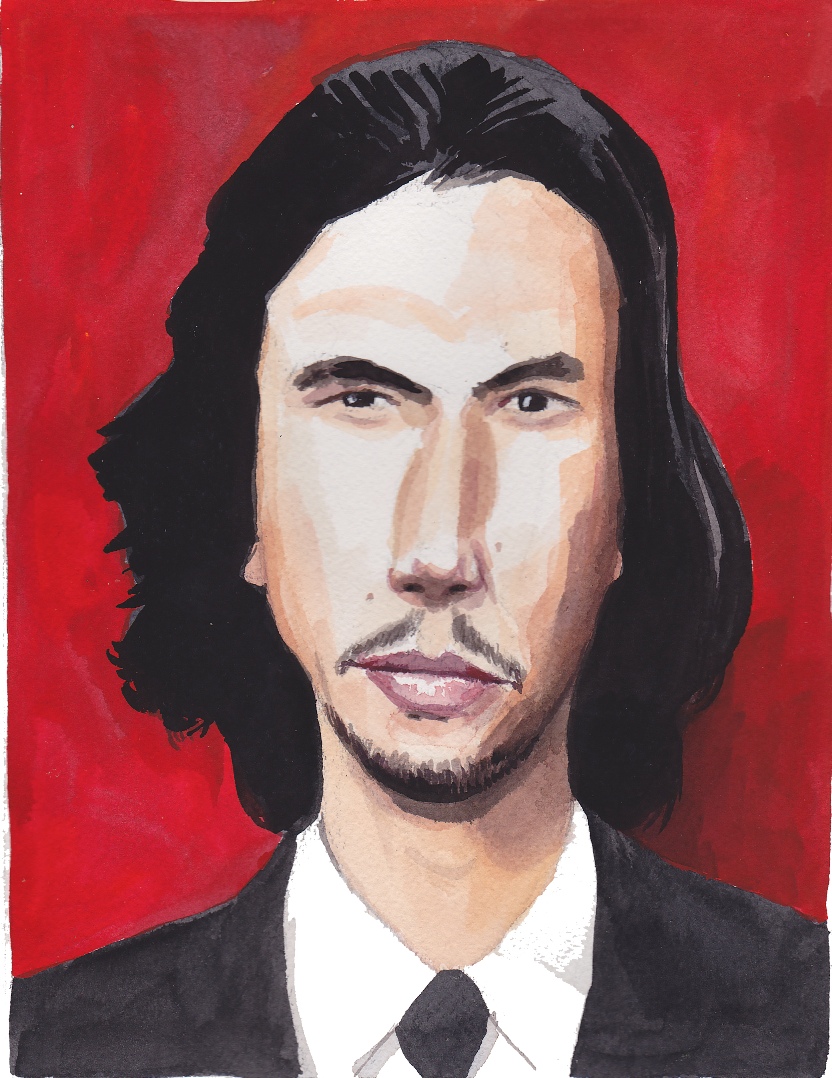 Robots, great blue herons, raccoons, and telephone boxes: these images and so many more grace my sketchpad, thanks to free classes on Instagram offered by Bay Area illustrators. Artists have been hit hard by COVID-19, so this generous sharing of skill is all the more spectacular. It creates community, fosters positive mental health, and sprinkles a little fairy dust across dark times.
Dan Bransfield and Karima Cammell are published authors and illustrators. Dan Bransfield is known for his food and beverage work, as well as fun with puns. He is the darling of restauranteurs and used to work on site with a portable watercolor set capturing chefs in action, even leaving little sketches on paper menus like a 21st century Picasso. Karima Cammell was the proprietress of Berkeley's famed Castle in the Air shop and is celebrated for the adventures of her extraordinary books' characters, such as trolls and mice.Here are the artists in their own words.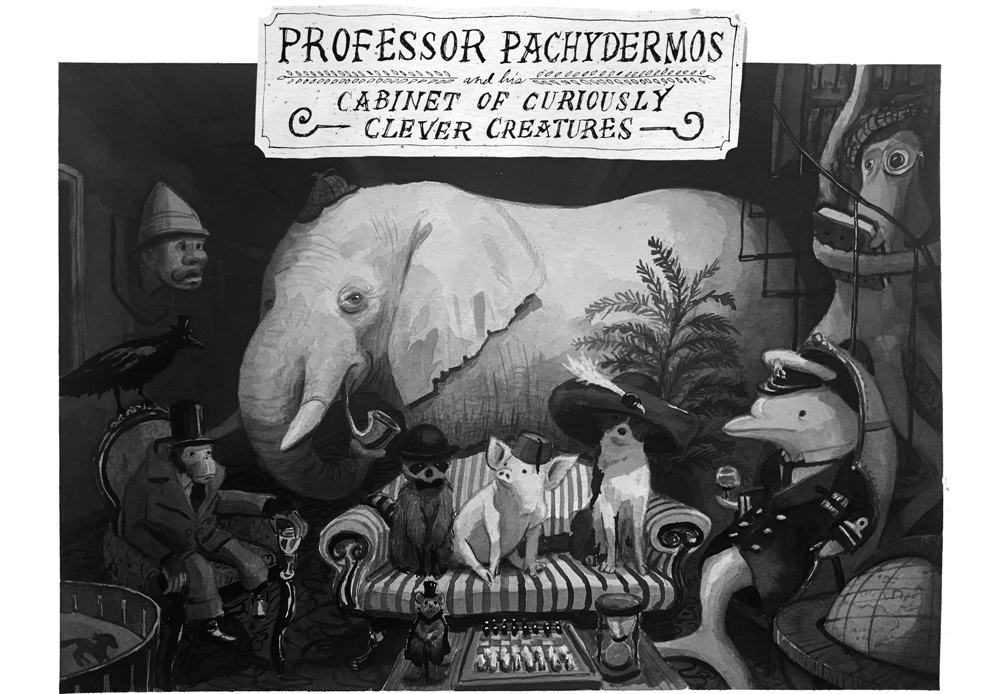 Professor Pachydermos Cabinet Of Curiously Clever Creatures
DAN BRANSFIELD:
The main reason for doing these live painting sessions on Instagram is that it's a fun way to "hang out" with my family back in Chicago and anyone else who wants to drop in. It also acts as good exercise to see just how much I can create in about an hour. As a freeform and loose format, everyone is free to chime in and throw out suggestions for subject matter, ranging from robots to wine. In any case, the sessions are typically lighthearted and lean more toward the whimsical.
FOR MORE INFO:
Dan Bransfield is a San Francisco based freelance illustrator and author of Pizzapedia: An Illustrated Guide to Everyone's Favorite Food. He typically works in watercolor, gouache, and ink, and periodically hosts live painting sessions live on Instagram at @danbransfield. Visit DanBran.com to see his portfolio and peruse his pizza prints shop. From the East Bay to Philly, choose a pizza print that feels like a slice of home to you!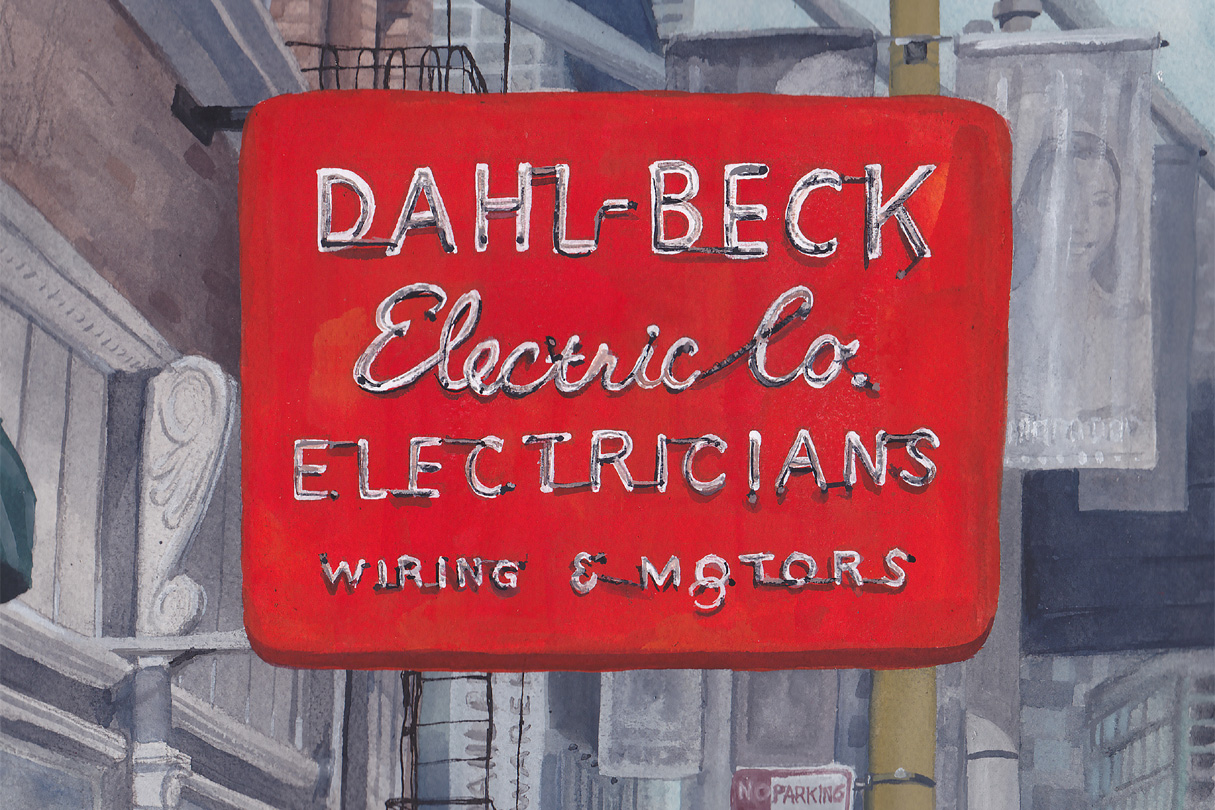 KARIMA CAMMELL:
As an artist it's easy to feel isolated, even in the best of times. A lot of my work is done alone, and I often find myself losing, in the solitude and details, the grounding sense of purpose and urgency that motivates me. That's why I love teaching. The connection to my students keeps me tethered to the value of creating.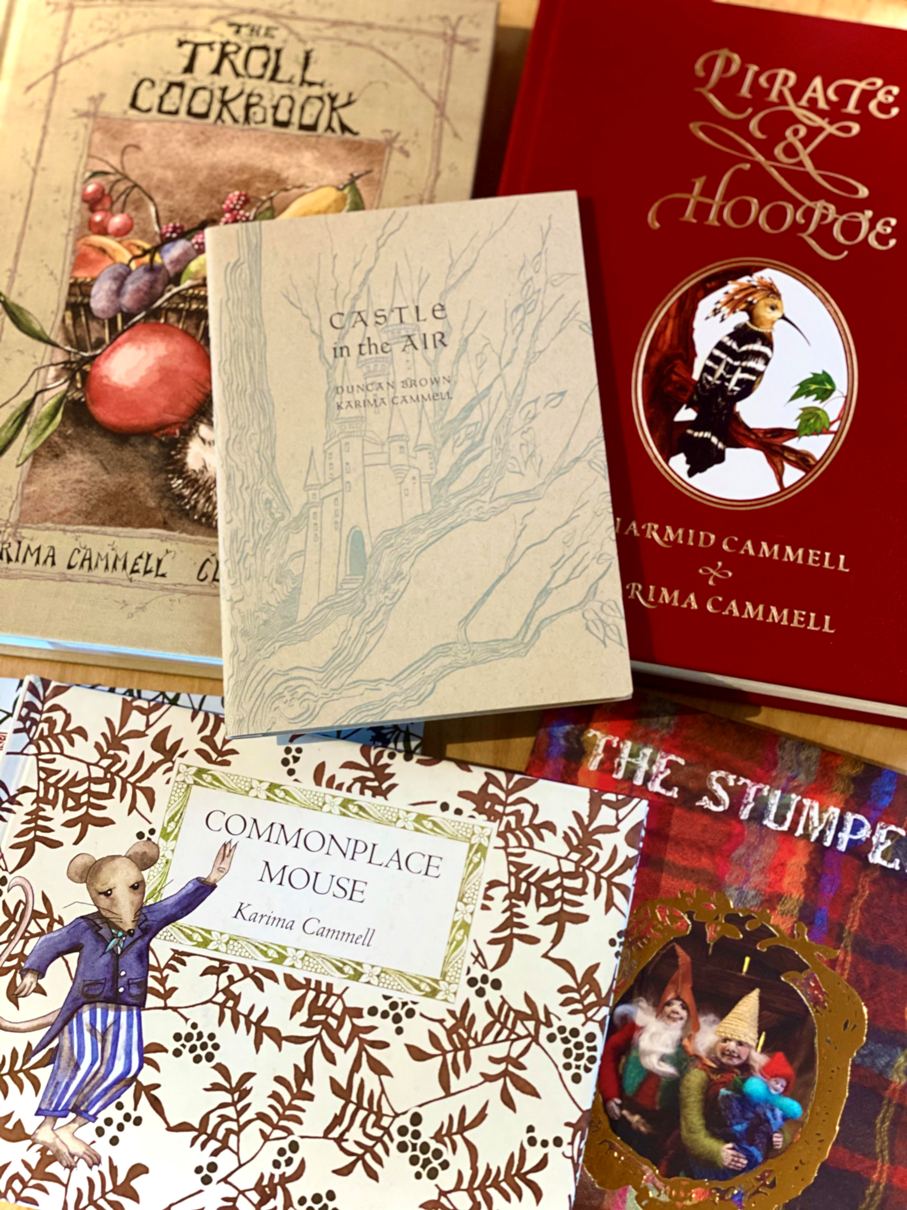 Karima Cammell's books: All of my books focus on themes of perseverance, the power of imagination and hard work, and living in harmony with nature
My name, Karima, translates as "generous" in Arabic, and I have certainly spent some time puzzling over the meaning of the word. I didn't think I was being generous when I started offering my free painting classes over Instagram. It actually felt like I was being selfish, hoping to glean companionship and inspiration from the people who would join. But if I've learned one thing about generosity, it's that the more you give, the more you have. And something truly wonderful has grown from the series, benefiting us all. It turns out that during quarantine, creating community and beautiful visions of what is possible has never been more important.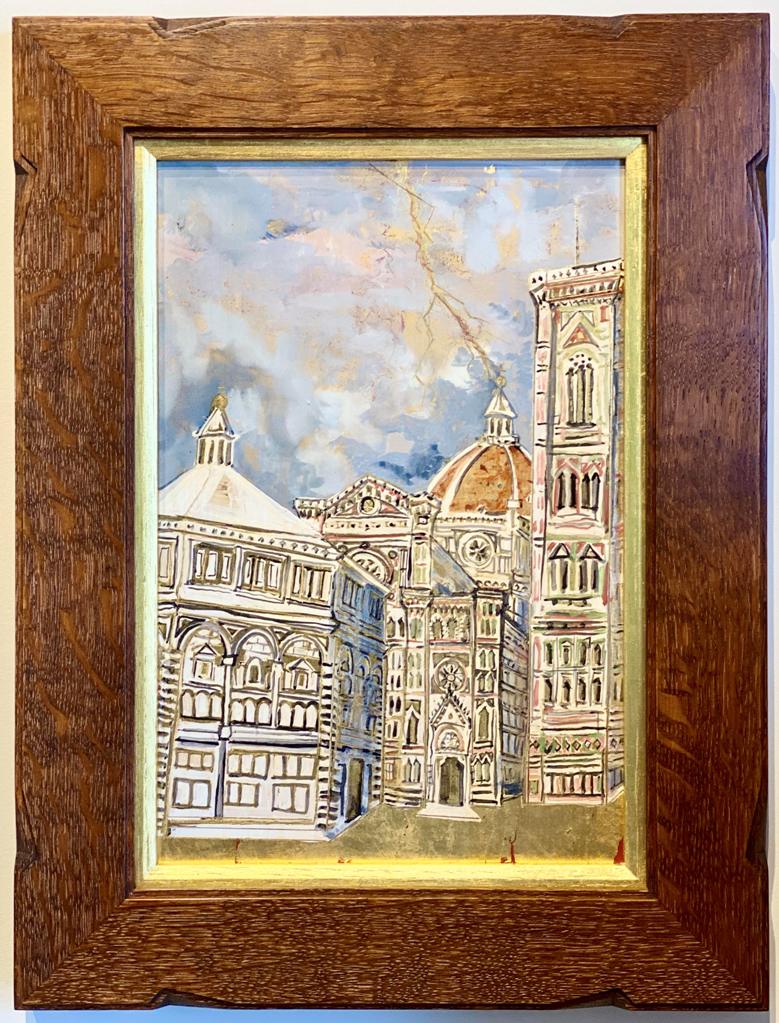 During a violent storm in Florence last summer—the hottest European summer on record—I witnessed the Duomo's copper ball being struck by lightning
I started the Sunday sessions as an easy, low stress way to stay connected. I didn't know what to expect, but the sessions have turned into a reliable moment every week for us to gather, champion each other, get stronger, listen closely to inspiration, exercise our skills, and take a moment to simply enjoy. Several times a day throughout the week, I hear from students sharing their incredible artwork and thanking me for generously organizing what has become the highlight of their week. I blush because it doesn't feel like a gift I'm giving, since I'm benefitting from my connection to all of them.
The best and worst thing about being an artist in the age of Corona is my professional imagination. Because of my imagination, and through my painting practice, I've already spent a lot of time wrestling with visions of dystopia. I spent my last "normal" day, before lockdown, in Venice, Italy. It was the height of Carnival, and I was dressed in a skeleton costume of my own creation. The day before that, I wandered the streets as Persephone, the goddess of the underworld. My sketchbook was filled with beautiful images of Venice underwater and Italy in a plague year. I was already steeped in creating a body of work, exploring hopeful and bittersweet visions of change for a solo show next year. I've titled the collection "High Water," because the tides are turning.
Dressed as skeletons in Venice during Carnival in what turned out to be a plague year. I worked on making this costume for months before the outbreak
One of the challenges of having a strong imagination is that, during difficult times, it can make my fears very vivid. In reading and talking with others, I know I'm not the only one struggling with this. It takes a lot of work to train the imagination to create positive and uplifting visions. The good news is that, if I look for them, there are plenty of beautiful things that we can imagine resulting from this crisis. The Sunday painting classes—or the gathering of "the Knights of the Kitchen Table" as I jokingly call our class—are regular reminders that positivity can find a way.
FOR MORE INFO:
Karima Cammell is a painter, author, teacher, and entrepreneur. She is the founder of Castle in the Air and Dromedary Press. Her books include Pirate & Hoopoe, The Troll Cookbook, and Commonplace Mouse. A 2 time honoree at the Berkeley Public Library Authors Dinner, she is also the recipient of a number of literary awards, including the Independent Publisher Book Award and two Moonbeam Children's Book Awards. Karima's current studies include egg tempera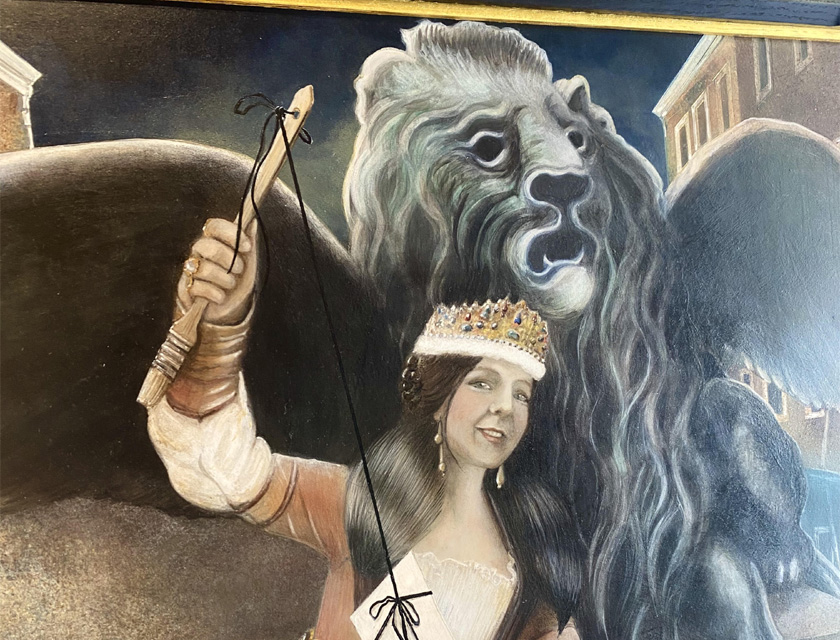 Original artwork by Karima Cammell
painting and the archetypal truths found in fairytale traditions. She lives in Northern California.
You can learn about free Sunday classes other classes offered at Castle in the Air, her art activism, published books and cards, and much more at www.castleintheair.biz, on Instagram at @castleintheairstudio, and her personal account @1castleintheair.