These utes are made for driving
Ladies & Gentlemen! Let'S Get Ready To Rumble!Fighting from the northeast corner is the heavyweight champion, the almost 3-ton GLS 63, the big boy of the Mercedes family, with muscle that befits its heft: a 4.0 liter biturbo V8 producing 603 HP and 627 lb-ft. of torque. And fighting from the southwest corner is the challenger, weighing in at two tons plus a few cases of beer, is the Alfa Romeo Stelvio Quadrifoglio, the standard bearer of FCA utes, a 2.9 liter twin-turbo V6 producing 505 HP and 443 lb-ft. of torque.
Before you place your bets on this V8 German versus the V6 Italian matchup, read on!
Let's start with the 2021 AMG GLS 63. Is it heavy? I would say so, since it tips the scales at over 5,900 pounds. But don't stop with your analysis quite yet. Prodigious torque can cure a lot of poundage ills, including inertia, and this GLS can do 0-60 in an unheard of 3.6 seconds! That number indicates that this 7-person family hauler (and grocery getter and long distance traveler and .) could blow the doors off of the GTOs, Camaros, Mustangs, and the other "super" cars of the 1960s that your car addled uncle waxes on
and on about under the heading of "they don't make 'em like that anymore, and they sure aren't as fast."
Keep in mind, this is a vehicle that can transport seven adults (well, maybe if numbers six and seven aren't too tall), plus some luggage (in back and on the roof), over hither and yon. With incredible power and pull, coupled to a 9-speed transmission and all wheel drive, all it's missing is a blade to be the best snow plow around. No doubt its amazing alacrity is helped by the 48 volt (!) electric motor shoehorned in between the engine and trans, adding an immediate boost of about 20 HP when called upon. That 48-volt system also gets credit for the GLS 63's handling, as it can tweak the antiroll system to handle body sway. You wouldn't buy this car as your next canyon carver, but it probably would outrun many of the competitors out there on a Sunday.
A lifelong petrolholic, mechanic (cars, motorcycles, boats), and automotive journalist since penning a column for his high school newspaper, internationally recognized attorney Tim Lappen is a partner at a major Los Angeles based law firm, where he chairs the firm's Family Office Group and its Luxury Home Group and is, of course, a member of its Motor Vehicle Group. He can be reached at tlappen@gmail.com.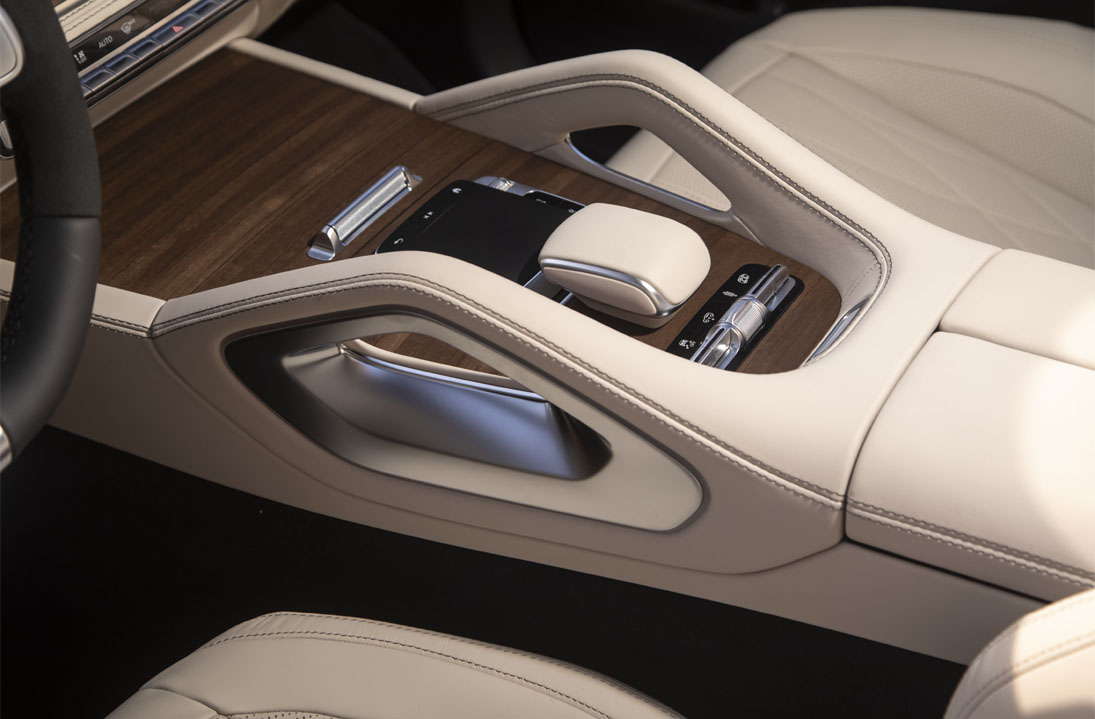 Back to my loaner. The "comfort/convenience" list on the build sheet are impressive, too: a panorama roof that seems like it's six feet long; the normal (these days) over-the-top digital display and embedded navigation system, all using Apple CarPlay and Android Auto; a high end Burmester Surround Sound system; heated and cooled front seats; wireless phone charging; and, ambient lighting that's adjustable using 64 colors (I hate those which are limited to only 50 choices).
"Mine" was no stripper, either. To a base price of $132,100, Mercedes North American kindly added about $17,000 of whistles and bells, such as 23-inch forged wheels (chaching at $4,950, the single most expensive option on my test loaner); augmented video for the nav system, plus a heads up display ($1,500); some other packages; and a carbon fiber engine cover, which looks great but runs $1,500.
I wasn't too familiar with the GLS before this loan and, I must say, I really was impressed. It "drives smaller" than it looks. Once inside, I felt comfortable and, in the few places where I was concerned about one or more of the vehicle's corners, the camera system gave me perfect guidance. On the road, it has a great ride, one which mostly requires great heft to smooth out the road. "Heft" may be the GLS's middle name. Mercedes does build heavy cars, but there are many benefits to driving a car that sits high and weighs a lot; and, with the AMG motor to make it move, it feels far lighter than it is.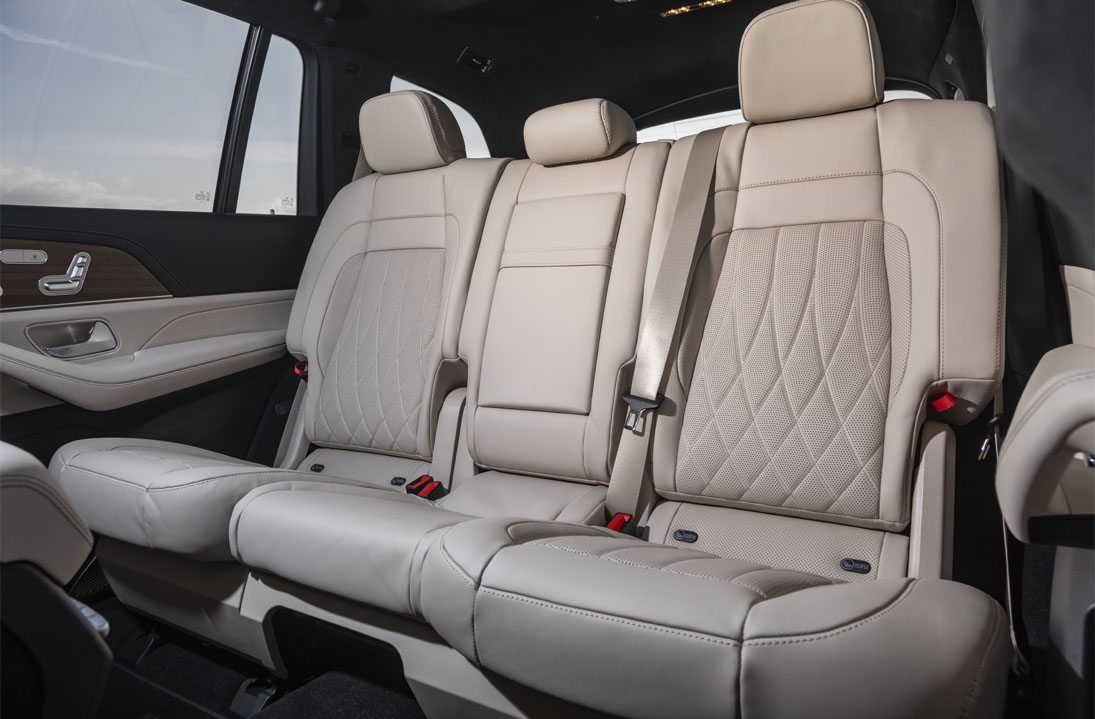 Mercedes does a great job in matching luxury with practicality and performance. The GLS 63 doesn't disappoint using any of those metrics. Nice, heavy switchgear that feels good to the touch, plenty of leather and chrome to create a great cabin, and legendary performance—acceleration, stopping, and (somewhat surprisingly) handling—allow the biggest of Berthas to cruise or streak at the driver's command.
The 2020 Alfa Romeo Stelvia Quadrifoglio looks Italian.
Carved sides and flourishes abound on the exterior, and leather and details show attention to style. The sound of the high performance V6 in the Quadrifoglio edition is worth the price of admission. (By the way, quadrifoglio means "four leaf clover" and denotes Alfa's performance versions, like AMG does for Mercedes.) The exhaust notes give clue to the Alfa's engine heritage, which may or may not be related to Ferrari (official explanations vary), but they sound similar enough to be chips off of the same (engine) block. With a twin turbo not really masking the exhaust chorus, the sound is one of the things that adds to the great joy in driving this car.
Its looks don't belie the performance at all, especially in the "Rosso" (deep red) paint of my loaner. Coupled with black leather interior and dark 20-inch rims and blacked out brightwork, one would expect that it would be a performer. One would be right and then some. This really is a 4-door hatchback with the spirit of a stoplight grand prix car. The Jekyll-and-Hyde nature of this well mannered ute, which can get up and boogie with the supercars, allows it to fit in to any milieu in which it may find itself.
The Stelvio Quadrifoglio is a lightweight only in comparison to the GLS 63. The "tale of the tape" on both cars is remarkably similar in many respects:
| | MB | Alpha |
| --- | --- | --- |
| 0-60 | 3.6 | 3.3 |
| ¼ mile | 12.0sec/115MPH | 11.8sec/116MPH |
| Top speed | 174MPH | 176MPH |
The stats diverge when it comes to size, especially length (206.4-inch Mercedes, 185.1-inch Alfa) and, of course, weight (5,927 lbs. Mercedes, 4,309 lbs. Alfa). However, other than them both being SUV-like—with four doors and a hatchback, all wheel drive, and automatic transmissions with paddle shifters—they aren't really that similar to the driver. The Alfa seats five and, due in large part to its weight, in 2017, it broke the course record for the Nurburgring Nordschleife race track for an SUV.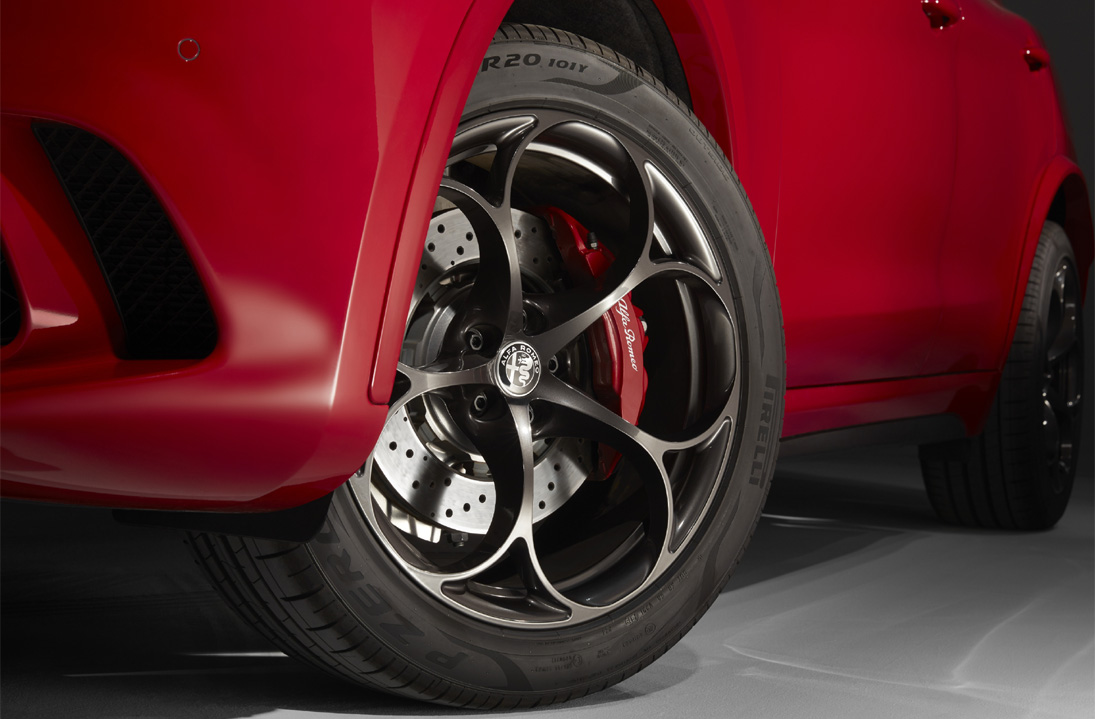 (The record then was broken by the GLS 63's cousin, the GLC 63, with "only" 503 horsepower.)
I enjoyed the "spirited driving" which the Alfa encouraged from me (sure, blame the car!), but the aural feedback was almost in toxicating enough by itself. The seating was comfortable front and back and the luggage area sufficient. It's really closer to a mid-size SUV, much like an Audi Q5, since it's some 21 inches shorter than the GLS 63. "Mine" had a nice set of options, taking the base price of $80,445 up to $97,790, including: big time Brembo brakes (that's $8,000 right there), special red exterior paint ($2,200), and the Quadrifoglio AWD package for $2,000, including driver assists like lane departure warning, blind spot notification, adaptive cruise control, and more.
I really enjoyed my time with both cars, especially due to my nature as an inveterate drag racer (don't fault me: in my teen years, cars didn't really corner or stop, so all we could do was accelerate). The GLS 63 is an amazing car that does so many things perfectly. Were I in the market for a full-size SUV, this car would be in the running, for sure. The Stelvio Quadrifoglio is terrific as well, but it feels much more "car like" due to its size and weight. For me, it would make a great second car, blending my desire for a sports car with luggage space and practicality. While the luxury and performance SUV market has many options (all of which I have experienced and have loved for different reasons including the Rolls Royce Cullinan, Bentley Bentayga, Lamborghini Urus, Porsche Cayenne, Audi Q,Jaguar F-Pace, and the upcoming Aston Martin DBX), and the midsize SUV and the hybrid/all-electric SUV markets do as well, the GLS 63 and the Selvio Quadrifoglio are terrific contenders.