At Colorado's Iron Mountain Hot Springs, a therapeutic, natural springs, set amid mountains in Glenwood Springs, near Aspen, I'm soaking in an infinity-edged, pool called Garnet, which overlooks the Colorado River. Suffused in relaxing warmth, I don't stop to think about the fourteen curative minerals, from boron to silica, including zinc and iron, that compose the water. I just ease into the peaceful relaxation of the moment. While I gaze at the view (kayakers negotiating the rapids, purple-intoned mountains piercing an immense blue sky), and listen to the combined lullaby of birdsong and rushing water, the minerals do their job. My cells drink them up with the gluttony of a thirsty child in summer. Healing (or, at the very least, extreme well being) happens effortlessly, even as I float.  Numbed to a state of languorous bliss, I occasionally come to consciousness enough to chat with my partner, before returning to my watery cocoon of floaty euphoria. Feeling hedonistic and indulgent, I note that this moment differs from other hard-earned self-care efforts—as in a strict diet or a challenging workout. Denial free, I partake of nature's gift—water, where floating cures all, mind, body and spirit.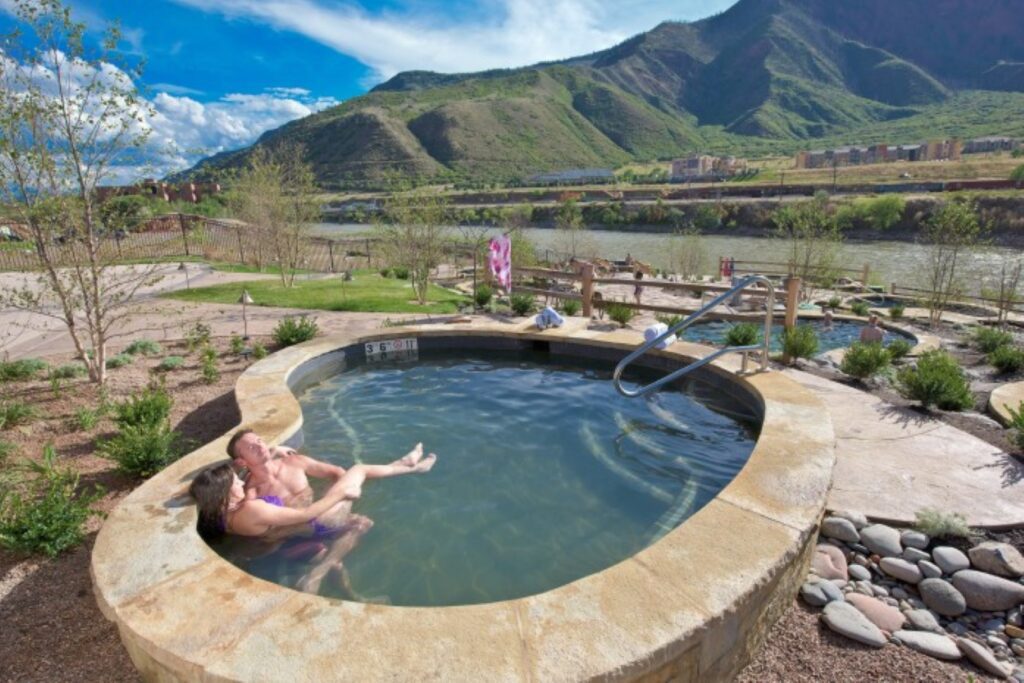 Glenwood Springs, near Aspen,  might be best known for two other geothermal classics.  Glenwood Hot Springs Resort, a mecca for health conscious swimmers since 1898, home to  the biggest hot springs pool in the world, and Yampah Spa Vapor Caves, underground steam baths reputed to aid in detox and the amelioration of ailments, from the common cold to arthritis. Both have been supplementing good health for decades. But, Iron Mountain Hot Springs, re-imagined on the site of a former bath house in recent years, adds a contemporary, European-style alternative to this long beloved spa town. Its 16 variously-shaped pools, terraced on a hill, sport different temperatures, ranging from 98 to 108 degrees. Spread out so that it never feels thronged, the retreat even has a romantic, heart-shaped pool for coquettish pursuits. A bar and cafe, plus myriad lounge chairs, lure guests to spend the day, dipping in and out of the water at 15 minute intervals—as suggested by the management. "This has been the best day of my life," says a couple to me, as they stumble from the premises, unwound and recalibrated. I couldn't agree more. 
My cells drink them up with the gluttony of a thirsty child in summer. Healing (or, at the very least, extreme well being) happens effortlessly, even as I float.
Hot springs bathing around the world dates back to indigenous people who settled around mineral-rich waterholes. Cultures from the Romans to the Etruscans indulged in the interim. But, the turn of the 20th-century brought a trendy cult of bathers (such as President Teddy Roosevelt who adored Glenwood) to various mineral rich springs for health reasons. That's when many grand hotel-cum bath houses, like Glenwood Hot Springs Resort, were built to cater to the craze. While the movement faded in the US, it continued to play an integral wellness role in places as diverse as Europe and Japan. While the geothermal pools never dried up, Americans have been rediscovering their curative powers recently. Called balneotherapy, (the treatment of maladies by immersing in mineral-heavy H20), a wellness water bath boosts the immune system, resets the spirit, harmonizes the emotions—and, can specifically help with skin disorders, lung problems, arthritis and issues from insomnia to depression.
As it turns out Colorado reigns as a hot springs hotbed. With as many as one hundred hot springs (and possibly more), the mountainous state offers a plethora of options that range from cabin-side tubs to fancy hideaways, plus all-purpose swim centers and funky havens. To experience some of the best, follow the Colorado Hot Springs Loop, a stunning 720-mile driving route that showcases five peerless geothermal destinations, and 17 remarkable facilities across the state. From Steamboat Springs to Pagosa Springs, including lesser traveled ports of call (such as stunning Chafee County), the journey takes intrepid dippers and dunkers through jaw dropping terrain for swims in world class lap pools, naturally-formed ponds, and water parks, suitable for all ages. I've submerged in wooden tubs on a hill, sat in steamy caverns. slept in a yurt steps away from the water, swam laps in rotten-egg smelly (wonderful) water, and had my shoulders pummeled by sigh-evoking waterfall spouts—all in Colorado.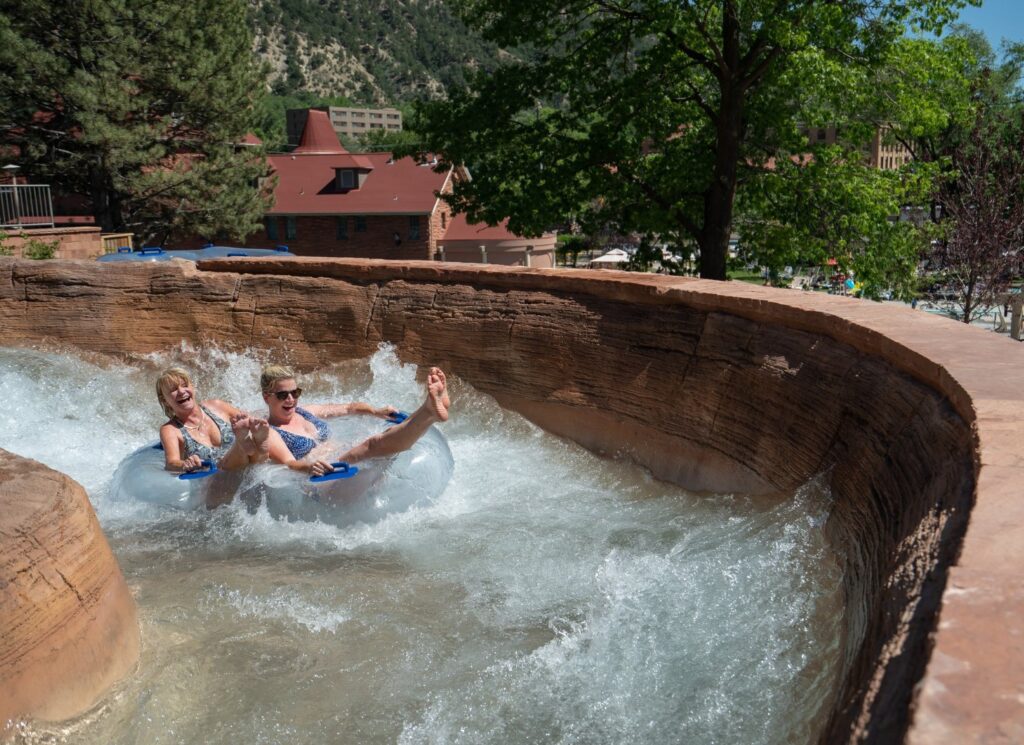 "I wish you water,"writes H20 apostle and advocate, Wallace J. Nichols, author of  Blue Mind: The Surprising Science That Shows How Being Near, In, On, or Under Water Can Make You Happier, Healthier, More Connected, and Better at What You Do. His water-revering book explains how water can bring us to wellness in many ways. Wishing you water, I mention a few favorite places to submerge in Colorado.
Dive in to Dunton Hot Springs like Maria Sharapova and Kourtney Kardashian, who did social distanced getaways here this summer.  Remotely situated near Telluride, this utterly unique, intimate retreat occupies a refurbished miner's village, restored in its entirety, amid a collection of hot springs. With 12 original cabins-turned-lavish-suites, a glamping tent and six original swimming holes, the all-inclusive luxury resort offers a slew of activities (like rock climbing) to help you earn your soak. 
Melt into a melange of 13 healing minerals drawn from the world's deepest, geothermal hot spring in southern Colorado's Pagosa Springs, at The Springs Resort & Spa, overlooking the San Juan River. Like a party for  the soul, the retreat comprises 24 pools, each amusingly named, which pepper a hill. Temperatures from 83 to 114 beckon, with a restaurant and bar on site. While day passes are possible, elevate your immersion with an overnight stay at the 79-room hotel, which friends-with-benefits- advantage means 24-access to the pools.
A family owned sanctum anchored between Redstone and Carbondale, this 36-acre ranch has 18 cabins, including a few caravan style wagons and a collection of friendly farm animals.  Far away from jarring city lights, guests have the chance to spot stars and planets they never imagined existed. Access to three on-site hot spring pools ensure all-body repose. Book Number Four, The Dog House, a canine-themed extravaganza for two. Don't forget your furry friends—they'll love it.