Auction houses are breaking records despite the lockdowns
Lalique crystal, baseball cards, classic cars, cognac. An arctophilist stockpiles teddy bears and a plangonologist covets dolls. What do collectors collect and why? Some people do it for profit, some for pleasure, others for prestige or driven by passion. The psychology of the emotional attachment some people feel toward wildly differing pursuits of subject matter is a fascinating study.
Enter Coronavirus
Evidently, it's a passion that doesn't slow when a pandemic interferes.
As consumer spending on vacations, dining out, concerts and cultural events has been necessarily curtailed, and even as retail is re-opening, some people prefer not to venture out for shopping. Shopping research surveys indicate that while we're generally amenable to spending, there's discernable hesitation about doing it in a store.
The resistance to bricks and mortar locations has created a perfect storm for a migration to online auctions. When the coronavirus pandemic shuttered in-person auctions, the houses deftly turned to their already robust infrastructure to conduct more major auctions online.
Surpassing Estimates
Today, it's a different look and feel for the world's top two auction houses, both founded in London in the mid-18th century. At Christie's and Sotheby's, widely varying recent lots have been surpassing estimates, overcoming any resistance to wholly virtual sales.
Sotheby's London comments on the trend, saying "there are encouraging signs that auction prices have been rising since lockdown."
In an online auction, there's none of the orchestrated drama of a standing-room only ballroom breaking into polite applause as the auctioneer strikes down a bellwether hammer price. In an effort to position the absence of buzz as a plus, "At Home with Sotheby's" is the cozy branding this auctioneer currently uses for online auctions conducted by self-isolating specialists for homebound buyers.
High Priced High Tops
In May, Sotheby's set a record outside the world of art when an autographed game-worn pair of Michael Jordan's Air Jordan 1s sold for $560,000, breaking a record as the highest-priced sneakers ever sold at auction, achieving more than 3.5 times the estimate. In the final minutes, more than 50 bidders of all ages across four continents drove the value up by $300,000, with 70 percent of those bidders being new to Sotheby's.
'Holy Grail' of Concert Posters
For Dallas-based Heritage Auctions, the world's largest collectibles auctioneer, the business bucked the trend, never slowing in the second quarter. As the internet's most popular auction-house website, HA.com already had more than 1,250,000 registered bidder-members pre-pandemic. As we sheltered-in-place in April 2020, an online entertainment auction garnered $1.68 million, double the pre-auction estimate.
Serious collectors' attention was piqued when a highly coveted cardboard concert poster advertising The Beatles' 1966 performance at New York's Shea Stadium went on the block. The bold yellow and black image of the Fab Four is highly recognizable due to millions of cheap copies being produced over the past half-a-century. Clearly, the real thing is a very different story; the authentic poster set a world record when the hammer fell at $137,500.
Moments later, a Buddy Holly & The Crickets concert poster, dubbed the "rarest poster on the planet," promoting the fateful January 1959 "Winter Dance Party" tour, exceeded its $50,000 estimate, drawing 56 competitive online bidders to finish at $125,000.
Pete Howard, concert posters expert at Heritage Auctions, told Haute Living, "This sale reinforced the belief that entertainment memorabilia is almost immune to most of the world's problems, large or small. Even our mid-range entertainment items performed excellently in April, which did catch us a little by surprise. People are sheltered at home in front of their computers, and it showed. They may wish to escape into the fantasy of music and movies more than ever during a crisis. Plus, there's the attraction of moving into hard assets during stock market instability. But others would say, simply, that the most magical names like the Beatles and Buddy Holly will always remain above the fray for their very best items."
Cheers to Rarity
What would you do with a bottle of the world's oldest cognac? Sotheby's London has recently offered the largest of three surviving bottles of 1762 Gautier Cognac. Bottled in the 1840s, the item clearly shows signs of age. Presenting with a very soiled label, tattered at the edges, yet wax sealed and its driven cork secure, it sold for a record-breaking $150,000 at the Distilled Spirits and Whisky Auction conducted online in May 2020.
The auction house provides details on another highlight in this 200-lot event. "The offerings in this sale include some eye-popping rarities, including two bottles of Dalmore 62-year-old previously unseen at auction, estimated at $92,000–$122,000 each.
Richard Paterson, master blender for Dalmore, created a total of 12 unique bottlings of this 62-year-old, though at least one has been consumed, making these two lots all the rarer." Twenty-six online bids for the individually named, hand signed and numbered whiskies drove the record sales price to $335,000 for each bottle.
Tutti Frutti Bracelet
The artistic creativity of iconic Art Deco Cartier design was on display in April. A coveted Tutti Frutti 1930s bracelet smashed its high estimate of $800,000, going under the hammer at over $1.3 million in competitive online bidding. The bracelet's Indian-themed design features meandering vines set with cabochon and carved emeralds, rubies, sapphires, old European and single-cut diamonds. During Sotheby's dedicated session, the piece set a new record for jewelry sold in an online sale as well as the highest price paid for any jewels sold at auction to date in 2020.
"The result achieved for this bracelet is testament to the fact that, even under the most challenging of circumstances, the demand for great art endures," said Catharine Becket, head of Sotheby's Magnificent Jewels Auctions in New York. "Tutti Frutti jewels have always held a special allure for collectors, capturing the West's fascination with the 'exotic' at a time when travel was relatively limited, much as it is today. Now, of course, we can connect with the touch of a button, which allowed us to engage with bidders worldwide."
A Game-Changing Gemstone
A rare emerald-cut diamond that headlined an online auction in June 2020 was named by Christie's as one of the "10 Jewels That Made History—and Changed the Market." The fresh-to-market gem is a 28.86-carat, D color, VVS1 clarity diamond boasting a Type IIa purity grading for exceptional transparency and purity, a designation earned by fewer than two percent of all diamonds.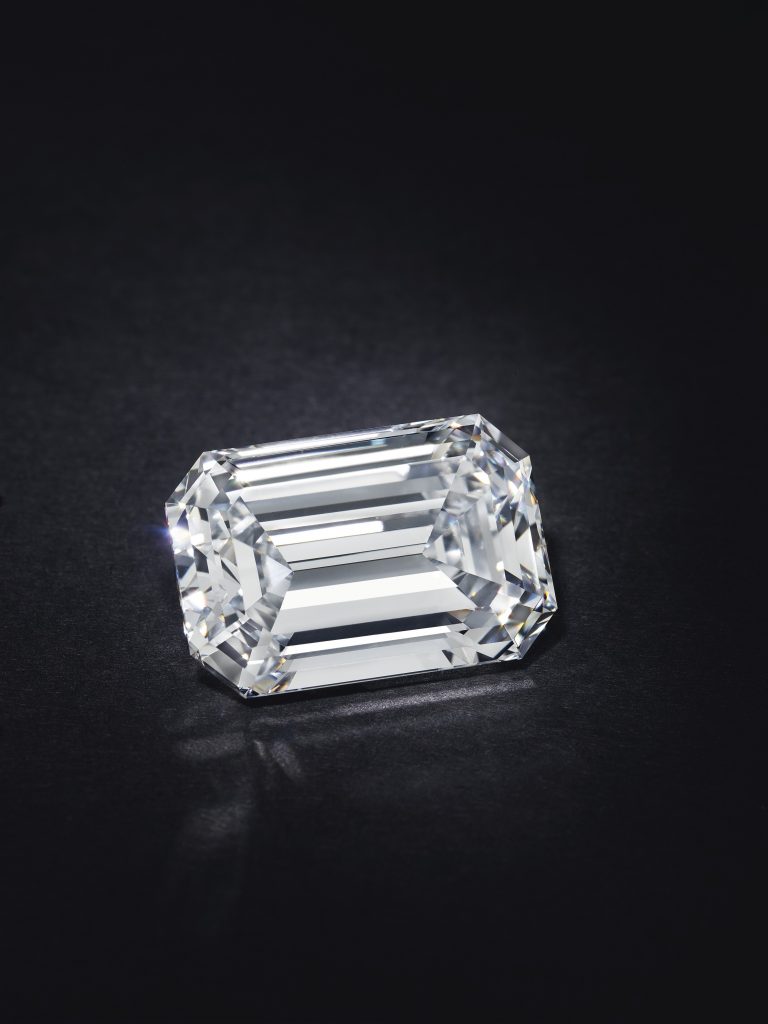 As we go to press, the diamond's pre-auction high estimate is $2 million*. Rahul Kadakia, international head of jewellery at Christie's, confirms this diamond is the highest-valued lot ever offered in an online-only auction. Yet prospective buyers will get no closer to the diamond than seeing it on their computer screen. Experts observe that the value of this rare gem signals a sea change; a move by the famed auction house to move higher-ticket items to the online sales platform, Christie's Live™.
Update: "After a fierce competition of 31 bids, from four countries spanning Asia to America, the exceptional stone sold for $2,115,000, setting the new record for a jewel sold in an online auction." – Christie's
"I Have to Stay At Home"
Online sales are reaching new buyers all over the world; as many as half have never previously transacted, according to Alex Branczik, Sotheby's head of European contemporary art. For their first-ever sale conceived start-to-finish in lockdown, Sotheby's specialists unearthed quality pieces already in London to curate a May event of big name artists including Andy Warhol, Ed Ruscha, Jeff Koons, Bridget Riley, Ai Wei Wei, Anish Kapoor, Robert Indiana, Gerhard Richter, and Damien Hirst.
In a tribute to the pandemic situation, the sale was titled "I Have to Stay at Home" after a 1986 Martin Kippenberger painting that was included. The event saw a 2018 artwork, "Woman with Golden Hair" by contemporary American artist George Condo, go well above its estimate to achieve $1.72 million. The success of that lot surpassed the $1.3 million paid for Condo's "Antipodal Reunion," which one month earlier had become the most expensive painting ever to sell at an online auction at Sotheby's.
Staying Power
According to Sotheby's data, auction bidders logged onto their "Contemporary Curated" art event were from 36 different countries, including more than one-third under age 40 and new to the auction house.
Referring to the online move prompted by the pandemic, Sotheby's CEO Charles F. Stewart commented on the "resilience of the global art market," saying that Sotheby's had "invested heavily in technology to ensure that we have the very best digital tools in the marketplace."