"It just takes four steps to have great skin," says Linda Ross, the mastermind behind a line of unisex skin products sold only in some of the world's best spas.
"It just takes four steps to have great skin," says Linda Ross, the mastermind behind a line of unisex skin products sold only in some of the world's best spas. Created in Beverly Hills, a city famous for its pursuit of beauty, the Linda Ross collection evolved during Ross' nearly 3-decade career caring for the skin of well-known celebrities, sports newsmakers (including two Olympic gold medalists), fashion icons, socialites, and music industry legends. Renowned for the lasting glow she achieves for her clients, Ross' obsession with thorough extractions led loyal patrons to refer to her stellar results as "boot camp beauty." However, there's nothing unloving about her motivation. "Making people feel good and confident about their skin brings me great joy," she says.
Eschewing the industry standard that expects each brand to offer myriad options (which can create an abundance of confusion for consumers who feel they must pack their shelves with potions and bottles), Ross developed an easy regime, rich with result-driven ingredients. When clients mentioned they lost motivation when bombarded with too many products and steps to follow, Ross began to envision her goal-achieving, simple-to-do, skin care ritual.
"I wanted to make beautiful skin easy," says Ross. She adds, "Give me 90 days, and I will change your skin."  
Her products work for all skin types, all ages, and both sexes. Her line, exclusively made in micro-batches, utilizes eco-conscious, clean ingredients—not to mention highly prized traditional elements—such as royal jelly and propolis—used by the ancient Egyptians.  
What Are the Steps?
Daytime Routine:
Cleanse with Linda Ross Cleanser, a pretty, pink, gentle, foaming concoction, loaded with restorative ingredients, such as kelp.
Pro tip: these amazing moisturizers serve as eye cream, neck cream, day cream, and nighttime repair.
Exfoliate with Linda Ross Microderm Scrub. This eradicates the skin's top layers, unclogging pores that instantly imparts an overall, smoothing effect. Expect brighter, softer-looking skin, which can absorb products with more ease. "We use magnesium oxide crystals as our key ingredient. That's the same thing used in MicroDermabrasion machines," says Ross. The polisher also contains grapeseed oil (which hydrates, boosts collagen repair, and alleviates sun damage) and avocado oil, a storehouse of renewing vitamin E.
Moisturize with either Linda Ross Anti-Aging Cream or Linda Ross Anti-Aging Serum. With beneficial pumpkin seed oil (a trove of vitamin E, zinc, antioxidants, and omegas 3 and 6 fatty acids), plus aloe leaf's curative gel, this balm acts as a humectant and promotes a youthful skin. The easily absorbed serum, also with pumpkin seed oil, boasts a slew of herbs and other anti-bacterial ingredients, such as castor oil. Which to use? "The serum is more hydrating, as it contains a little more oligopeptide-24 which helps to slow down signs of aging and tighten the skin," says Ross.
Pro tip: these amazing moisturizers serve as eye cream, neck cream, day cream, and nighttime repair.
Protect and seal with Linda Ross Propolis and Royal Jelly Cream. This innovative blend brings the natural intelligence of bees into play. Used for centuries and chock full of nutrients the epidermis craves, both propolis (the resin-like substance bees use to disinfect the hive) and royal jelly (the product young bees make to feed the queen) have a super-fuel effect on the skin. Healing, anti-fungal, and naturally antibiotic, royal jelly and propolis also have amino acids which repair and replenish. Spread the velvety textured substance on your face, top with the sunscreen of your choice—and hit the town.
Nighttime ritual is the same, minus the polisher. How easy is that?
BONUS: The Masks:
Choose from three optional masks to upgrade your Linda Ross epidermal adventure. The Colostrum Mask, sourced from cows raised without hormones or antibiotics, improves elasticity and collagen; the Skin Tightening Mask delivers oxygen to cells and removes toxins; and, the Propolis Mask, with Bentonite Clay, employs a negative, electro-magnetic charge which opens the pores and draws out impurities.
How to Procure:
While Linda Ross continues to accept clients for facials in Beverly Hills on a referral only basis, she has partnered with a select collection of hotels and spas to offer her groundbreaking facial treatment and results-driven, spa-strength products (ideal for home use) for beauty aficionados the world over. Training estheticians on-site at top notch hotels, such as Belmond El Encanto in Santa Barbara and Ritz Carlton Half Moon Bay, Ross delivers her glow-giving, signature facial via the expertise of talented therapists at these locations. Those wishing to continue the treatment or try the products at home can buy them directly from the spas.
For Belmond El Encanto, call (806) 770 3545 or
email: spa.ele@belmond.com.
For Ritz Carlton Half Moon Bay, call (650) 712-7000 or
email: RCHalfMoonBayleads@ritzcarlton.com
More Info on Two Hotels Carrying Linda Ross in California
Belmond El Encanto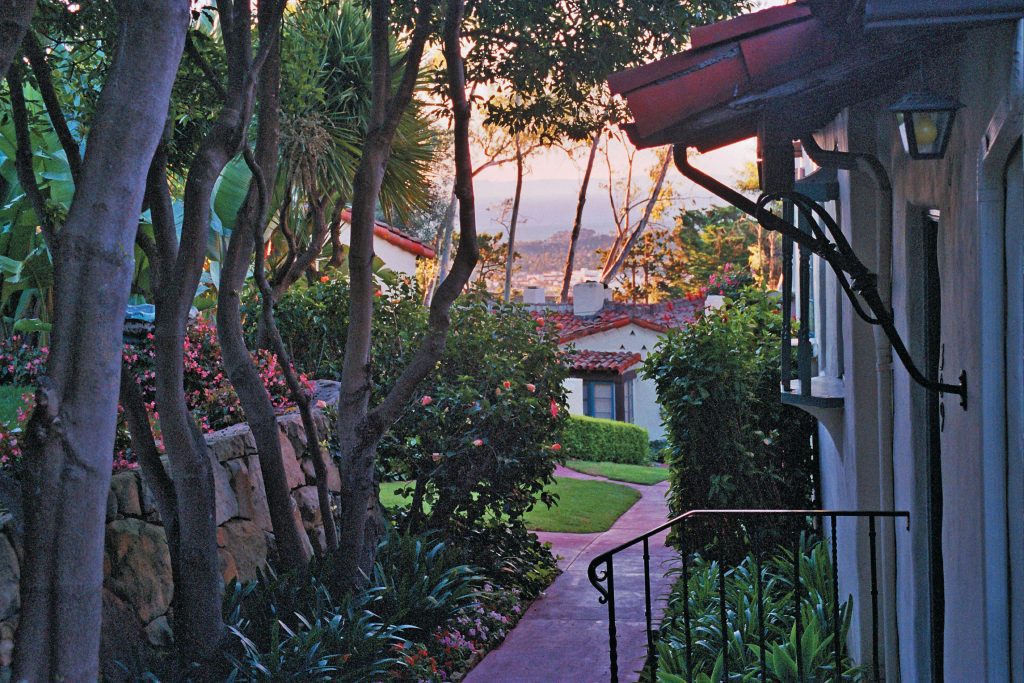 Gable and Lombard weren't wrong. This garden-ensconced, bungalow-peppered retreat on a promontory overlooking the Pacific Ocean, the Channel Islands, and charming Santa Barbara's downtown was the "it" romantic bolt hole for the silver screen's heyday crowd—and their favorite escape. It remains just as seductive today. Restore yourself around its pool and within its sanctuary-like spa, where the Linda Ross facial stands out as a signature, best-selling treatment.
Ritz Carlton Half Moon Bay
Poised high above the Pacific Ocean, Ritz Carlton Half Moon Bay, with its wood-clad, 19th-century, shingle-style architecture, references the Eastern seaboard. A veritable hideaway from urbanity, the coastal retreat has 261 rooms and a coddling spa, among other virtues. Prepare to picnic on the lawn above the unbridled sea—after your facial, of course.
Sidebar:
This Month's Picks for DIY Beauty and Care:
Rodial Snake Freeze Jelly Eye Patches 
Freeze, smooth, and blur away fine lines and wrinkles with Rodial's funky jelly eye masks. Introducing a new texture to the eye mask category, the patches have a thick gum material. It molds to eye contours to deeply deliver its stellar ingredients. Available at Bluemercury/bluemercury.com and Rodial.co.uk (singles $9, box $39).  
Cryo Rubber Mask
It's the summer season's new superhero. Dr. Jart+'s new Cryo Rubber Masks, made from 85% naturally derived ingredients, come with a pre-mask serum packet for maximum benefits. Choose from three mask options: Soothing allantoin, moisturizing hyaluronic acid, and brightening vitamin C. ($14) Available at us.drjart.com and Sephora.com ($14).
Every Sun Day Mineral Sunscreen
Protect yourself. This mineral sunscreen provides a powdery, waterproof layer that reflects UVA and UVB rays. Formulated with zinc oxide, it has protective capabilities of SPF 50+, shielding you while soothing your skin. Bonus Points: It's reef safe, with no nasty oxybenzone oroctinox.
Available at us.drjart.com, and Sephora.com ($39).
Rodial Dragon's Sculpting Gel 
This revolutionary, anti-aging gel plumps sagging skin to make it look uplifted, firmer, and volumized. How does it work? Dragon's blood, of course—and that's not an ingredient dreamed up by Harry Potter. It's the sap of the Croton lechleri tree, which forms a second, skin-like film around the face to protect, smooth, and reduce redness. Available at Bluemercury (bluemercury.com) and Rodial.co.uk ($108).