Mark Rhoades
For the past dozen years, Mark Rhoades and San Francisco's glittering Annual VIP Pride Party have been synonymous. Importantly, San Francisco is equally proud of Mark Rhoades.
How did a Central Valley small town guy who moved to San Francisco for the LGBTQ community embrace his adopted hometown in such an impactful way that City Hall proclaimed an official "Mark Rhoades Day"?
HL: First of all, why San Francisco? What does this city mean to you?
MR: Moving from a small town in Central Valley, I picked San Francisco as a stepping stone to Los Angeles but ended up staying. I love San Francisco so much and feel continually inspired by the gorgeous views. Diana Vreeland once said, "There's only one very good life and that's the life you know you want and you make it yourself." That is what so many of us LGBT folks have done by moving to San Francisco and living the life we wish to have.
HL: You've got half-a-dozen professions rolled into one brand: PR consultant, event planner, publicist, fundraiser, LGBTQ leader, networker extraordinaire. How do you manage it?
MR: I feel like they all overlap in a good way and I totally enjoy working on a few projects at once. The right side of my brain is managing an event while the left side is pitching a client's story. The key is my to-do list where actions are religiously ticked off every single day.
HL: Tell us about one or two of the most memorable moments across all that you do in the community?
MR: It was a once-in-a-lifetime, red carpet event — a Castro Theater screening of "Wilde Salmone" directed by and starring Al Pacino in a film about Oscar Wilde. The opportunity to bring Pacino to was thrilling. And because I worked with Wells Fargo and Banana Republic to sponsor the screening, we were able to raise $65,000 for the GLBT Historical Society. I'm so grateful to The Fairmont Hotel, which pulled out all the stops for me as well, hosting a gorgeous after-party in The Penthouse.
Everything came together beautifully when my research indicated that Oscar Wilde had visited San Francisco in March of 1882, so we scheduled the screening to mark Wilde's birthday on March 21, also the 150th anniversary of that visit.
We sold out at 1,200 capacity a week early and attracted all three major news networks and an eclectic A-list crowd that the Castro Theater doesn't usually see: Joan Chen, Peter Coyote and Stephanie Coyote, Phil Bronstein, Kamala Harris, Jeff Adachi, Karen Caldwell, Tre Cool from Green Day, Dita Von Teese, Jean Paul Gaultier. No one can believe how fortunate I was to get Jean Paul to attend with Dita in tow (persistence pays!)…but that's another story.
By the way, this opportunity came to me because of another key event in my life, the Pride Party I've hosted for 12 years. It brings together 400 LGBTQ leaders and personalities from all walks of life. This party is a thank you to all the women and men that give their money and their time to make our home and community a better place.
"Mark is truly a remarkable leader, a passionate advocate, and an inspiring role model."

– Jennifer Siebel Newsom
HL: What does the Castro Theatre mean to you? And what is it like to be backstage before the curtain rises?
MR: One of my great loves is the Castro Theater. Every time I stage an event there, that is when I feel like I can breathe. Meaning in that moment I am living my dream. The most wonderful feeling is the first walk-through when ideation and imagination take flight. Before an event, the buzz of being backstage is the best! Giving a short speech on stage is so much fun! If nerves kick in, they quickly disappear in front of all my friends. What an honor to do that. I'm so grateful.
HL: How do you define success?
MR: That is a very good question! It's highly individual, of course. But for me, success is having a lot of good friends, being a good friend to others, being part of a community. Success is the joy I have for helping clients: staging events, getting that big coverage, creating excitement and making that deserving something really sing. I know and respect when it's time to get out there or when it's time to stay in the background and shine the light on someone else.
HL: In addition to Al Pacino at the Castro, what were the highlights of your professional career?
MR: I cannot tell a lie: Having my name on the Castro Theater marquee when I brought Kathy Griffin there to show her documentary was amazing. Also, receiving a proclamation in 2017 when Mayor Ed Lee recognized Mark Rhoades Day in San Francisco. More highlights: I have worked with Billie Jean King, Governor Newsom, Jennifer Siebel Newsom, Fashion Designer Naeen Khan, Supermodel Pat Cleveland, Comedian Sandra Bernhard, Fashion Designer Stephen Burrows, Ross Mathews, Kevan Hall, Kathy Griffin and loved every minute.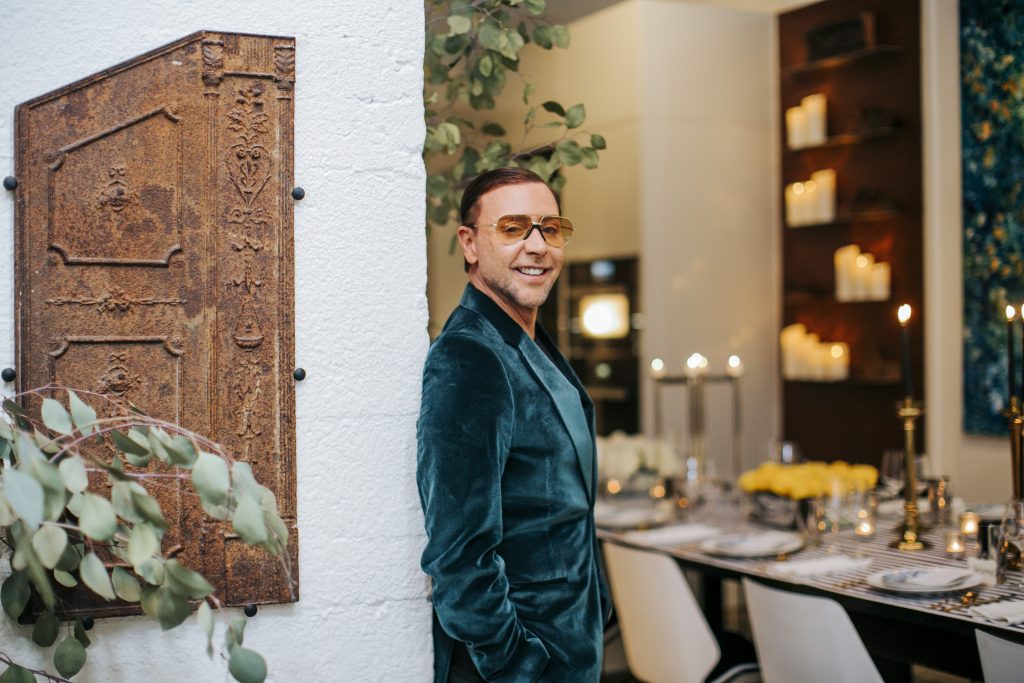 HL: If you were to host a dinner party with the perfect guest list, who would get a seat at your table? And why?
MR: I would need to think about this to fill all the seats. But, off the top of my head, I can tell you it would be dinner for two. Just Oprah and myself. That's it.