This female entrepreneur is making a greener world
Robin Nielsen, founder and CEO of Mavericks Builders, grew up in a construction family. While still in her teens, she started building skateboard ramps and tree houses, a hobby that used both her exceptional math skills and artistic talents. Nielsen took an interest in model homes in college, always imagining how she'd alter the lesser-priced ones to look more expensive. Before long, she was flipping houses. "We used to do a lot of big remodels, and I love being able to fuse the old building style with newer modern design," she said.
At the forefront of sustainable construction, her green-conscious company has moved from the Mission District and now headquarters in Napa. With work that has been published in magazines and shown on television (Discovery Channel's The Worlds' Greenest homes, House Hunters on Vacation, and more), she played a paramount role in helping to establish the LEED for Homes guidelines. Back at a time when this certification only applied to commercial structures, Nielsen was leading the charge. During this same time, she worked on the Green Building Task Force with then San Francisco Mayor Gavin Newsom and with San Francisco's city planning and building department to revise building codes to include new green building practices.
Some of the new codes incorporate alternative energy saving systems into homes, such as adding rainwater and gray water systems to homes to allow for water recycling and reuse and extending planting areas in front of San Franciscan homes. "We understand that the impact buildings have on the environment begins with the way we build and the products we use," she explains. "That is why, as dedicated green builders, we use practices and products that reduce waste, conserve energy, and create healthy spaces with a minimal environmental footprint." Of her day-to-day work, from matching a client's budget for their dream home to building a house in a way that has never been done before, Nielsen says simply: "It feels like magic. I continue to learn new things with each project."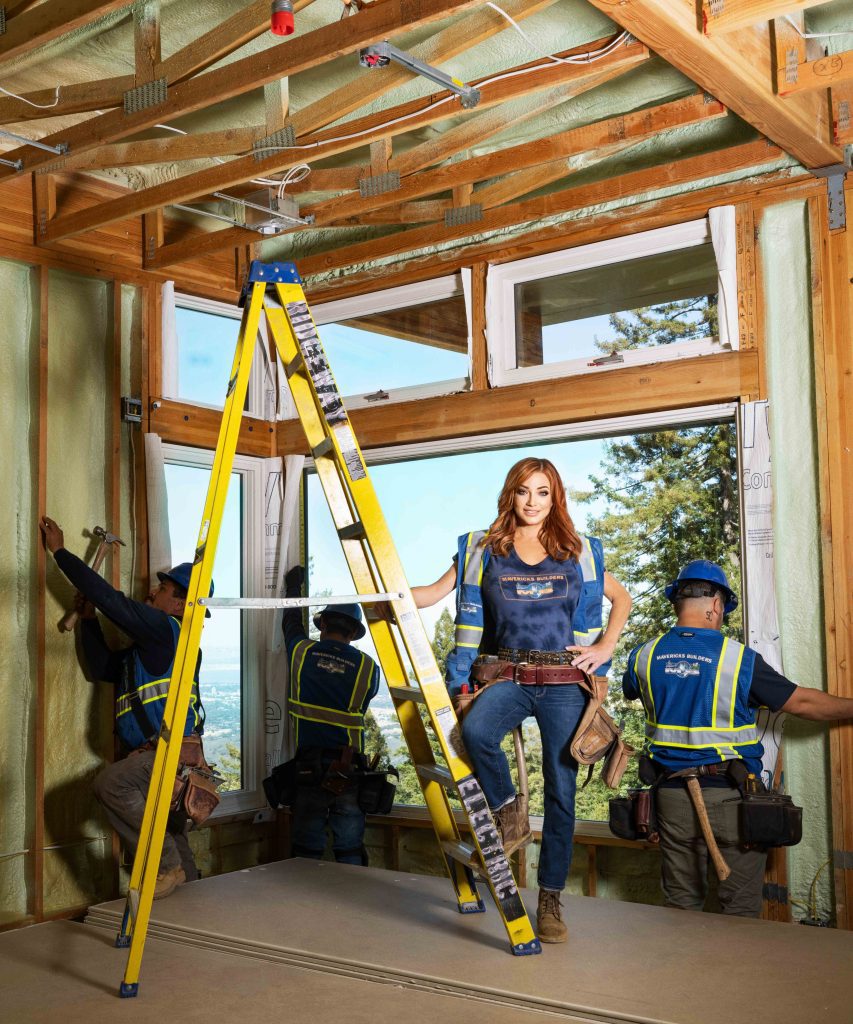 Mavericks Builders has recently expanded into the Napa Valley, working both there and in San Francisco. After two decades, they've created a legacy of hundreds of stunning, multi-million-dollar homes.
Nielsen began building several homes in the Napa area in early 2020, and she found the change exciting. "The Napa Valley style of building is different than San Francisco's," she points out, adding that she loves working in both areas. Nielsen relishes Napa's spaciousness. "We have lots of room to stage our materials and park our trucks." Unlike the city, where homes are built upward, the Napa projects can spread out more to match the landscape. "We see a lot of modern farmhouse homes, which are beautiful and fit the surroundings," she notes. Wherever she builds, Robin cherishes the projects where she can drive by and say, "We built that."
She acknowledges the work that pushes boundaries creatively and design-wise is the most satisfying: "I like building things that have not been done before, especially projects where I know we have exceeded our best efforts to reduce waste. I take delight in working with clients in incorporating as many sustainable products as possible and creating a home that is healthier to occupy."
When asked about being the only woman on the job site, Nielsen says she barely notices until someone mentions it. Her trick is to surround herself with the right people with whom she can establish mutual respect. "I have found that guys will listen as long you are knowledgeable." Known for her sustainably built, contemporarily designed, high-end custom homes, Robin utilizes a wide-reaching team of trusted employees, subcontractors, and vendors—many of whom she has worked with for decades.
Nielsen's passion for building sustainable homes is more than just a business practice. It stems from her desire to lead a completely sustainable way of life. She has passed this ethos on to her daughter, Devyn, who continues to inspire Nielsen in her quest to make the world more sustainable. Devyn, now a 22-year-old college student and organic gardener, often spent her afterschool time on various job sites with her mom and to this day claims that these memories are some of the best from her childhood. "I love it when she takes her friends on tours around the city to show them projects we have built," says Nielsen.
Another way Nielsen contributes to sustainability is by practicing a vegan lifestyle. She has been vegan since long before most people even knew what a vegan lifestyle was. For her, it is a way to live her core values each and every day. Being vegan helps her take responsibility for and reduce her own carbon footprint while honoring her love of animals. "I choose a vegan lifestyle because it's good for me, the animals, and the environment. And just like choosing a more sustainable way to build, I have chosen to live a more sustainable lifestyle," she says. "Considering that globally, animal agriculture is responsible for more greenhouse gases than all the world's transportation systems combined, it is an easy choice for me."
Since moving to Napa, Nielsen has found an additional way to be more sustainable through organic gardening. She avoids using chemical fertilizers or pesticides, while growing fresh veggies and herbs that complement her vegan cooking. "I have taken to gardening and find it relaxing and enjoyable. Somehow the food tastes better when you grow it yourself!"
In the end, though, Nielsen never stops thinking about what's new in the building world and staying abreast of it. "I like to keep updated and study trends in real estate, design, and the latest green building products," she says, quoting a statistic that trumpets the green building market as one of the fastest-growing worldwide. As she tells her clients, green building results in increased property values, the materials last longer, and they require less maintenance because she is using better quality products. "It is exciting to see how what is new one day becomes common practice shortly after. It's my goal to use that knowledge to ensure my clients have amazing homes. That's why we do this."
MORE ABOUT SUSTAINABLE HOMES
Sustainable homes use less energy, are more valuable because they last longer, and are healthier to live in. To achieve a sustainable home, Robin suggests that you:
Seal windows and doors with weatherstripping
Install double-paned windows
Use water-saving plumbing fixtures
Use recycled materials (concrete, roofing, flooring, steel, etc.)
Use materials that prevent off-gassing and keep inside air both clean and healthy
Use only Energy Star® rated appliances and fixtures
For landscaping, use indigenous plants that are low maintenance and require less water
Take advantage of natural light
Buy locally whenever possible.