Making life-long memories at the Four Seasons
"Mommy, is it 10:00 yet? I want to go swimming with Kainalu."
My daughter danced around our beautifully appointed suite at Four Seasons Resort Hualalai every morning, eager to swim with the Resort's 26-year-old spotted eagle ray. Her requests came when the sun had barely peeked over Mauna Loa, casting beams of golden light across the expansive Hawaiian landscape. My response was always the same: "Honey, it's six in the morning, he's still sleeping. How about we get some breakfast first?"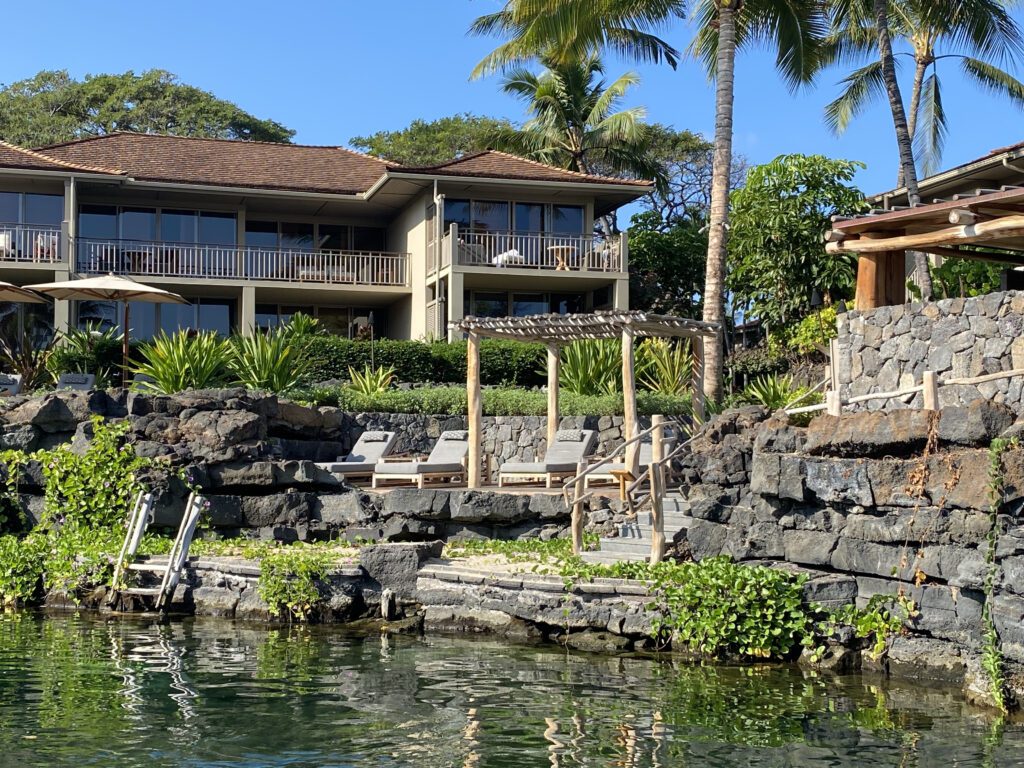 Kainalu lives a sweet life. For the past 25 years, he's called Kings' Pond at the Four Seasons Resort Hualalai home.
"He was brought to us by some fishermen who caught him. We have cared for him ever since," Madison Kearsey, natural resource specialist, shares with us during our Kumu Kai Marine Center tour.
King's Pond, carved out of lava rock, was born from the concepts of marine and ocean preservation and education. Now, the brackish pool is home to more than 1,000 tropical fish. Kainalu's other friends include Meatball, a curious pufferfish, and Hashbrown, a chill flounder rescued during the 2018 tsunami.
"He was the size of a hash brown when we adopted him," Madison tells us during our private tour. Hashbrown is now a healthy, rotund flounder, eager to nibble on snacks that Madison lets my daughter feed him and the other fish.
The Four Seasons Resort Hualalai is nestled between a pristine beach and an 18-hole golf course on Hawaii's exclusive Kona-Kohala Coast. The resort has 249 luxurious rooms, suites, and villas. Celebrating its silver anniversary, Four Seasons Resort Hualalai invested over $100 million to renovate the iconic property. The only Forbes 5-star and AAA 5-diamond resort on the Island of Hawaii, the resort's multi-million-dollar renovation marks its most extensive renovation since its debut 25 years ago. The transformation includes an enhancement of all guest rooms and suites; the expansion of its three top villas, the largest and most luxurious in all of Hawaii; a new, elevated infinity pool and lounge deck at King's Pond; the Kumu Kai Marine Center; a new gourmet poolside menu from Executive Chef Richard Polhemus; a transformation of the signature Hualalai Golf Course; and the launch of the Hualalai Golf Hale, a 3,000-square-foot instruction, practice, and entertainment facility and the only facility of its kind in Hawaii.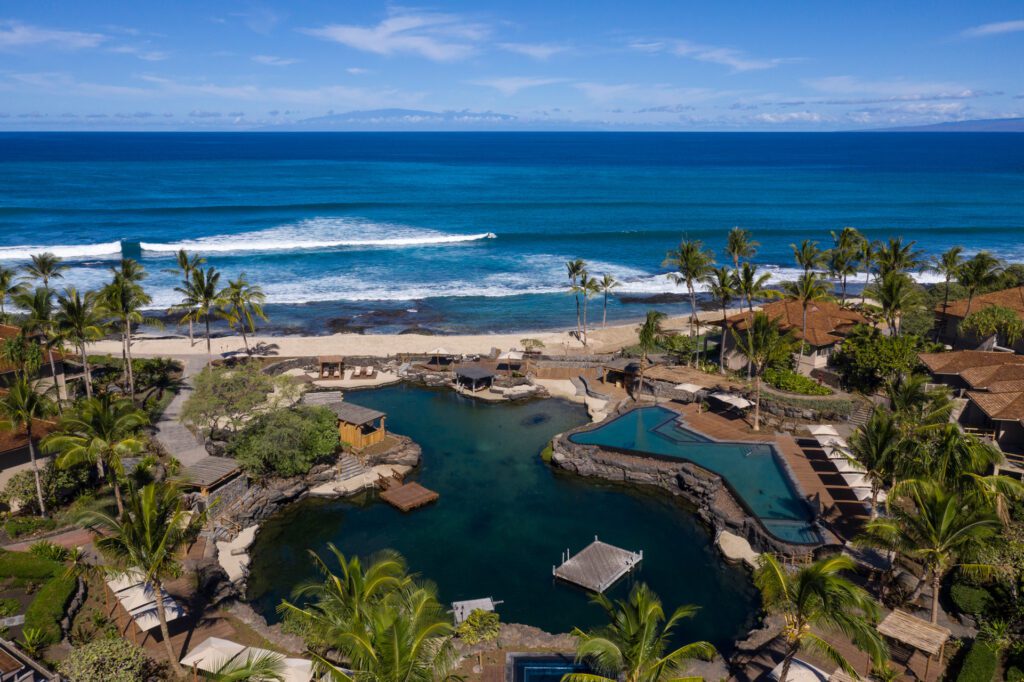 The resort layout is truly unique. Each of the four beachfront pools has its distinctive vibe. The first, Palm Grove, is the adults-only pool with a swim-up bar. Here you can enjoy chill beats in an intimate setting. If connecting with new, international friends over frothy cocktails sounds like fun, this is the scene for you. The Beach Tree pool is a serene, calm haven. If you have a book you want to read or a nap you wish to take, this is your slice of heaven. Private cabañas line the pool and are serviced by attentive staff. The Seashell pool is always abuzz with little ones playing in the shallow water. The kiddie pool is lined with soft sand, and sunscreen is readily available. There is also a manmade tidal pool swimming area—the ocean pool—that is ideal if you want to the enjoy a gentler version of the open sea.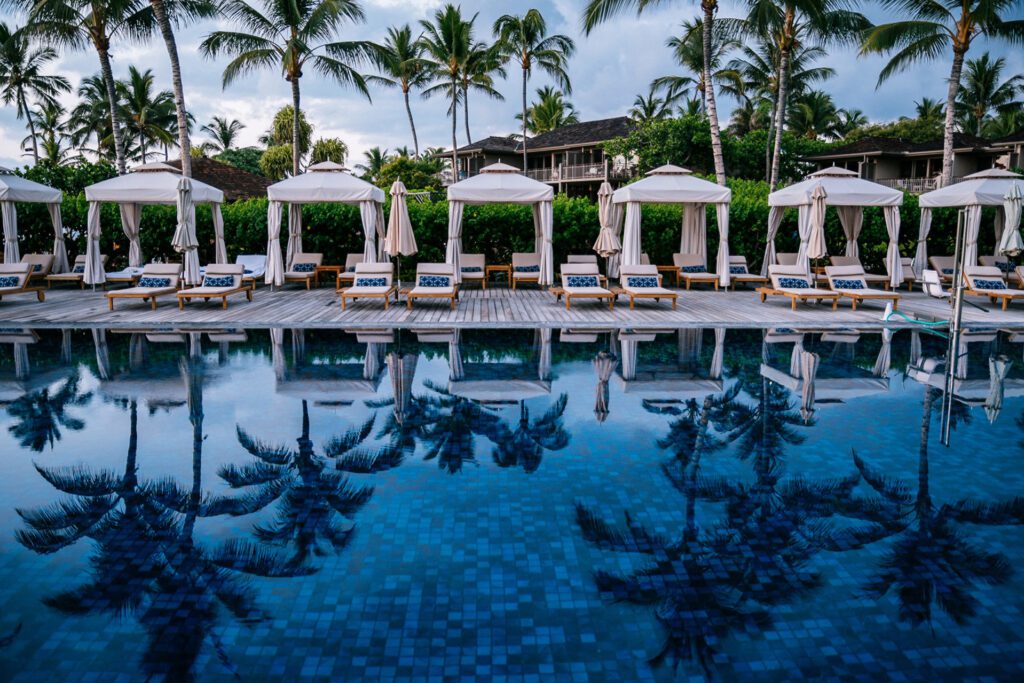 For us, the pièce de résistance is King's Pond, Hualalai's 1.8-million-gallon swimmable aquarium. Nowhere in the world have I experienced such a safe and well-cared-for aquatic environment. The afternoons we played in the pond will be some of my daughter's and my favorite memories. She spent hours snorkeling, swimming, playing with new friends, and discovering the wonders of seal life. The friendly staff offered us treats, including frozen grapes, macadamia nuts, and tropical popsicles throughout the day, which were greatly appreciated after swimming for hours.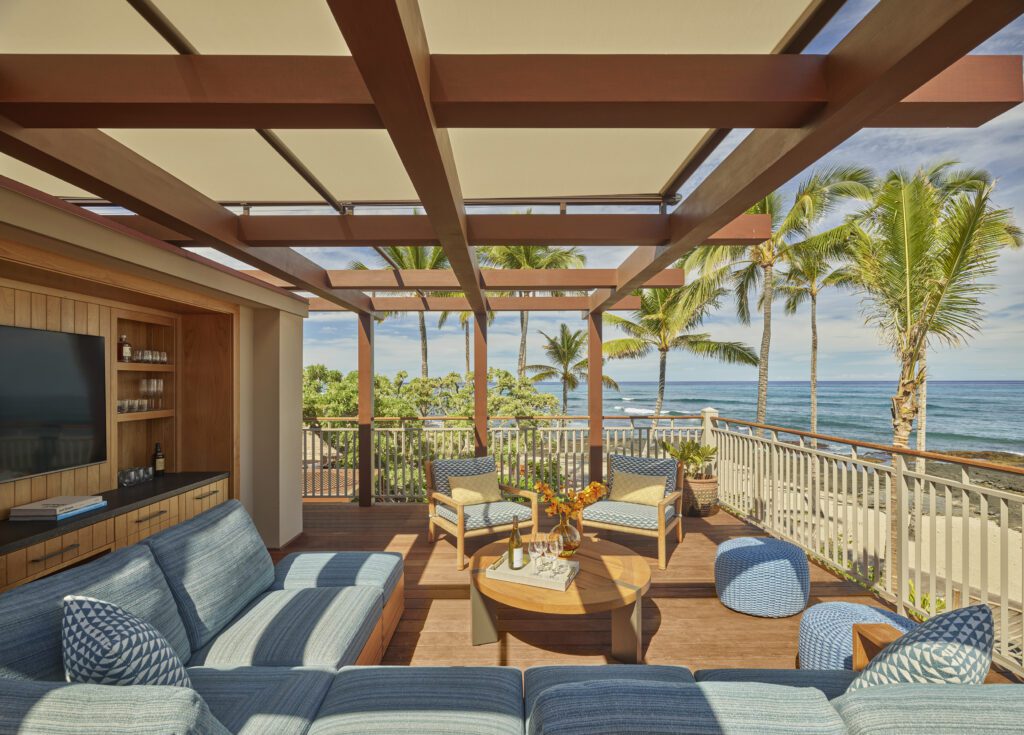 Along with the four beachfront pools, the resort boasts an awarding-winning spa, sports club, and Olympic-size pool where they offer a plethora of water workouts. While my daughter made friends at the Kids for All Seasons and Hale Kula Game Room, I indulged in a 50-minute lomi lomi massage at the Hualalai Spa. I was guided to an outdoor hut, secluded amid lush tropical flora and fauna. The sounds of nature lulled me away while I experienced a traditional Hawaiian massage handed down from generation to generation by the kupuna (elders).
I admit that it's hard to amaze us when it comes to cuisine—we do live in San Francisco and frequent some of the top spots in the city—but we were both be incredibly impressed by the meals we had. The resort has six dining experiences. The first is room service, which we always adore. Make sure to order the smoked salmon bagel. It was so decadent and delicious I had it twice during out stay. The morning buffet at ULU Ocean Grill was my daughter's favorite. Lunch poolside is a must. My daughter and her friends ordered from the children's menu, while I indulged in the many freshly made salads. For dinner, ULU Ocean Grill + Sushi Lounge's menu was a star-studded feast. The broiled king crab legs were one of the best appetizers I have ever eaten. My daughter fell in love with the pasta and truffles at Beach Tree Restaurant, and the make-it-yourself ice cream sundae was a huge hit.
The Four Seasons Resort Hualalai has no building over two stories, which lends itself to a truly cozy experience. Our accommodations were spectacular. We stayed in a ground floor suite with an outdoor lava rock shower and a patio that lead to the Seashell pool. But, for large or multi-generational families, I suggest reserving one of their newly renovated villas.
Hawaii Loa Presidential Villa
The most prestigious accommodation at the resort, Hawaii Loa Presidential Villa stands out with its private spa on a spacious lanai. Set directly on the oceanfront with unobstructed views of the Pacific Ocean and direct, walk-out beach access, the 3- or 4-bedroom, 5,200-square-foot villa accommodates up to eight guests.
Makaloa Villa
This villa is the resort's most secluded accommodation. The coveted, private setting is hidden among gardens at the edge of the picturesque Waiakauhi Pond with unobstructed ocean views. The 4,600-square-foot, versatile villa accommodates 10 guests and is available in 3- to 5-bedroom configurations. Steps from the beach, the villa also features a lava rock shower, a private pool and spa, day bed, fire pit, and garden lawn.
Ho'onanea Villa
Situated at the heart of the resort, Ho'onanea Villa features direct access to the beach and a central location. This expansive 3,700-square-foot, 2- or 3-bedroom villa boasts a second level, open living space and sundeck with exterior stairs. Featuring a private pool with a connecting spa, the outdoor experience is complete with a large daybed overlooking the pool and a private firepit.
When you stay in a villa, you receive exclusive services and amenities. Most notably, you receive a dedicated suite concierge team member who manages every detail and personalization for your stay, from booking through departure.
As my daughter grows up, sustainability becomes ever more critical. So, I was delighted to learn that the resort has a water bottling and filtration system, a zero-waste, locally sourced water system utilizing reusable aluminum bottles to enjoy throughout our stay. The resort's Lake Pūnāwai has received an Environmental Protection Agency award. This serene, 3-million-gallon, man-made pond encompasses about two and a half acres with two floating islands of plants and micro-organisms. The pond itself is a mini-ecosystem and stocked with several different species of marine life, including awa (milkfish), ama'ama (mullet), moi (threadfin), kāh­ala (amberjack), ōpae (shrimp), and ōlepe (oysters), all of which are harvested for consumption.
Although we are now back home and our tans are fading, the lifelong memories and friends we made during our spring vacation are not. Now when the sun sets, we both gaze west, looking forward with anticipation to the next time we can say, "aloha" to Kainalu, Meatball, Hashbrown, and the excellent staff at the Four Seasons Resort Hualalai.