San Franciscans are likely familiar with the name 'Bently,' but not in the context of spirits. As builders/restorers/former proprietors of one of San Francisco's most beloved event venues, The Bently Reserve, Camille and Christopher Bently are passionate not only about the restoration of historic buildings, they are also ardent fans of Scotch whisky. Hence their newest venture, Bently Heritage Estate Distillery located just 12 miles east of South Lake Tahoe. The San Francisco residents now split their time between the City by the Bay, and Minden, Nevada where they sustainably grow and harvest winter rye, wheat, oats, and barley for their line-up of high-quality vodkas, gins, and soon to be released whiskys. Also coming soon is the public re-opening of their state-of-the art distillery where visitors can experience tours, tastings, bespoke cocktails, and small bites. Haute Living caught up with the busy duo to find out more: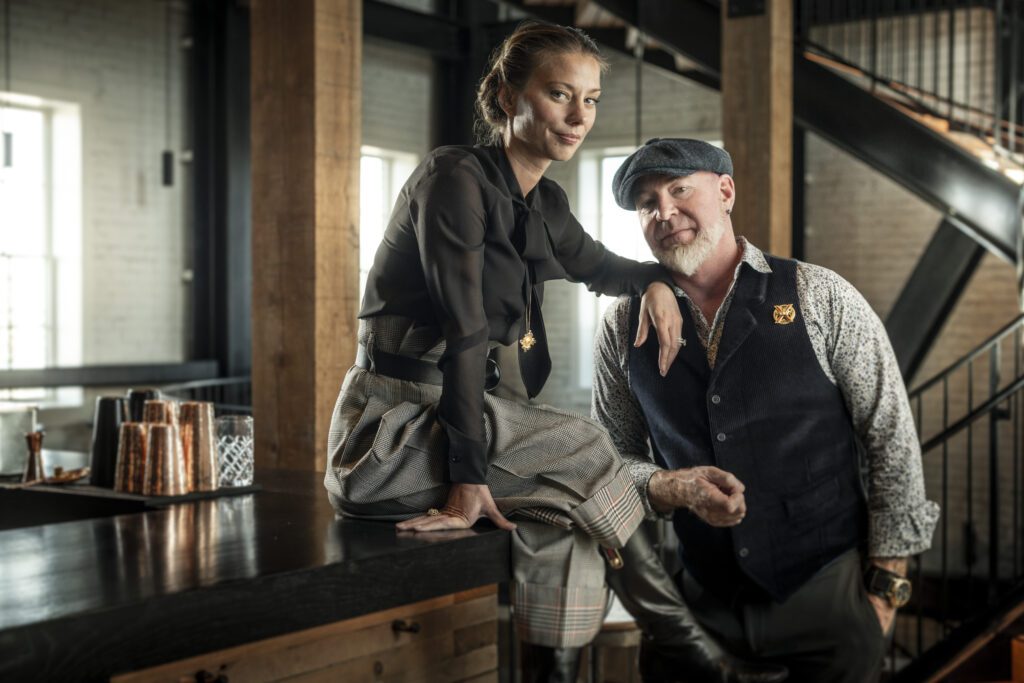 What made you venture to distilling?
Christopher: Distilling was the culmination of many interests converging. Our love for Scotch whisky was at the forefront of the endeavor. We had long wanted an American single malt whisky to be on par with Scotch whisky in both tradition and quality. Additionally, we love the craft of gin and liqueurs, and wanted to be a part of that creative process. Lastly, we are passionate about the preservation of historic buildings and we had the opportunity to restore the most significant grain mill in the state of Nevada into something extraordinary.
Why did you choose Nevada for your farm and distillery? What makes this region so inviting for this type of business?
Christopher: I grew up in Nevada's Carson Valley where my family had been ranching for a generation so we already had the knowledge and land to grow our grains. The distillery was an opportunity to restore another historic building, and being able to vertically integrate our ranching practices seemed very exciting to us. Plus, it was close to San Francisco and we both have family there. It's a beautiful part of the world deserving some international recognition.
You have a passion for bringing historical buildings back to life. Can you share more about your zeal for building restoration and LEED certification?
C&C: Restoring architecturally significant buildings in an environmentally responsible manner is not only a passion but a responsibility. Society has found itself in a disposable society of not only consumer goods but buildings. We cannot continue down that path. LEED is a great way to demonstrate the right steps being taken for a project and has been a positive model for the world to follow.
What makes your spirits special?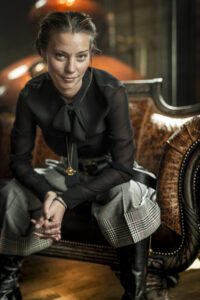 Camille: Our spirits are estate grown which is common in the wine industry but very rare in the spirits world. It allows us to select our grains and have complete control of how they are grown. We chose oats with a small portion of wheat to be the base of our gin and vodka, expensive to produce but very rewarding. The character is exceptional, making a clear spirit unlike most everything else that uses more common ingredients.
We malt the grains for single malt whisky ourselves using traditional floor malting, which is hundreds of years old in practice, along with modern auto-malters. This is important in creating the right mash bill or combination of grains for the spirit. We purposefully built multiple stills for each spirit for very specific qualities. Our copper single malt whisky stills were hand forged in Scotland by the Forsyth's who make most of the stills in Scotland. Our Carl gin and vodka column pot stills were made in Germany to be precise and exact for crisp clear spirits and incredible control during distillation over what qualities can remain or be removed. Our bourbon is made on an American made Headframe continuous column still for producing the finest new world whiskies possible. We recruited the most knowledgeable experts in America. We set out to make the best with the best people and equipment.
When will you be releasing your whisky? (Spelled in the Old World manner as an homage to the traditional distilling methods you use.)
Camille: As we are making several whiskies it depends on the style. Our new world whisky, bourbon, rye and various blends will be released sooner than our Old World single malt whisky. With the quality of our spirit we could release a very young whisky but the thing is you can't cheat time and we won't. We plan to have age statements for our single malt, something sadly lost today due to demand and profitability. We started this project to make the best whisky in the world and that takes time.
Please tell us about some of your visitor experiences.
C&C: Our experience at Bently Heritage is very much driven by our own consumer experiences in travel and retail. Apple Stores have been a huge influence with their uncluttered and clean approach. We actually hired Eight Inc., the architecture firm that designs Apples stores. Customer experience comes from restaurant and travel models like Aman Resorts and our all-time favorite local Michelin restaurant Sushi Ran. Quality is expected and delivered in every part of business offerings to the point that the only thing that stands out is anything not done to the highest level. If done right it's a seamless enjoyable experience that appears to be effortless in execution.
Where can one currently find your spirits?
C&C: There are numerous locations throughout the city where our spirits can be found and enjoyed. Some of the bars and restaurants that carry Source One Vodka or Juniper Grove Gin include: Balboa Cafe, Foreign Cinema, Eight Tables at China Live, Bellota, John's Grill, La Mar Cebicheria Peruana, Coqueta, Luna American Brasserie, True Laurel, Brazen Head, Martuni's, Kona Street Market, and the Wayfare Tavern just to name a few.
Our spirits are also available at a handful of fine spirits and grocery stores, including: Andronico's Community Market, Le Beau Market, Gus's Community Market, and Coit Liquor.
How did the two of you meet, and what sparked your motivation to enter into the distilling business together?
C&C: We met in Lake Tahoe in an art gallery and instantly connected talking about art and travel. We made each other feel as if we could do anything. One of our first trips was to Scotland where we shared a passion for the history and art of whisky. It was actually in Mexico City at a whisky bar while trying Japanese whiskey for the first time that we thought we could try making it ourselves. We love a good challenge and adventure, and collectively sharing those experiences is exciting.
What are your roles at Bently Heritage?
Camille: We both are involved in every aspect of the business. We have been a part of the design of the distillery, curating the visitor experience, to the architectural restoration of the buildings and how the distilling equipment would look and feel inside. The creation of flavor profiles for all our spirits from gin to whisky is a fascinating experience under the watchful eye of our very talented distilling team and takes time to get right. We curated our team together and continue to be involved in all levels of the business. We make sure it's fun for everyone otherwise there would be no point in any of it.
Bently Heritage – the facility, the distilling, and the final product – beautifully combines sustainability, elevated hospitality, and luxe spirits. It's a winning combination and guests are invited to witness it all.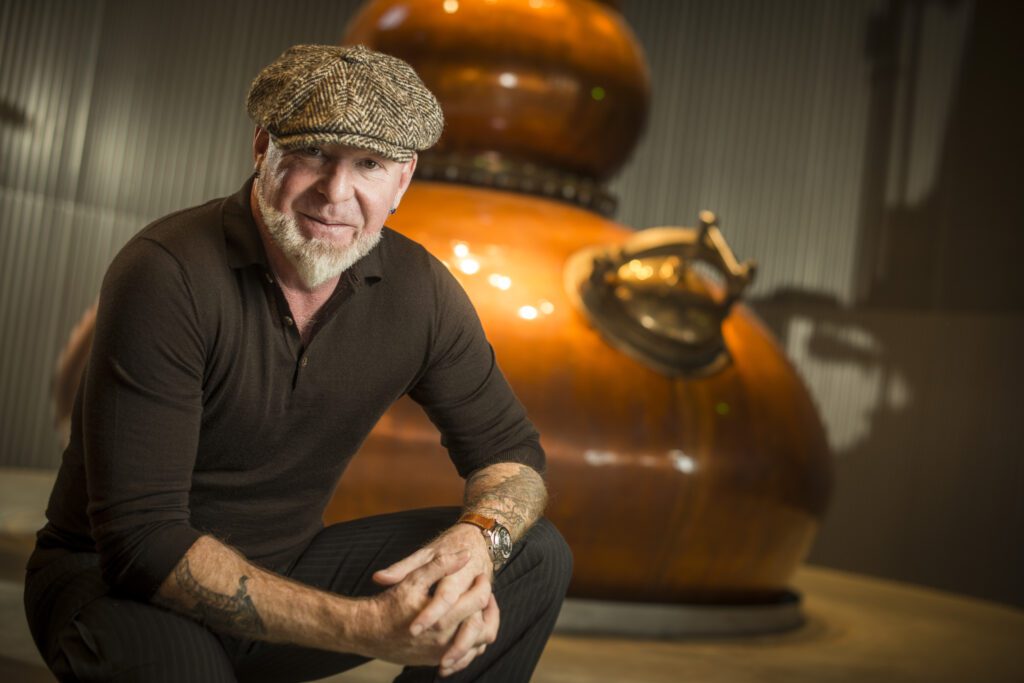 What are some of your favorite things to do in San Francisco?
Christopher: We love the arts and until the pandemic were season subscribers to the SF Ballet. We love going out to jazz shows and enjoying the seemingly endless choices of diverse restaurants the city has to offer. The city is rich with arts and we take full advantage seeing as much as we can. We love to hike in Marin where I grew up. I am an avid motorcyclist and love the many roads around the Bay Area for riding.
Can you share a few Bently Heritage cocktail recipes?
Bently Heritage Sherry Rested Maple Old Fashioned
2.0 oz Source One Vodka Rested in Oak Sherry Casks
1 Bar-Spoon of Maple Syrup
3 Dashes Orange Bitters
Orange Twist
Stir all ingredients in a mixing glass or beaker with ice. Strain into a rocks glass with fresh ice. Squeeze orange peel over glass to express oils, and place in drink.
Bently Heritage Field Day Martini
2.5 oz Source One Vodka
0.5 oz dry Vermouth
2 Green Apple Slices
Muddle green apple in a mixing glass; add vodka and vermouth. Stir over ice until full dilution is achieved. Garnish with a blue cheese stuffed olive and fresh apple slices.
Blackberry Thyme Bramble
1.5 oz Juniper Grove American Dry Gin
3 Blackberries
1.0 oz Simple Syrup
1.0 oz Lime Juice
3 Sprigs Fresh Thyme
Soda Water
Garnish: Blackberry, Thyme, and Lemon Wheel
Muddle berries and thyme together at the bottom of a shaker tin. Add gin, simple syrup, and lime, and then shake vigorously. Strain into ice-filled rocks glass and top with soda. Garnish with a blackberry, thyme, and lemon wheel.
For updates on whisky releases and visitor experiences, subscribe to the Bently Heritage Estate Distillery email list here.
Photos courtesy of Bently Heritage Estate Distillery