"Above all, be the heroine of your life, not the victim," wrote Nora Ephron. These innovative, take-charge Bay Area women embody the essence of feminine power and determination. With distinctive areas of expertise, each female entrepreneur has a story to tell and each brings a legacy of influence and inspiration sure to affect and instruct generation to come. 
Kara Goldin, Founder and CEO, Hint 
Kara Goldin starts every morning with a hike. "It energizes me, focuses me, and puts me in the right frame of mind," she says, adding that learning motivates her most of all. "I get out of bed every day with a bounce in my step when I know that there will be some sort of puzzle to solve, or some problem to figure out, or some challenge to overcome."  
The mother of four, former VP of shopping and e-commerce at America Online, author, podcaster, and beverage creator likes living outside her comfort zone because it "means that I'm going to learn something new, that I'll never be bored or stagnate."  No wonder this founder and CEO of Hint, a state-of-the-art infused water, which started in San Francisco in 2005, has been listed by The Huffington Post as one of six disruptors in business alongside Steve Jobs and Mark Zuckerberg. She's also shone as one of InStyle's 2019 Badass 50 and reigned as one of Fortune's Most Powerful Women Entrepreneurs—among a slew of other honors. Today, her podcast "The Kara Goldin Show" champions other entrepreneurs, founders, and CEOs. She's inspired by the "grit and scrappiness" that lead to success and revels in sharing distinctive stories with her audience. Her book, Undaunted: Overcoming Doubts and Doubters, reminds others to live boldly and to navigate those omnipresent "inner fears and external skeptics."  
With a goal to continue to support consumers with their wellness quest, Goldin, who loves what she does, wants to help people across the United States reach optimum health with her healthy drink option. 
HL: How did you get inspired to begin? 
KG: It started in a very personal way for me. I had left a successful career in tech at America Online in early 2001 to spend time with my three young kids. (I have four now.) At the time, I had been traveling a lot and working crazy hours, and as a result, not taking very good care of myself. I had gained a bunch of weight, had low energy, and developed persistent adult acne.  
When I decided to try to solve my health issues once and for all, I realized that it wasn't that easy. After basically giving up on dieting, I noticed that my diet soda had a lot of ingredients that I didn't understand. So, I decided to do a little test and eliminate it from my everyday routine. Two and a half weeks later, I lost over 20 pounds, got my energy back, and my skin cleared up. The only problem was that I found water boring. I hated drinking eight glasses of plain water every day, so I started cutting up fruit and throwing it in my water. It was a game-changer for me—and it turned out my family and friends loved it, too!  
That's when I thought: if this water that I dressed up with fruit in my kitchen made such a difference in my life, surely there are many others out there, like me, who would benefit from this product and who have been fooled by healthy perception products, too. So, I decided to create Hint in hopes of helping others achieve their health, too.   
HL: What are your tips for other women starting out? 
KG: It's the same advice I would give to anyone starting a business: make sure you believe passionately in your product and in your vision. Everyone has doubts and fears. If you believe that your product can help people in some way, it's time to get past those doubts and fears and just take those steps to get started. What's the worst that can happen? Starting a business is like scaling a mountain. It's really taxing. You need to be prepared for some major rough patches. And the whole thing looks very intimidating when you step back and look at the entire journey in front of you. But as long as you keep putting one foot in the other and keep solving the problems right in front of you, you'll eventually reach one plateau and then another one, and before long, you'll be amazed at the progress you've made. 
HL: How has the Bay Area impacted your career? 
KG: The Bay Area has been so instrumental in the success of Hint. I don't know that we could have gotten the company off the ground anywhere else. First off, back in 2005, I was able to get Hint into this groovy, new, local store called "Whole Foods." This was back at a time when someone with a great idea could walk up to a store manager and convince them to stock a new product (someone with no track record in the beverage business, I might add).  
I think people in the Bay Area are pretty health-conscious in general, so Hint immediately found a strong local following here. The next big inflection point for the company was getting Hint into Google, as they were looking for healthy food and beverage options for their employees. The product immediately took off there—employees actually started hoarding bottles under their desks—then several other Bay Area tech firms followed suit. Being the "unofficial beverage of Silicon Valley" was a huge boost for us. And from there, we were able to fundraise and roll Hint out as a nationwide brand. So, without a doubt, we couldn't have done it without the customer base we had cultivated here. 
Words of Wisdom: I try to avoid people who think they have it all figured out. I much prefer to be around folks who are curious and who ask questions and who challenge themselves, too. I'm driven by my curiosity, and I'm drawn to people who are inventive, creative, and seek solutions to problems that aren't immediately apparent to everyone else. 
Shannon O'Shaughnessy, Proprietor, Aileron Estates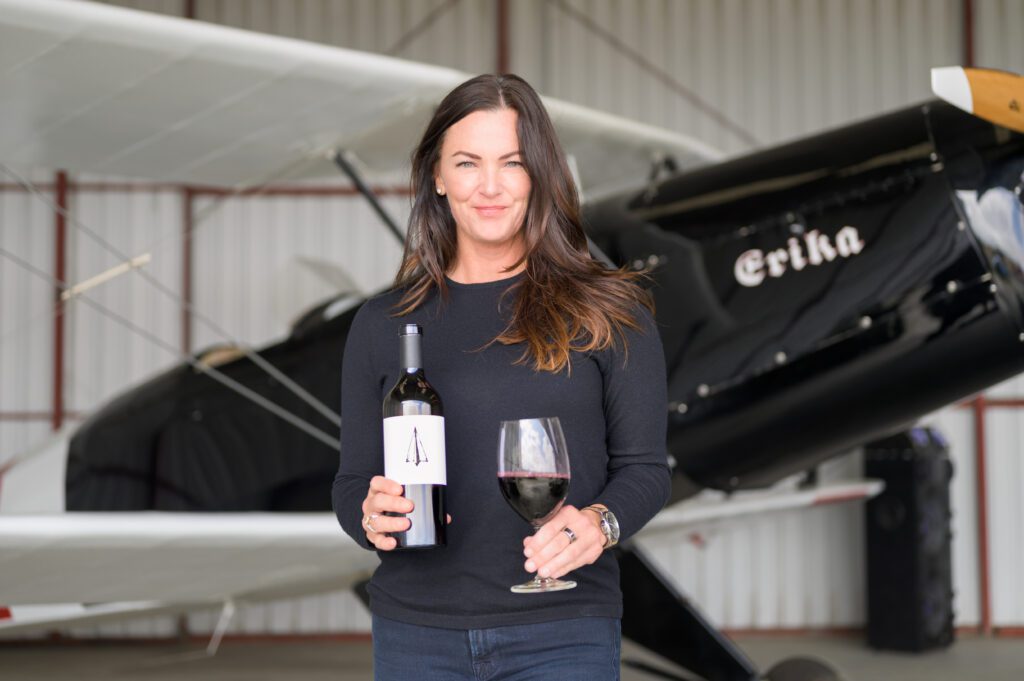 Some people go fishing and come back with a tall fishing tale. Aileron Estates' visionary founder Shannon O'Shaughnessy went fishing and returned with a new lease on life. About a decade ago, faced with a life-threatening disease, this mother of two cast her line and made a decision: she'd never again let an opportunity to live fully pass her by. A free spirit and adventurer with a lifelong penchant to be a pilot, O'Shaughnessy wasted no time getting her license. Today, Aileron's new, exclusive bi-plane wine tasting experience "Take Flight" shows how seamlessly O'Shaughnessy fuses her passions. The unique adventure offers a scenic, 20-minute flight in a vintage aircraft, a few acrobatic tricks —for those courageous enough—and a private tasting.  
Unafraid to delve into new projects, O'Shaughnessy, a 25-year-plus wine industry veteran, helped her parents launch O'Shaughnessy Estate Winery. However, she'd always wanted to build her own boutique wine brand. As luck (and hard work) would have it, in 2014, she came across a diminutive plot of organic, dry-farmed Sauvignon Blanc vines amid a cool Coombsville estate. Posthaste, she moved her family to the property and leaned in. Today, thriving, producing three tons an acre, the vineyard occupies her front yard, a mirror that reflects all her hard work and tenacity.  
An outdoor lover who enjoys skiing, cycling, and traveling, this philanthropist credits her hardworking parents for her attitude and Aileron's team for her wine making successes.  
HL: What's the significance of the winery's name? 
SO: The name refers to the hinged surface on the edge of an airplane wing that steadies and guides the plane, symbolizing the dogged pursuit of one's dreams despite the turbulence life throws at us. 
HL: What traits helped you succeed? 
SO: I was raised on the edge of the suburbs outside Minneapolis. I witnessed firsthand the rewards of hard work. My parents worked their way out of poverty through education and determination. My father began working in an insulated glass factory while playing football at the University of Minnesota in the early 1960s. Over the next 55-plus years, he worked his way up in the company and created a culture of entrepreneurship. He grew the business through innovation and vision. Today, it has grown to more than 7,000 employees with 37 manufacturing locations around the country. The company is management-owned, enabling every shareholder and employee to feel a sense of pride. My mother grew businesses of her own, first in land development and real estate in Minnesota as I was growing up, then later in the wine industry here in Napa. This culture, this way of being, is all I've ever known. Being exposed early to the trials and tribulations of entrepreneurship have given me a toolkit for resilience 
HL: What is your day-to-day life like? 
SO: First and foremost, I am a mom to two amazing young men, Jack and Sean. Second to that, I focus my energy and creativity on developing Aileron Estates. When I'm not on the sidelines on my son's sporting events, or on the road sharing Aileron Estates wines with whomever I encounter, you can find me fly-fishing and flying planes, as well as traveling, cycling, skiing, and shooting sporting clays. Adventure is in my blood.   
HL: What do you love most about your job?  
SO: I love the sense of satisfaction I get from making something in a collaborative way. While I may be the vintner with the vision, it is a team of people who make Aileron a reality. It is the personal interaction from walking the vineyard with winemaker Maayan Koschitzky and vineyard manager John Derr to tastings, marketing, and ultimately sharing wine with family, friends, and new customers.   
HL: What tips do you have for others striving to create something from scratch? 
SO: Trust the process. The wine business, like so many other industries, is extremely competitive. Being a new brand in the market is intimidating and, oftentimes, there are people just waiting for you to fail. Know that failure is part of the journey and shouldn't define you or your brand. Also, be patient. A ship doesn't turn on a dime.   
Words of Wisdom: 
Success can't be measured in a day, or simply by a balance in your bank account.   
Kendall Wilkinson, CEO & Creative Director, Kendall Wilkinson Design 
Formerly the lead singer in a rock and roll band and a dabbler in the film industry, Kendall Wilkinson, San Francisco-based interior designer extraordinaire, discovered her true calling when she studied abroad in Paris, bedazzled by the city's architecture, joie de vivre, trove of antiques, and art museums. Her heart quickened when glimpsing the city's uncanny light and its dancing reflections on the water. She returned home to graduate from the Academy of Art and started her eponymous firm shortly afterward. Paris, in its many layers, has continued to influence and inform her timeless, sophisticated style throughout her 30-plus-year career.  
With interiors presented in Architectural Digest, Elle Decor, House Beautiful, and the Wall Street Journal—among others—the designer savors the opportunity to bring "the vision of the client to life." Meeting this goal again and again, she has executed projects around the world in a portfolio that includes both residential and commercial ventures.  
Profoundly impacted by her mother, a notable interior designer and art connoisseur, Wilkinson attributes her keen eye and aesthetic instinct in regard to scale, texture, and color to her mother's tutelage. A frequently requested participant in prestigious design showcases (San Francisco Decorator Showcase, Elle Decor Showhouse, and LUXE Magazine's Maison de Luxe Showhouse, to name a few), Wilkinson, a mother of two, has expanded her offerings to include a collection on indoor/outdoor fabrics (2016) and upholstery and trimming (2019) with Fabricut. She describes her design aesthetic as being "rooted in classicism with a modern twist, always comfortable, always well proportioned, and always unique, combining the highest quality of materials and design." 
HL: As an entrepreneur, you had to work hard to get where you are today. What are your success secrets? 
KW: For me, success is being able to create beautifully appointed homes for my clients that elevate their lifestyles while maintaining and growing a diverse and happy business that provides for my fantastic team and my family. A fundamental tenet is identifying, nurturing, and retaining talent. Everything worthwhile takes a team and healthy, mutually beneficial relationships. Honesty, transparency, a strong sense of self, and a healthy amount of confidence are also keys to success. Ultimately, consistent hard work always pays off, and there are never any shortcuts. Listening to your gut instincts and having a sharp business sense also helps.  
HL: What do you love most about San Francisco? 
KW: The natural environment and the climate are magical. I am lucky to live in Sea Cliff, a short 10-minute walk to Baker Beach. That view of the bay and the Golden Gate Bridge will also rejuvenate and inspire me. It reminds me that, even though we live in a city, a short walk or ride and you are right on the coast or in nature. The majesty of this unique part of the world and its access to other notable coastal towns just short car rides away make San Francisco a wonderful city. But, of course, it also doesn't hurt to have a great culture, fabulous restaurants, and an inherently diverse city.  
HL: What tips do you have for other female entrepreneurs? 
KW: Listen to your inner voice and be kind and supportive of other women. Embrace your motherhood (for all the mamas out there) and remember to make enough time for yourself! With two beautiful, healthy, and wonderful teenage sons, I make it a point to always have dinner for them and to remember that being a mother is something that elevates and strengthens us as businesswomen.  
HL: What's something about your job you love most of all? 
KW: Helping my clients to define and execute their vision, creating an environment for them to live their best lives. Working with amazing artisans, architects, builders, crafts people, antiques, and art dealers brings me incredible joy.  
HL: What inspires you? 
KW: I studied in Paris and have continued to visit year after year because I fell in love with the city from first sight. It has influenced my work over the years through my passion for antiques, sparkle from the lights, water reflections, or the simple sophistication and elegance the Parisian culture exudes. Of course, my boys constantly inspire me, including my sweet Labrador retriever, Biscuit, and travel … well, once it all resumes!  
Words of Wisdom: 
Luxury with purpose!  
Samantha Dorsey, President, McEvoy Ranch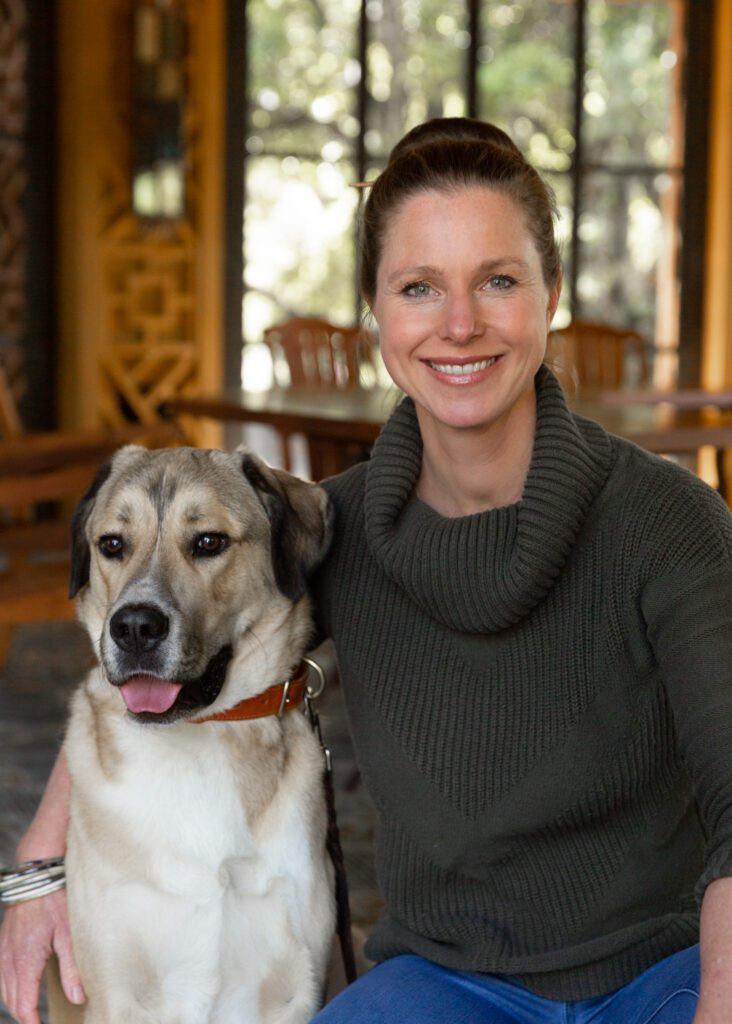 Ask Samantha Dorsey anything … anything about olives, that is. Her degree in environmental studies from Oberlin College came in handy two decades ago when she joined the team at McEvoy Ranch to manage the olive tree nursery, vineyards, and orchards at this 550-acre working, organic ranch in Petaluma. Fast forward to today, when, as president, she presides over the pond- and path-studded, verdant expanse, ushering it into its next stage of growth and prosperity.  
Deeply committed to sustainable and organic practices, Dorsey not only conducts workshops on olive orchard management locally, but counsels farmers and growers in various aspects of sustainability in Arizona, California, Oregon, Mexico—and, as far away as New Zealand. She serves on the executive committee for the Olive Oil Commission of California and is a board member of the Petaluma Gap Winegrowers Alliance.  
Like the Ranch's founder, Nan McEvoy, who was inspired by the desire to grow olives and make olive oil, Dorsey believes in the power of the crop. "Being a California native, it was important to me to find an appropriate crop for our state. Olive oil fits the bill. This perennial crop is perfect for our climate, has a lower water demand than other crops, and produces an incredibly healthy, plant-based fat that is exceptionally good for you inside and out," she says. Further in her role, Dorsey has been integral in leading the ranch to develop its olive oil-based beauty collection, ODE Natural Beauty, with a goal to bring wellness to the community. Just out, ODE Oasis. a full-spectrum CBD collection of tinctures and skincare items created with McEvoy's extra virgin olive oil, is Dorsey's latest project.   
HL: How do your passions drive who you are and who you have become? 
SD: I am very committed to our community and creating a positive working environment. We have built a solid team of talented employees here at McEvoy Ranch dedicated to making and sharing our world class products and understanding our local community and California agriculture role. I love learning from our team here and working with our staff to improve and innovate in agriculture, product development, hospitality, finance, and operations.  
It is interesting to work with such ancient products (olive oil and wine) in such a modern setting. We have thousands of years of production knowledge to build upon, but we can do so with all our modern tools and sensibilities. From farming to formulation, we are in the new and modern vanguard of these ancient crops and recipes. This dynamic balance is very inspiring.  
Another example of creating a new product with well-known and well-loved ingredients is this year's new ginger turmeric olive oil release. This brand-new product is made from milling olives directly with fresh ginger and fresh turmeric. The oil that came out of the mill is mind-blowingly beautiful, complex, and unique. And, it has so many health benefits, particularly its powerful, anti-inflammatory properties. I love this blend of multiple food cultures into one delicious new product. 
HL: What tips do you have for others following their dreams? 
SD: I like to say that I can go home at night with a clean conscience, because the work I did all day was honorable. This, to me, is such an important part of doing good work—having it be congruent with my core values. If your job is incompatible with your internal conscience, it will be difficult to feel successful, no matter how much you earn or what your title is. 
Be patient. I say this because patience is not one of my strengths. But I typically find that when I am more patient, it is easier to see new opportunities or an alternative perspective that can lead to better decisions for the business. And find good mentors. It is too painful to make all the mistakes yourself. It is okay to learn a few of them from other people's experiences, so you don't have to fall into every single hole yourself. 
HL: What is your day-to-day job like? 
SD: Everyone who has worked in a small, growing company knows that you've got to be very comfortable with change and your day-to-day schedule can vary wildly. My job is so engaging because my daily tasks can range from financial analysis to troubleshooting orchard irrigation problems to meeting and serving customers at our tasting room to evaluating inventory and production needs to developing new products with the team.  
The majority of my time is spent working with employees to prioritize projects, setting expectations around the quality and timing of each project, and ensuring that our prioritized projects are properly resourced. The other significant component of the job relates to public engagement and outreach. I sit on the executive committee of the Olive Oil Commission of California and am a board member of the Petaluma Gap Winegrowers Alliance. Both organizations benefit McEvoy Ranch and our grower/producer community as a whole. 
Words of Wisdom:  
Treat your relationships with care. It is ultimately your relationships, more than the product you make or sell, that will determine the fate of your business." 
Liz Nelson, Owner and Founder, Olfactorie Apothecary Boutique and Spa (OCA) 
Lifelong San Franciscan, master esthetician Liz Nelson knows a thing or two about beauty. She also knows a lot about how scents make us feel and how they affect the condition of our minds, bodies, and spirits. Currently living in Oakland, Nelson has worked as a lead therapist in some of the nation's best spas. One of the favorite aspects of her job is the opportunity to provide personal care to clients, sharing her beauty and mood-lifting secrets.  
Scent, she noticed, made everyone feel better. Soon this became her passion. "It was while working at Barney's New York, located in downtown San Francisco, about six years ago, that I began truly to be intrigued with scents and candles. I wanted to learn more."  
As she studied aromatherapy and how candles were made, however, she discovered something unpleasant: many were crafted with carcinogenic waxes. "That was it," she says. "I decided to start my own soy-based candle brand to offer safe candles to my clients and the world." Her stunning line, Olfactorie Candles, small batch and handmade, are currently available online and in dedicated spas and stores. The gorgeous candles with heart-lifting aromas (both therapeutic and perfume essential-oil scented) also remind us how awakened olfactory senses evoke bygone times and memories. With names like New Orleans, Kauai, and Chicago, each candle conjures an image of places where clients will have traveled or yearn to visit in the future.  
In June, Nelson opened a brick-and-mortar spa and apothecary shop in Oakland.  
HL: What inspired the names of the candles and the concept? 
LN: I love traveling. Especially during the pandemic, sometimes the fantasy of being transported to another place is all we can do. I like to help others feel the same. 
HL: What were the challenges in launching a new retail brand in the wellness sector?  
LN: Making sure it was genuine, I had built a great clientele through my years in wellness and spas. When launching a retail brand, I wanted to make sure my clients did not feel obligated to support me. They never felt that way. In fact, they loved hearing about the brand. Of course, I also had to make sure my formulations were appropriate and that I was creating a quality product that I would buy. 
HL: Tell us about how you came up with your scents to match the various cities or landmarks? 
LN: I research the scents, looking for what makes the city famous. Portland, for instance, the city of roses, has a delicate golden rose aroma surrounded by the scents cedar and pine. Miami is jazzy and tropical—coconut, lime, mint, and rum. Some candles are sultry, some spa-like, some energetic. Kauai blends ginger with plumeria. Each candle has a base, top, and heart note. I also do special candles for dedicated events and match the scent to the event's mood. For example, for the Kimono Refashioned in SF for Asian Art, I conjured the concept of vintage kimono and came up with vetiver for the bae (straw, smoky-like for vintage clothing) and cherry blossoms (for the delicate geisha who wore the kimono). 
HL: What is your favorite product in your line?  
LN: That is a hard one: between Sedona and Kauai. They are both very beautiful. 
HL: Do you hope to grow your business?  
LN: I want to expand! Besides candles, we now have apothecary (body) and home fragrances. I would like to add a couple more locales—like Austin and the Kentucky Derby, maybe D.C. 
HL: Where can we buy these wonderful candles?  
LN: In June, my brick-and-mortar store opened in Oakland. The boutique and spa will house scents in candles of multiple sizes, diffusers, wash, and body. The store has a French bohemian feel, and the spa is separate in the back with a Sedona desert mood. Treatments are massage, body, all types of facials. I am so glad to have it finally under one roof. The address is 2052 Mountain Boulevard, Oakland, California 94611, at the base of Oakland Hills in Montclair Village. Products are also available at select spas and boutiques and online.  
Words of Wisdom: 
Keep moving and grow. Any challenges are learning experiences to be better. Never give up. 
Mariam Naficy, CEO & Founder, Minted 
Supporter of worldwide artists, independent thinkers, custom creativity, and small businesses, Mariam Naficy, founder of Minted, has created the sort of niche nobody else could have conjured. In 2007, from the attic of her San Francisco home while 7 months pregnant, she followed her bliss. "It was a very tough and very lonely process, because I was a sole founder," she says. But the now in-demand design marketplace, committed to the mission of bringing the best in independent design to consumers everywhere, was worth the effort.  
Today, Minted's art, home décor products, and stationery have reached more than 75 million homes around the world. With a unique crowdsourcing technology, Minted has consumers vote to choose which designs appear on the site. This ensures a sense of artistic community and makes sure items offered are fresh and trend-forward products.  
Naficy, who says that Minted "was out of favor from the very beginning," that people told her that was too old to start a business, and that "nobody would buy paper online," has proved the critics wrong. She believed in herself all along, but credits her husband, whom she met at Williams College, as being her rock. "He is truly a progressive thinker and has been a believer in me since the day we met. He has always been there to counsel me and boost my morale, as well as enable me to have both a professional and family life, which I don't think I could have been successful without." 
HL: What inspired you to create Minted? 
MN: I was inspired by watching the blog community emerge and realizing that consumers were shifting their reading habits from large media to independent bloggers. This made me wonder if they would be more open to buying products, too, from independent makers and designers. I wanted to use the internet to uncover hidden artistic talent all over the world and allow designs and products to reach the market in a truly meritocratic manner. 
HL: What tips do you have for others who hope to start something new? 
MN: The best piece of advice I would give is to try to not care about what other people think about you. Believing in your vision in the face of constant rejection, which happens even after you have become "successful," is going to be critical. 
HL: What does it take to succeed in today's world? 
MN: I think about the fact that I work exclusively on the internet, something that was unknown when I was an undergraduate. Getting a liberal arts education helps: you might be working on something that doesn't exist today, and becoming a good critical thinker and analyst is likely better than getting a specialized education. Also, it's important to see feedback as a gift that most people don't really want to give you because it's too uncomfortable. When you get some feedback, celebrate it! 
HL: How was the Bay Area important to your success? 
MN: I was struck when I arrived in 1993 that the business culture here was so much more accepting of risk-taking and failure than on the East Coast. When I saw that, I knew I had found the city where I wanted to work. I hope that we always retain this and the willingness to pay forward any help that we received ourselves. 
Words of Wisdom 
In all aspects of life, both personal and professional, I think "success" is defined relative to some set of expectations. If you can set the expectations of the people around you appropriately and then overdeliver, both you and they can feel great about the outcome.