On its own, Yountville's North Block has for more than a decade provided a sumptuous sanctuary for those seeking rest, relaxation, and rejuvenation. Featuring a prime location, luxurious accommodations, a tranquil pool, and top-notch concierge services, a North Block stay checked nearly all of the boxes. Now, with the addition of its lively new restaurant, North Block can claim itself a singular destination for experiencing the best of the Napa Valley.
The award-winning boutique hotel has always served as neighbor to an adjacent restaurant, but the new eatery is now fully North Block integrated. Helmed by Executive Chef Nick Tamburo, the restaurant's new food and drink experiences will be woven into in-room and poolside dining, and the sleek, Erin Martin-designed dining room spills out to the hotel's charming and lushly landscaped interior courtyard. Martin, a Napa local who also designed North Block's whimsically elegant hotel lobby, tapped her international community of artisans in creating a welcoming setting that complements the culinary direction. Berlin muralist Michael Dute hand-painted the spectacular crane mural covering the private dining room wall, and New York artist Owen Mann created the oversized porcelain magnolia flowers that line another wall.
Tamburo, formerly sous chef at Momofuku Ko and executive chef at Momofuku Nishi in Manhattan, uses California's seasonal bounty within his simple yet inventive dishes that are already creating a stir within the Valley. Several menu items are infused with unique raw and smokey elements. A Japanese grill using Binchotan charcoal imbues flavor into dishes like the Duck a la Gray with lime pickle and crème fraiche, an homage to Tamburo's former chef-mentor Sean Gray (Momofuku Ko). A wood burning oven produces naturally-leavened, seasonally rotating pizzas, and the Wood Roasted Half Chicken with matsuri rice, flatbread, yogurt, and hot sauce is quickly becoming a much-talked-about signature item.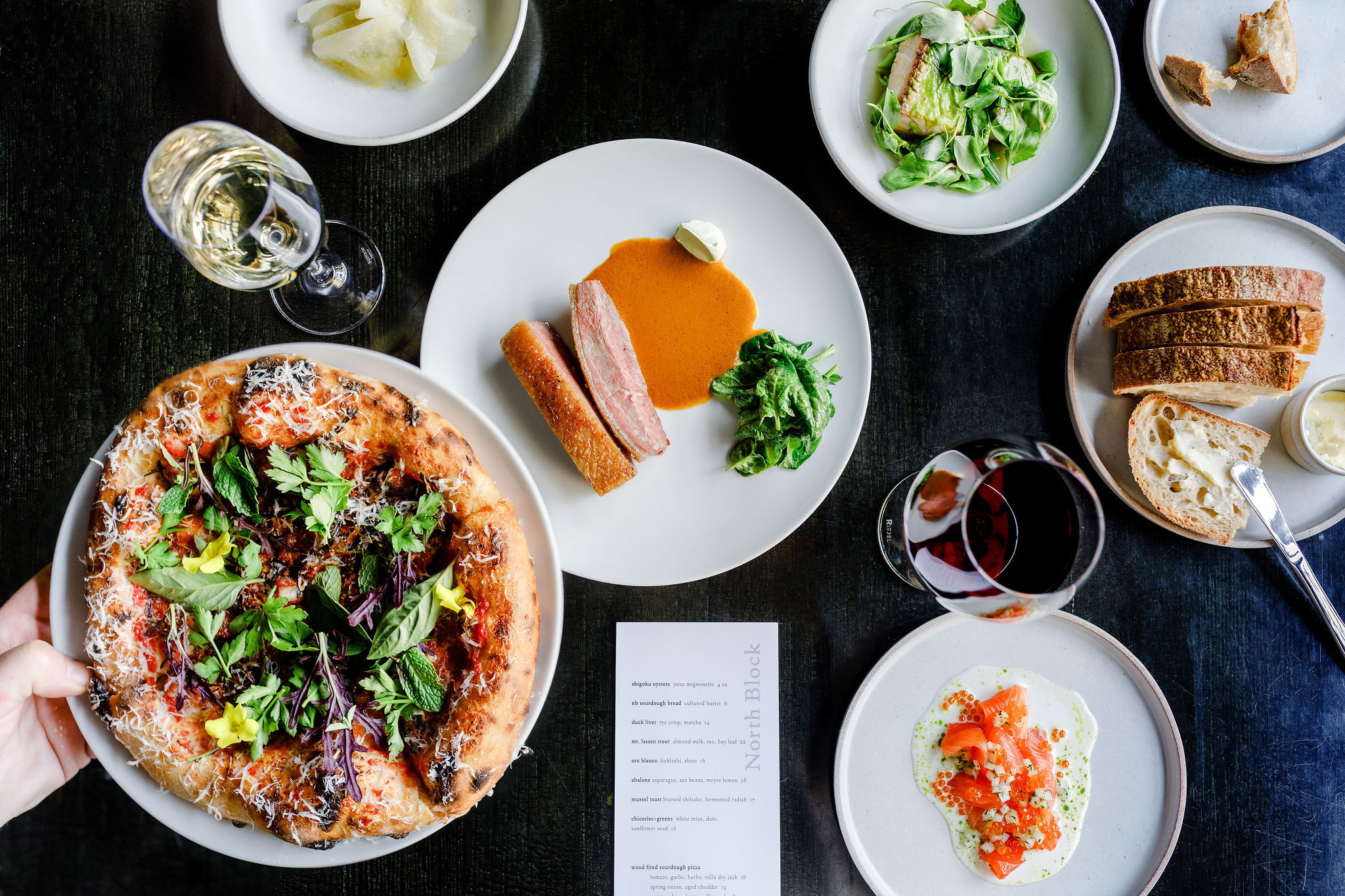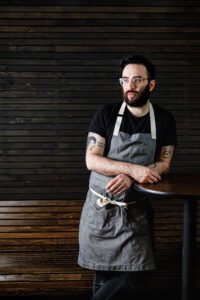 "Cooking with an abundance of seasonal ingredients gives us the opportunity for constant experimentation in the kitchen," said Tamburo, who convinced fellow Momofuku ex-pat Andy Wedge to join him in Napa as North Block restaurant's general manager and beverage director. "We're challenging ourselves to showcase California ingredients in imaginative dishes that are not only exciting to make but exciting to eat."
For his beverage menu, Wedge has compiled a varied list of both local and international wines, local craft beers, and creatively crafted cocktails, such as the NB Old Fashioned featuring bourbon, a hint of coconut and a lime twist, and the Last Paloma with Volcan blanco tequila, yellow chartreuse, Solerno blood orange liqueur, and grapefruit. Try them both – the beauty of the full North Block experience is that your post-dinner trek is merely a few steps.
The hotel's 20 rooms line the central courtyard lush with greenery and adorned with hand painted Italian tile. Six room styles offer choice, each outfitted with plush beds and bedding, cozy robes, Trivoli music systems, Nespresso coffee makers, and flat screen televisions. A few of the rooms feature fireplaces.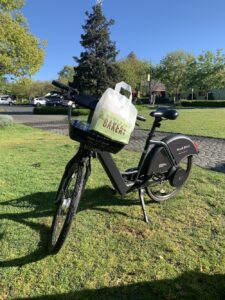 Additional amenities include the offer of wine at check-in, after dinner digestifs, morning coffee in the lobby, and a small fleet of first-come, first-served GenZe pedal assist bikes that allow for effortless exploration of town and country. North Block also features one of the Valley's loveliest pools, surrounded by cushy chaise lounges and canopied couch seating. A subterranean spa offers a comprehensive range of services such as the 'Un-Corked,' a foot and back exfoliation followed by massage. Finally, a small fitness room outfitted with Peloton bikes awaits those seeking to counteract the effects of their indulgent wine country stay.