As Spain opens its borders to US visitors once more, Haute Living San Francisco picks the best luxury hotels in the Balearic Islands to jet off to in 2021.
A hop skip and a jump away from mainland Spain, the Balearic Islands have long attracted a refined crowd seeking an escape (or, in the case of Ibiza, wild hedonism). These luxury hotels know how to deliver stylish accommodation paired with award-winning spas, contemporary art collections and Michelin Starred fine dining. Impeccable Spanish hospitality and views over mountains and the Mediterranean Sea.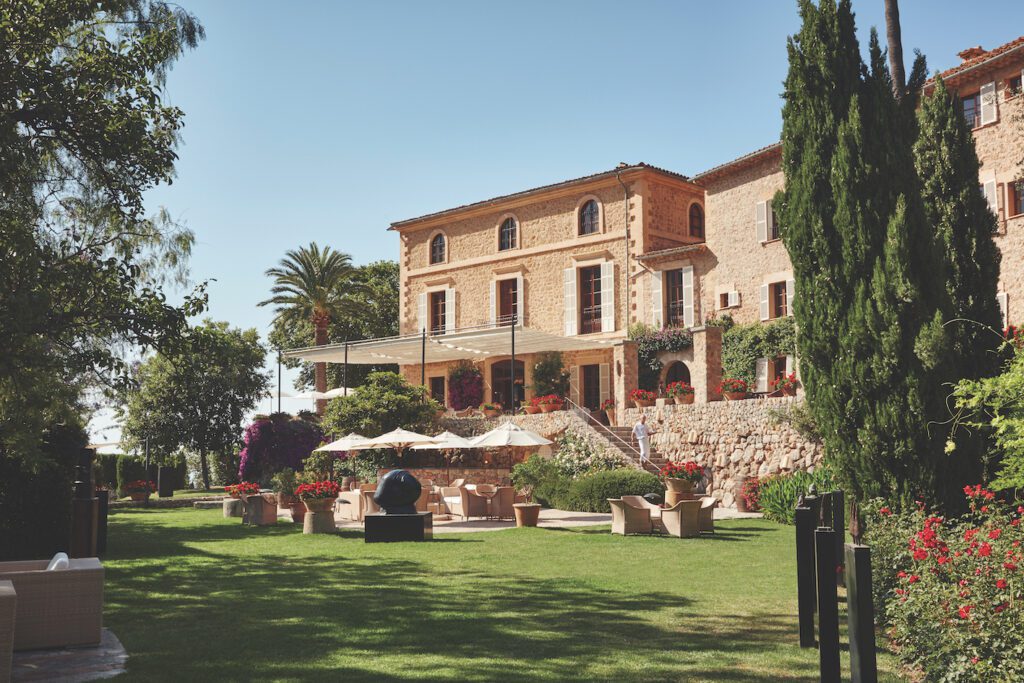 Belmond La Residencia, Mallorca
Nestled between the Mediterranean Sea and UNESCO-listed Tramuntana Mountains, Belmond La Residencia is a luxury hotel teeming with authentic Mallorcan charm. Guests at Belmond La Residencia can wander amongst olive groves or picturesque gardens dotted with sculptures, perhaps taking a class with one of the resident artists. It is after all close to the village of Deià, famed for attracting artists, musicians, writers and poets. Afterwards, enjoy Mediterranean cuisine at one of the four restaurants including Café Miro, named for the original artworks hanging on the walls by this famed Catalonian painter.
Belmond La Residencia has 70 serene rooms and suites spread amongst the honey-coloured buildings and also offers two panoramic swimming pools, tennis courts, an award-winning spa and excursions via boat, bike, or the charming resident donkeys.
Can Ferrereta, Mallorca
Modern luxury meets authentic character at this new hotel within a beautifully restored 17th-century mansion. With just 32 rooms and suites overlooking lush gardens, Can Ferrereta is a rural hideaway reminiscent of a grand Mallorcan summer house within the medieval coastal village of Santanyí.
Visit the nearby Mondragó Natural Park, a paradise for hiking or tour a neighbouring vineyard. The lively markets in Santanyí are full of local handicrafts and fresh produce, and you may even run into Chef Alvar Albaladejo and his team picking up ingredients for La Fresca, the on-site restaurant.
If its chic sister hotel, Sant Francesc Hotel Singular in Palma de Mallorca is anything to go by, Can Ferrereta will soon be a destination on everybody's list. It's worth going for their impressive contemporary art collection alone, but the beautifully designed interiors, hammam, stunning pool and restaurant will keep guests coming back.
Can Faustino, Menorca
Can Faustino in Menorca occupies two meticulously restored palaces within the historic centre of Ciutadella. Following a recent expansion, guests at this luxury hotel can now choose from 44 rooms and suites plus a private villa all with a renewed serene aesthetic and warm Menorcan hospitality.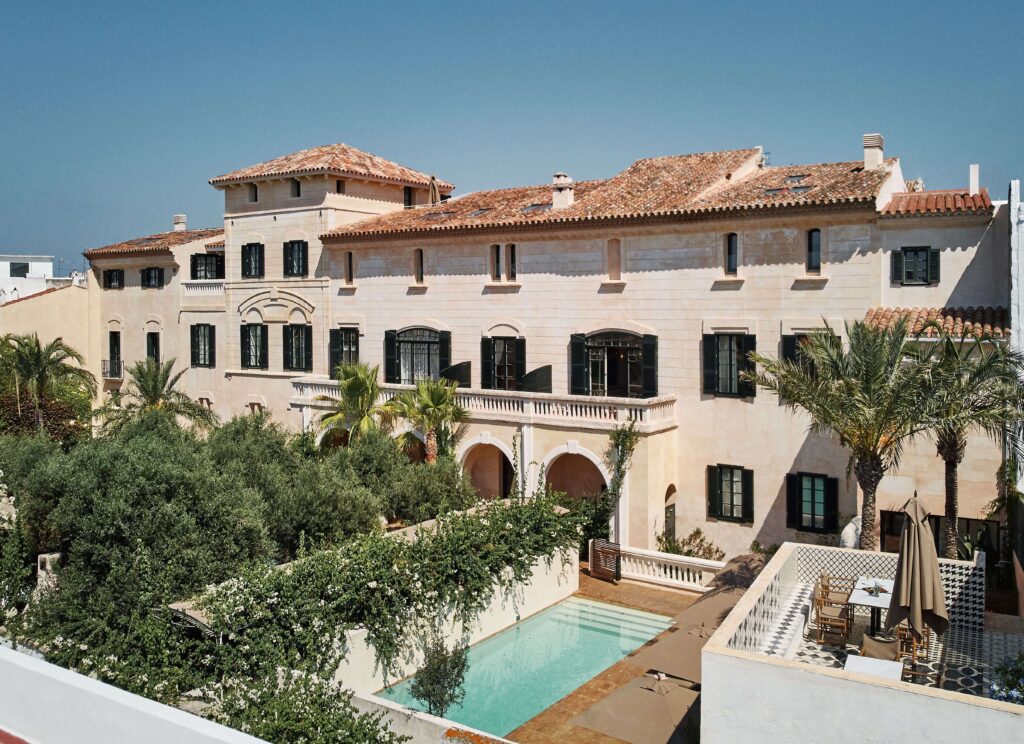 Can Faustino boasts a luxury spa and a courtyard restaurant draped in bougainvillaea that serves traditional cuisine with modern touches highlighting local products. Guests can also explore the coves of Menorca's coastline and crystal-clear waters aboard Héloise, the hotel's custom-built boat. Alternatively, while away the hours at their Country Club, a charming rural house and former fishermen's refuge with a jetty, orchard and swimming pool.
Nobu Ibiza Bay Hotel – Ibiza
Nobu's global portfolio of hotels reached the 'White Island' in 2017 and this summer brings so many new offerings it is just as well the season has been extended until 2 November.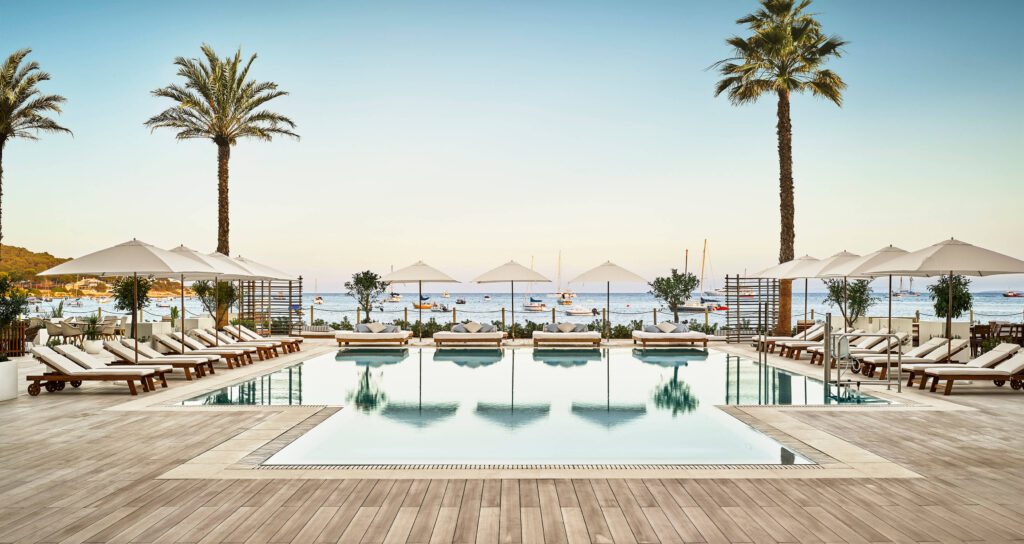 The hotel has launched BEYOND Nobu Ibiza Bay, a selection of travel experiences including private vineyard tours, adrenalin-fuelled cliff diving adventures or spontaneous trips to secret hidden hangouts. What's more, guests staying in the new Nobu Penthouse Suite, Presidential or Royal Suites will also have access to a dedicated Ambassador with an impressive contact list at their fingertips for rooftop parties, in-room cocktail-making masterclasses, private yacht excursions and more. The award-winning kids club can look after the young ones and after sunset, Ibiza Bay transforms into a chic night-spot with three restaurants including the new BiBo Ibiza Bay led by Michelin-starred chef Dani Garcia.
And after any indulgences, the new wellbeing programme at Nobu Ibiza Bay allows guests to connect with the legendary magnetic power of the island. Sunset sound healing sessions, yoga and hiking will rebalance the mind, body and soul.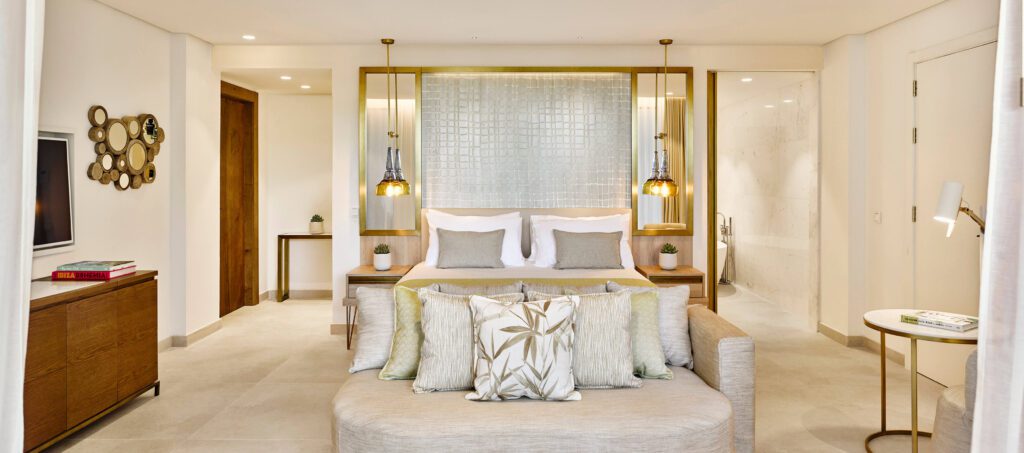 Hacienda Na Xamena – Ibiza
The first hotel in Ibiza to gain a five-star rating, Hacienda Na Xamena boasts a renowned restaurant and arguably the best view on the island over the Mediterranean but prides itself on discreet luxury. Hacienda Na Xamena is a far cry from Ibiza's throbbing club scene, although close enough to sample it if guests can bear to part with the scene-stealing sunsets. Situated on a cliff's edge in the heart of a national park, everything has been created to promote the feeling of being at one with nature, a harmony between the outside and the inside.
Go for a hike or take a yoga class before balneotherapy treatment at the Cascadas Suspendidas, a series of eight pools built into the rocks. Stay in one of 77 rooms and suites, eat at Edén or By The Pool restaurants and enjoy a slower pace of life. Alternatively, it's only a 30-minute drive to find the famed Ibizan nightlife.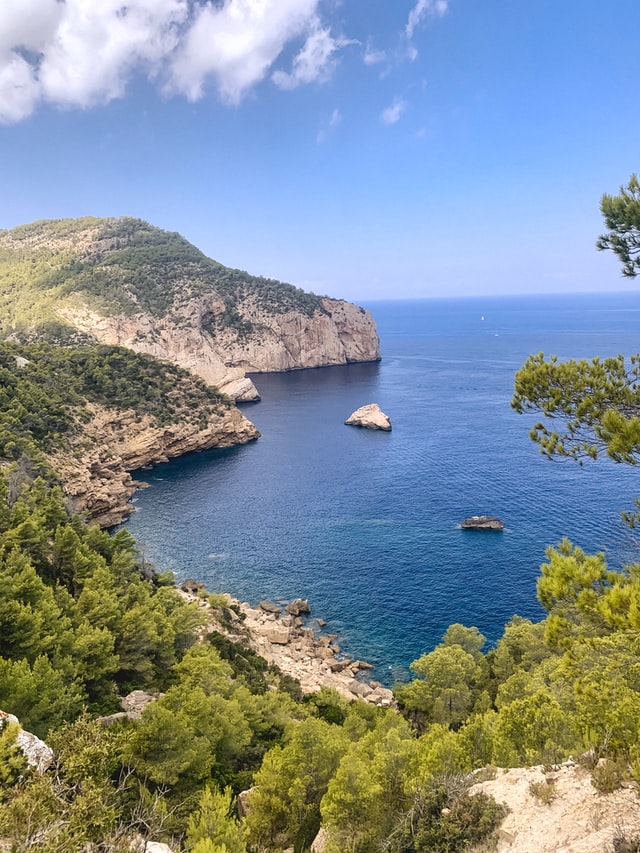 Before booking a trip to one of these luxury hotels in the Balearic islands, all visitors to Spain must present an EU Digital COVID Certificate.
Related: Luxury Travel Revival